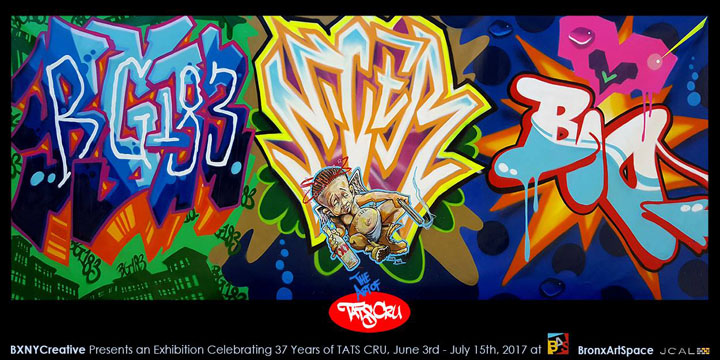 Opening tomorrow — June 3, from 2-6pm — is The Art of TATS CRU, an exhibit and block party celebrating 37 years of the legendary Bronx-based crew. While previewing the exhibit yesterday, I had the opportunity to pose a few questions to its curators, Eileen Walsh and Laura James.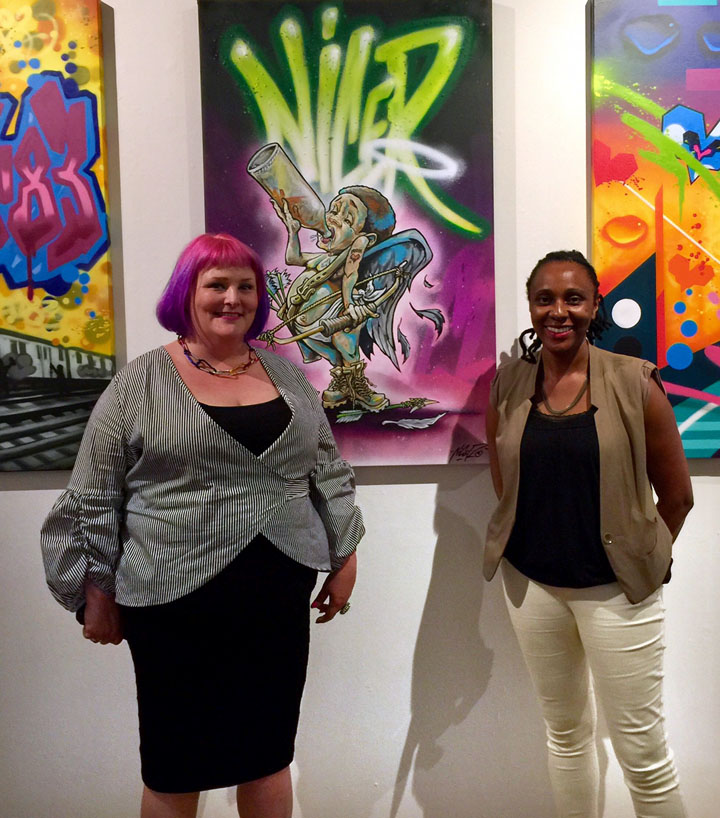 This is such a handsome exhibit and such a wonderful tribute to TATS CRU. What spurred you to focus this exhibition on TATS CRU?
After curating BRONX NOW that showcased over two dozen artists in 2016, we decided that we wanted to focus on a smaller group of artists this year. And TATS CRU — Nicer, Bio and  BG183 — seemed the perfect choice. They represent the best of the Bronx and they "kick ass!"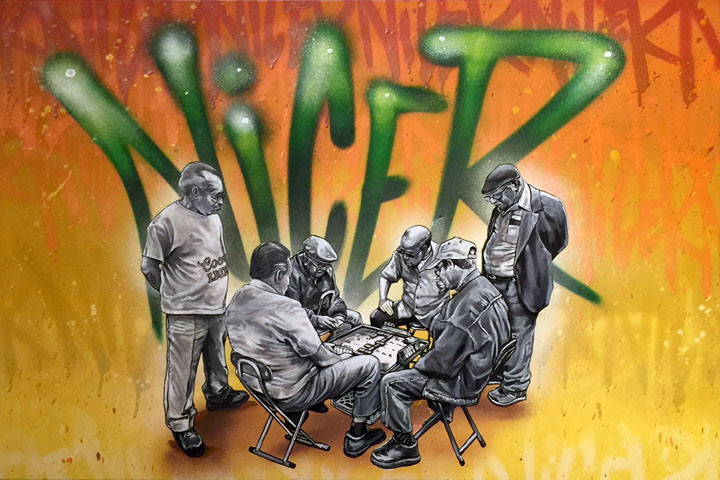 How would you define the mission of the exhibit?
Its intent is to tell the story of these three artists — through their own artworks and through photos and videos produced by Miguel Teck Arteaga. It is the story of three Bronx-based artists who transformed a youthful passion into a successful career on their own terms. And although they have traveled throughout the world with their art, they've chosen to remain here — in the Bronx.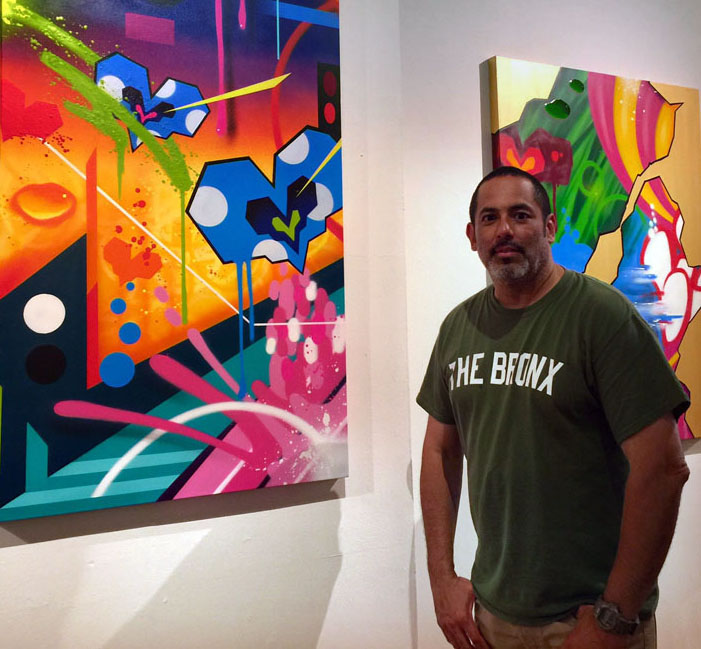 How did you decide which artworks to present?
The artists — for the most part — made the selections. They wanted to represent themselves with a range of distinct styles and techniques.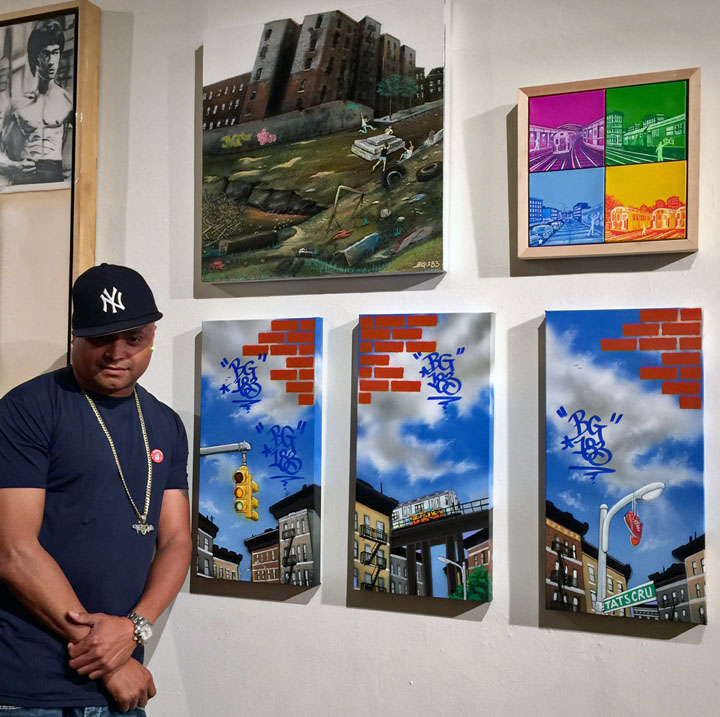 In addition to meeting the artists and viewing their artwork, what can visitors expect to experience at tomorrow's opening?
The Block Party will feature homegrown, Bronx entertainment. DJ Pusha will keep the party going, along with dance performances by BBoy and Emcee Chief69 and Hip-Hop legend Rokafella's Full Circle Souljahs dance troupe. There will be live music performances by up and coming Bronx MINDY artists Static Vision and by alternative music group The Nobodies. There will also be a presentation by spoken word artist and rapper Safiel Vonay. The Bronx Children's Museum will host creative activities for children and families and will have its Museum on the Go Bus parked on the street outside the gallery.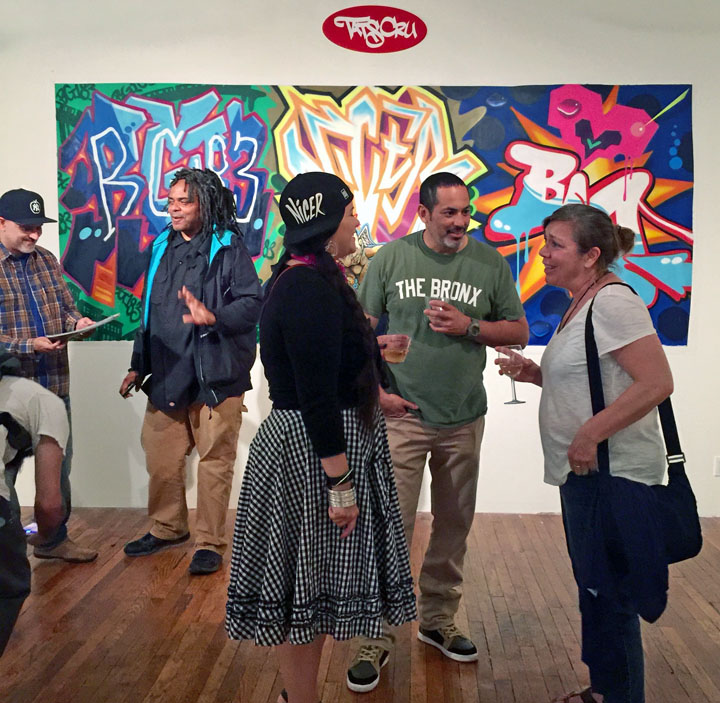 How can folks see the exhibit, particularly if they can't make it to the opening?
Located at 305 E 140 Street between in the South Bronx, BronxArtSpace is open Wednesday through Friday from 12-6:30pm and Saturday 12-5pm. The exhibit will also be open on Wednesday, June 7, from 6-8pm for Trolley Night. And on Thursday, June 22, at 6pm there will be an artist talk with Hector Nazario aka Nicer, Sotero Ortiz aka BG183 and Wilfredo Feliciano aka Bio, along with the premiere of The Jardin Orange Project, a short documentary that features some of the world's most renowned streets artists, including TATS CRU, as they come together to paint massive murals in the city of Shen Zhen, China.
Note: Tomorrow's event — free and open to the public — is sponsored by neighborhood businesses JCAL Development Group, ID Studio Theater, Zaro's Bakery, La Grata Italian Restaurant, Filtered Coffee, and Bronx Native, along with the support of Port Morris Distillery and The Bronx Brewery.
Images
1  Invite featuring BG183, Nicer and Bio
2  Curators Eileen Walsh and Laura James
3  Nicer
4  Bio
5  BG 183
6 Bio with guests at preview
Photos 2-6 by Lois Stavsky; interview conducted and edited by Lois Stavsky — who will also be moderating the Artist Talk on June 22. Special thanks to Scratch for her assistance at the preview!