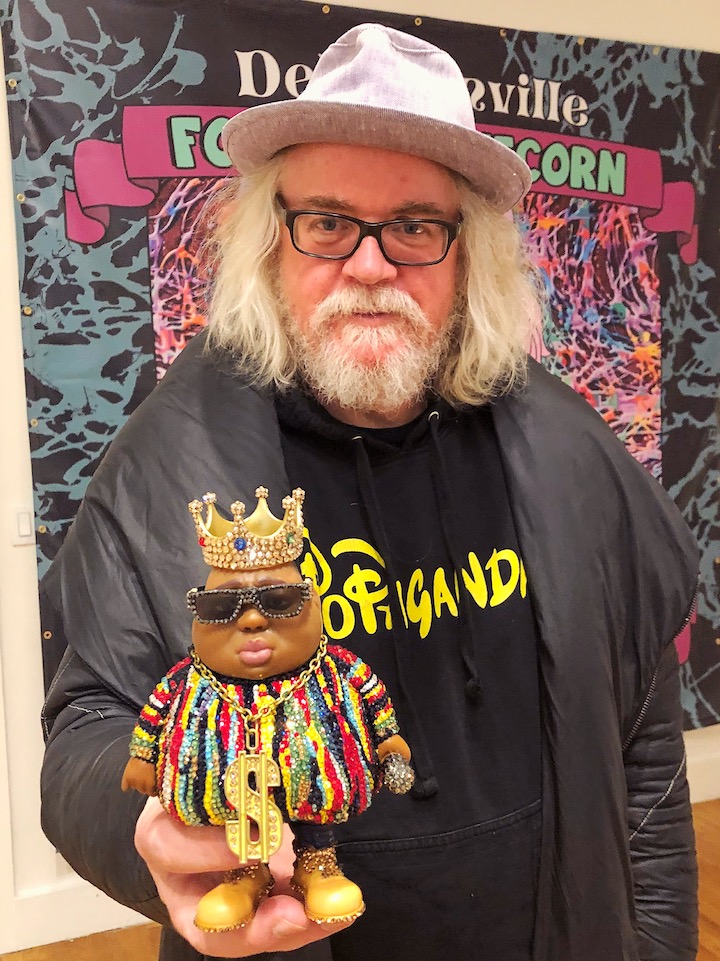 The following post is by Street Art NYC contributor Ana Candelaria
This past Friday, I had the honor of interviewing the legendary Ron English at the release party of Big Poppa classic colorway, a designer toy created by Ron English in partnership with Beacon-based Clutter. Limited to just 75 pieces worldwide, this historic drop featured a limited edition run of 10 Crystal Big Poppa classic sweater designer toys, hand embellished with 4,130 Swarovski crystals. Fans had the opportunity to meet Ron English, view and purchase Big Poppa, and pick up an exclusive collectible can from Kings County Brewers Collective.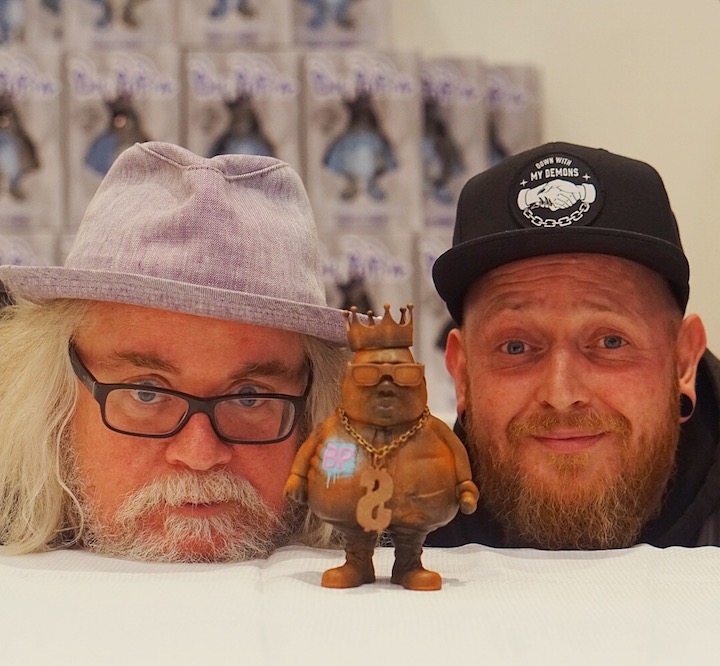 Can you tell us something about the birth of Big Poppa?
Here's a little secret! My character MC Supersized was a bit based of him! Biggie was still around at the time. It was in the late 80's.
How long did it take to create Big Poppa? 
It took about two years from starting to sculpt to this final product. And that's good for these things!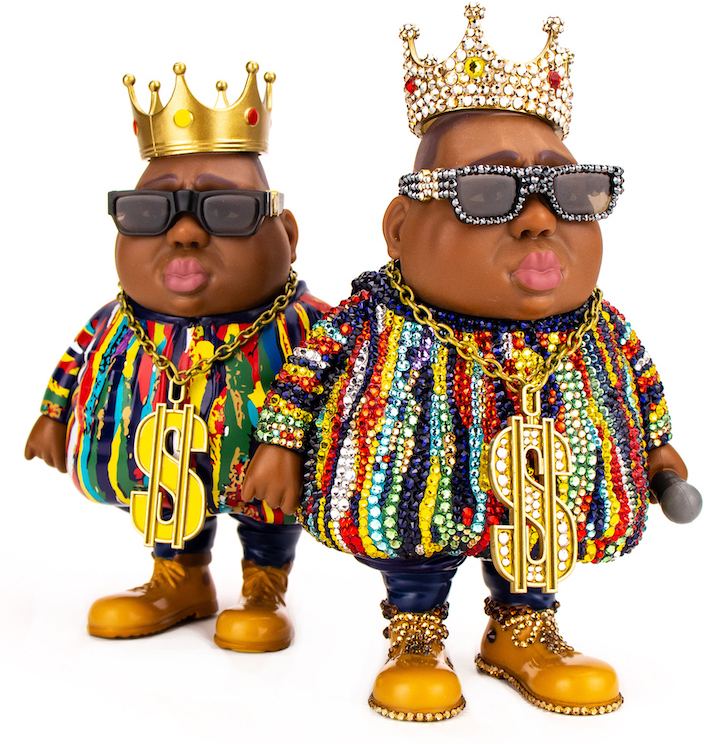 What inspired you to create Big Poppa?
Awhile back during a screening of my movie POPaganda, one guy in the audience got up and said, "We watch this movie and we know everything you hate. What do you like?" And I thought I should shout out a few things that I actually like — like puppies and Big Poppa!
What does your new character represent?
For me, he just represents inner joy and happiness. Being at ease with yourself, enough so that you can create without even trying, or at least seeming that you are not even trying. That effortless kind of thing!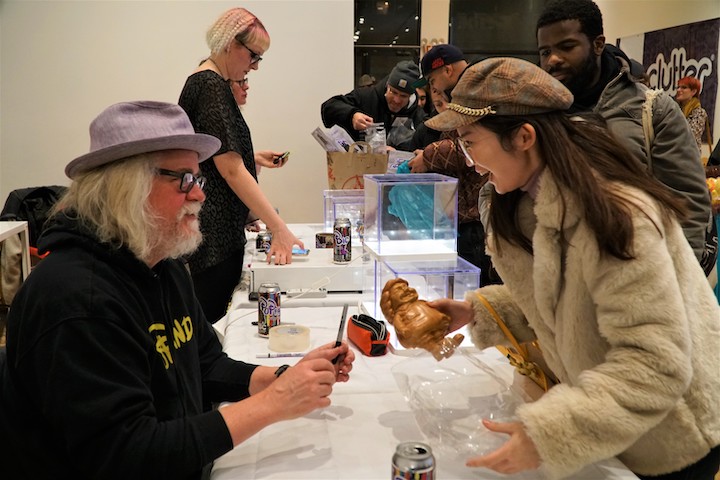 How much of your art, would you say, is political? 
Probably — in some way or another — all of it; and — in other ways — really none of it. Most political things kind of come and go very quickly, or they become irrelevant. I actually try to create things that will have a relevance in a thousand years. If anyone will want to know what it actually felt like to live right now, I'm your guy!
Do you want your viewers to walk away with a message of any kind? 
I really want to create a feeling or a vibe that will infect your spirit and hopefully you go away a bit happier. You know…being able to enjoy life a little bit more.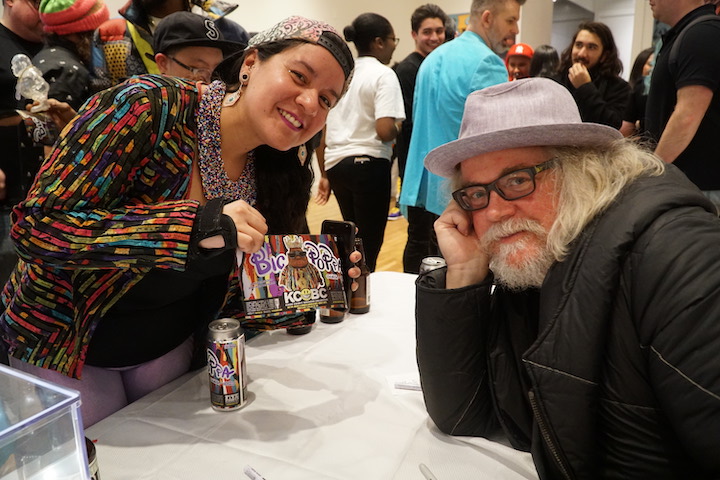 What's next? 
We just left a recording studio, where we were finishing up our new record called, We Are The New They.
Awesome! What kind of music is it?
The vibe is very modern.  I'm influenced by The Beatles and early rap, so I just put it all in there.  I'm working with some of the most talented people out there. And the great thing is because they're all playing different characters, they embody all different styles!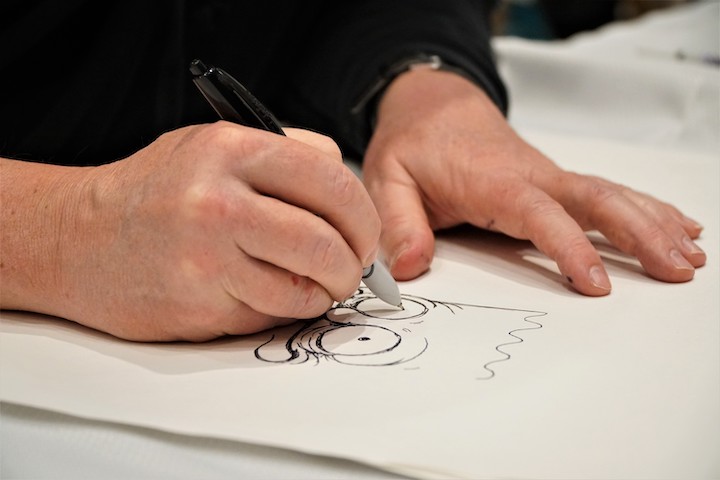 Do you, yourself, listen to music when you're creating? Does it inspire you?
Actually, no! When I create, I'm in a very deep state of concentration. Music could be playing, and somebody could be shooting a puppy, and I would be totally unaware!
Interview withRon English conducted by Ana Candelaria and edited for brevity by Lois Stavsky
Photo credits: 1, 2, 4-6 Ana Candelaria; 3 courtesy Clutter
Note: Photo two features UK-based toy designer and street artist Czee 13 to the right of Ron English