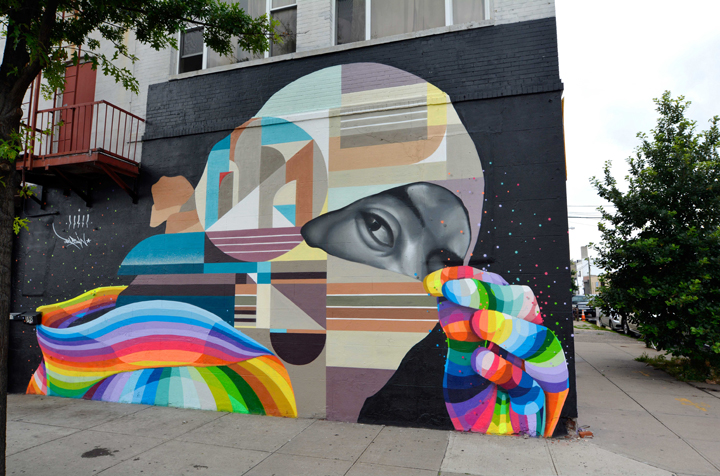 Penned by photographer, writer, neuroscientist and street art aficionado, Yoav Litvin, 2Create: Art Collaborations in New York City is a distinctly elegant ode to the art of collaboration. Recently released by Schiffer Publishing, it was formally launched last month at the Bronx Museum of the Arts alongside a collaborative photography exhibit, 2gether: Portraits of Duos in Harlem and the South Bronx by Litvin and Tau Battice. A textual and visual documentation of the creative and collaborative process among nine pairs of artists, 2Create also presents first-hand accounts of each one's early life and work.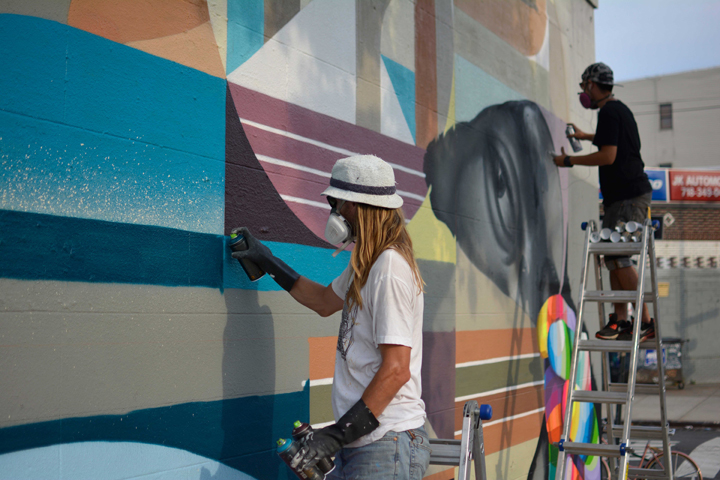 Featuring such duos from NYC-based Al Diaz and Jilly Ballistic to the Iranian brothers Icy and Sot, 2Create: Art Collaborations in New York City showcases a broad range of styles, sensibilities and processes. It also introduces us to the specific locale — from Manhattan's Union Square Subway Station to a Greenpoint, Brooklyn rooftop — of each of the collaborative works featured. With its astute insights and superb design, it stands out among the dozens of street art-related books published last year.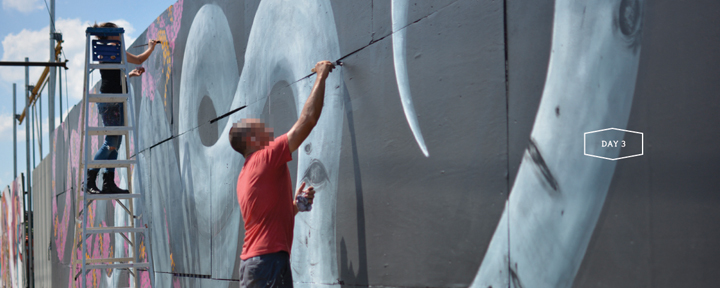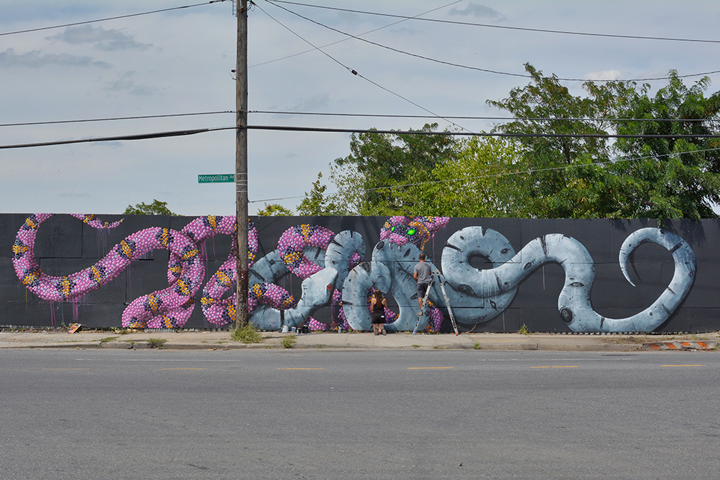 After reading the book, I posed a few questions to Yoav:
Your first book, the highly acclaimed Outdoor Gallery: New York City, focused largely on individual artists. Why did you decide to focus on duos in this book? 
In contrast to other art forms, such as music or dance, the visual arts involve a more solitary practice. Painters are famous for being hermits: closing themselves off from the world in their studios where they paint their masterpieces. At least, that's the popular narrative. I feel that because the visual arts are easily commodified and objectified, they have evolved in such a way.  While I was working on Outdoor Gallery, which focuses on 46 individual artists, I noticed several duos of street and graffiti artists who produced incredible works, and I was fascinated by their practices. In 2Create I seek to investigate the art and practice of collaboration in different mediums — collage work, screen printing, stenciling, graffiti and mural making. My goal with 2Create is twofold: to present the behind-the-scenes processes of these artists and to investigate the secrets of collaboration, with the ultimate aim of encouraging others to create together. Just like any skill, collaboration needs to be practiced!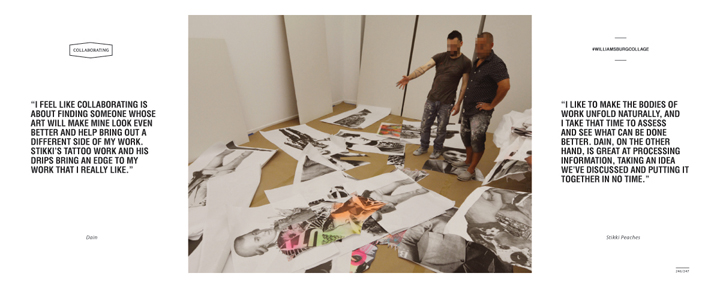 How did you decide which duos to feature in 2Create?
My process with 2Create was mostly democratic. I was looking to present a diversity of styles, messages, mediums and locales. I am cognizant and weary of the politics involved in the arts and attempted to focus on artists that I felt were doing radical, innovative work and were constantly challenging themselves. Throughout my research on collaborations, I discovered there were two major categories that lie on a continuum — from complementary collaborations – individual works presented side by side – to integrative, a single piece that seamlessly integrates the work of two artists. I chose nine duos that present the full spectrum.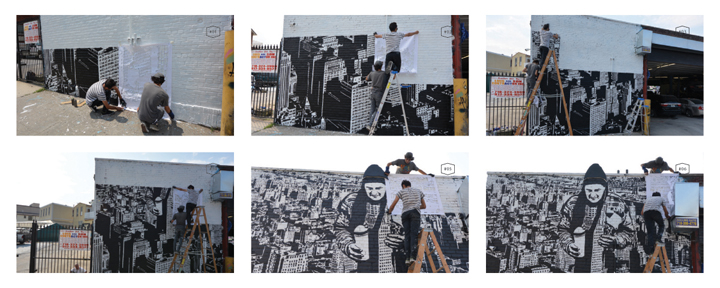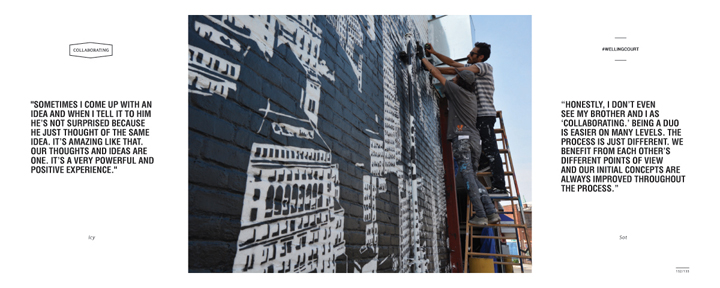 What insights did you, yourself, gain into the collaborative process, particularly among visual artists?
Collaboration is a skill that should be practiced by any visual artist as part of his/her development. Collaboration is an exciting and stimulating process that can produce immense growth if approached correctly, but can be very challenging at times. An artist needs to respect and trust his or her collaborator and be willing to be adaptable and open to critique. The collaborative process can open new doors for an artist  — in techniques, messages, ideas and human connections that can be useful moving forward.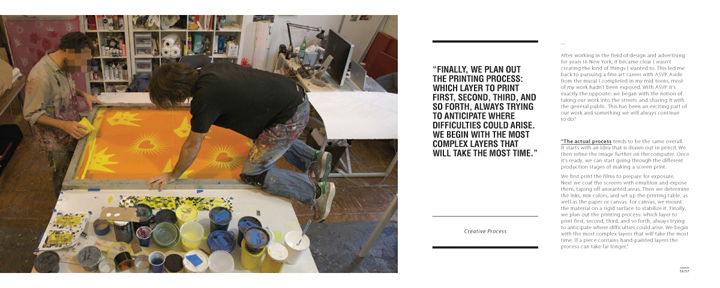 The book, itself, is masterfully designed. Can you tell us something about that? 
For the design I worked with the designer Dan Michman, who is also an excellent childhood friend. It was important for me that every aspect of this project be collaborative. Dan is the best designer I know, plus I like him a lot and knew from experience that we'd collaborate well. Our process was incredible. Dan took my materials — images and texts — along with my notions on the artistic process and on collaboration, and created a stunning design "language" for the book. It was a truly integrative collaborative process. I could not be happier with the way it turned out. Plus, the cover design is simply stunning. Lastly, Schiffer Publishing did a great job in the book's production.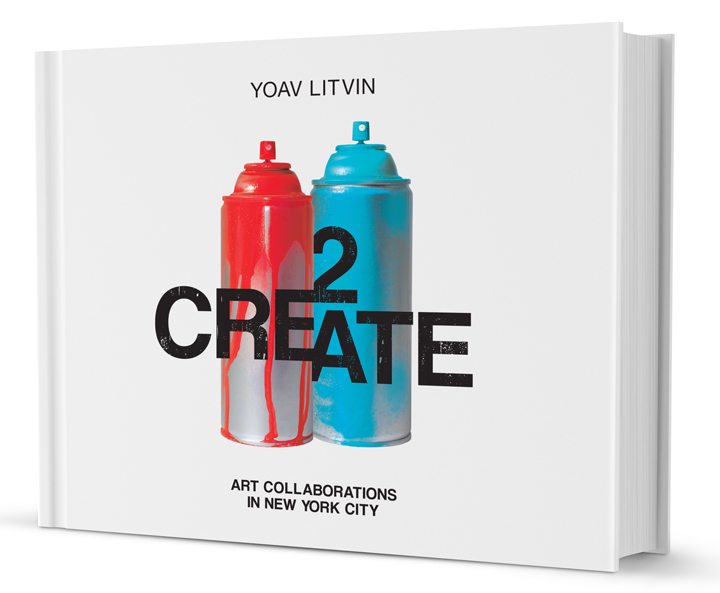 How has the response been to 2Create?  Is there any particular readership you'd like to reach?
The response has been overwhelmingly positive. In addition to appealing to the street art and graffiti fan crowd, my hope is that 2Create will integrate as a text book for art schools, colleges and universities. I believe the behind-the-scenes process shots, the revealing interviews and the insight into the art of collaboration make it a unique resource for artists in general, and visual artists in particular. But 2Create is more than a book on art. It is a document that presents the collaborative duo as the basic unit of a collective humanity in which empathy and collaboration trump disregard and domination. In an era of the cult of celebrity, war and climate change, collective action is not only beneficial, it is necessary. 2Create expresses these radical notions and I hope it will serve to inspire activists fighting for the greater good.
For more listen to Yoav speak on Counterpunch Radio here.
Images
5  Stikki Peaches and Dain

6 & 7 Icy & Sot
8 ASVP
All images © Yoav Litvin
Note: Hailed in a range of media from the Huffington Post to the New York Times, our Street Art NYC App is now available for Android devices here.