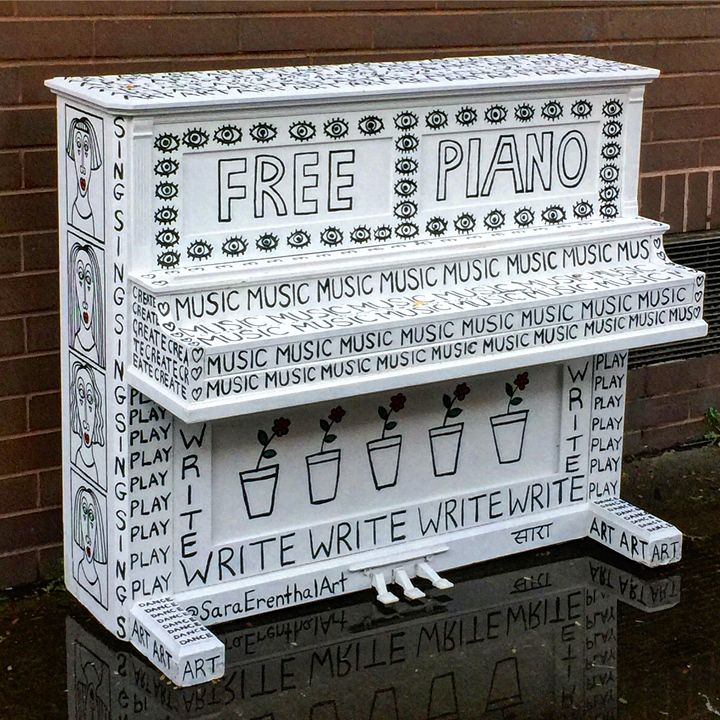 A self-taught, multi-disciplinary artist, Sara Erenthal has a strong presence on the streets of Park Slope, Brooklyn. We recently spoke.
You've established quite a presence here on the streets of Park Slope. What keeps you coming back?
There is a lack of public art in Park Slope, and there seems to be a hunger for it. Folks here have been so receptive to what I am doing. They seem excited to have something interesting and different to look at.  Park Slope is where I am living these days, and so it's easy for me to get around either by foot or by bike.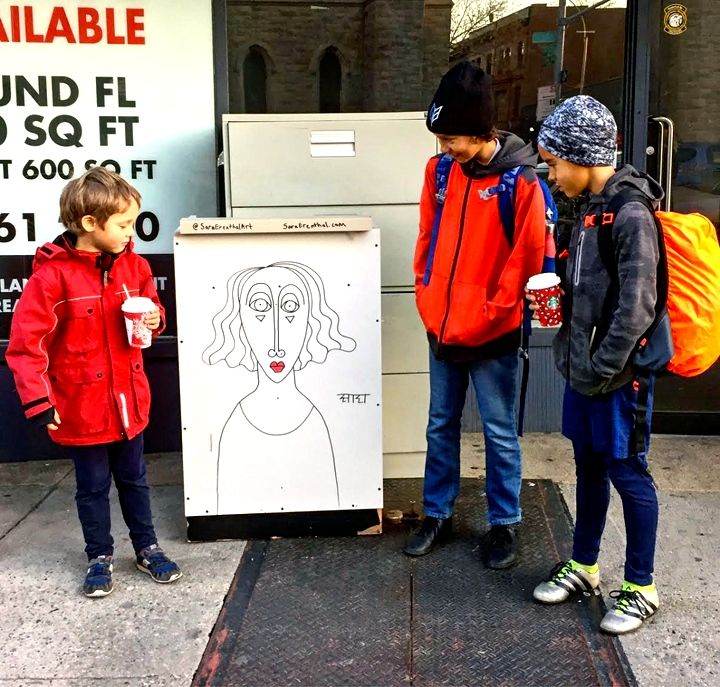 With the exceptions of the walls you are commissioned to paint, your canvas is almost always some type of discarded object. Why is that?
Since folks take many of my works home with them, I feel that I am saving trash from ending up in landfills. Also – what I am doing is not illegal. I cannot take the legal risks of doing unsanctioned artworks that could land me with a fine, time in jail or both.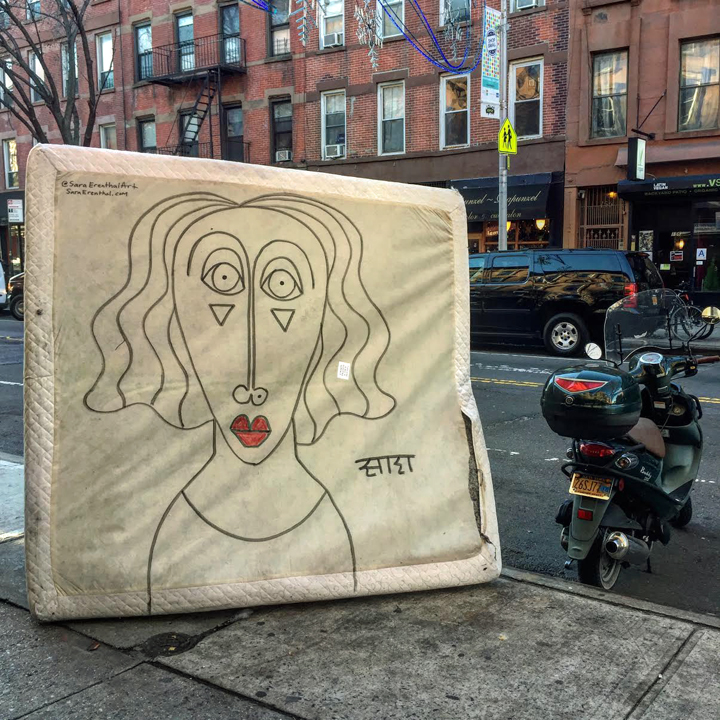 You almost always seem to be drawing faces. Can you tell us something about them?
They are variations of myself – subconscious portraits. Growing up in a cloistered ultra-Orthodox world, I was limited to just one hairstyle. The changes in the hairstyles represent the changes in myself.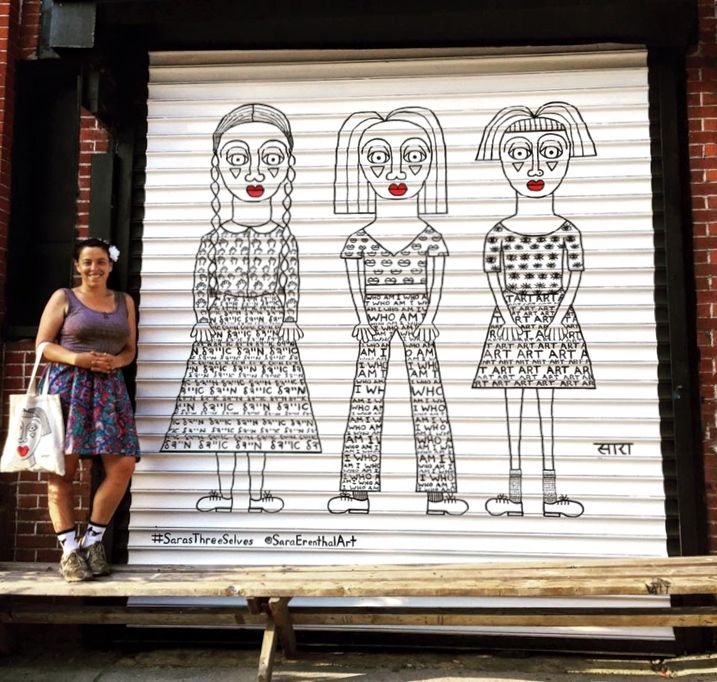 I've noticed folks stop and often photograph you while you are drawing.  Do any particular interactions with passersby stand out?
Yes! Recently a woman ran after me as I was rushing out of my house — in my pajamas — to the local health food store to buy some ginger. I was sick at the time. She asked me if she could bring her father – a huge fan since he had seen my work on a mattress — to meet me. He showed up almost instantly for his daughter to snap a photo of the two of us  — with me decked in my pajamas!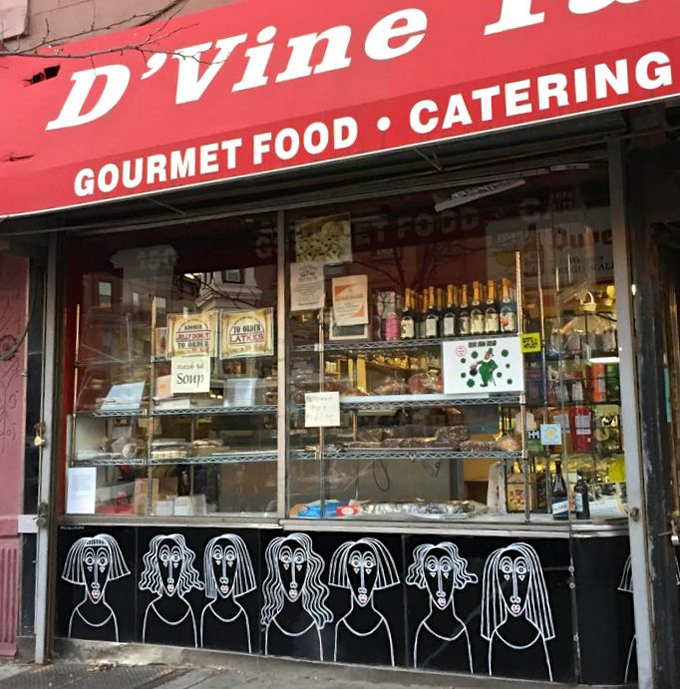 In addition to your work on found objects, you've also painted on a range of sanctioned surfaces this past year. Any particular challenges? Any favorites?
Painting on a shuttered gate was definitely a challenge as I generally paint on flat surfaces. Among my favorites is the artwork that I painted at D'Vine Taste.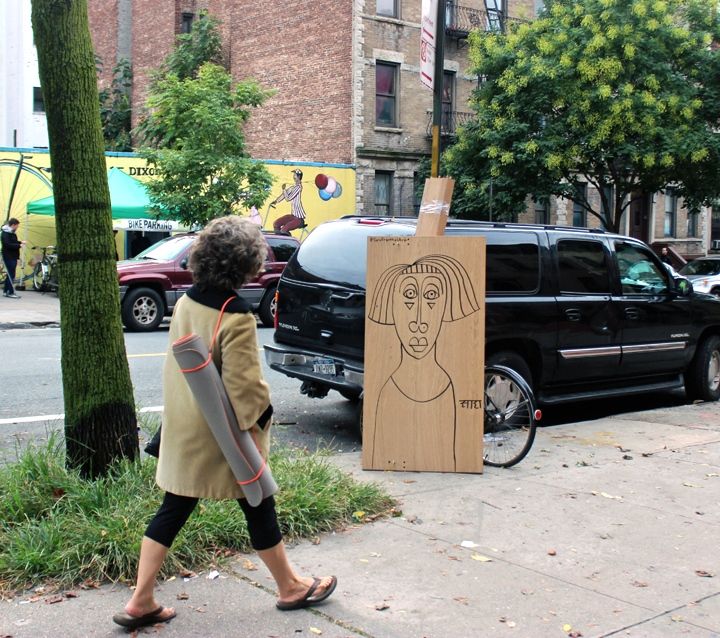 Yes! I love the stark simplicity of the white on black. It's beautiful! And what about the piano? How did that become your canvas?
A local pre-school threw it out last spring with a sign "Free piano." Six months later it was still there. I asked then for permission to paint it. And I love that it is still there! I feel as though I gave it a new life.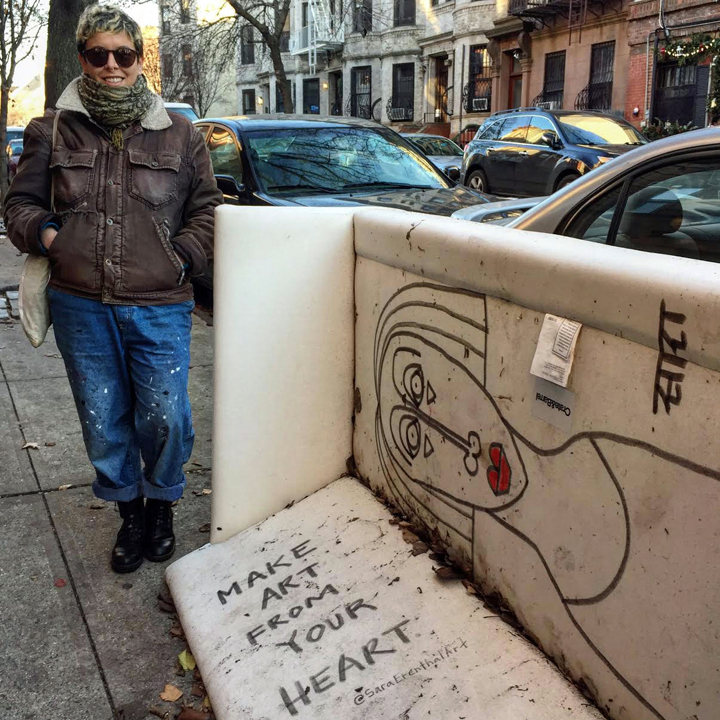 You did! What's ahead? 
I am now preparing for a solo show to open at FiveMyles Gallery at 558 St Johns Place on March 9 from 6-9pm. And later in the spring, I will be exhibiting my work at Google's New York site in Chelsea. An outdoor mural in Gowanus is also on the horizon.
I'm looking forward to it all! Good luck!
Photo credits: 1-5 & 7 Lois Stavsky; 6 Tara Murray; interview conducted and edited by Lois Stavsky
Note: Hailed in a range of media from the Huffington Post to the New York Times, our Street Art NYC App is now available for Android devices here.