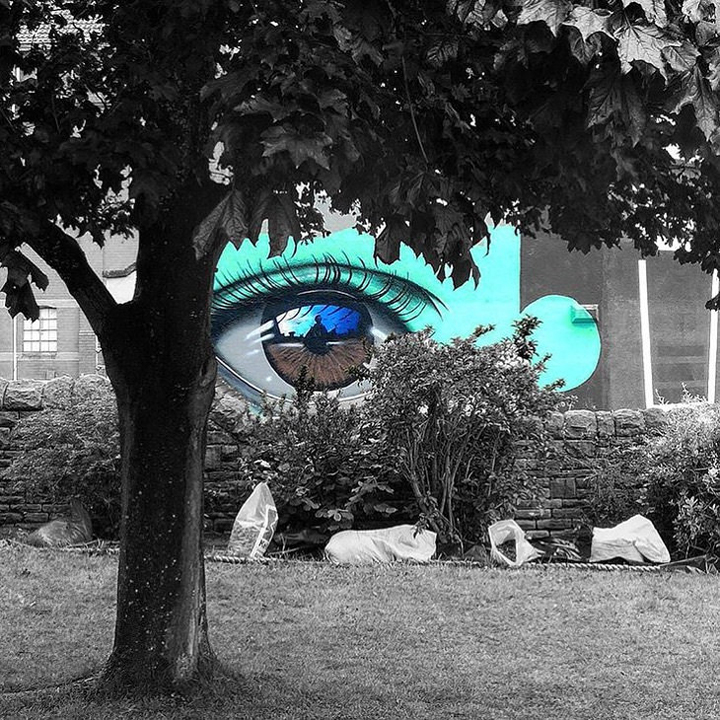 UK-based artist My Dog Sighs hits New York City this week with the London Ibiza Collective. Presented by Imagination in Space, the exhibit opens tomorrow, October 6th, and runs until the 16th at S Artspace Gallery, 345 Broome Street, in Lower Manhattan. What follows is an interview with the widely-acclaimed artist who has come to New York for the first time:
When did you begin hitting the streets? 
I've been leaving some sort of mark on the streets for about 15 years now.  I'd tried the gallery route a few years before and I failed.  It was so elitist. I began to realize that what you saw on gallery walls was dictated by curators. Not representative of the artists out there. I tried painting what I thought galleries would like, and that was a disaster. Watered down drivel.
So was it the democratic nature of street art that appealed to you?
Yes!  Having stumbled across some early street art — and then Wooster Collective — I loved the way street art engaged a truly democratic audience. The interaction it offered… It had such aesthetic too, so often working with the beauty of  urban decay. I started taking a piece of my work out with me on the way to catching the train to work on a Friday. I would find a nice quiet spot and leave it there for someone to spot and possibly take home. It was liberating.  I got excited as I walked away from the piece.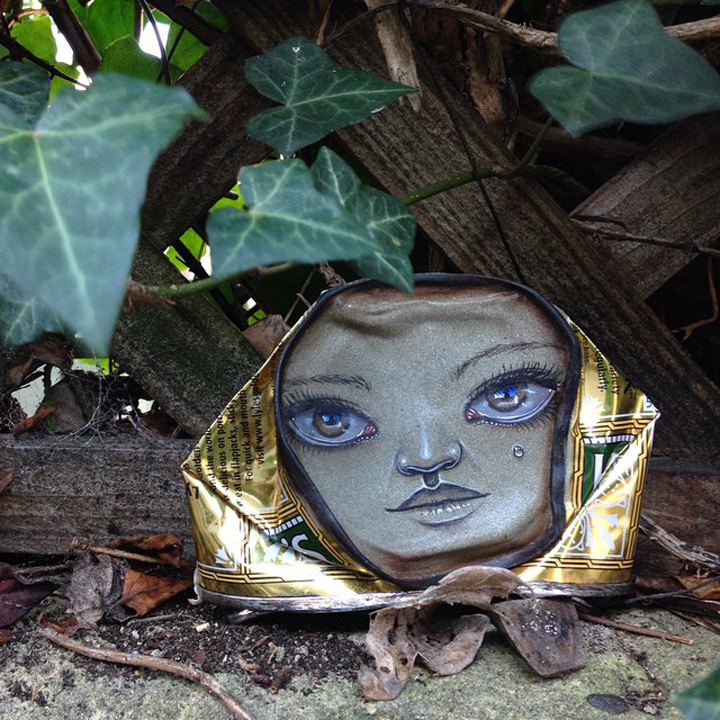 What were some of your thoughts at the time?
A million questions ran through my head.  Who would see it?  What would they think?  Would they take it?  Would they feel wrong to take it?  Would they feel it's right to take it? Would they carry the thought around with them all day? Might it encourage them to do the same? Imagine hundreds of little pieces of art hidden around the city! I started posting images online with the tag line Free Art Friday, and I started to get a good response…not just from the street artists and graffiti writers but also from lots of people who just liked the sentiment of the altruistic act.
And so that was the beginning of the Free Art Friday movement! How were you able to afford to do this?
Yes! Little did I know that it would explode across the globe! Working without funds meant I used what I could find. So scraps of cards, junk and crushed food tins became my canvas.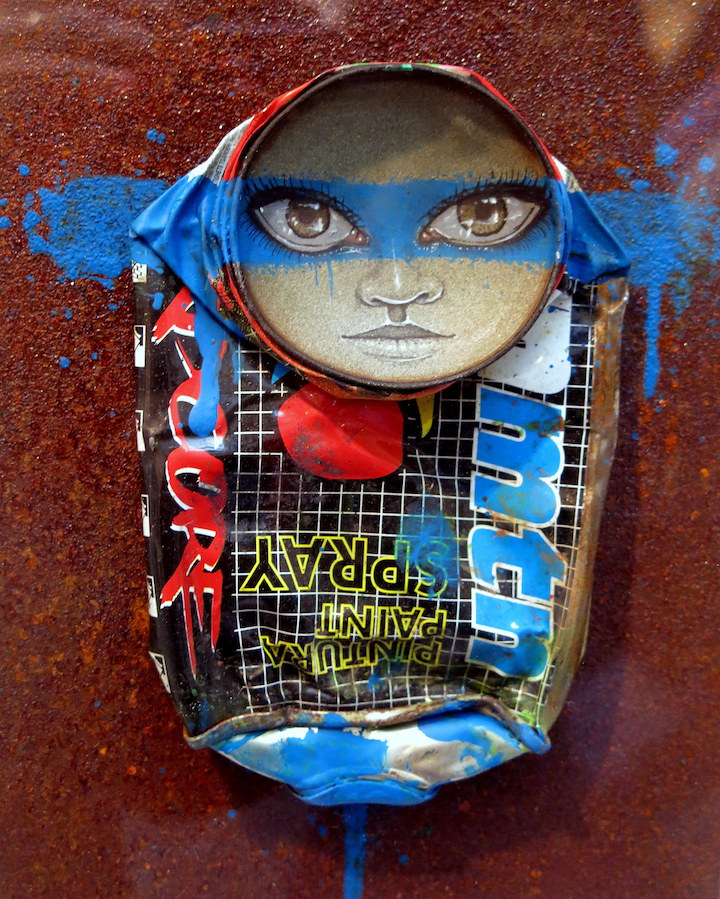 Can you tell us something about your name? It is certainly distinct!
When I started working on the street, there were no street artists. There was just the art. There was no celebrity status like there is today. No one was interested in the artist. Just the art. And I loved that. I was never interested in being recognised for producing the work. I just liked the fact it was going to be seen. It was going to force people to question their everyday existence. It was going to confuse them and allow them to just break the monotony of the daily grind. With that in mind, I didn't really want a 'name'. It wasn't necessary. I just wanted something easy to remember and that might add a layer of confusion to the viewer. The phrase My dog sighs had been sitting in my head for decades after seeing it scrawled on a fence in Biro as a kid. I remember looking at it for just a split second, but its melancholy and surreal nature just embedded itself in my brain. I can't remember things one minute to the next, but I could not forget this phrase.  When I was trying to think of  something to write next to my work, it seemed to make complete sense to use this random phrase.  I never, for a moment, imagined that 15 years later I'd walk into a bar and get referred to as My Dog or Mr Sighs.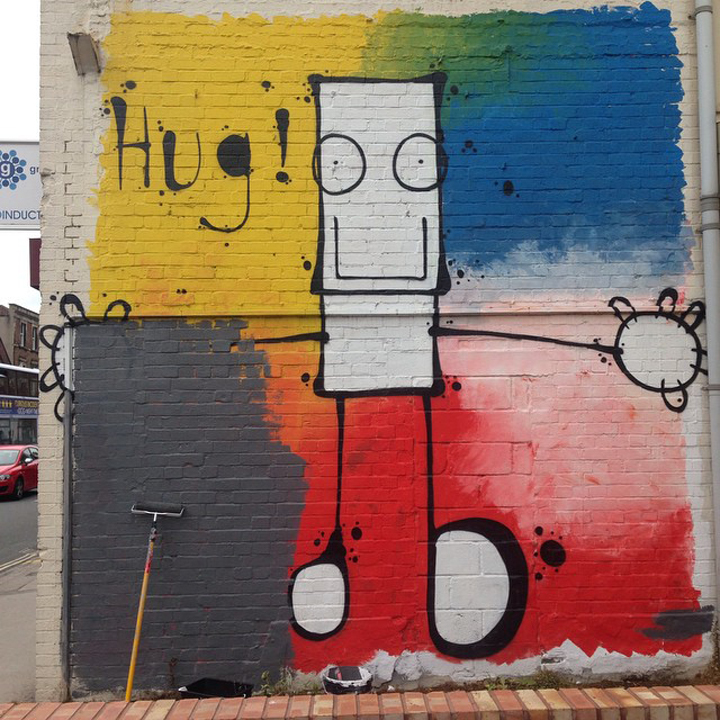 Much of your work focuses on eyes. Can you tell us something about that?
That developed from a can. I'd started painting cans with eyes that were closed, but then I thought I'd try one with eyes open. I nailed the eyes but messed up the nose. Feeling frustrated, I threw the can aside. A week or so later, I walked past a woman in a full burka. Everything was hidden except these beautifully made-up eyes. There was something so alluring and mysterious about seeing just eyes. I was completely captivated. I immediately came home and painted everything black on the cans except for the open eyes. Just like the burka. That can was one of my favorites. I then began to think about the power of seeing so little, and I started to explore the image of a pair of eyes in a narrow aperture. Initially, it was just a window the eyes looked through, but later I began exploring  that letterbox aperture in different formats; tags, drips, paint splashes. And I started to notice how when you look into someone's eyes, you can see your own silhouette in the reflection. And as I continued to explore this, I began to hide narratives in the reflection. Little hidden stories that may at first be completely overlooked but — once discovered —  could be intriguing! It's a huge cliche, but the saying The eyes are the window into the soul is often thrown at me. And I suppose I'm exploring that idea. Maybe it's that I'm not very good at painting noses!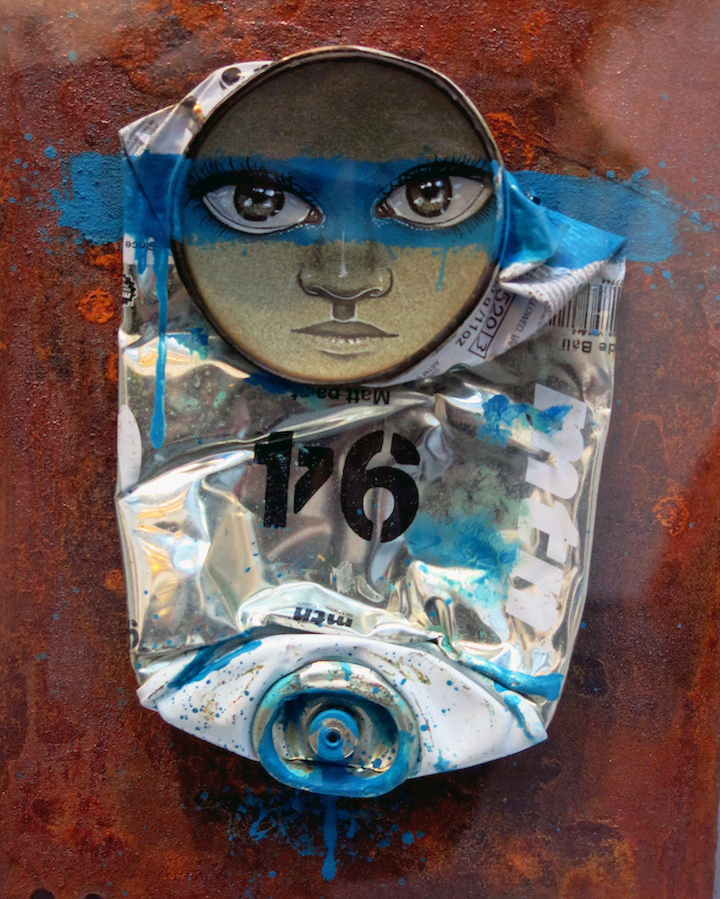 What can we expect to see in your upcoming exhibit — here in NYC?
For this show I went right back to one of the key moments in my life that shaped my interest in art. As a kid at school, art was about viewing traditional English landscapes and endlessly drawing cross sections of fruit and dead house plants in boring art classes. Then one day I saw a Lichtenstein print in a shop window. It blew me away. This bold brash comic book image was something I completely related to. And here it was masquerading as art. Unsettling and infiltrating the art world! Lichtenstein was my gateway into Pop — the shock of the new and the idea that art could be unsettling and naughty and ultimately very powerful. I've been exploring the burka stripe behind eyes in different formats and when the opportunity to show in NY came up, I knew exactly what I wanted to do. To pay homage to a hero.
When we were in London last year, we came upon your collab with the Brazilian artist Cranio. We loved it!  Have you collaborated with others? Do any of these collaborations stand out? Would you rather work on your own or collaborate with other artists?
Oh yeah. I love a good colab. It really gets you thinking outside the box. When you rock up to a wall on your own, you have a good idea about what the end result will be. But working with someone else is like cooking. When it works well, the sum of the two parts can be more than the ingredients. Among the artists I've collaborated with are: Snub23, Farkfk and Julian Kimmings. But I think my favorite was with Toasters in Bethnal Green last year. I was painting with a true hero, and the whole piece just seemed to work so well. We both had really in-tune ideas about what we wanted to achieve and it all just flowed so well.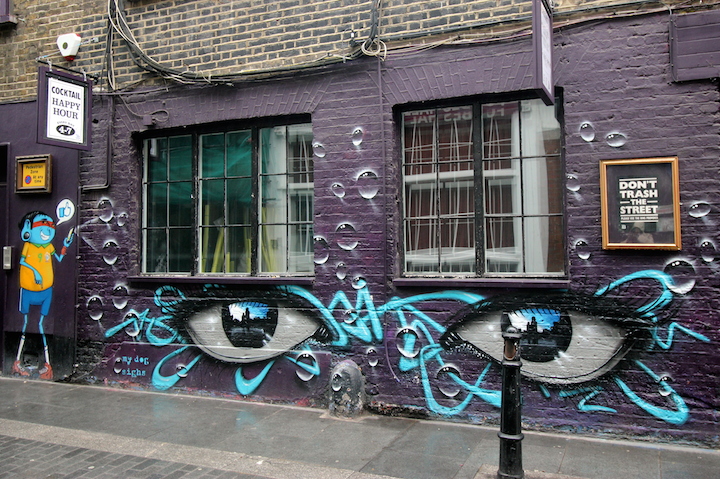 For the past several years, your works have also made their way into galleries and art fairs across the globe.  How do you feel about that – the move of street art into galleries? And of your work, in particular, in this setting? 
I always feel like I'm juggling with hot coals a little with this question. Street art is such a pure art form. Maybe not quite as pure as graffiti but up there. It is so democratic. Art by anyone for everyone. It offers so much but asks for so little. And to do it makes my heart soar. But by its nature, it does not pay your rent or feed your kids. For a good while, I had a day job and kept art and money completely separate. But this drastically limited how much time I had to do it. After ten years of putting work out on the street I began to be approached by people to buy my work. Initially this funded the purchasing of new art resources, but eventually I began to see it as an opportunity to paint and create more. A few years ago I found myself in a position where I could paint full time. All day everyday. To get paid for something you adore doing…for something that makes your heart sing is an incredible thing. My work, both for the gallery and the street, has developed and evolved into so much more with all the time I've been able to dedicate to it. Showing in galleries across the globe gives me opportunities to paint and leave free art across the globe. In that way it's the perfect symbiotic relationship.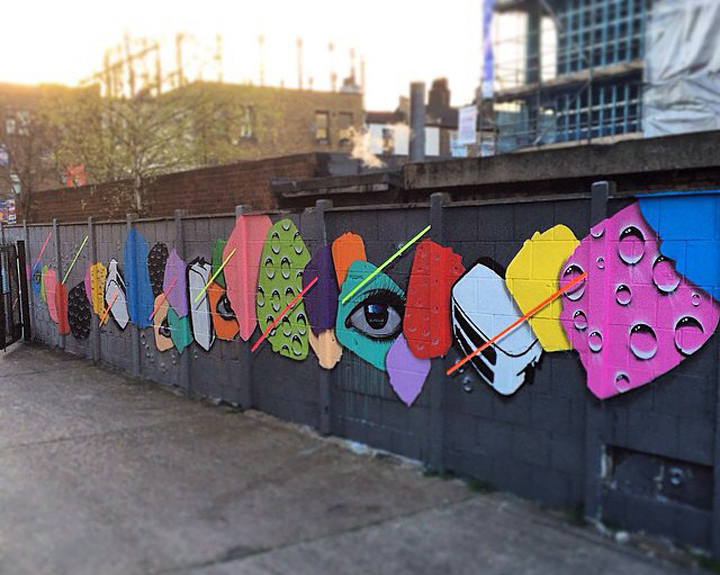 Your work exudes a social and political consciousness. Have you any thoughts about the increasing link between corporations and street artists? Have you done any corporate work? Would you consider doing so?
I have a social and political conscience, and I have a family to support. There is always a balance. I have been approached, but — as yet —  haven't worked on any corporate projects. I can completely understand, though, why artists do choose to work with corporations. They have rent to pay, and I'd never judge anyone for doing so.
How has your work evolved since you first started sharing it with others in public spaces?
For over ten years nothing I painted was ever over a few feet in diameter; it was often only an inch or two. Then 'muralism' seemed to arrive in full force and all of a sudden my contemporaries were painting huge walls. And it's getting bigger and bigger: 16-18 story buildings. And part of what I now do is painting murals around the globe. But that to me is a different form of  street art. Many of today's mural artists have never run around the streets at night, working at speed, considering placement or finding ways to convey a message in creative shorthand. Look at Anthony Lister. With just few quick paint splashes, a thousand pages of prose appears on a street corner. Sublime! People often comment about how quickly I work. It's about finding the simplest way to convey the message.  Huge murals  have their place, but we mustn't forget that there's also something special about discovering a tiny paste-up or hidden piece that you might stumble across or completely miss if you're not looking carefully.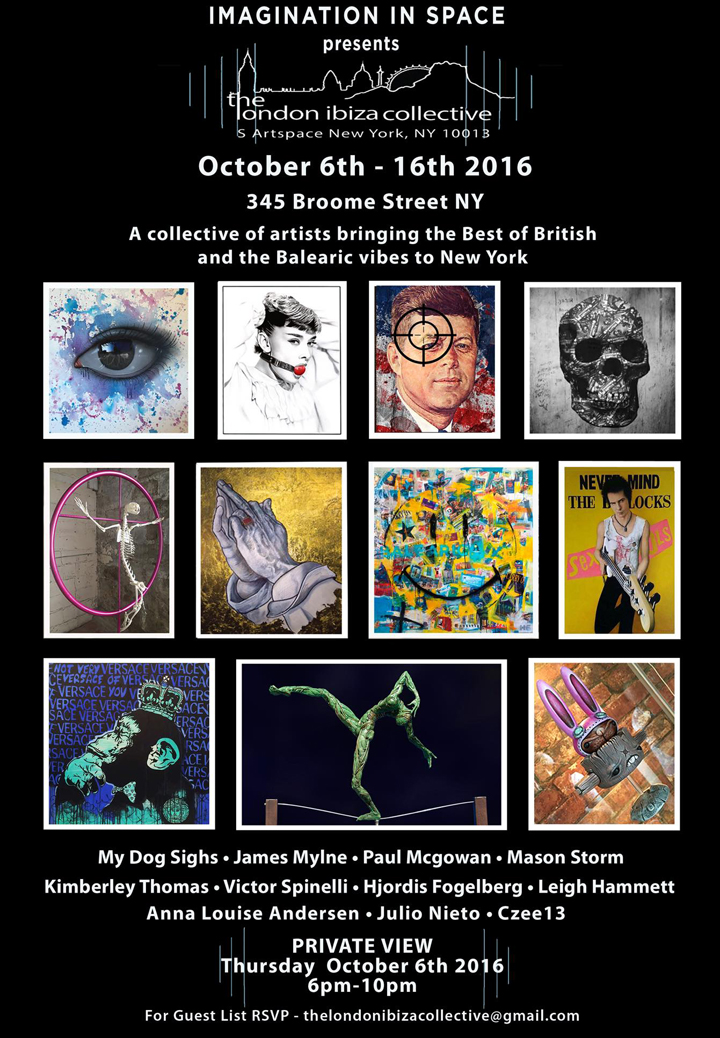 Absolutely!  What brings you to New York? 
It's New York! Do I really need to explain? It's the draw of that energy that NYC exudes. It's the history of public mark making. It's the melting pot of creativity. How can I not want part of my creative journey to take place in New York?
What's ahead?
I'm not a great planner. Once the show is over and the downer of leaving NYC is over, I'll wake up, go to the studio and find something that I can paint. If I'm lucky, the piece will come to life, and I'll find a way of sharing it with the world.
Good luck with it all! And welcome to NYC!
Interview by Lois Stavsky
Photo credits 1, 2, 4 & 7 courtesy of the artist; 3 & 5 Lois Stavsky & 6 Tara Murray