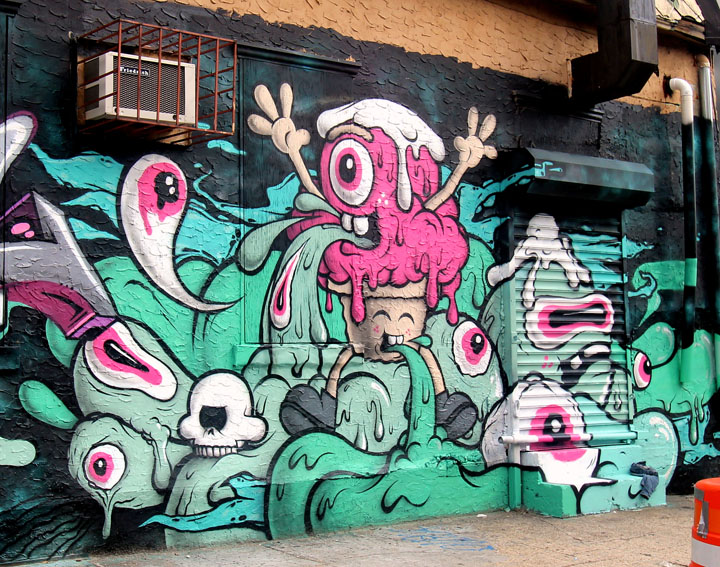 Celebrated for his captivating characters that have surfaced throughout the globe, Buff Monster forever delights us with his playful imagination and creative energy. In addition to painting murals across the world, the wildly talented and prolific artist has fashioned a wide array of artworks from prints and stickers to vinyl toys. He has also collaborated with numerous brands. Curious about this collaborative process, I recently caught up with him where he had just finished painting a mural in partnership with Miller Lite at Dobbins Street and Norman Avenue  — where Williamsburg meets Greenpoint.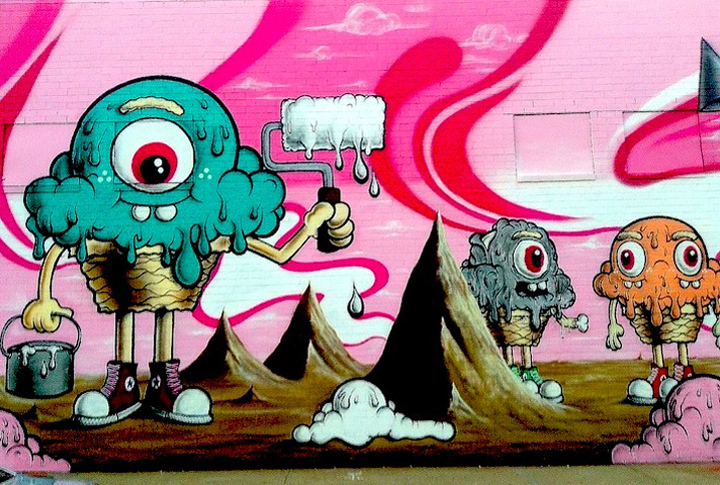 You were born in Hawaii and lived on the West Coast for several years. What brought you to NYC?
I've been to all 50 states, but I've only lived in states with good weather. I lived in LA for 15 years, and I grew tired of the same climate all the time. I needed a change. I wanted to be somewhere where there are seasons. I was looking for something different — personally and professionally.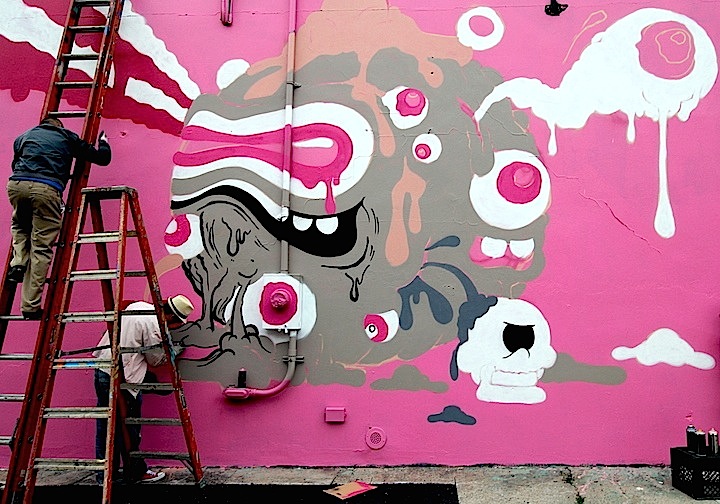 And has NY met your expectations?
Absolutely! I love it! NYC has brought me new opportunities and projects. And snow is amazing! But you wouldn't catch me painting outdoors in the winter!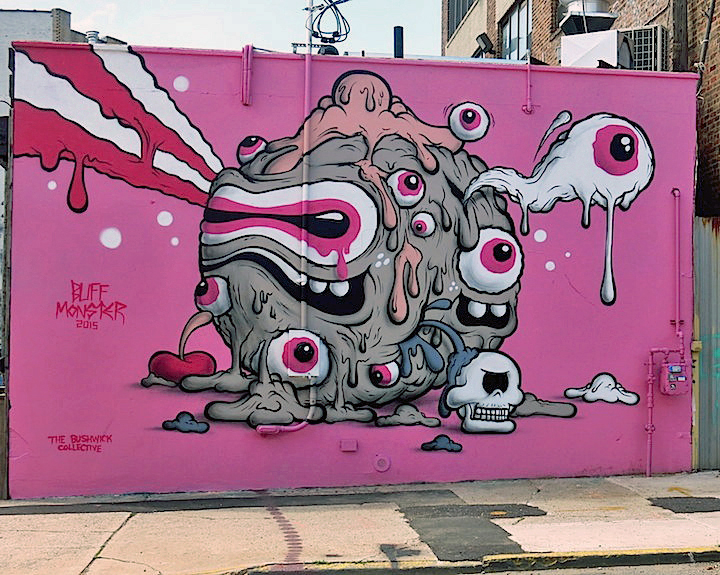 You've created dozens of murals on the streets and an incredible range of your own products. You've worked, as well, with many brands. Among them are: Disney, Converse, Hello Kitty, Samsung, Nike, Coca-Cola and here with Miller Lite. What are some of the challenges that working with brands imposes?
The challenge is to make it work for everyone — for me, for the company I've teamed up with and for its intended viewers. Any collaboration I take on has to be consistent with my brand, and it has to make sense!  A successful collaboration forces me to think. And I like to think! I like challenges!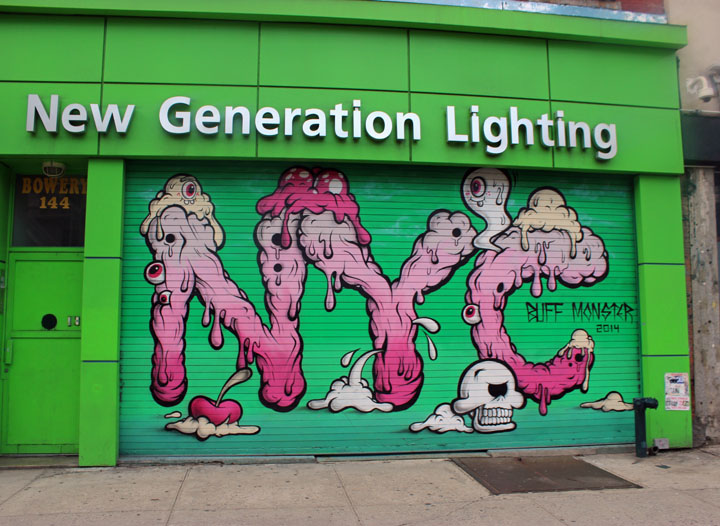 What about this particular project — this collaboration with Miller Lite?  What's happening here?
This blank canvas was donated to me by Miller Lite as the first installation of  its Our Can, Your Canvas project, a program aimed at celebrating the character and soul of iconic neighborhoods. My challenge was to capture the distinct spirit of Brooklyn — its energy and integrity. And so I came up with symbols that represent Brooklyn as I see it.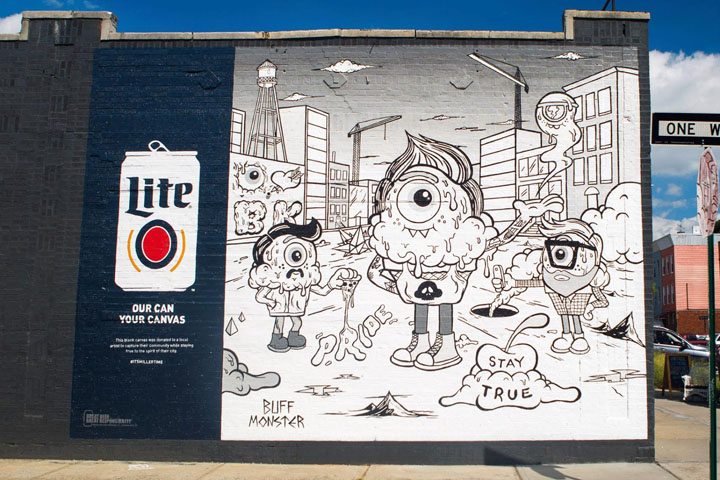 You studied Business Administration and Fine Art at The University of Southern California.  How has your education in business administration impacted your art career?
It made my art career. If you don't make money from what you do, it is just a hobby.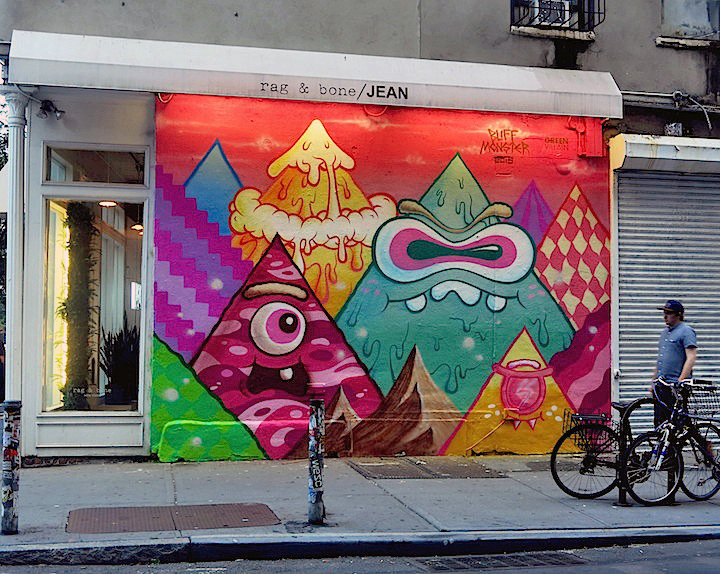 We love your characters. Your Melty Misfits are so much fun. What are some of your influences?                  
Among them are: Heavy Metal, Pop Art, ice cream, Japanese culture and graffiti.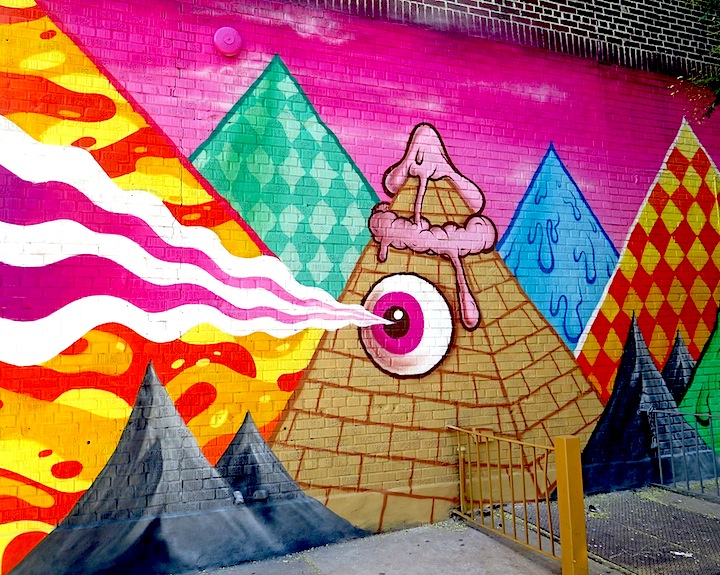 How has your artwork evolved through the years?
It has become more expressive.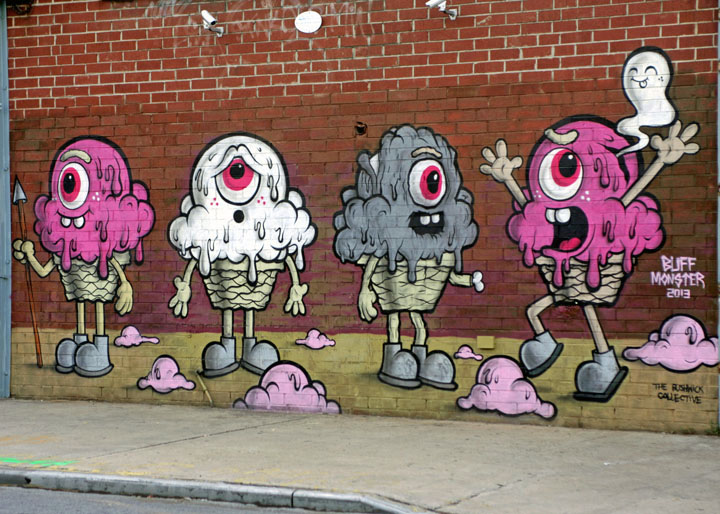 What's ahead?
I'm headed now to the Life Is Beautiful Music Festival in Las Vegas, Nevada where my Self Portrait will be on display at the Crime on Canvas group exhibit. ( Buff Monster has since returned and is now at work in Jersey City with Mana Urban Arts Projects.)
Note: Buff Monster's mural for Our Can, Your Canvas remains up through October 30.
Photo credits: 1, 2, 4 & 8 Tara Murray; 5 Courtesy of Our Can, Your Canvas 3, 6 & 7 and interview Lois Stavsky;