Icy and Sot, two brothers from Iran, have gained international recognition for their expressive stencil art. Gracing public spaces in their native city of Tabriz, as well as in Tehran, their stencils reflect everyday realities and fantasies. We recently had the opportunity to speak with Icy and Sot during their visit to NYC.
What brought you to NYC?
We have a solo exhibit coming up next week.  We wanted to be present at the show, and we are excited to be able to paint walls in NYC.   We've shown in Italy, France, the Netherlands, Brazil, Australia and Finland, but this is our first solo exhibit outside of Iran that we will be attending.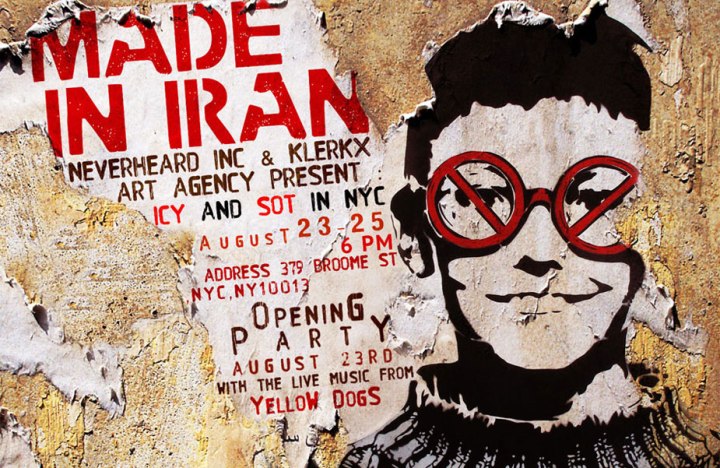 What are your impressions – so far – of NYC?
It's an exciting city, and it's been great meeting so many different artists and people.  We never could have imagined a place with so much street art.  And so many people have been so kind to us.  We especially love Brooklyn — where we are now staying — as there are so many great walls. We are thrilled to paint here.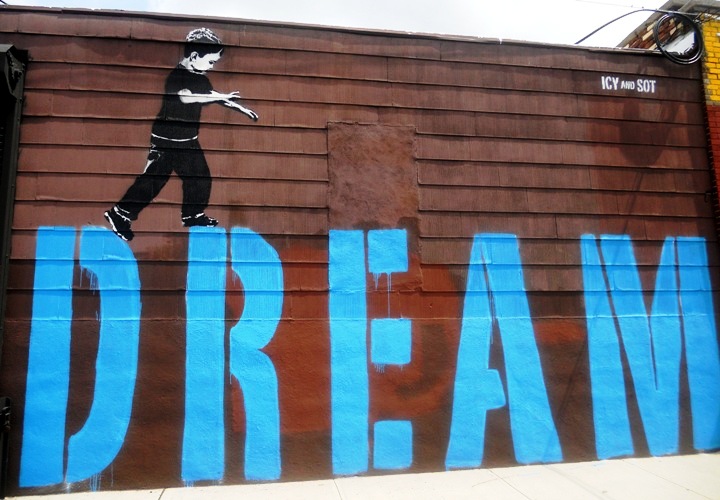 What are some of the differences between the street art scene here and the one back home in Iran?
There really isn't any street art "scene" in Iran. It's an underground movement of about ten people centered mostly in Tehran. We have a few friends back in Tabriz who are into it, but not much happens there.  Here in NYC we can take our time creating a piece in daylight. People actually stop to talk to us and photograph us while we are painting. Back in Iran we had to work either very late at night or in the very early morning. We were always rushing. And in Iran, people didn't consider what we are doing art. Far more folks here do. Also, pieces don't last back home. In NYC we've seen pieces that have been up for years.
When did you first start getting up on the streets?
About six years ago (Icy was 21 and Sot was 16). We were into skateboarding and we started creating small stickers and stencils. We used to put them up in skate spots and places where we hung out. We didn't even know that what we were doing is "street art!"
What made you decide to get your art out on the streets?
We love communicating with others. We can best do that by getting our artwork out in public spaces.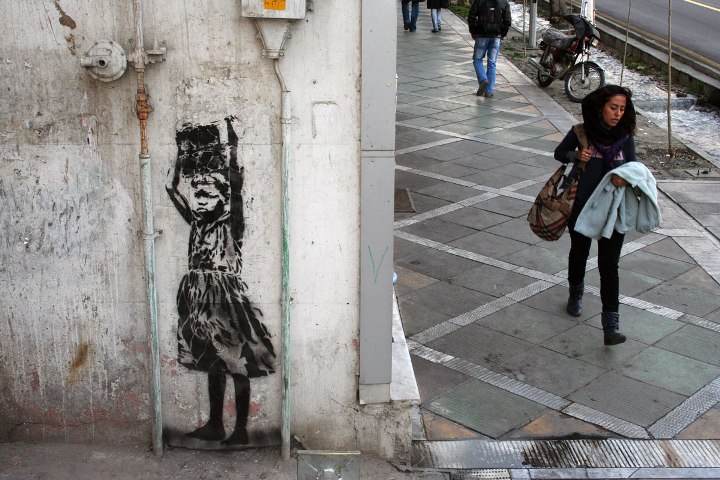 Have you any particular message that you are trying to convey?
There are many. But our main theme is universal peace and human rights.
Is there much of a skateboarding culture back in Iran?
Not more than 50 people in the entire country. And — like elsewhere — it's pretty much rooted in punk.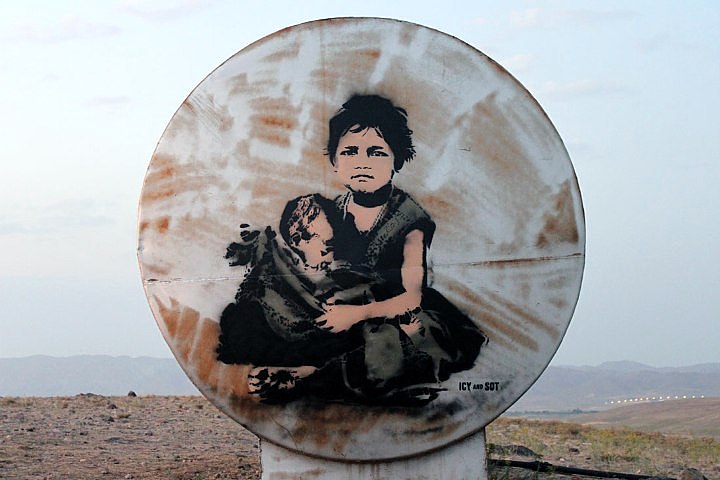 How does your family feel about what you are doing?
Our parents are very supportive.
Great! What percentage of your time is devoted to creating art?
Mostly all of it!  We now have an agent in the Netherlands so we can support ourselves from art sales.
What role has the Internet played in all this?
A huge role.  That's how we discovered what street artists around the world were doing.  The Internet – mostly Flickr — introduced us to stencil artists such as Banksy and Dolk. And it is also how our agent found us.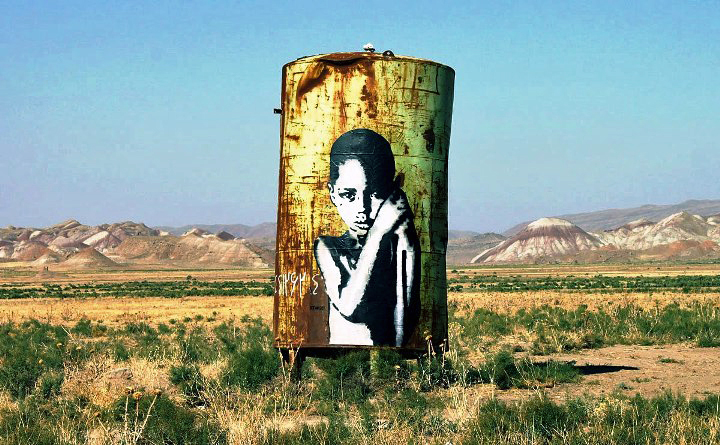 And the Internet is how we discovered your work!  What are some of your other interests?
Back home, we spent our free time skateboarding and hanging out with friends. There was never much to do in the evenings; we spent many nights in the woods and mountains. Here we often spend our evenings at gallery openings. There is always something happening!  Since we arrived we've attended openings at the Hendershot Gallery, Dorian Grey, Mighty Tanaka, Low Brow Artique, Klughaus and the Jonathan LeVine Gallery.  We also had the chance to see for the first time the Yellow Dogs, an Iranian punk rock band, perform.  Its members will be playing at our opening here in NYC next Thursday. It's all been amazing! And during the daytime we love to explore walls and paint when and where we can.
How do you feel about street artists showing their work in galleries?
Our hearts are in the streets, but selling our work in galleries allows us to continue to get it up in public spaces — where it is free for everyone.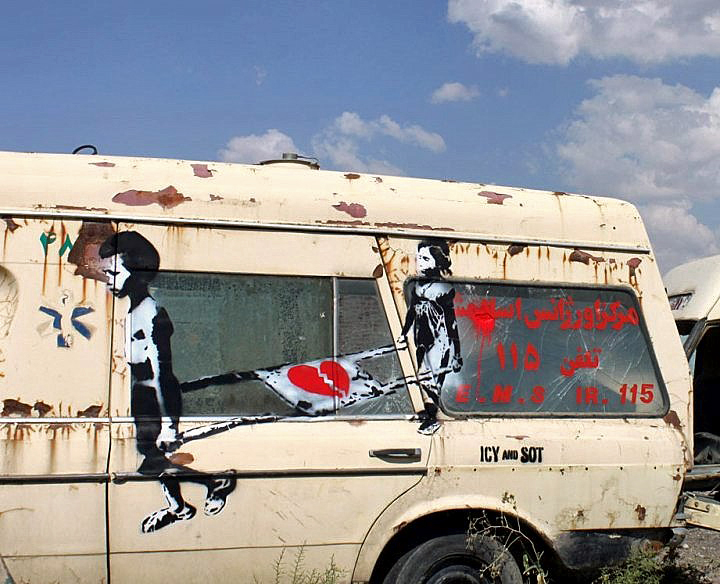 Have you had any formal art education?
Sot: I sudied art in high school, but I didn't really learn much from my classes. I taught myself how to cut stencils.  Icy: I began studying engineering in the university. But I dropped out.
What do you see yourselves doing in five years?
We would love to travel the world and paint.
'sounds great and we are looking forward to your exhibit.
Interviewed by Lois Stavsky with Katya R Botwinick; photo of "Dream" wall in Brooklyn by Tara Murray; all other photos courtesy of Icy and Sot.