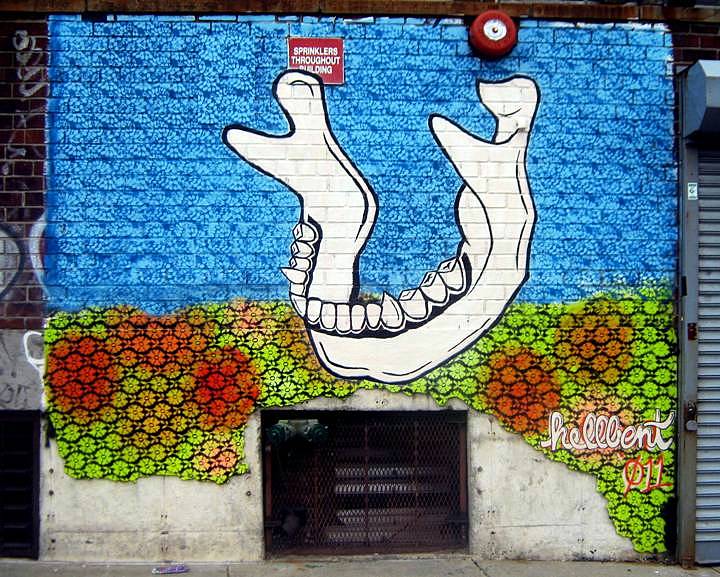 A few years back, a distinct jaw crafted onto a range of tantalizing backgrounds — signed Hellbent — began to surface on boards posted onto sundry surfaces on NYC streets.  These days, Hellbent's  enticing, evolving visual rhythms increasingly grace large walls, as well. We recently had the opportunity to visit Hellbent's studio and pose a few questions to him:
We love your wondrously inventive abstract artwork that recently surfaced on the streets of Bushwick and at Welling Court. But — I suppose — many of us will always identify you with your iconic jaw bone. Could you tell us something about it?
The idea of the jaw came to me about five or six years ago. It was inspired by a story I read about Freud's battle with jaw cancer and how – early into his diagnosis – he was saved by a dwarf, a hospital roommate who alerted the physicians when a speechless Freud was hemorrhaging.  Besides its reference to psychoanalysis, the jaw also suggests basic human functions such as speaking and eating.
What about your name?
That, along with the use of skull imagery, is informed by my punk background. Richard Hell is my favorite musician.
When did you first start getting up in the streets?
I started in Athens, GA about 13 years ago. I was doing a lot of text-based wheat pasting à la jenny holtzer/Barbra Kruger that was very poltical in nature. Then when I moved to NYC, I was just drawing different characters — mostly a middle aged balding dude — in the street.  About seven years ago, I took the name Hellbent and I've been running with that since.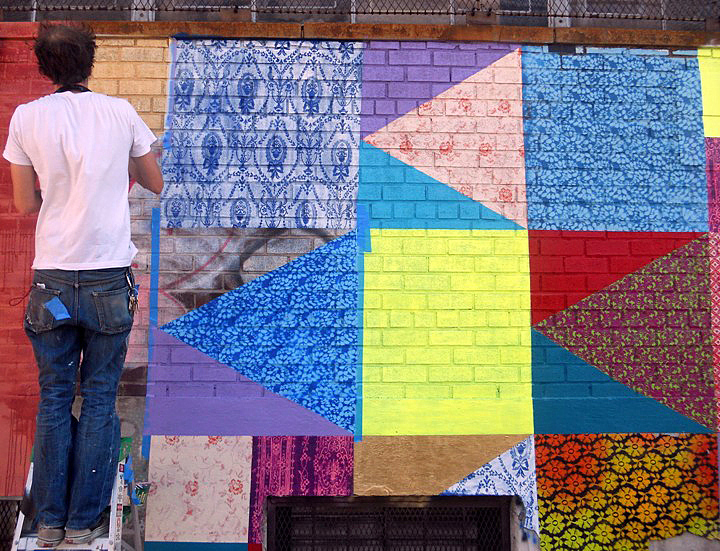 What motivates you to keep hitting the streets?
I love the idea of engaging folks who are passing by, many of whom don't often visit galleries or museums. It's also fun. I love the thrill of it.
Have you had any close encounters with the authorities?
Many. The one that comes to mind is when Elvis and I were doing a roller on an abandoned building in Greenpoint.  The word got out, and we ended up – separated from one another — staying there overnight to avoid the cops.  I did manage to get some sleep, though, despite the blazing loudspeakers in the background demanding that we come out.
Have you had a formal art education?
I studied Art History and Photography at the University of Georgia.  My strong background in art history is definitely an asset.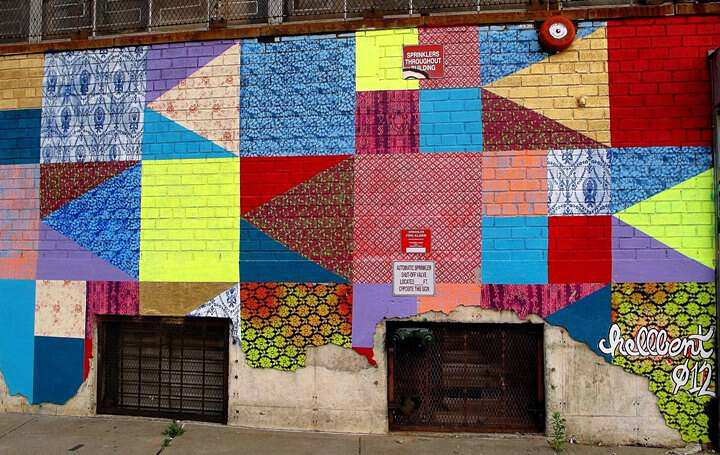 You seem to be moving in a new direction. Could you tell us something about it?
I'm more into abstraction. More drips. New patterns. The jaw bone, though, will always be around!
You are currently curating an exhibit Geometricks, scheduled to open next month in Red Hook. It looks wonderful. How did it come to be?
Jaime and Steve of Brooklyn Street Art invited me to curate the first exhibit for their Vandal or Visionary series.  I was given the opportunity to choose a theme and select artists. I'm thrilled with the selection, as it includes a diverse group of first-rate artists whose works reflect a move to modern abstraction.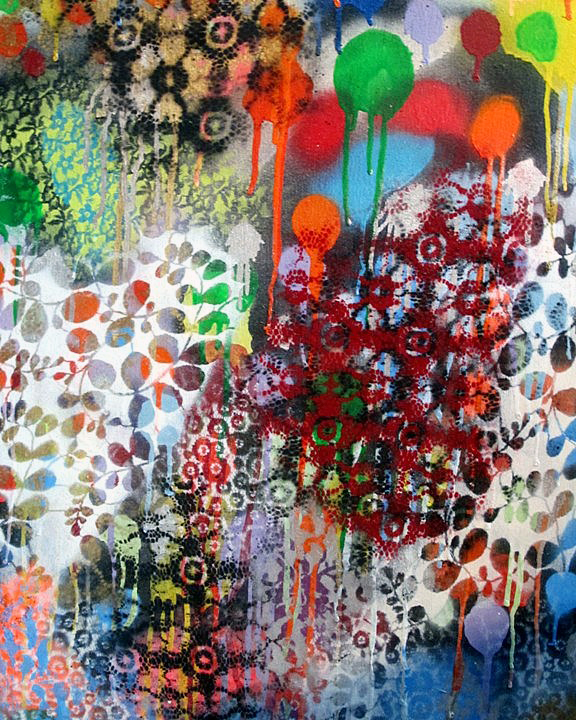 Who are some of your favorite artists whose works have surfaced in public spaces?
There are many.  Among them: Steve Powers aka ESPO, Richard Hambleton, Augustine Kofie, Kenor, Zezão, Cekis, Topo, Chris Stain…
Have you any thoughts about graffiti vs. street art?
I try not to separate them that much.  But graffiti artists tend to be less open about their identities. And some of the newer street artists don't seem to know the basic laws of the street — like where to get up and what to not go over.  They seem to want and expect instant success.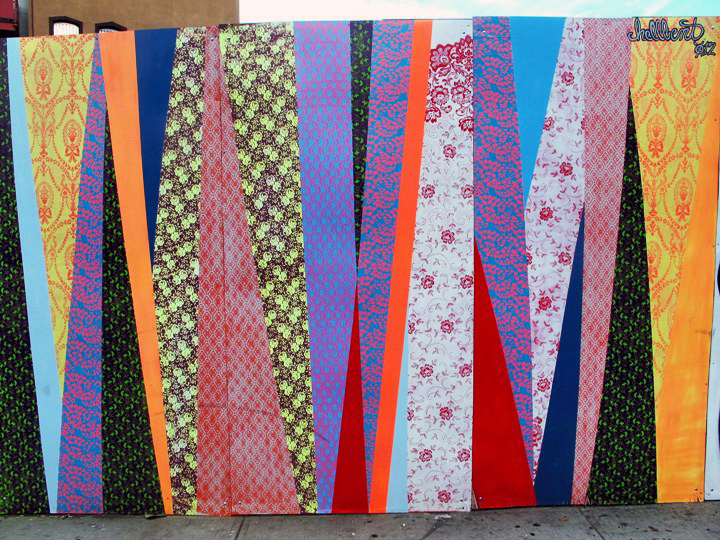 What about the Internet? Do you see it as a positive force?
Definitely. And I'm always surprised to see other folks sharing my work on it.
How do you see yourself in five years?
I'd love to become involved in museum shows and more art fairs, particularly those abroad.
'sounds great. And good luck with Geometricks.  We are certainly looking forward to seeing it.
Photos by Dani Mozeson, Tara Murray & Lois Stavsky