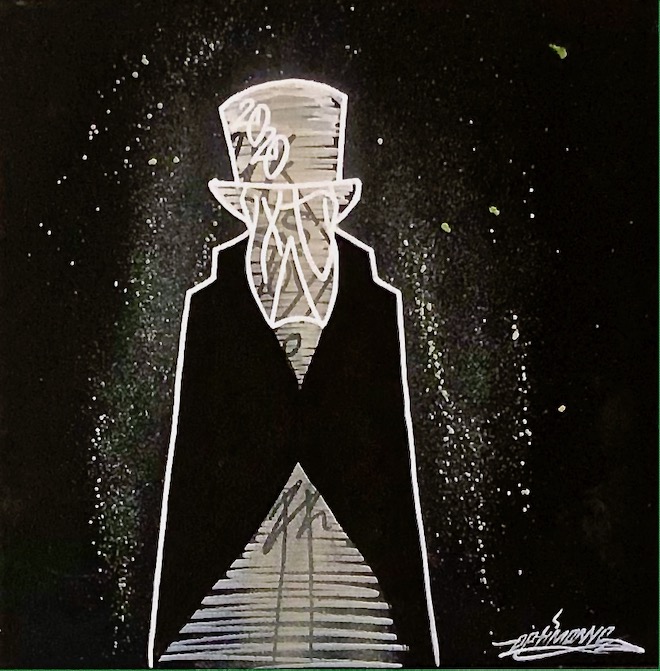 Lower East Side native Marcus Glitteris is not only an intriguing self-taught artist but a passionate curator, as well.  Largely  influenced by New York City's Downtown club scene, he teems with the energy that permeated it. Earlier this week, I stopped by Home Grown, an exhibit he curated at Village Works in the East Village, and posed a few questions to him: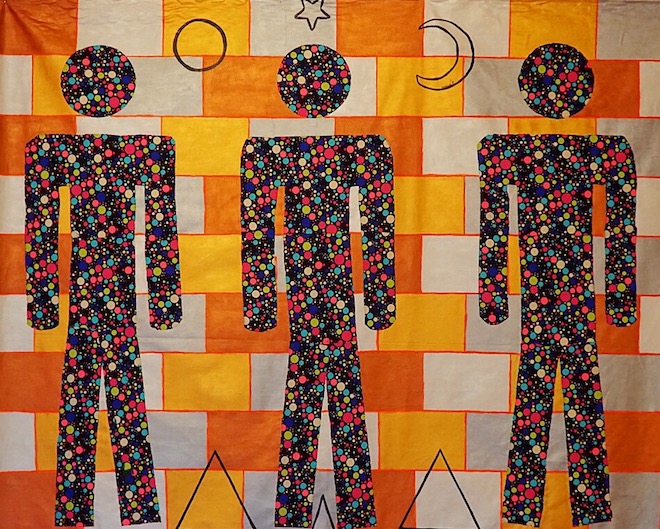 Can you tell us something about your vision in curating this exhibit?
Its main focus is to showcase the varied works of a wide range of artists who live or have lived on Manhattan's Lower East Side or East Village.
And what about this wonderful space?
Village Works is the name of this new gallery. Designated specifically as a space to showcase NYC artists, it sells rare art books, as well as art. My friend, Joe Sheridan, is the creative director here. We know each other from the night life scene, but since, Joe has since ventured into the the artist community and invited me to curate here. This space used to be an architectural firm.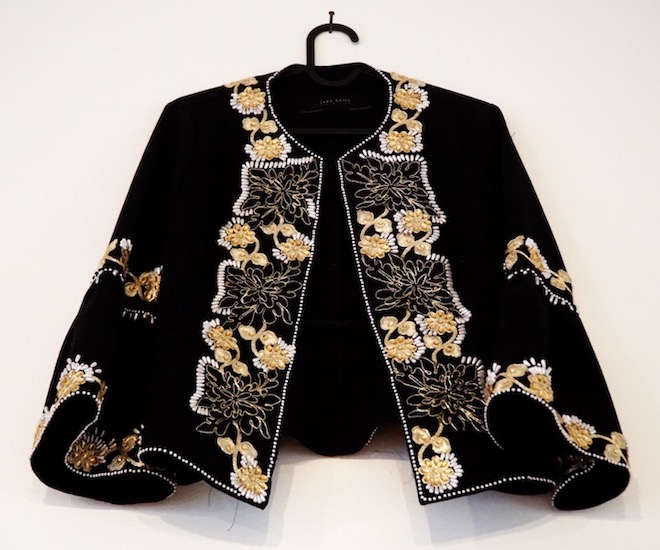 What about the show's title? It does seem appropriate now that I know a bit of the backstory. 
"Home Grown" is a term lots of New Yorkers, especially those in urban neighborhoods, grew up with. It references the distinct qualities and influences of a particular neighborhood. In my case — and in the case of many artists in this show — it is the Lower East Side.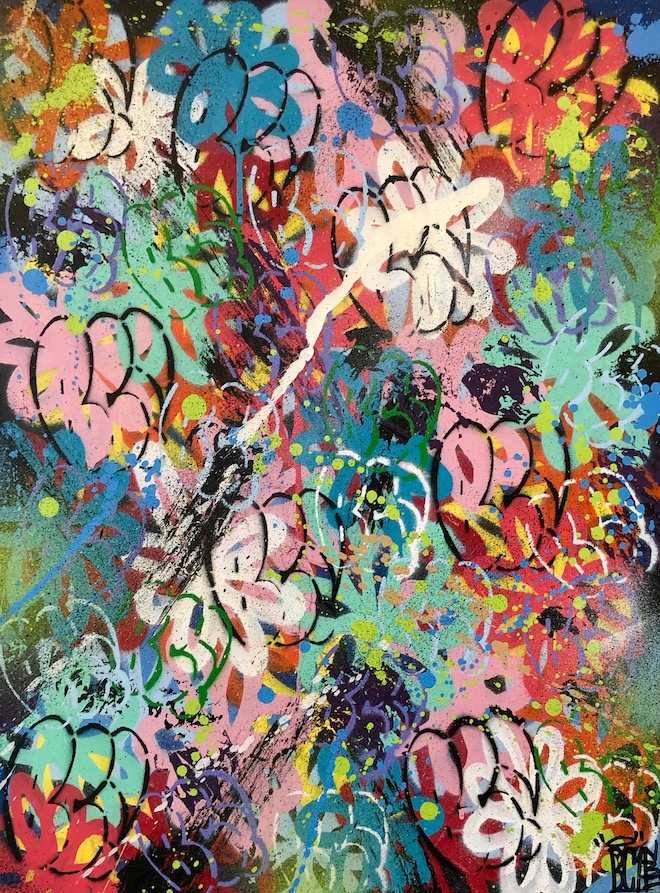 The range of artists here is so varied — in terms of their backgrounds and choice of media. How did you choose which artists to include in this exhibition? 
It's a community. Many I've known for a long time. Others I met and got to know in varied circumstances. Carol Fassler, for example, is a photographer I met on many occasions over the years on Thursday nights at the New Museum. And then there are artists who were new to me…whom I didn't know anything about. Nora Timbila, for example, was introduced to me by Joe. When I curate, I like to mix up shows with artists who are established, artists who are emerging and artists who've never had a show before.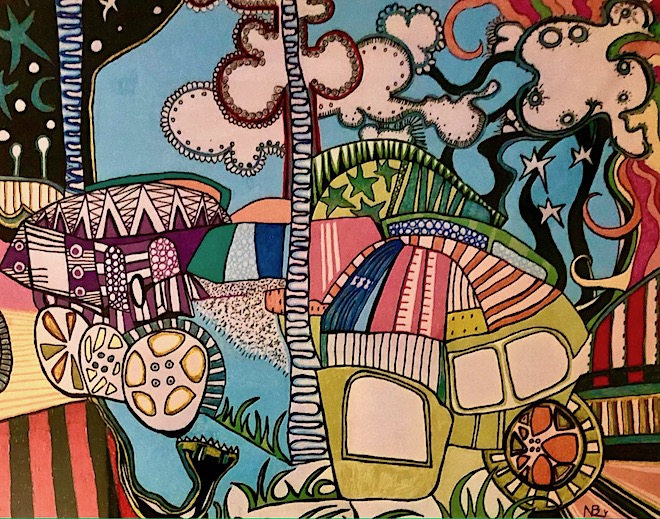 What were some of the challenges you faced in seeing this exhibit through?
Working with artists in any industry can be complex. Some of the artists — especially the more established ones  — ask, "Who else is in the show?" or "Where is the venue?"  So I have to deal with that. And it can get stressful!  To be a successful curator, though, I have to admit that I'm not always right, and yet still set boundaries. A curator has to have patience, compassion and love.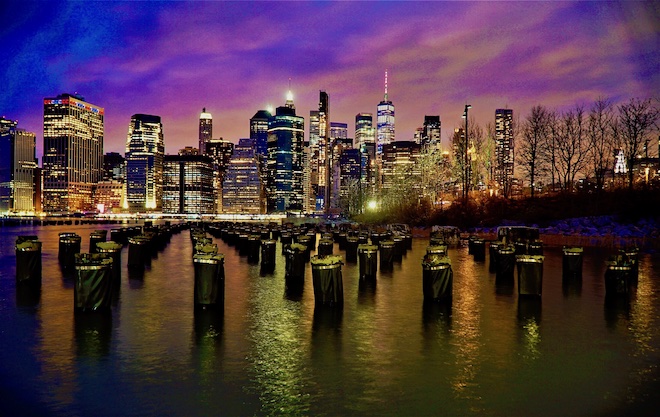 How was the response to this particular exhibit?
It was wonderful! The energy was great, as were all the people who came by.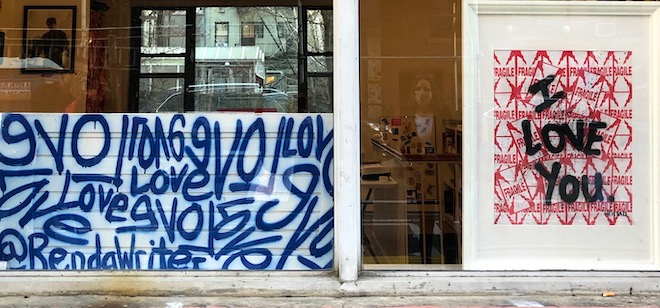 Congratulations!  I especially loved discovering artists in Home Grown who were new to me.
Note:  Home Grown continues at Village Works, 90 East 3rd Street, through next Wednesday, April 14. Text 917.749.0319 to find out if the gallery is open or to make an appointment.
Images:
4 BC1 NBA
7 As seen from the outside — Renda Writer and Hektad
Interview conducted and edited by Lois Stavsky
Photo credits: 1, 4, 5 & 7 Lois Stavsky; 2, 3 & 6 A. Candela