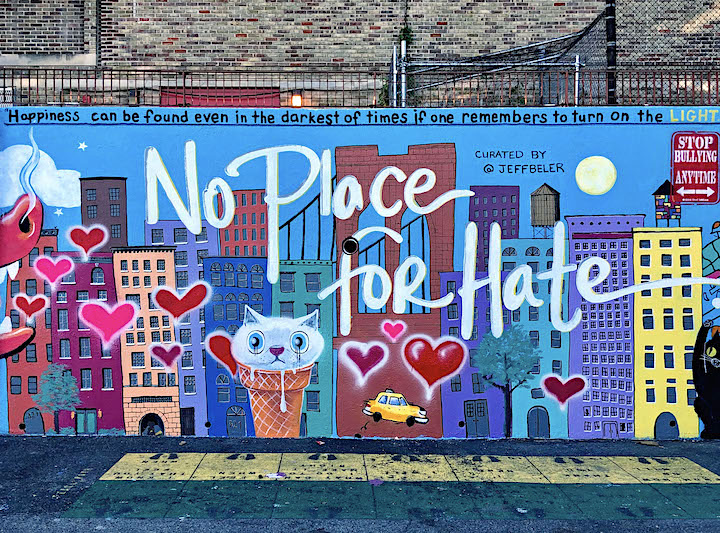 I love when artists bring their talents to NYC public schools, not only beautifying them but also conveying positive messages that encourage dialog. And the best of these projects involve and reflect the members of the immediate community. Prospect Heights-based Jeff Beler has done it again! Following his wonderful transformation of PS 9, he has recently brought his passion and curatorial skills to PS 321 in Park Slope, Brooklyn. While there this past Thursday, as several artists were adding finishing touches to a huge wall in PS 321's school yard, I had the opportunity to pose a few questions to Jeff:
This looks great! I'm so glad you guys are bringing your talents to local schools. How did this come to happen? 
PS 321 PTA co-president Lauren Gropp Lowry had seen the STEAM Mural Project I had curated over at PS 9. She, along with other PS 321 parents liked what they saw and wanted to bring a similar project to their children's school. And they, then, proposed the idea to their school's principal.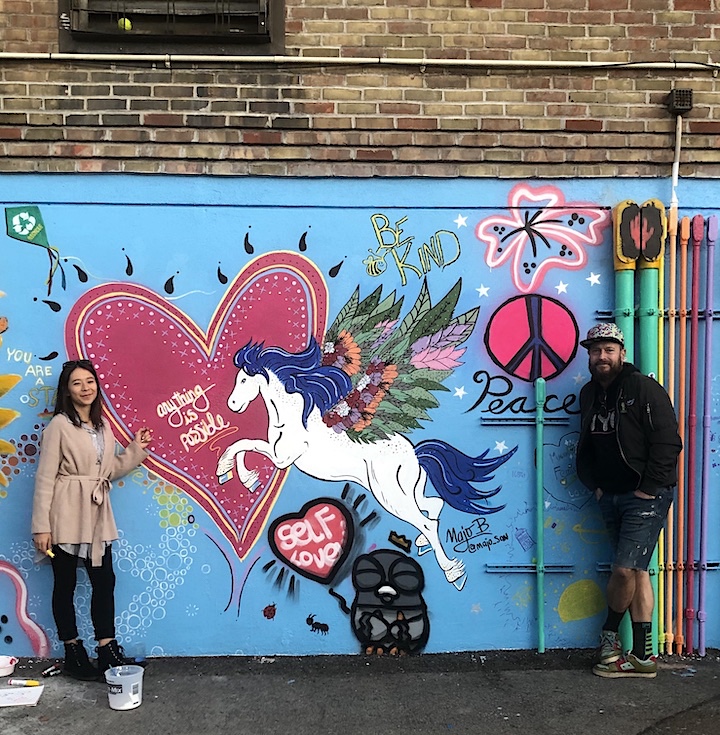 When did this project, No Place for Hate, begin? 
We began talking about it in June, but we didn't want to start it until the school year began. We wanted the members of the school community involved in every aspect of its planning.
And what about the theme of it? How was that chosen?
There was a general consensus that the emphasis would be on promoting tolerance and kindness and taking a strong stand against bullying. And the students at PS 321 came up with the specific concepts.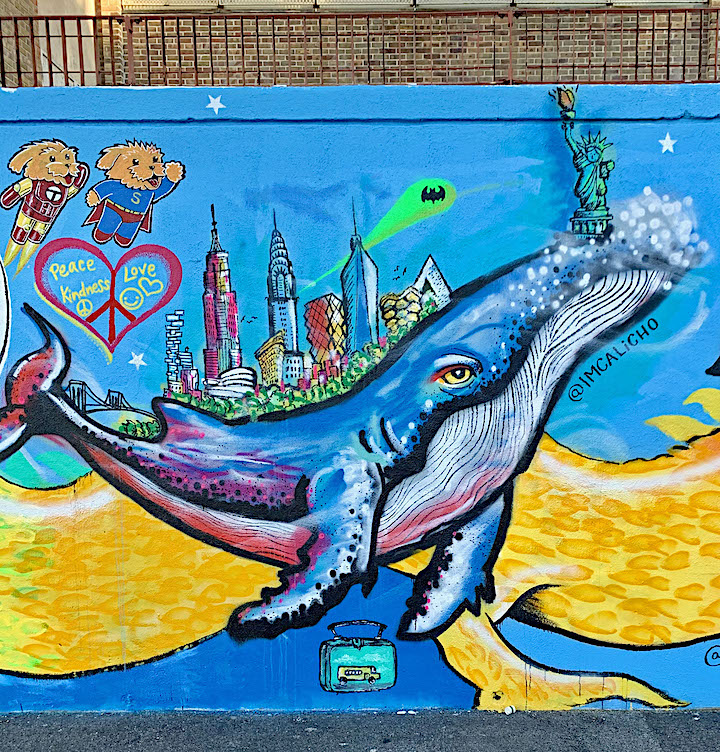 How did you decide which artists to engage in seeing No Place for Hate through?
Through the projects I've curated in the past — particularly UnderHill Walls and the STEAM Mural Project at PS 9 — I've developed  many close relationships with artists. I have a strong sense of which artists I can trust to show up on schedule and which artists work well together. Among the artists who participated in this current project are: Subway Doodle, Justin Winslow, Jaima, Calicho Arevalo, Marco Santini, My Life in Yellow, Majo, Paulie Nassar, Raddington Falls, AJ Lavilla, Zero Productivity and Paolo Tolentino.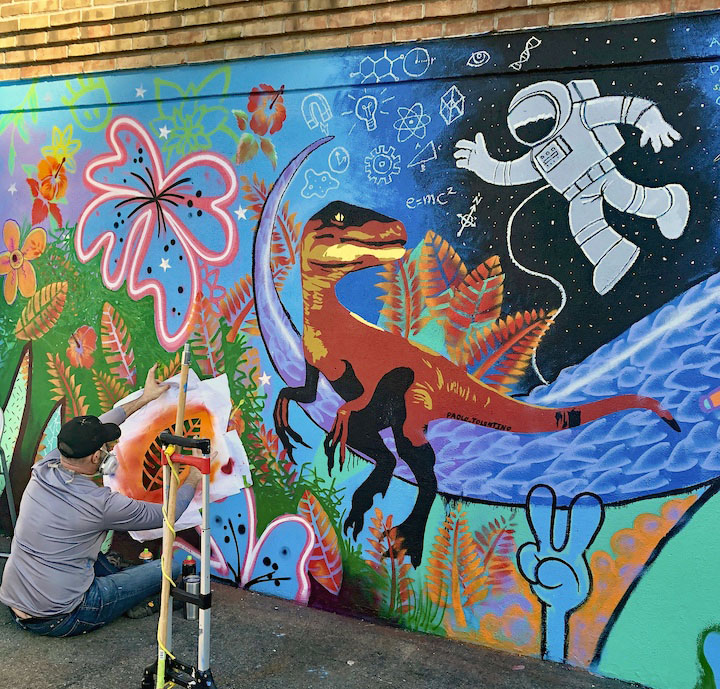 And I notice that you have students, parents and various members of the community involved today. You even have a local architect, @krassness, adding details to your buildings!
Yes, many members of the school community and folks who live in the neighborhood  have been involved, lending us their skills, since we began painting.
What were some of the challenges you faced in seeing this through?
I can't think of any. Everything has gone so smoothly. And we've had wonderful sponsors. Among them are: Blick Art Materials, Starbucks Art Program, The Corcoran Group, Tarzian Hardware and Hanson Place Orthodontics.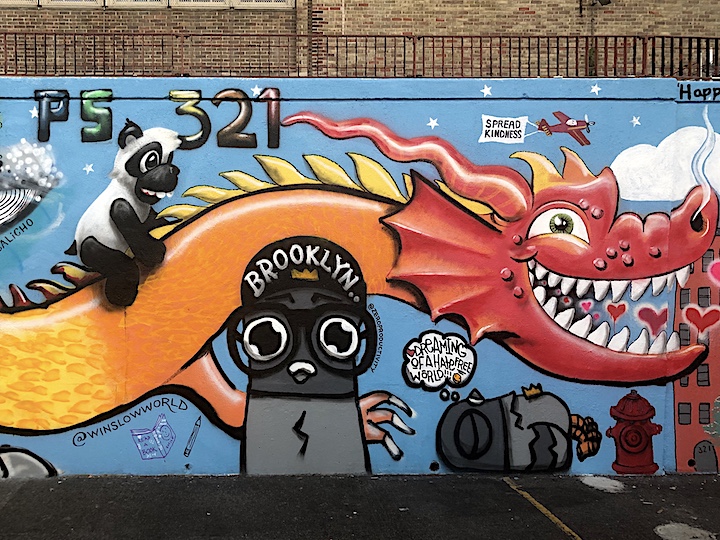 How have folks responded to No Place for Hate? They seem to love it!
Yes! The response has been great!
Congratulations!
Images:
1. My Life in Yellow, Justin Winslow, Jeff Beler and more
2. Majo (pictured standing), Zero Productivity and Jeff Beler (pictured standing)
3. Calicho Arevalo and more
4. Subway Doodle and Paolo Tolintino 
5. Justin Winslow and Zero Productivity
Interview conducted and edited by Lois Stavsky
Photo credits: 1-3 Lois Stavsky; 4 City-as-School intern Sage Ironwood and 5 City-as-School intern Angelize Santiago