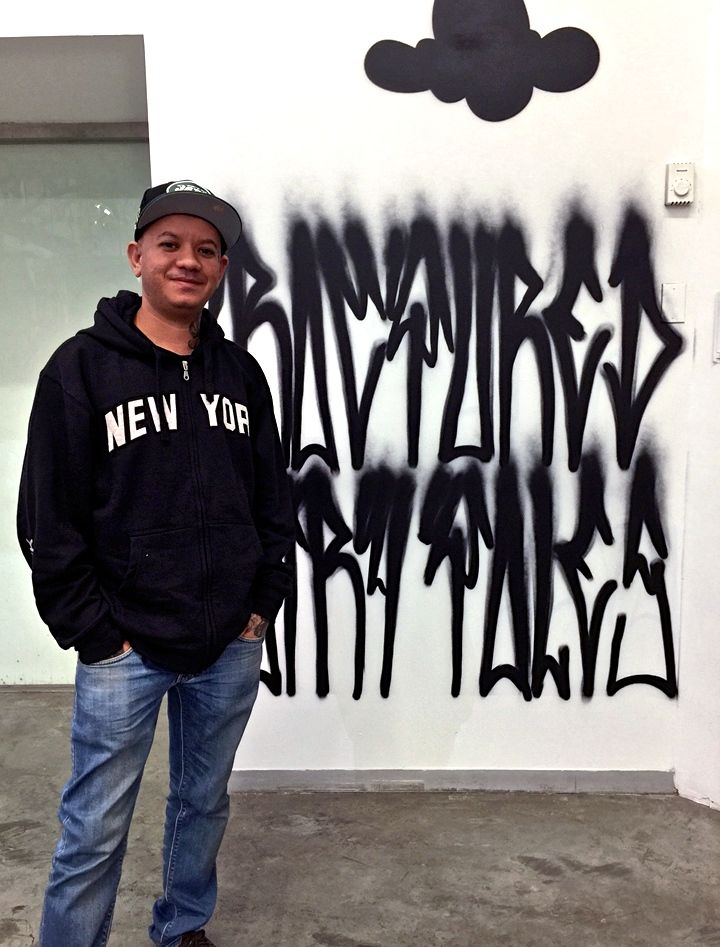 Born in Brazil in 1982, SALMOS first made his mark in São Paulo's public spaces and freight trains as ISHI. In 2004, he opened his own tattoo store, and ten years later, he emerged as SALMOS, Sou Artista Livre Mais Ouseda de São Paulo, "the most daring free artist in Sao Paulo." His current work — both indoors and outdoors — is largely a delightful fusion of graffiti writing and classic comic characters. This past Saturday, SALMOS's first NYC solo exhibit, FRACTURED FAIRY TALES  opened at  the Martinez Gallery. While visiting, I had the opportunity to speak to the artist.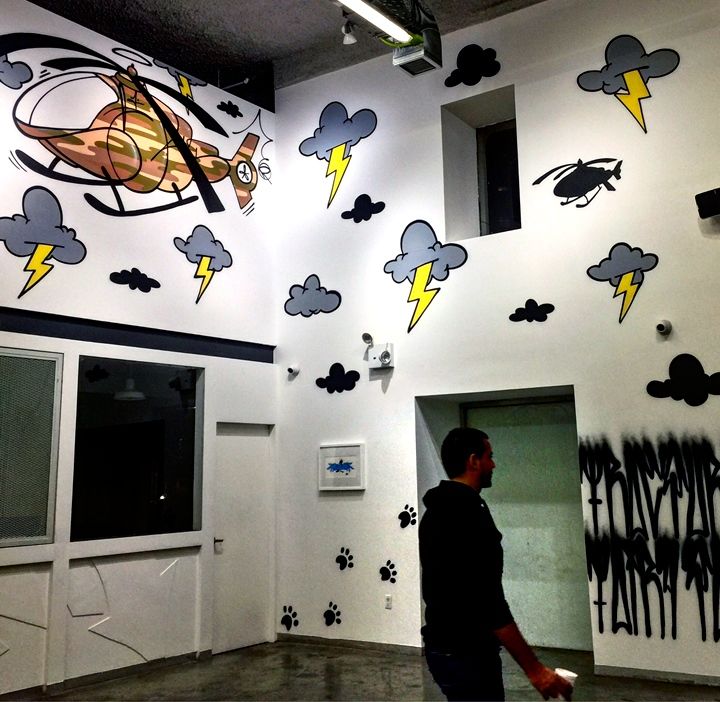 When did you first hit the streets?
Back in 1996-97. I was 14 at the time.
What motivated you to do so?
I was drawn to the streets. Pixação — in particular — inspired me. And I came up with the idea of integrating comical characters into my writing.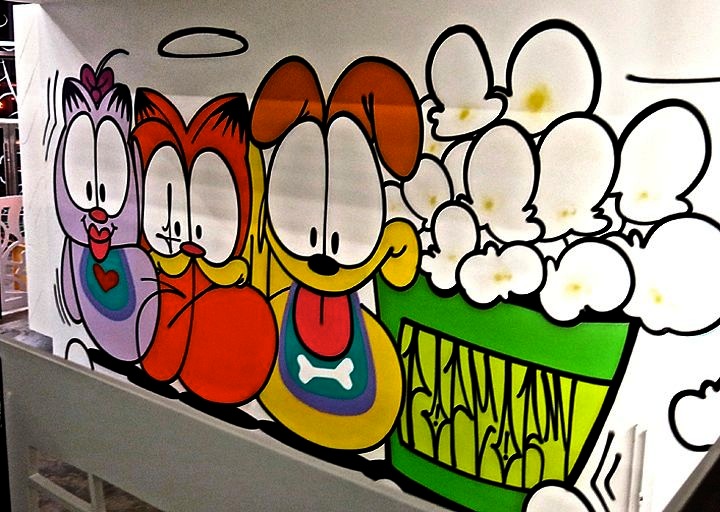 Can you tell us something about these characters? What is their appeal to you?
They are magical!  They fuse the nostalgia that adults feel with the mystification children experience.
And how do you choose your characters? Why — for example — Garfield?
I love the ones that make me feel like I am a kid again! Garfield enchants me!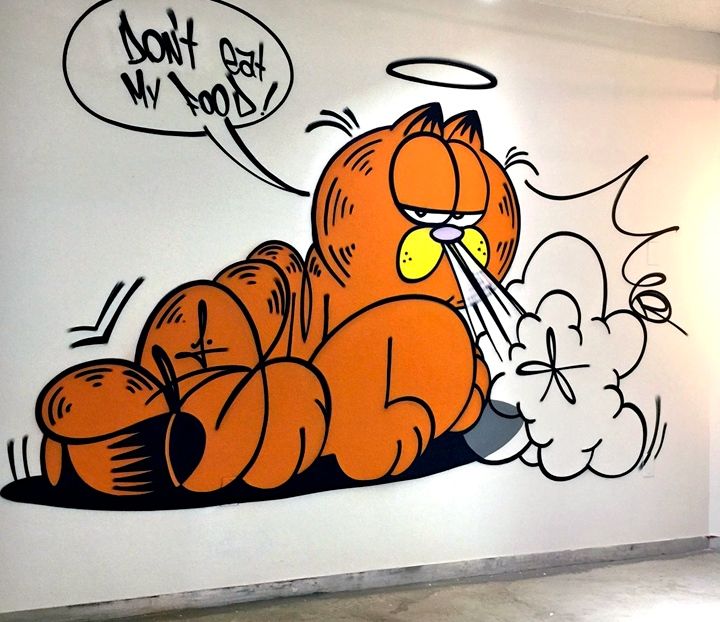 And what brought you here to NYC?
The amazing opportunity to paint here. New York City is where it all started. The history of graffiti is here in NYC.
And we here in NYC love how writers from places like São Paulo are taking it to another level. We're so glad you made it here! Have a safe trip home!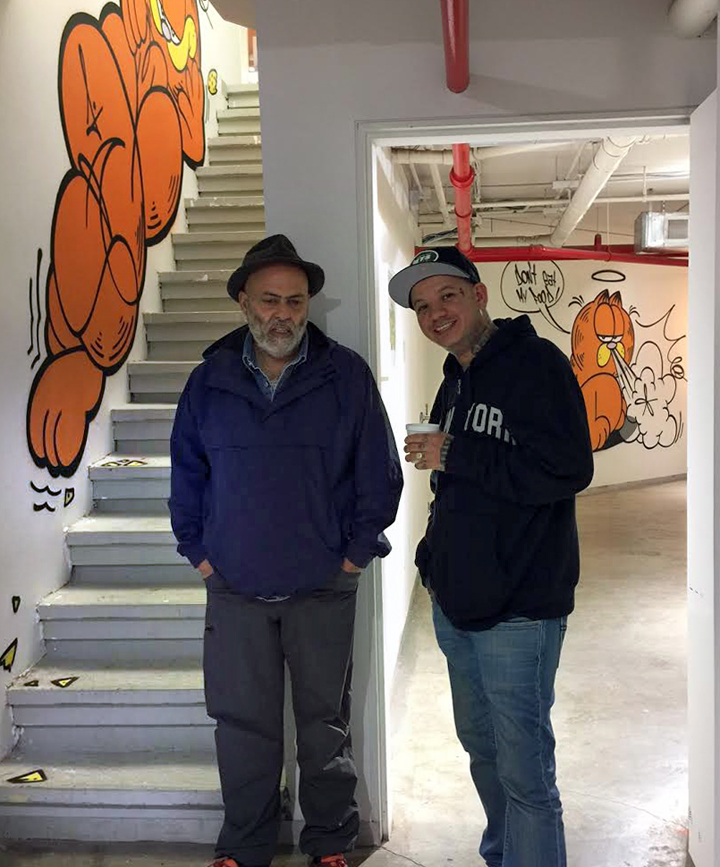 Curated by Octavio Zaya, FRACTURED FAIRY TALES can be seen Mon- Sat, 11AM to 5PM, at the Martinez Gallery on 135th Street and Broadway.
Note: Standing to the left of SALMOS is Martinez Gallery's noted director, Hugo Martinez.
Photos by Lois Stavsky