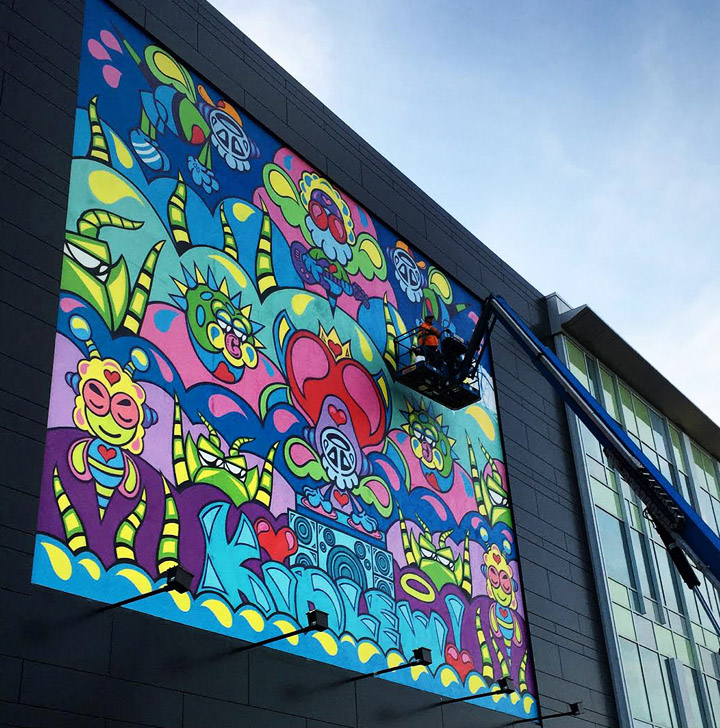 Queens-based artist Steve Lew aka Kid Lew recently brought his talents and vision to Toronto's Enterprise Boulevard. The new urban complex — known as Downtown Markham – is now graced with a huge, brilliantly hued 40'x50' mural, featuring Kid Lew's iconic characters. Situated on the northeast corner of the Remington Contemporary Art Gallery, it can be seen for miles and by thousands of folks daily as they pass by on Highway 407. I recently spoke to the artist about his experience.
Can you tell us something about this project? What brought you to Toronto?
I had been invited by Broadway Bound — a fine arts and entertainment company — to paint an outdoor mural in Downtown Markham. I had submitted a few ideas, and one was accepted.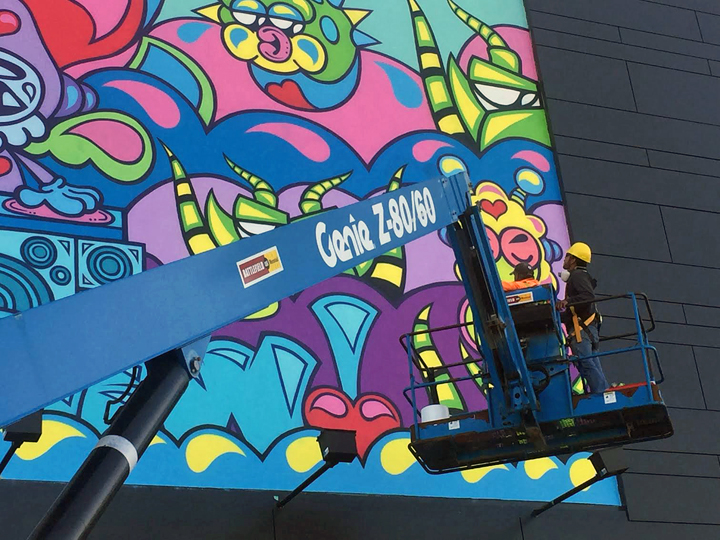 And how did you initially connect with Broadway Bound?
I had met Shelley Shier, the founder of Broadway Bound, at the Dorien Grey Gallery back in 2012. I was one of the street artists who had collaborated with Hank O'Neil aka XCIA for the exhibit Street Artists Unite. We've stayed in touch since.
Your mural is huge! How long did it take you to paint it?
It took 12 days, working 8-10 hours each day.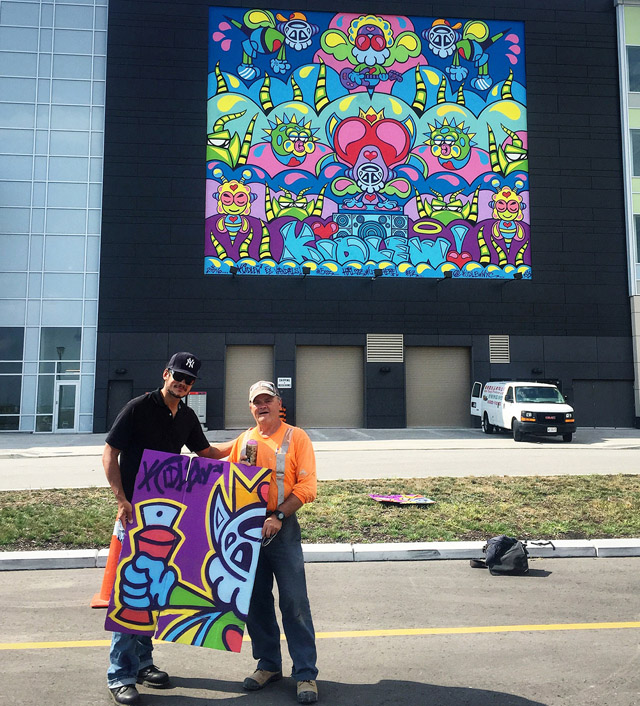 What were some of the challenges presented by this project?
I almost always paint standing on the ground. But this time I started on the third floor of a building. I immediately got over my fear of heights!  It was also rainy and very windy. I could feel the lift swinging from side to side! Sometimes the wind actually sprayed the paint! Then when I walked around the hotel, I felt as though everything beneath me was moving! I had a serious case of lift lag!
I've been a huge fan of your characters since I first discovered them years ago — on the streets and in galleries! Can you tell us something about them? What initially inspired them? 
I was intially inspired by cartoons. I began as a young child copying Disney characters. And later on my main influences grew to include: graffiti, skateboarding, NYC pop culture and — in general — life in this city. But my greatest inspiration in Keith Haring. And because I am color blind, I tend to use colors that appear brightest to me — those that can be seen at night.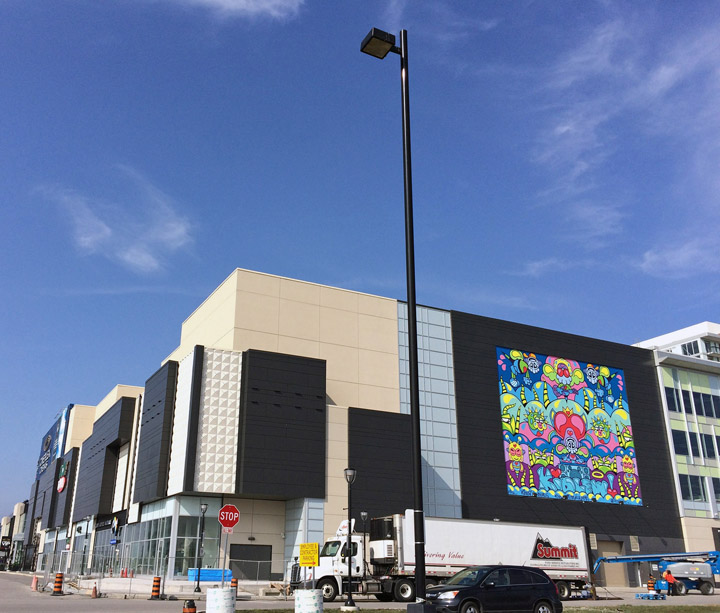 And who are these characters? What do they represent? And how have they evolved through the years?
They're often not as bright as they appear to be. They represent different phases in my life. And as my life evolves, my characters continue to evolve, as well. Both my technique and design have become more refined through the years. I am also more responsive to my audience.
What's next?
I hope to return to Jersey City to complete the mural I'd begun with Will Power and Ree. It is a huge mural that was put on hold. I'm, also, looking forward to painting more large-scale murals in a range of cities. And I am participating this weekend in the New York Comic Con, where you will be able to purchase custom used Montana Gold Spray Paint cans and ink drawings on spray painted subway maps. I will be signing some at 2pm at Booth 603 with Clutter Magazine.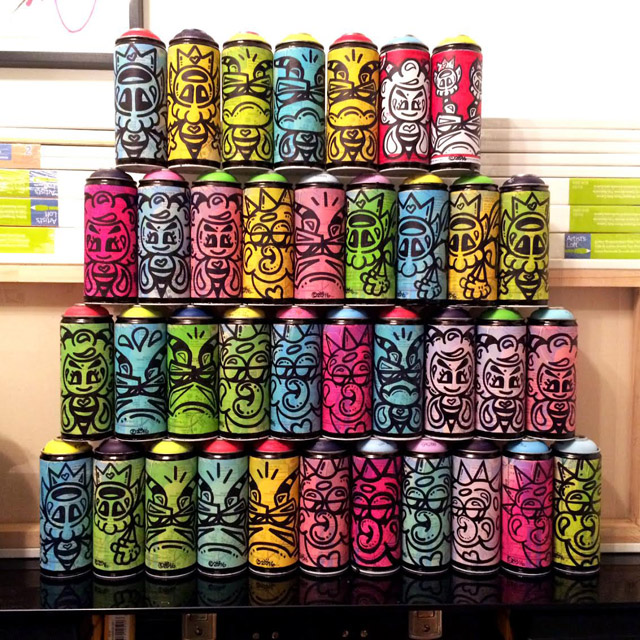 Good luck with it all!  And I look forward to checking out your mural when I visit Toronto.
Interview conducted and edited by Lois Stavsky; all photos courtesy of the artist.
Note: Hailed in a range of media from the Huffington Post to the New York Times, our Street Art NYC App is now available for Android devices here.