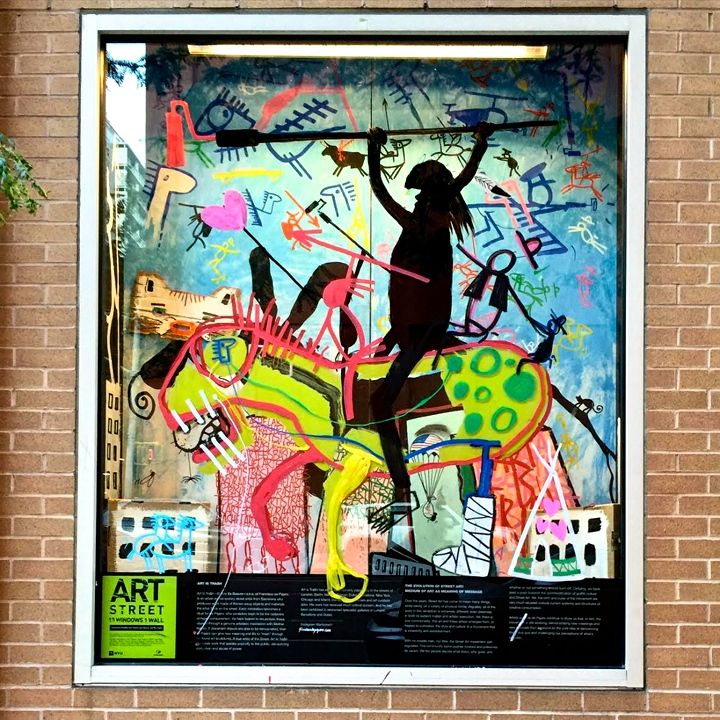 The windows of NYU's Kimmel Center are now home to a wide range of street art and graffiti artworks. Presented in partnership with 3rd Culture Creative, a cutting-edge media development company, ART STREET 13 WINDOWS 1 WALL showcases the distinct aesthetic of 15 artists whose works have surfaced on our streets. I recently had the opportunity to speak to its principal curator Pamela Jean Tinnen — who for the past five years has curated New York University's Kimmel Galleries.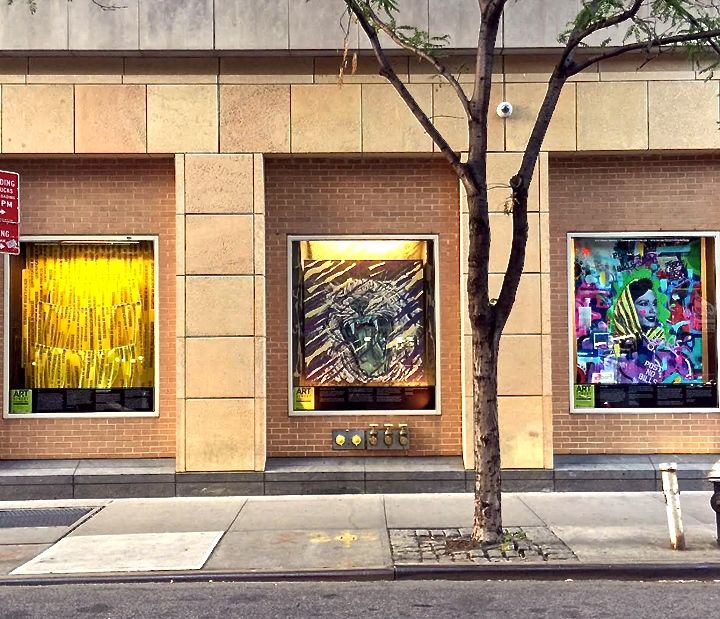 I'm always delighted when universities embrace street art. Can you tell us something about how this project came to be? What might have prompted it?
Yes! Awhile back I went on a street art tour of the Bushwick Collective, conducted by one of my colleagues, Izzy Church. I loved what I saw, and I soon began researching street art. An exhibit featuring street art became a passion project of mine, and the Kimmel Windows Gallery seemed like the ideal site to showcase public art, particularly during the summer months.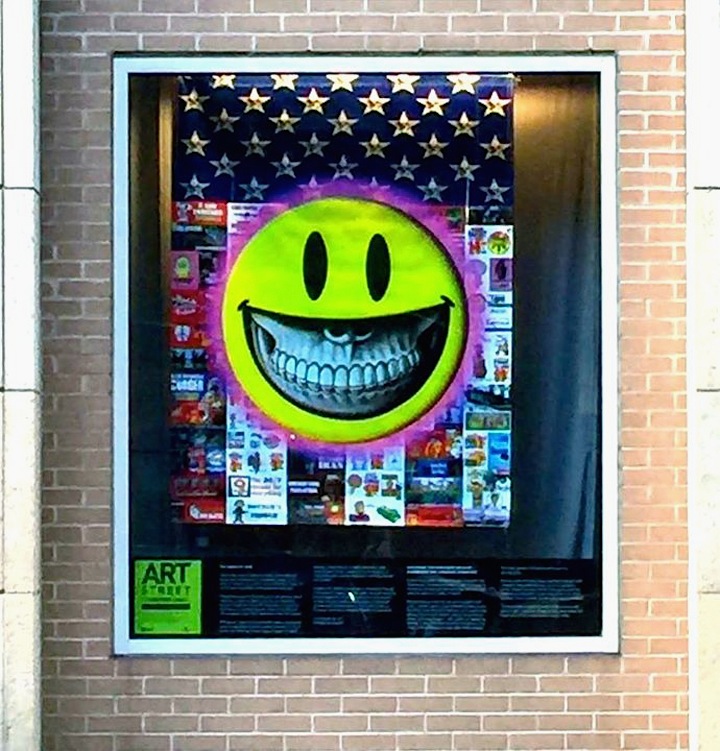 Exhibiting works by street artists and graffiti writers in a public space – that can be seen by everyone — is certainly a cool notion! Are there any other particular concepts underlying this exhibit?
Yes. Placing works of street art behind a glass wall also hints at the monetary value of the artworks by those street artists who have achieved mainstream success.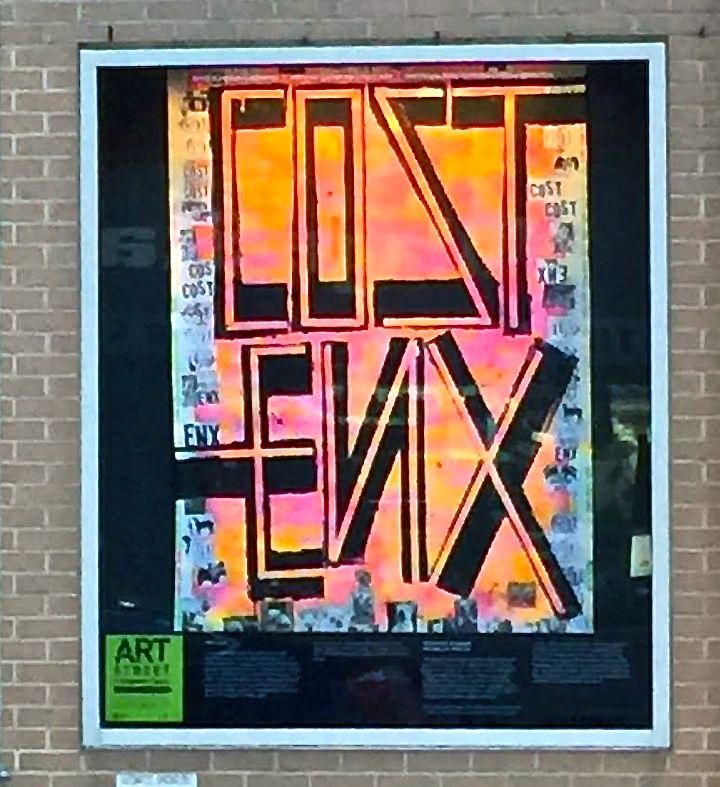 How did you and your co-curators — Izzy Church and Marten Kale —  decide which artists to include?
We reached out to our favorite artists, and several of the other artists reached out to us.
Did you encounter any unanticipated challenges in seeing it through?
The unconventional nature of the artworks demanded careful attention to their placement in this particular setting.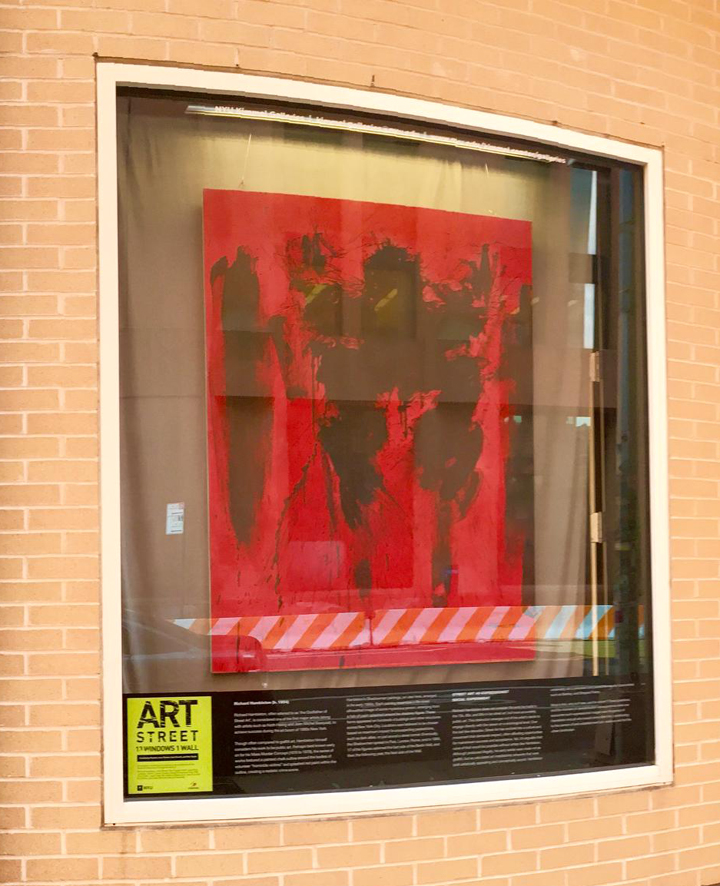 I think it looks great! Each window is engaging. How has the response to it been?
The response has been wonderful. I've received so many positive messages, particularly from my colleagues.
Until when will it remain on view?
 It has been extended through September 12th.  And during these next few weeks, be prepared for some surprises as we make some changes in the windows! A closing event will be held on Saturday, September 10th from 7:30 – 10pm in the Grand Hall at NYU Global Center, 238 Thompson Street, 5th Floor. There will be art, music and a cash bar.
It all sounds great!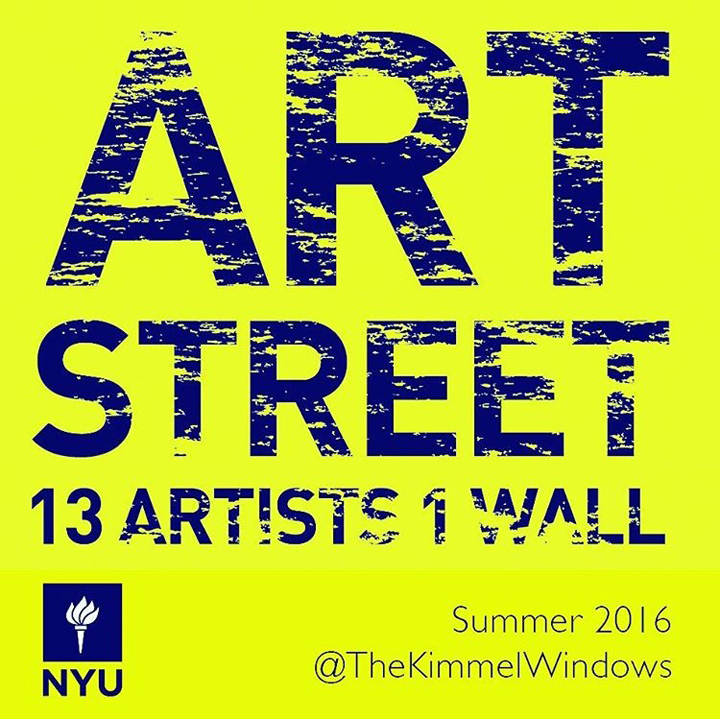 Images
1. Francisco de Pájaro aka  Art Is Trash
2. Gilf!, Iena Cruz and Cope2 with Indie
3. Ron English
Located on Laguardia and West 3rd St, Kimmel Windows also features: John Fekner, ASVP, Lady Pink, Jonathan "Meres" Cohen, Fumero, Raquel Echanique, Federico Massa a.k.a. Iena Cruz, B.D. White, Joe Iurato, Martian Code and Skewville.
Photo credits: 1-4 Lois Stavsky; 5 courtesy Woodward Gallery; interview by Lois Stavsky