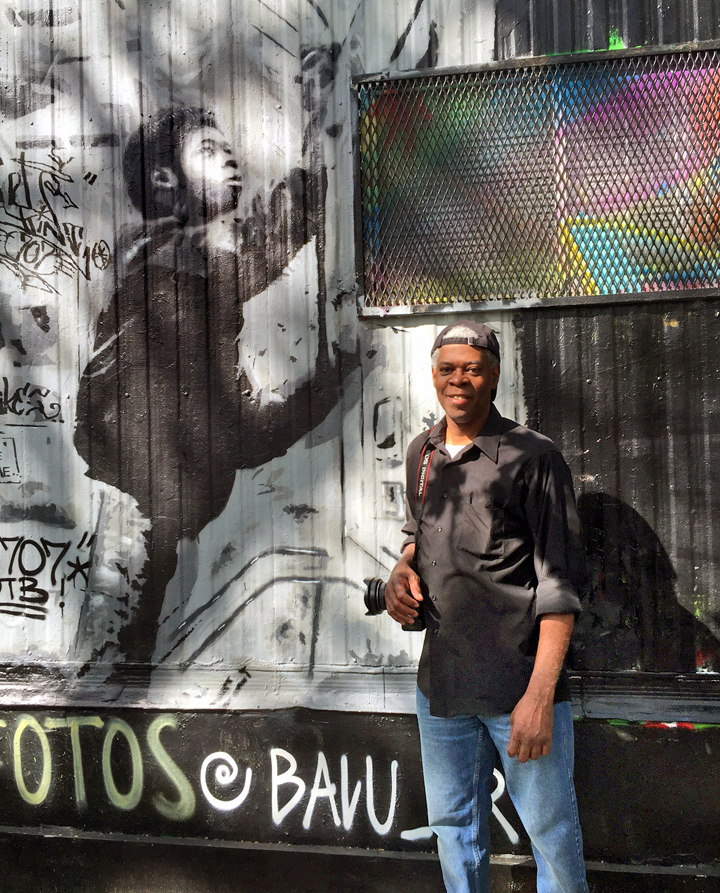 A pioneer of the graffiti movement, Charles Henry aka FLIP One was immortalized in Flint Gennari's classic photo of him tagging a Coney Island-bound train over 40 years ago. And this past spring the now-iconic photo made its way onto a stencil fashioned by Balu for the Centre-fuge Public Art Project. I met up with the artist — now an LA-based Emmy award-winning cinematographer — while he was visiting NYC last month.
When and where did you first get up?
It was back in 1974 in Propsect Park, Brooklyn. I was 15.
What inspired you to?
Flint's writings were everywhere in my neighborhood. He was my main inspiration. He also got me into photography. Other writers such as Spin, Coco 144 and Mico also influenced me. And I loved the adrenalin rush hitting the trains late nights and the little bit of fame watching my name go by.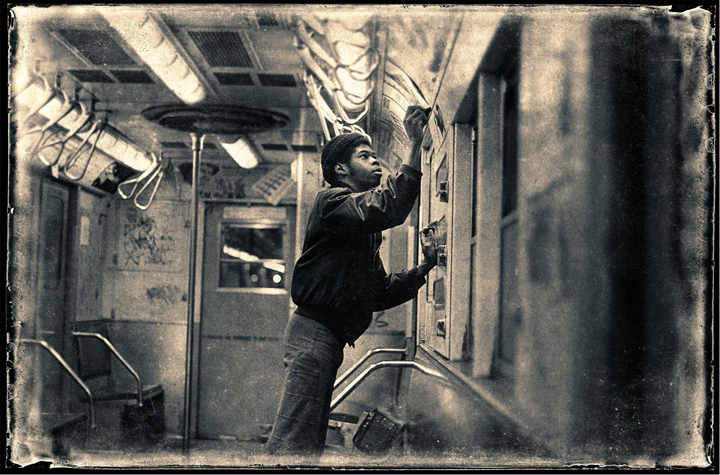 What was your preferred surface back then?
The Franklin Avenue shuttle.
How did your family feel about what you were doing?
They were not happy. My dad used to work for the MTA.
Do you have any specific graffiti memory that stands out?
I saw once — and only once — an LL Cool J top to bottom while I was riding the train to school. I will never forget that!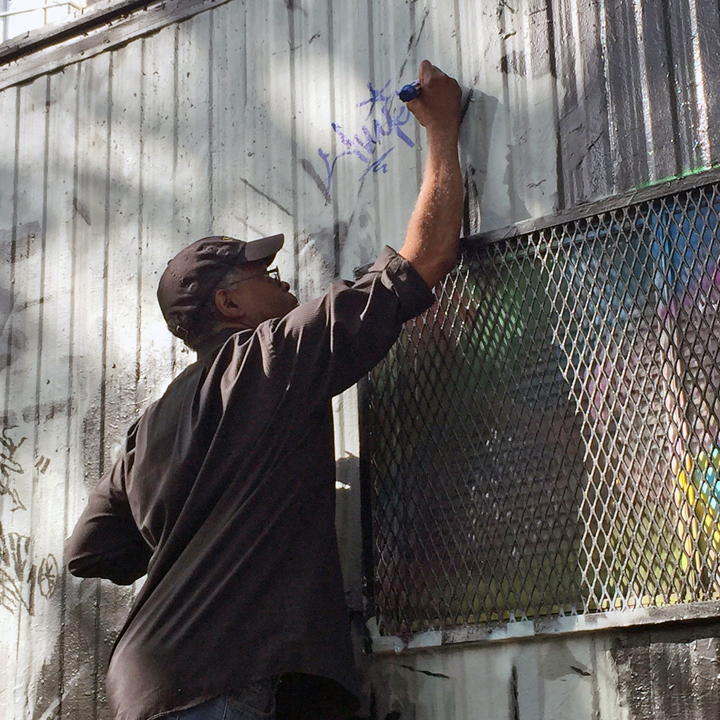 Did you work alone or did you collaborate with others?
I painted with the Ex Vandals and the Soul Stoned Brothers (SSB).  But I generally preferred working alone, because I didn't want to draw attention to myself.
What was the riskiest thing you ever did?
Entering the 7 yard with Flint, Dime 139 and Asp across from Shea Stadium during a playoff game in the World Series. Luckily, the cops — who were supposed to be watching the yard — were too busy watching the game on their little black and white TV to pay attention to us! And so we managed to get in and out and do our thing in broad daylight without anyone noticing.
Has your work ever been exhibited?
Yes, my work has appeared in Flint Gennari's photos in several galleries and museums. My small trains have been exhibited in galleries in LA.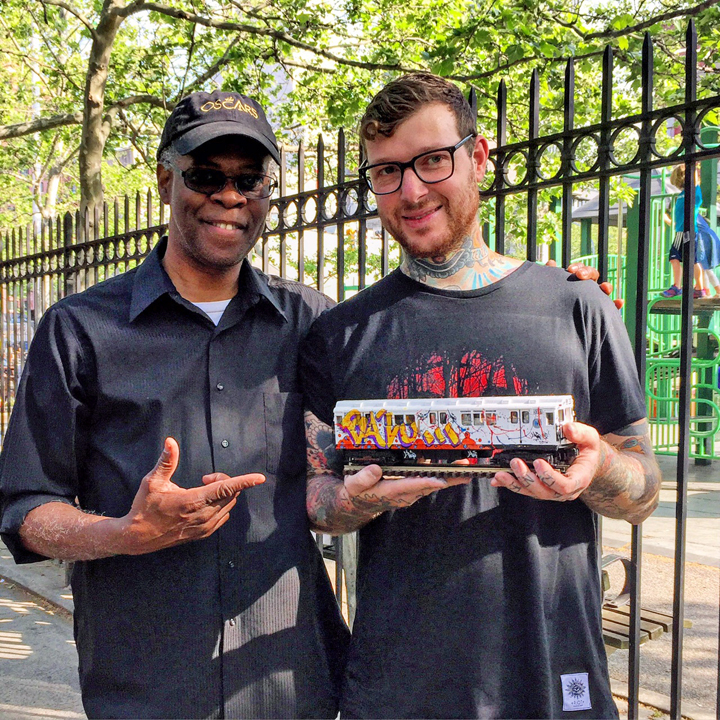 How do you feel about the movement of graffiti into galleries?
I think it's great! It suggests that what we did has meaning.
What about the increasing engagement of the corporate world in the graffiti subculture?
I used to hate it, but it doesn't bother me any more. Writers risked getting arrested, maimed — and more — for what they did. They should be paid!
Have you any thoughts about the graffiti/street art divide?
It's not an issue. My favorite artists tend to blur the line between both: They include: El Mac, Retna, Obey, Man One and Revok.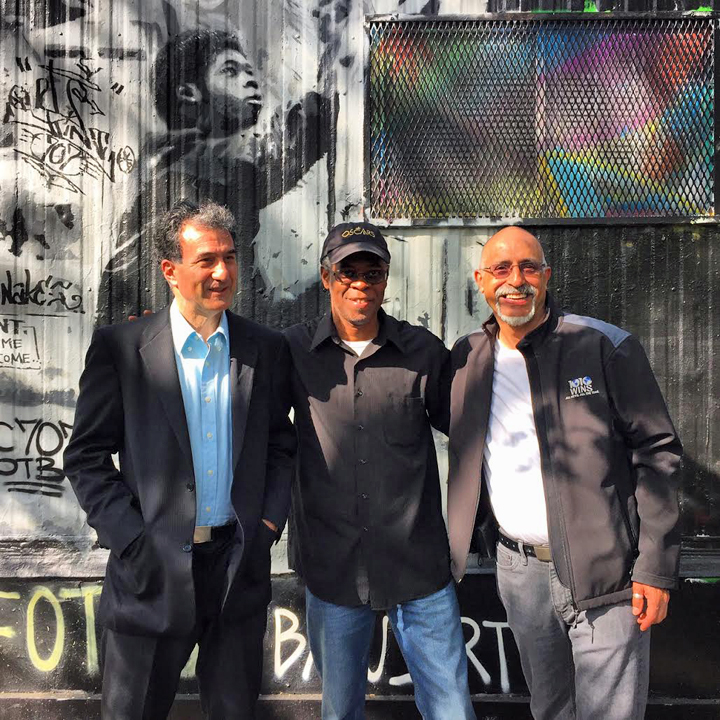 How do you feel about the role of the Internet in it all?
I love it! I get to see the work of people I used to war against!
Any thoughts as to why the Europeans are more open to graffiti than most Americans are?
I haven't really thought about it, but maybe it's because they place a higher value on self-expression.
And there's probably no art form more expressive art than graffiti!
Photo credits: 1, 3-5 Lois Stavsky; 2 Flint Gennari; interview conducted and edited by Lois Stavsky
Photo 3  features Balu to the right of Flip One and the last photo features Flint to the left and George Colon aka AIM SSB to the right of Flip One
Note: Jan Arnold, the artist's wife, is in the process of completing a documentary about Flip One's life. Be sure to check its Facebook page here for some great photos and clips!
Hailed in a range of media from the Huffington Post to the New York Times, our Street Art NYC App is now available for Android devices here.