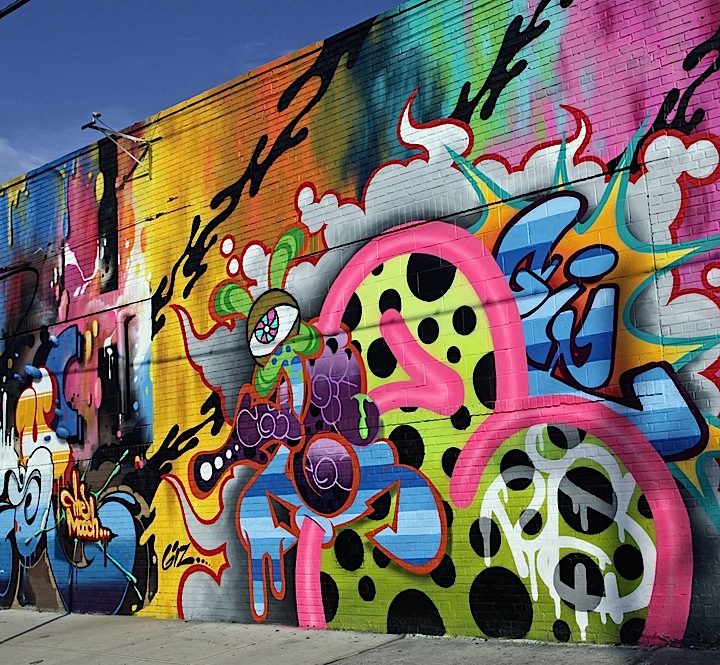 We recently had the opportunity to speak to Bushwick Collective's founder and curator, the indefatigable Joe Ficalora, as he readies for this year's 5th Annual Block Party, June 3-5.
As you prepare for this year's 5th Annual Block Party, can you share with us some of this past year's highlights?
Last June's Annual Block Party was certainly a highlight!  The entire community came together as a family. It was a beautiful sight! A special highpoint of this past year was the Bushwick Collective's collaboration with Mana Urban Arts. We had the chance to go down to Miami in December during Art Basel. NYC artists, along with local Miami ones and artists from across the globe, painted together, transforming the inside and outside of the RC Cola Factory. It was a particular thrill to have seven-year-old Lola join us and watch her paint with Chor Boogie. We've also facilitated murals in Miami and Jersey City in coordination with Mana Urban Arts. And – more recently — during Frieze Art Week, we participated in Art New York on Pier 54 with Sipros in support of the Perry J. Cohen Foundation.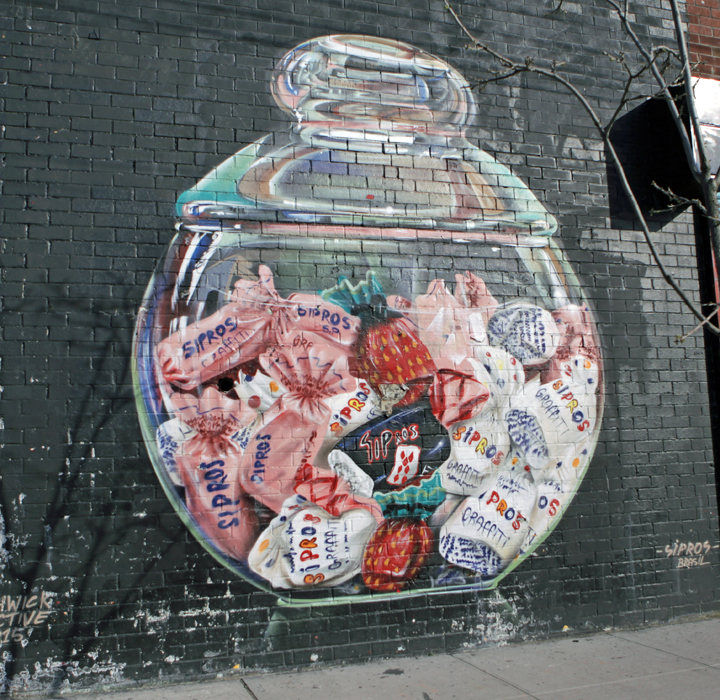 What would you say was your greatest challenge this past year?
My greatest challenge was dealing with all the marketers trying to hunt down walls. Now that this neighborhood is "cool," they feel that they can take advantage of the public space without giving back.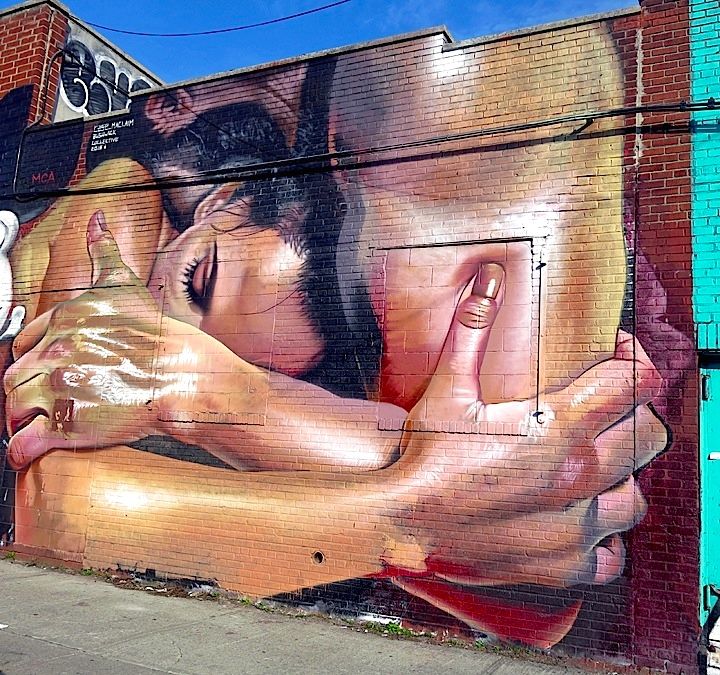 What can we expect at this year's Block Party?
There will be live painting, food trucks, local vendors, special activities for families with kids and surprise performers.  A pop-up exhibition at 198 Randolph Street will feature artists from the The Parsons School of Design at the New School, the official sponsor of the weekend, along with local artists. The Museum of the City of New York will be projecting images of Bushwick from over 100 years ago and sharing a huge blown-up photo of Bushwick in 1909. All money from the artwork sold at the exhibit — that opens to the public at 7pm on Friday, June 3, and can be viewed on Saturday and Sunday from 10am-5pm — will go directly to the artists. Local artists will also be exhibiting their work independently. Performers opening the weekend include: The BBoy Rebels (NYC Original Subway Dancers), DJ Mister Cee, Loaf Muzik, Monsters of Brooklyn, Thorough, Thirsting Howl lll, Styles P and Jim Jones. And on Saturday — in addition to JADAKISS — DJ Statik Selektah and friends, Lil Waah, Joell Ortiz, Dave East, Chris Rivers, son of the legendary Big Pun, and The BBoy Rebels will perform. Keep posted to our website for updates.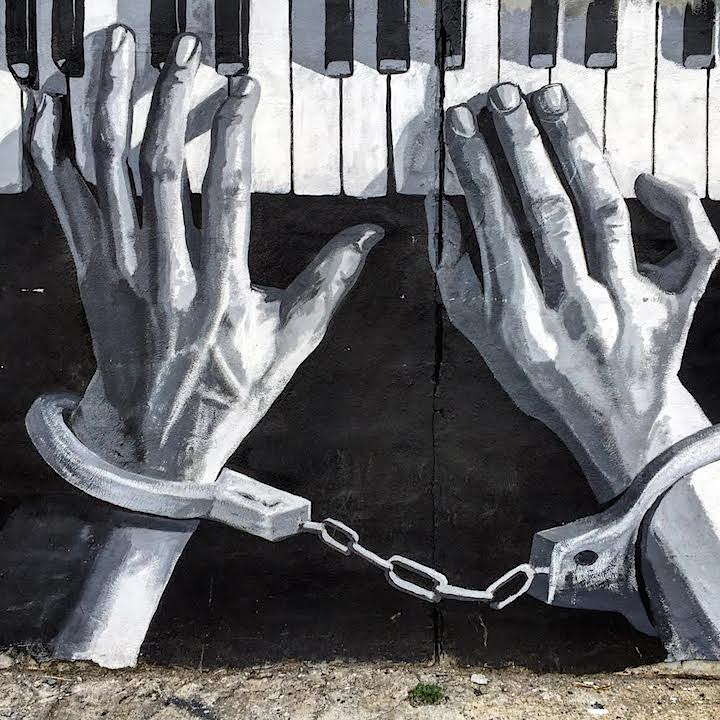 Who are some artists we can look forward to meeting?
Artists from everywhere will be painting. Among them are: D*Face, Case Maclaim, Sipros, Atomik, Don Rimx and Trans1. Local artists include: Giz, Tats Cru, Crash, Meres, Topaz, Plasma Slug, Lola the Illustrator and Hops 1.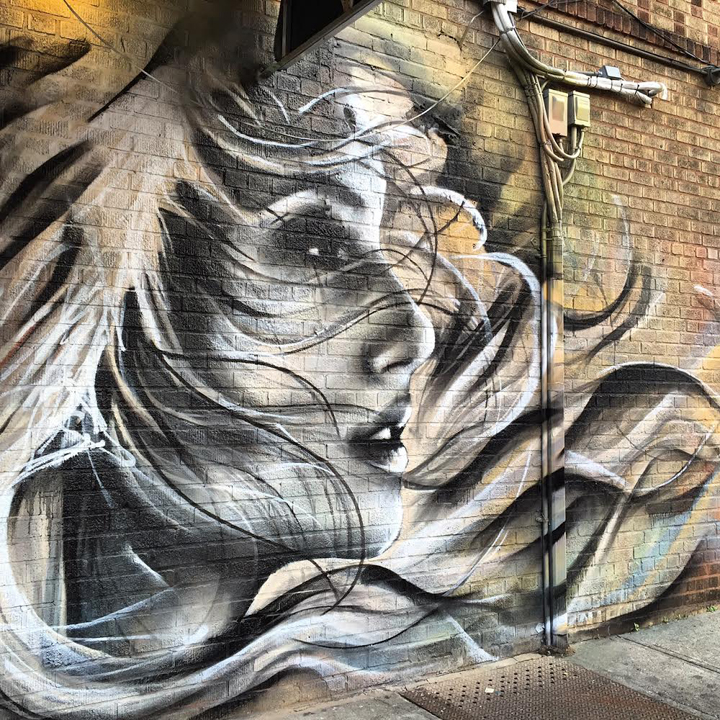 That sounds great! What's ahead for the Bushwick Collective?
We will continue to grow as an organization and evolve with time. We look forward to further collaborations with Mana Urban Arts.  We also look forward to establishing new partnerships.
Images
2. Sipros

3. Case Maclaim
4. Oji
5. Starfighter
Photo credits: 1 & 3 City-as-School intern Sol Raxlen; 2, 4 & 5 Lois Stavsky; interview conducted and edited by Lois Stavsky with Sol Raxlen
Note: Hailed in a range of media from the Huffington Post to the New York Times, our Street Art NYC App is now available for Android devices here.