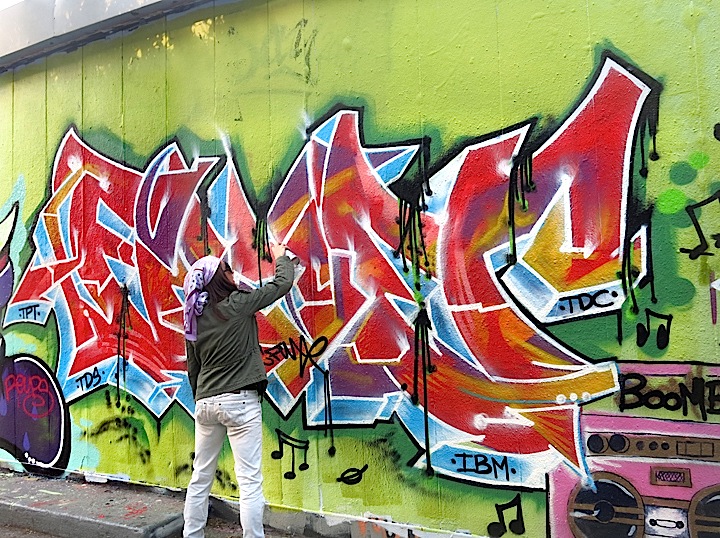 This past Saturday, Her Story, the first annual female graffiti series, was launched at the legendary Inwood wall on Isham Street off 10th Avenue . While visiting, I had the opportunity to speak to the inimitable Lady K Fever.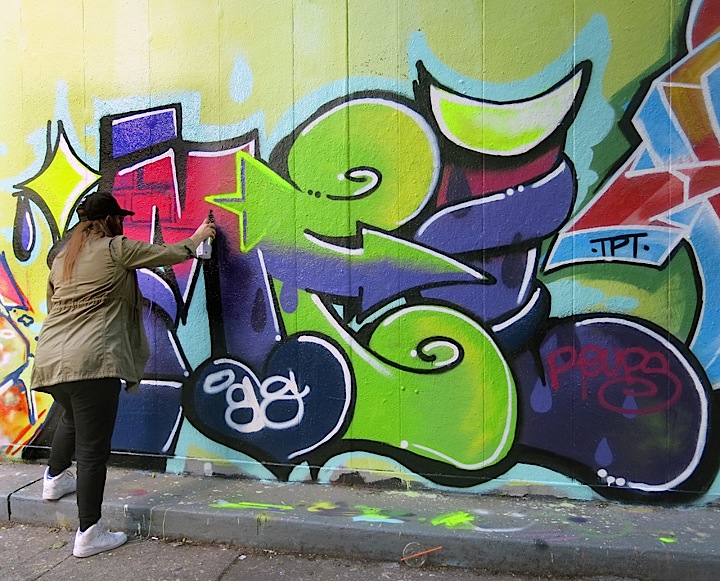 Can you tell us something about Her Story's mission?
We women are underrepresented in the graffiti world. The mission of Her Story is to provide us female writers with a supportive environment to tell our stories while sharing our skills with others.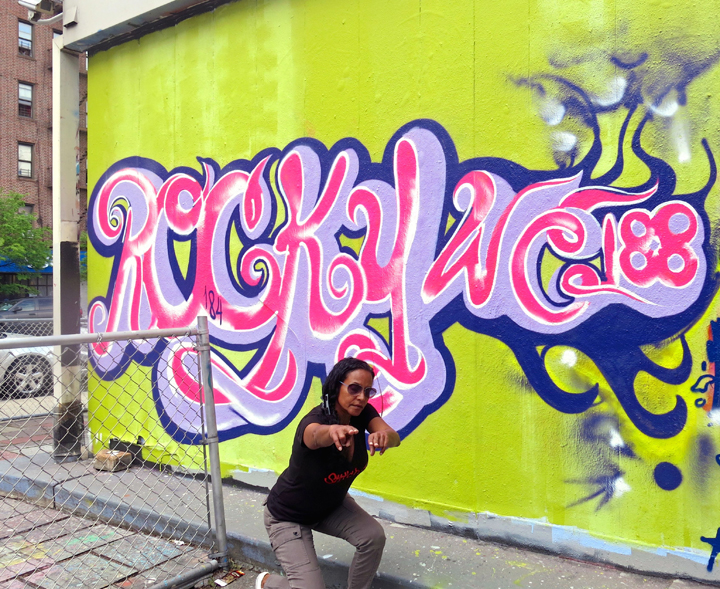 Whose idea was it? And how did the concept for such a project become a reality?
We've been constantly talking  — among ourselves — about the need for more opportunities. We feel that we don't have anywhere as many opportunities — or access to spaces — as guys have.  And, by chance, several weeks ago, Crane invited us to paint here on Isham and 10th Avenue.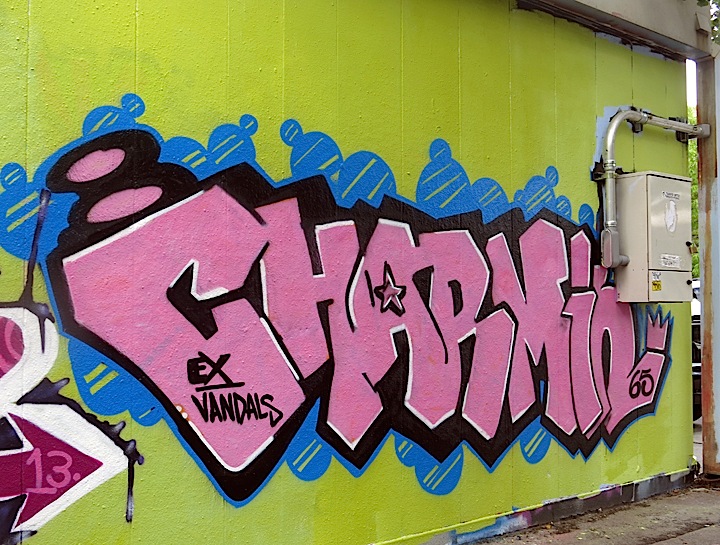 How did you decide which artists to include in today's launch?
We've all known each other for awhile, have painted together before and we get along well together. We are looking forward to including additional female writers in future jams.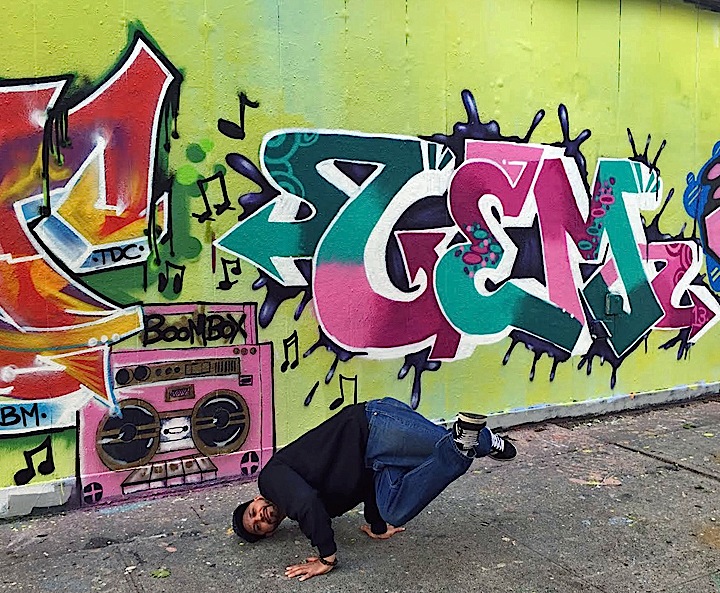 The vibes here are great! Everyone seems to be having so much fun. What is your impression of this launch?
It's been excellent! So many people came by to watch us paint, including many legendary old school writers. It's been busy!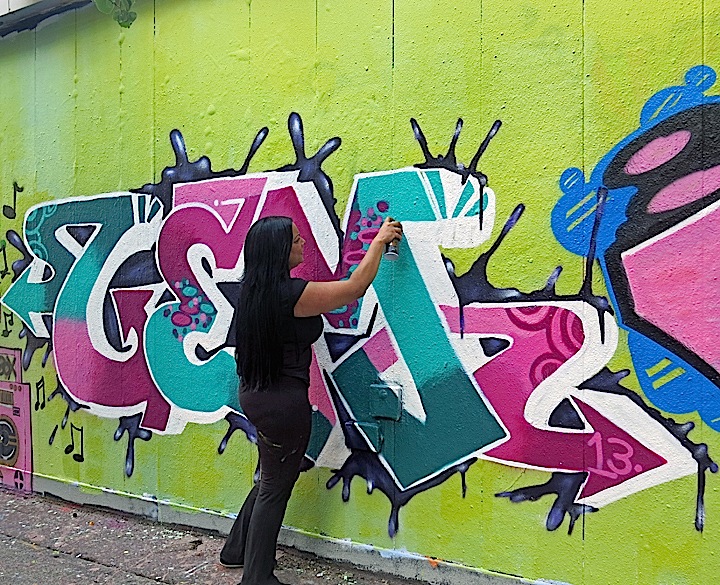 What's ahead for Her Story?
With the sponsorship of The Bronx Graffiti Art Gallery and Hush Hip Hop Tours, we will be painting for the next six months in five boroughs in three states. On June 25th you can find us at Tuff City.  Future spots include: Graffiti Universe and Hackensack, New Jersey. We will also be involved in the New York Restoration Project. In collaboration with Bette Midler's foundation, we will be painting in a garden on July 30th, as part of the series, Ladies of the Bronx, highlighting the elements of hip hop.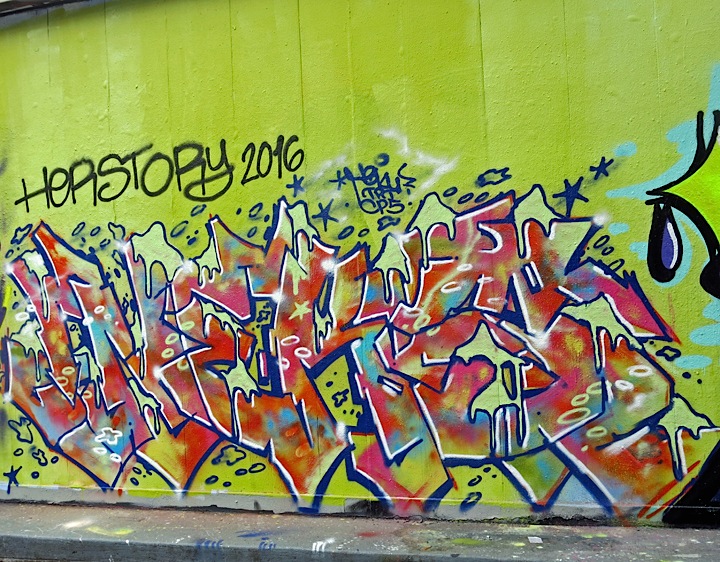 It's all very exciting! Good luck!
Images
1. Lady K Fever
2. Mel1
3. Rocky 184
4. Charmin 65
5. Miss Boombox with Bom5 dancing to its beat; Gem 13 on right
6. Gem13
7. Neks
Photos and interview by Lois Stavsky
Note: Hailed in a range of media from the Huffington Post to the New York Times, our Street Art NYC App is now available for Android devices here.