A huge fan of zines and independent publications of all kinds, I was delighted to discover Never Blue, featuring artworks by some of my favorite artists — who make their mark both on and off the streets. Curious about it all, I posed some questions to its curator, Mr. Green aka A Color Green.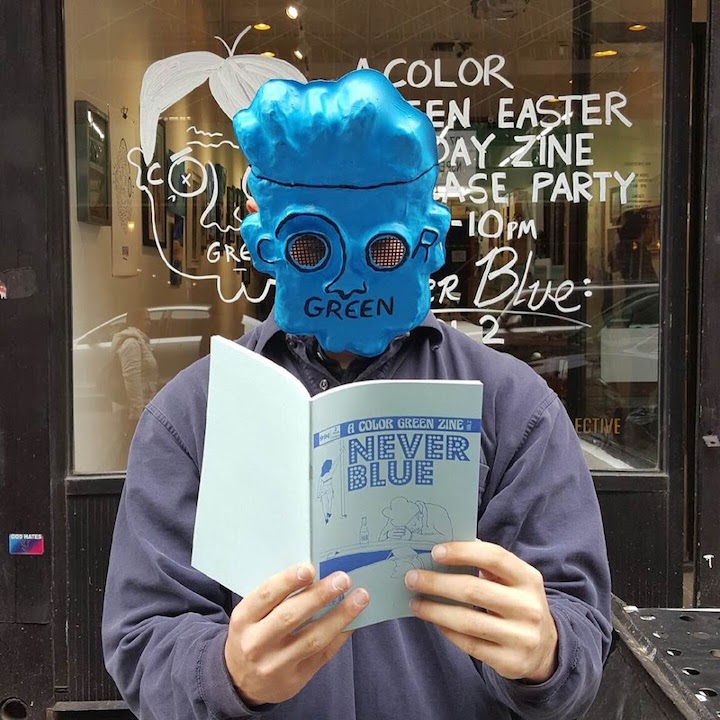 Just who/what is A Color Green? And when was it born?
At the easiest level, A Color Green aka ACG, Mr. Green or Coloure Greene is an independent, NYC-based artist and curator. Mr. Green was born roughly six years ago, about the same time I began to concoct a haphazard entrance into the film industry. And playing off its founder's last name,  A Color Green was conceived as a film production company title. Today, A Color Green is both an individual artist and his alter ego, as well as a tight-knit production and publishing team – (though always looking to expand into something new!)
Can you tell us something about its logo?
As I began to search for what would be a company "logo," an immediate connection with the cartoonish face you've become familiar with on NYC streets in sticker or tag form was born. Upon realizing the breadth of possibilities or absurdities in this face, ACG expanded into an alter-ego reminiscent of some of my favorite artists or musicians — graffiti legends like Snake 1, contemporaries like Chris RWK and Frank Ape and pop-culture icons like MF Doom, Quasimoto or Big L, Stanley Kubrick, Quentin Dupieux, Roger Ebert and more.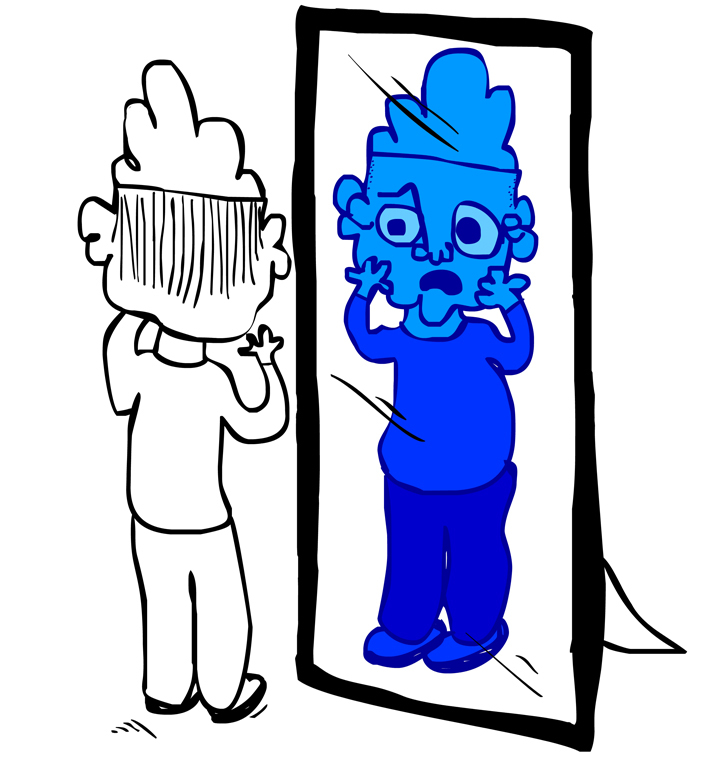 What spurred you to take Green to the streets?
When I moved back to NYC a few years ago, I didn't have the resources to pursue my own filmmaking. And inspired by those contemporary artists, I decided to try taking Green to the street, tying in film references. A big inspiration was my intent to develop a curatorial channel to feature these very artists.  And as that "channel" continues to grow, so do the partnerships and connections that have allowed me to branch back into some of my original inspirations in filmmaking and publishing which, of course, leads right back to this interview, Never Blue and some upcoming projects.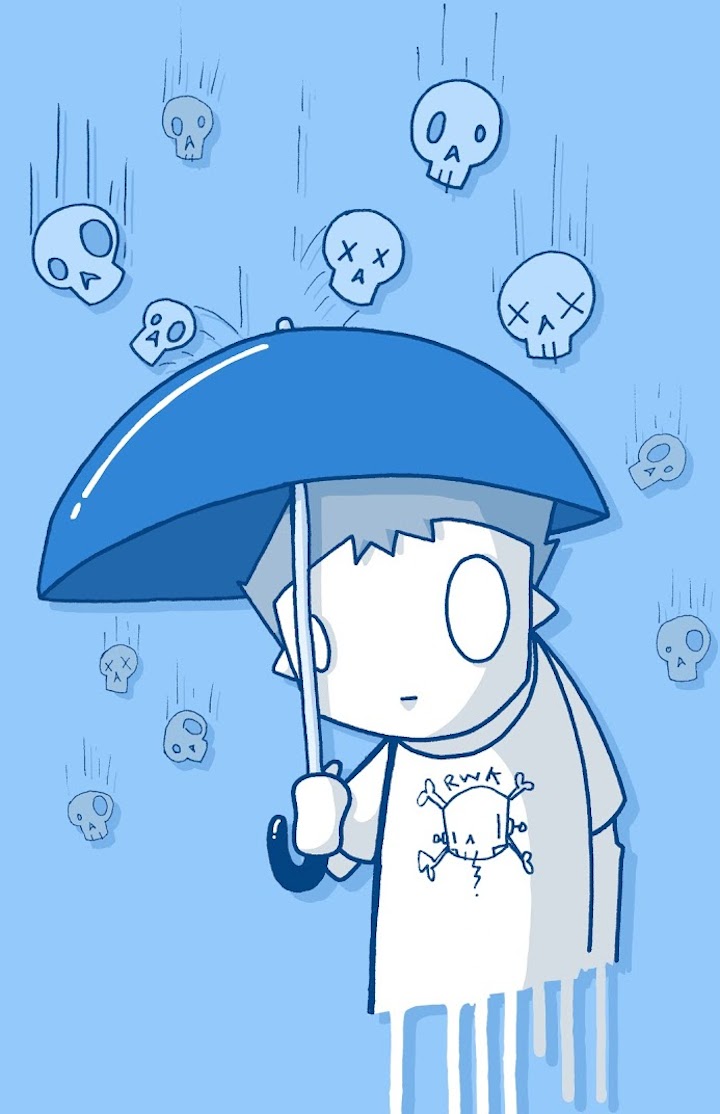 Never Blue is Volume 2 of the zines produced by A Color Green. Can you tell us something about Volume 1? Is it still available? What spurred you to produce Never Blue?  What is the concept behind it?
A Color Green Zine was conceived as a trilogy, each installment correlating to a different side of my character, inspiration, aesthetic and — I suppose — humor. As an artist, I've always identified with those masterful creators like Picasso or Kubrick who understood the importance of change and redefining one's self throughout a career. This trilogy is a direct nod to something like Picasso's Blue Period or Kubrick's ability to produce Barry Lyndon directly after A Clockwork Orange. The styles are so radically different, but through the change you still catch a similar glimpse of what drew you there in the first piece — whether a feeling, face or something else entirely. 
Our first edition, Black and White was also a limited edition risograph print co-published by Endless Editions  — as the entire trilogy will be — and featured roughly thirty artists, a number of whom are also featured in Never Blue. While Black and White was meant to adhere to that gritty, DIY style — which I'd strictly adhered to for two years — Never Blue, was meant to be a sad or celebratory, soulful or seductive step away from the simple shades of B&W. If you missed out on the sold-out first edition, you can download a free copy of the A Color Green Zine Vol. 1 Black & White now on BitTorrent.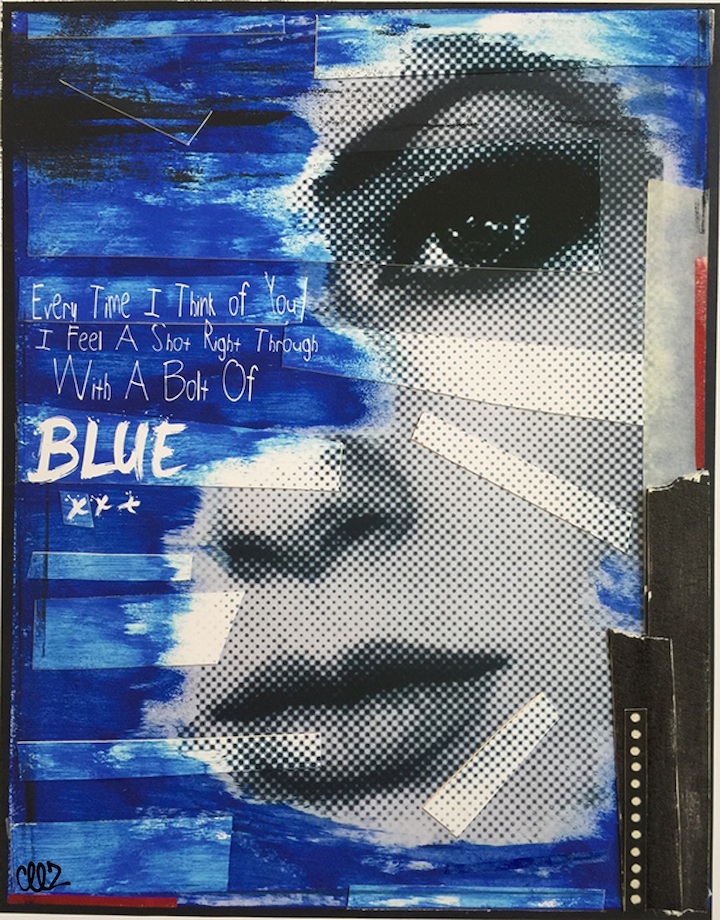 Works by dozens of artists representing a wide range of styles, sensibilities and cultures are featured in Never Blue? That's quite impressive. How did you decide which artists to include? How did you reach out to them?
While Never Blue is the second official zine I've created with A Color Green, it's actually our third publication following a small print we released over the summer called the Green Carpet Zine. Like I said, we had always intended to make A Color Green Zine an official trilogy, and receiving the proper submissions took some time — so much so that we took a break and created the entirely random Green Carpet Zine.
What differentiates the Green Carpet Zine from the official ACG trilogy is an emphasis on street art and representing that style in an illustrative or photographic form on the page. There were a number of artists I knew who had to be in it – starting with several highly talented friends including: HausRiot, Kristy Elena, Seth Laupus, Zero Productivity, Leaf8k and JCorp TM who were in the first edition. Next, I needed to reach out to some of my favorite contemporaries like Brolga, CEEZ, Chris RWK, City Kitty, Murrz, Abe Lincoln Jr. and Frank Ape who'd inspired me to get back into street art. And as I often find with that community, everyone was wonderfully supportive. I also opened up submissions to artists via the Con Artist Collective where I received dozens of illustrations that were incredibly difficult to choose from. The remaining slots were announced via social media where another couple of dozen artists responded.
Unfortunately, not all of the artwork could make it in, and that's where we needed to put on the curatorial hat and figure out which submissions not only fit the theme, but worked together in a layout as well. Emphasizing the different styles is very important to us, and when you flip through the zine, you'll find we pair similar styles together and contrast different looks. The result is a blend of hand-style, graphic design, illustration, wheat-paste and whatever else.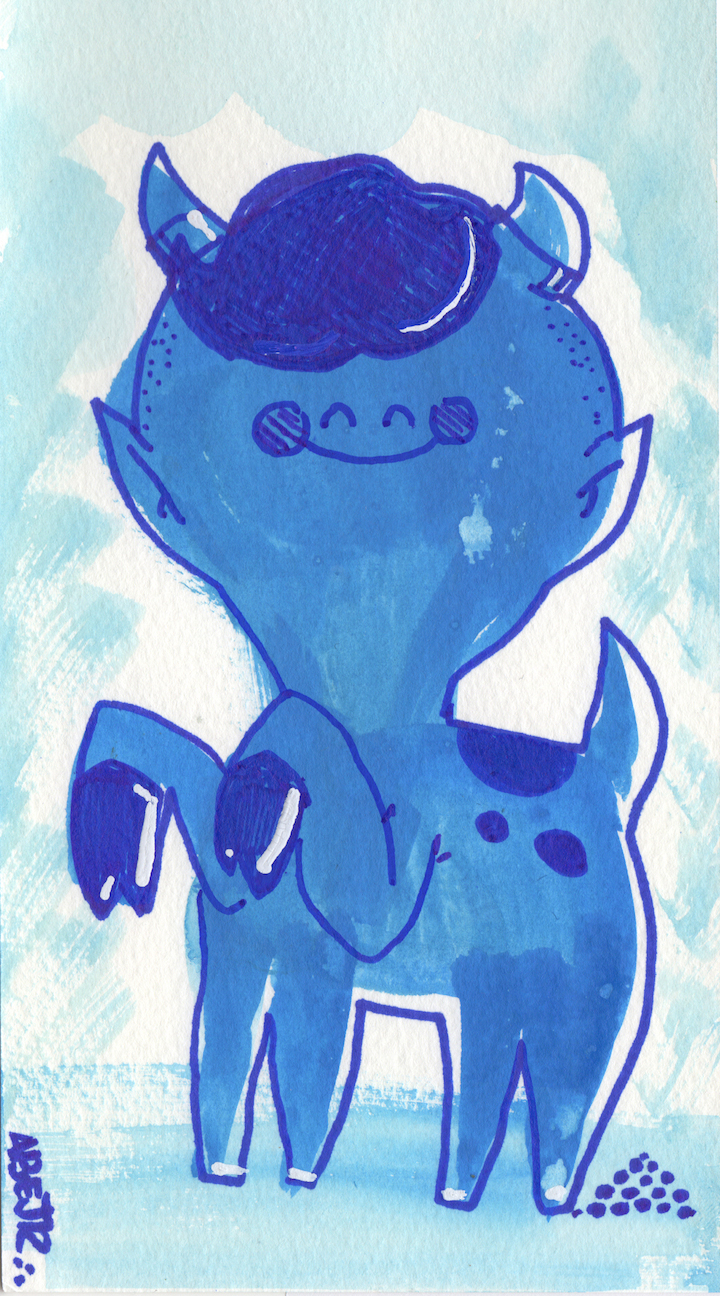 What was your greatest challenge in getting this zine out? How did you promote it once it was published?
Time is always the greatest challenge. The balancing act of juggling work, life and responsibility. Every artist who submitted to the zine — whether anonymous or not — has a life outside of their alter-ego, and so do I. We couldn't dictate a strict delivery for some submissions, because we desperately wanted some artists to partake, and I would have pushed the printing back for some people if need be.  But after receiving over fifty submissions, we knew we had to cut it off and set a release date. That release date, after two years gave ACG and Endless Editions the much needed fire under our asses, and within two months we had two hundred fresh risograph copies and an opening set at Con Artist NYC where another 25 artists donated work to hang on the walls.
Promoting after such a long build up was the easy part and it took place mostly via social media — across 30 somewhat artist pages on different platforms — in addition to a couple of NYC art listings and press releases. Con Artist also has been a major champion of our work and promoted it heavily across their channels.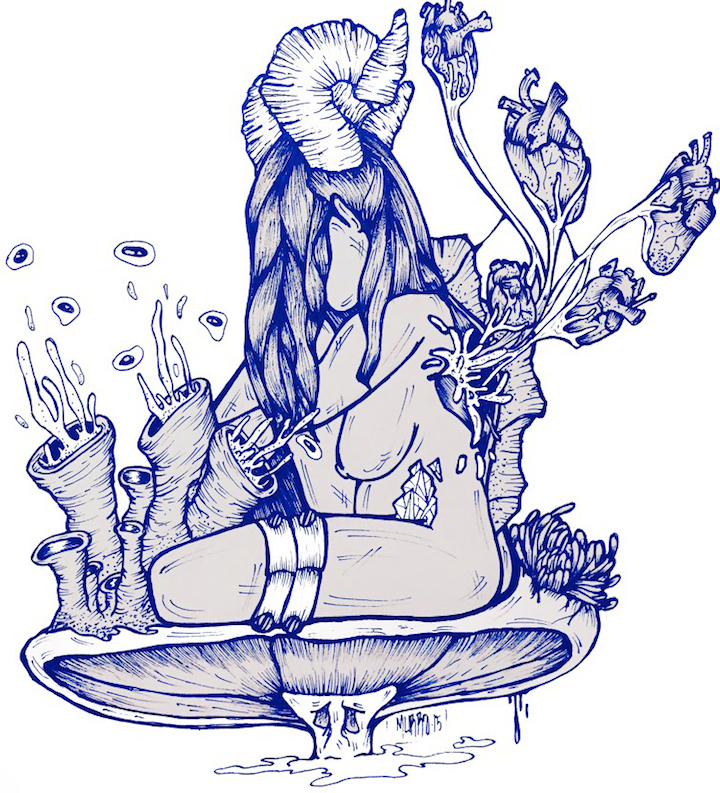 What's ahead for A Color Green?
Up next for ACG is a long-awaited rest from zine curation and my official directorial debut in MUTE which will have its hometown world premiere with the BK Horror Club and Brooklyn Horror Fest tomorrow, April 21. The short film features Danish star Albert Bendix as a tongue-chopping madman and is followed in double-feature form by a screening of the modern-classic You're Next, sponsored by Throne Watches and Narragansett Beer. Tickets can be purchased here. And If you're yet to check out Never Blue, you can buy a copy at Con Artist while supplies last or head over to Printed Matter, Inc where the zine will go on sale later this month. More on www.acolorgreen.com.
Interview by Lois Stavsky; all images courtesy Mr. Green
Images: 
1. Mr. Green with Never Blue
2. Mr. Green
3. Chris RWK
4. Ceez
5. Abe Lincoln Jr.
6. Murrz