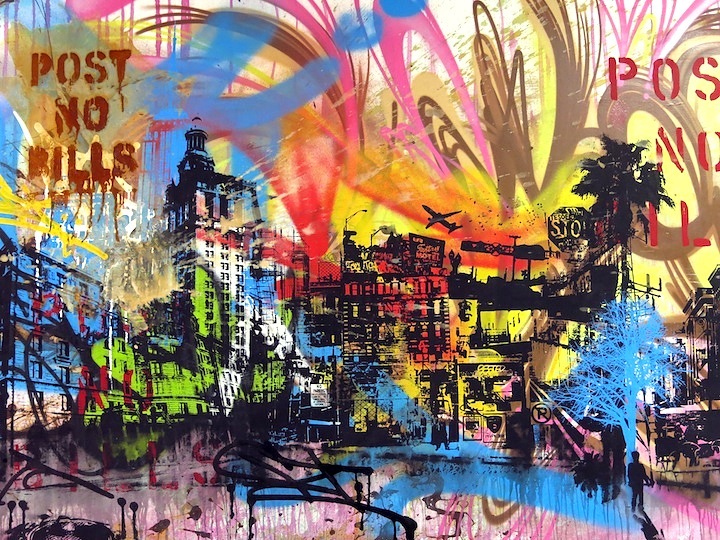 We recently had the opportunity to speak to the dynamic Mike Baca aka 2ESAE and Fernando Romero aka SKI of the collective UR New York at Pop International's new pop-up location at the Atrium at 153 East 53rd Street – where a vibrant new series of the talented duo's art is on view.
When was UR New York born?
Mike: It started back in 2002 as a clothing line. But it died out for a while.
Fernando: Then in 2011 we revived it as an art collective.
You two are such a great team. How did you guys meet?
Fernando: We met through a mutual friend in 2005.
What would you say is the key to your success as a team?
Fernando: We don't let the success get to us. We do what we do because it feels right.  As individuals we're strong, but when we work together as a team, we are even stronger. And we are like brothers.
Do you guys have a mission of some kind?
Fernando: It's all about individuality. Most people are sheep. The message is: Don't be sheep. Be who you are, and be the best that you can be – whoever you are and whatever you do.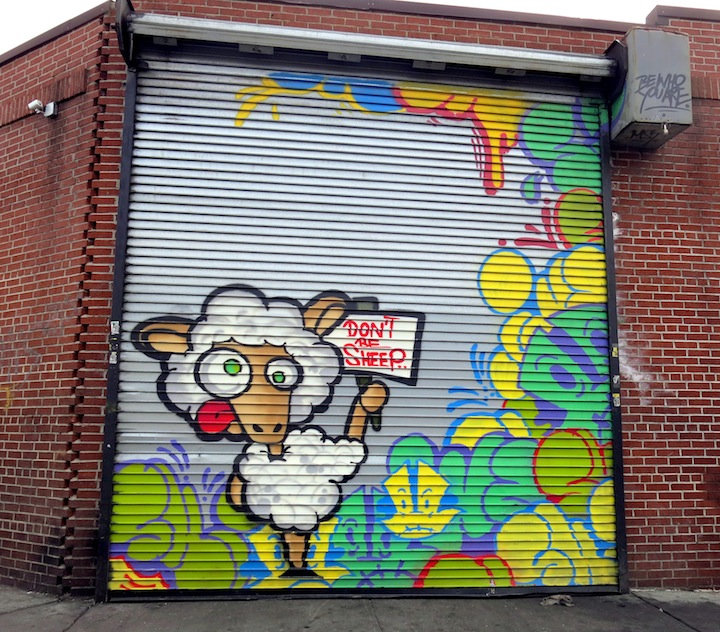 Have you a formal art education?
Mike: I went to the High School of Art and Design.
Fernando: I graduated from Parsons in 2006.
Any thoughts about art school, Fernando?
It was an amazing experience. I met so many talented people – students and teachers — and I now have friends from all over the world.
How has your work evolved in the past few years?
Fernando: We've begun to focus much more on detail. We experiment with different styles and variations of colors.
Mike: We've learned how to step out of our comfort zone.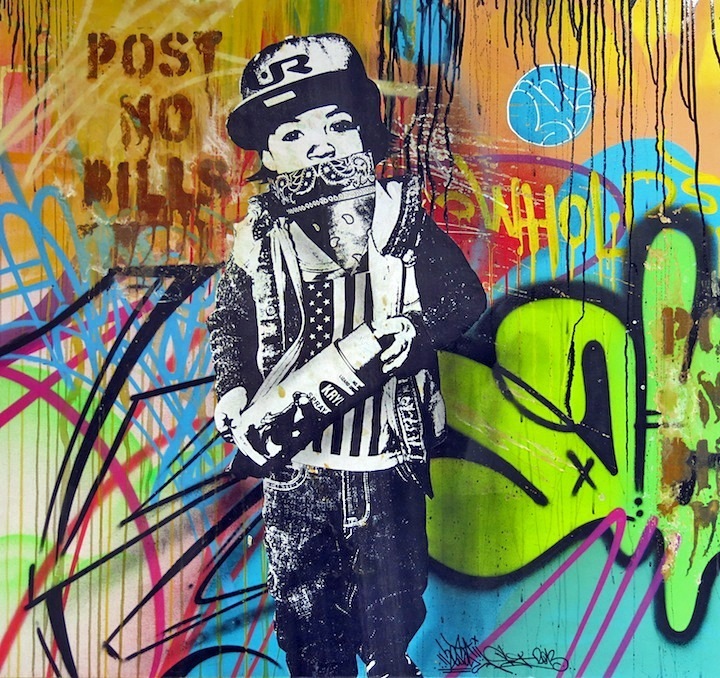 How do you feel about the movement of graffiti into galleries?
Fernando: Even though it's been going on for awhile, it's a process. It will take awhile for graffiti to be accepted by the art establishment.
Mike:  As long as you keep it real, it's a great platform. And at this gallery – Pop International – a percentage of our sales goes to CAW, a non-profit that offers free arts workshops to kids uptown.
Tell us something about your experiences here at Pop International and CAW.
Mike: It's been awesome. The folks here at Pop International are like family to us. And through CAW, we've been working with kids. It's great serving as role models.
Fernando:  Definitely. It's been a great experience. And we get to hang out in this gallery and see our artwork hanging alongside the likes of Keith Haring and Basquiat!
Who are some of your favorite artists?
Fernando: Among my favorites are: KA, Belin from Spain and my partner, Mike Baca!
Mike: I like Skewville, REVS, Smart Crew, KA and See One.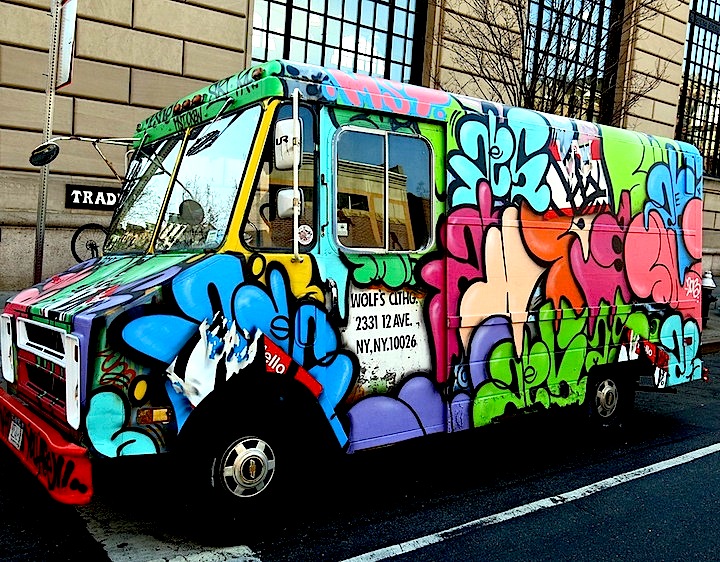 Any thoughts about the graffiti/street art divide?
Mike: I can appreciate street art. I like the way it interacts with the environment. But there's a natural tension between graffiti writers and street artists, as many writers risked their lives to make their mark. But we're all in this together, playing in the same arena.
Have you any first graffiti memory that comes to mind?
Mike:  I remember finding a can of spray paint in my basement. I took it to school with me and wrote my name in the schoolyard. I got suspended.
Fernando: I was about six years old when I saw my cousin writing for the first time in Astoria, Queens. By the time I was ten, I started writing my name around my neighborhood.
What percentage of your time is devoted to art?
Mike: My whole life is devoted to art. I don't have a day job, and I almost never sleep.
Fernando: When I'm not making art, I'm thinking about what I'm going to make.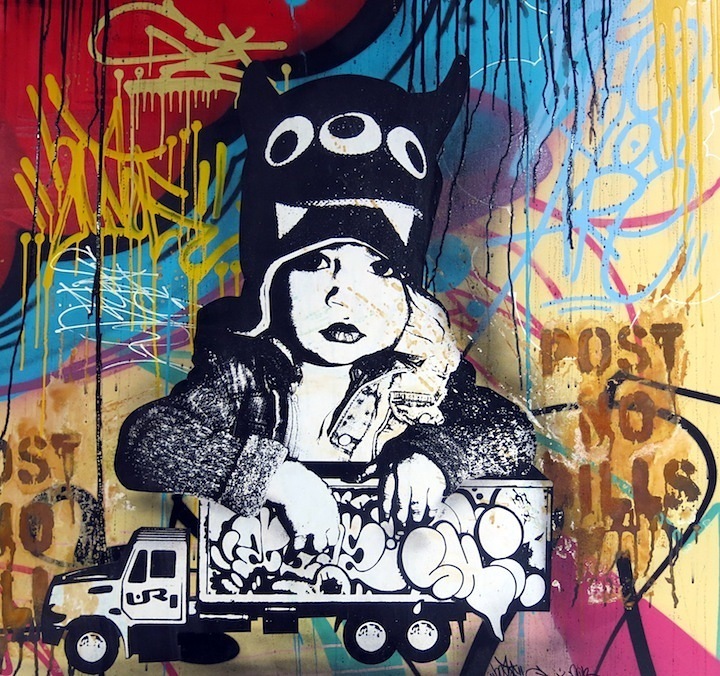 Any artists out there you'd like to collaborate with?
Fernando: How and Nosm, Os Gemeos, C215, Jose Parla, Doze Green, WK Interact…
Mike: If I could collaborate with anyone, I'd choose Blu, Roa and Mode.
Any thoughts about the role of the Internet in all this?
Fernando: I see it as good and bad. It's good because it can give an artist mass exposure. But – at the same time – a nobody can become a somebody. And that's not good.
Mike: The Internet is the devil. There's just too much information out there.  But on the plus side, you can get to show your work anywhere.
Any theories as to why graffiti is more embraced in Europe than here in the US?
Mike: People are more relaxed there and more appreciative of everything.
Fernando: Europeans are generally more open than Americans. They're more laid back. Art has been a part of  European culture far longer, and Europeans tend to respect and appreciate it more.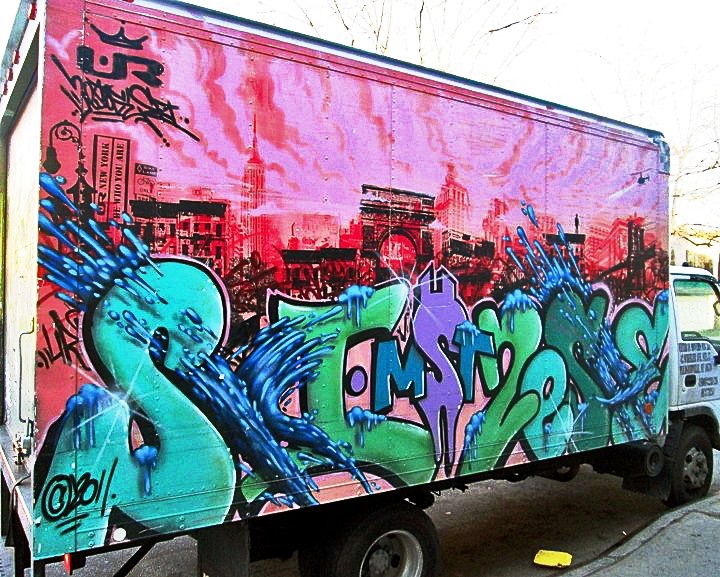 Which countries have you guys painted in?
Fernando: Australia, Italy, Austria, Israel, Brazil, the Dominican Republic, Canada, much of the US and Puerto Rico.
Any favorite cities?
Fernando: There's nothing like NYC.
Where do you get your inspiration?
Fernando: Women, cars, buildings…just walking with my eyes open inspires me.
Mike: NYC. It's a monster. It's always alive and a constant source of inspiration.
Tell us something about your process.
Mike: It's organic. We just let it flow.
Are you generally satisfied with your work?
Mike: We always strive to make it better.
What's ahead?
Mike: Painting on a larger scale; working more with children and curating shows for people who don't have the opportunities that we have.
Fernando: All that and making five times as much money!
Photos by Dani Mozeson and Lois Stavsky; the two trucks featured are by UR New York in collaboration with KA