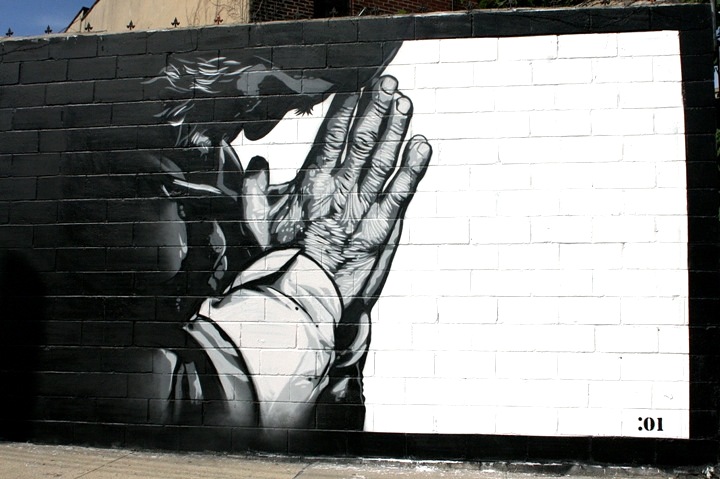 Joe Iurato's splendid stencil art graces the streets and galleries of New York City and beyond. We recently had the opportunity to visit Joe's studio and find out more about him.
When and where did you start getting up?
Around 2006. I was working over in SoHo for a magazine, and I started by going out and putting up small works on my lunch breaks. I'm a bit of late bloomer when it comes to getting up in the streets, but I guess better late than never.
What inspired you?
My earliest inspirations came from graff, which heavily influenced the b-boy culture I was part of as a kid. Then, in my mid-teens, I started skateboarding and the lines began to blur among the styles of art that surrounded me. Wasn't so much letterform as it was snakes poppin' from the eyesockets of toxic green skulls and less refined scrawlings addressing social issues. I liked it all, and I was actively drawing and painting in all styles. I'd always secluded myself with my art, though. Never really liked to show anyone. But something was appealing about being able to share it publicly, without having to tell someone, "That's mine. I did that." Just leave it there, and let people take what they may from it. Eventually, the inspiration outweighed the hesitation, and I gave it a shot.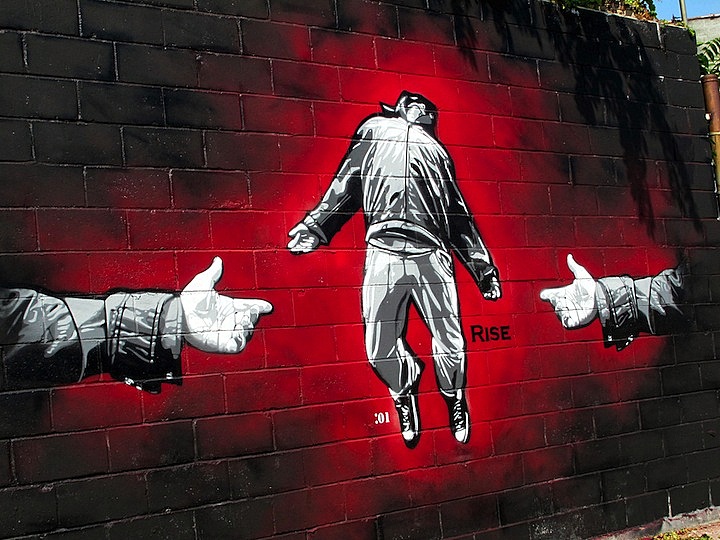 What was your most memorable "street art" experience?
In New Brunswick, I did a large piece of a kid praying on a trestle. When I went back to paint again a few months later, a homeless man approached me, pointed to that first piece I did and said, "I don't care what you do, but if you touch that piece, I'll kill you." That made me realize just how important public art is.
Have you collaborated with others?
I work mostly on my own, but I've done a few collaborations. Some of the most memorable being with SNOW, SUE WORKS, and Chris Stain.
Have you ever been arrested?
No, I haven't. I think largely because the risks I've taken were fairly calculated. I'm a father trying to support and raise a family, and we just can't afford fines or worse. These days, most of my work's done on legal walls.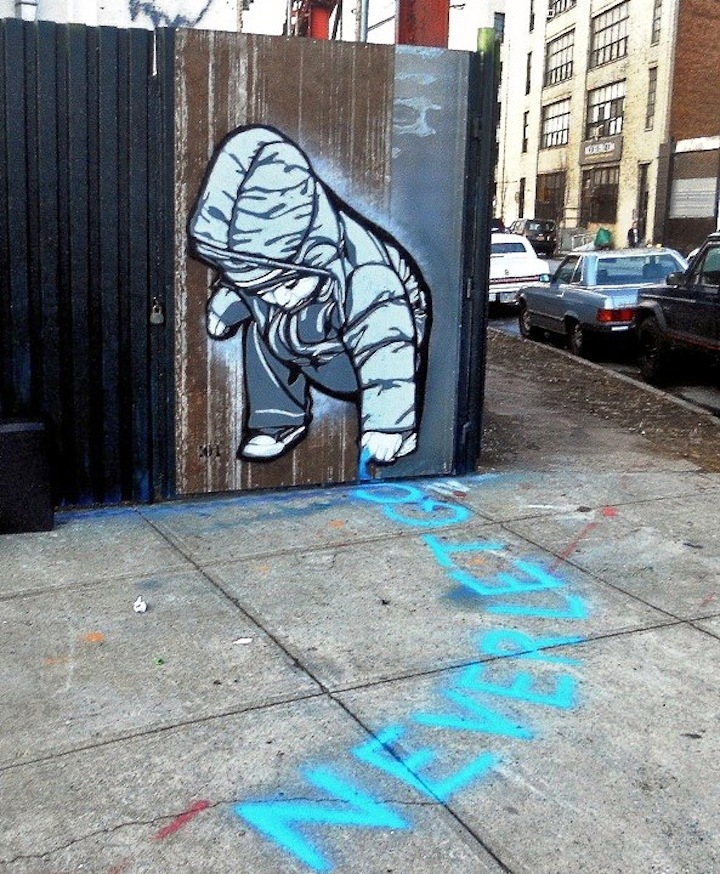 What is the attitude of your family?
My wife is really supportive, and my older son loves that I encourage him to paint the walls in my studio. So, for now, I'm good!
Have you exhibited your work?
Yes, I do. Currently, I'm showing a number of new pieces at Signal Gallery in London.
How do you feel about the movement of graffiti and street art into galleries?
I have no objections to it. Artists and their families deserve to eat, too.
What about festivals? Have you participated in any street art festivals or special events?
Yes. I've painted at Welling Court in Queens, at the Living Walls Conference in Albany, at Willoughby Windows in downtown Brooklyn, the G40 Summits in DC, Electric Windows in Beacon, NY, the Art of Basketball in Miami, and regularly at Fountain Art Fair to name a few.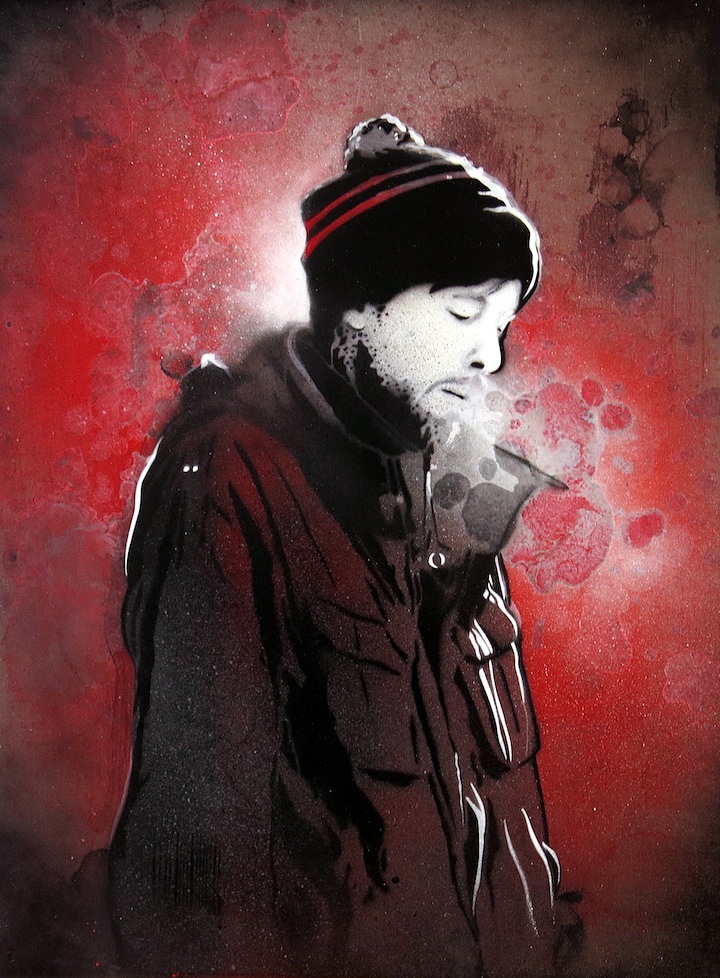 Do you have any favorite surfaces?
I love weathered surfaces and texture, but it can sometimes be difficult to work with when I'm applying stencils. For what I do, the smoother, the better. Cinder block, steel, etc…
What percentage of you time is devoted to art?
I'd say 30-40%.
What is the main source of your income?
There is no one source. I sell art, but I also work in a restaurant and write a weekly wine column for a North Jersey newspaper group.
How do you feel about the graffiti street art divide?
To me, that argument doesn't make much sense. We're more or less doing the same thing. Maybe some of the ideology is different and the methods and materials, but we're expressing ourselves creatively and publicly. Regardless, if you work in the streets, you have to respect your roots. It all started with the graffiti writers.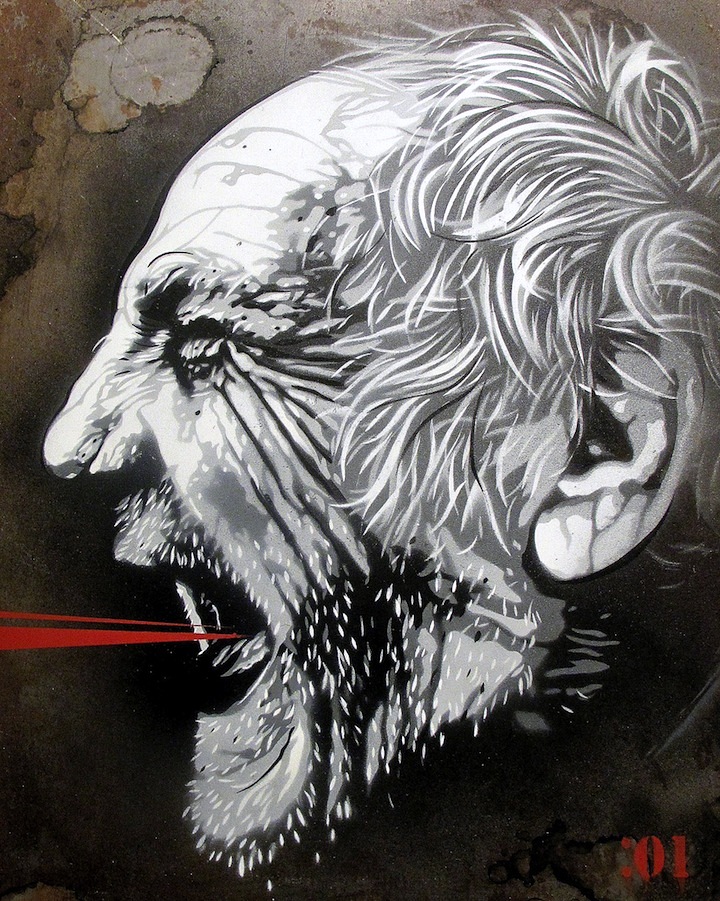 And what about the Internet? How do you feel about the role of the Internet in all of this?
Like everything else, there are pros and cons. It's a great way to share your work and network with the community, but it can also make anyone a superstar. Some great artists can get lost in the madness of the Internet.
Do you have a formal arts education?
I studied for three years at Montclair State University, but then I quit to study wine.
Did your art education benefit you?
It helped me understand color theory and composition. I also loved art history. But I can't say any of it directly affected my aesthetic or technique.
What inspires you these days?
I'm inspired by what I'm doing and how I'm living, which is why the subject matter and even the mood of my work is constantly changing. At the moment, I'm influenced by a place I've been frequenting. It's an abandoned space near my home with a long, complex history. I've been relatively obsessed with documenting it for a few years, and now it's showing in my work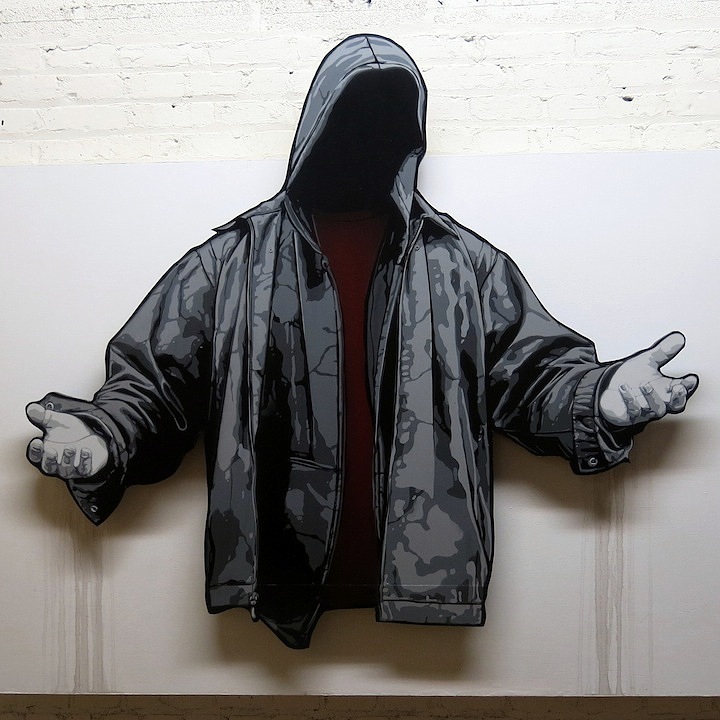 How has your work evolved throughout the years?
I think I have a deeper understanding of my own stencil art. I've explored everything from single layer to 15 layer pieces, and its taken years to develop some sort of continuity and fluidity. I feel I've finally arrived at a comfortable and consistent method of cutting. That said, I've begun challenging myself elsewhere, experimenting with new applications in addition to the stencils.
Are there any artists who particularly inspire you?
There are so many, I'll kick myself later for forgetting anyone. But on a personal note, the one person I'd like to mention is Logan Hicks. While I don't have to say anything about how dope his stencil art is, he's become a close friend and mentor through the years. His work ethic has always inspired me. The dude never rests. He never sits in a pocket just complacent with what he's done, and it's not a day or two after a successful opening that he's back at the grind exploring something new. There are plenty artists out there who'll also vouch for him being this central figure that's brought so many of us together. That, and he's a family man. I admire and respect him.
What do you see as the role of the artist in society?
Public art, especially, in the here and now is a powerful tool that can spark healthy conversation, debate, and even change. But I think that "art" collectively always makes more sense in the future. It helps put a time stamp on our culture, and will in some way define us when there's little left of our fleeting existence on this planet.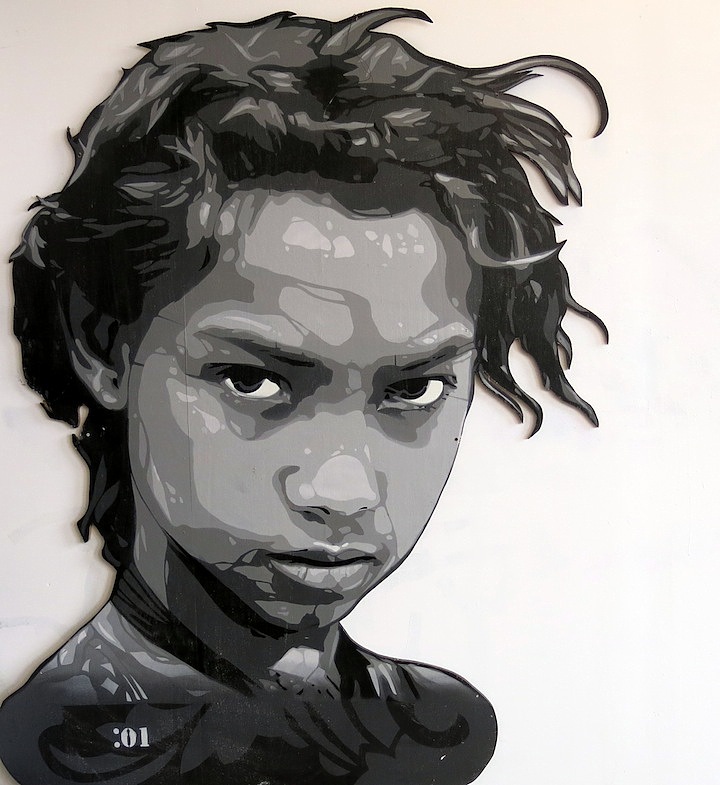 What do you see yourself doing in the next five years?
Hopefully continuing along this path. Evolving my work, sharing more of it inside and out, still doing the wine thing, and being able to give my family all they need and deserve through doing what I love.
Wow! Good luck and, of course, we're thrilled that you are doing what you are doing!
Photos by Lenny Collado, Dani Mozeson, Tara Murray and Lois Stavsky