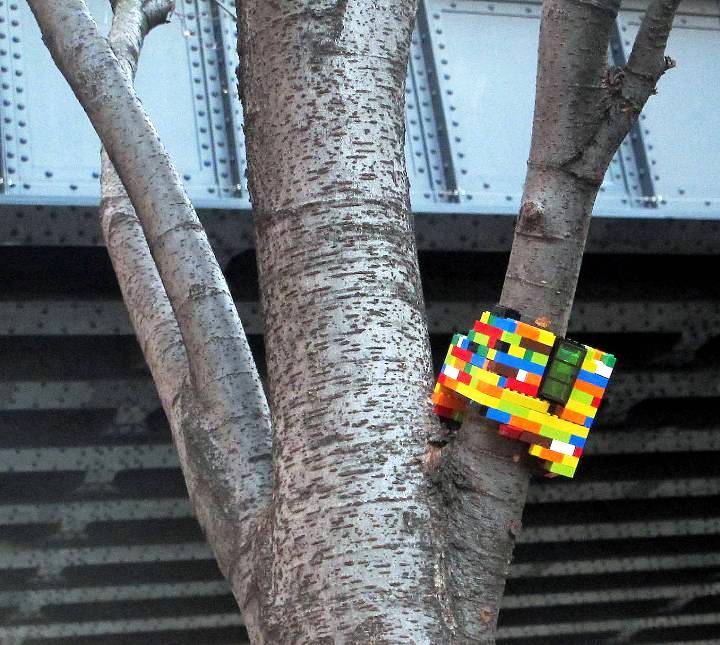 While in Manhattan's Chelsea district and Brooklyn's DUMBO this past month, we came upon captivating mini-homes constructed from Lego pieces perched onto trees  We discovered that they are the works of the internationally acclaimed Brooklyn-based artist, Jaye Moon. Delighted that she had chosen to share her vision with us passersby, we posed a few questions to her:
Why do you choose to share your work with passersby in the public sphere?
I have been creating sculptures made out of Legos and Plexiglas such as suitcases, lunchboxes, containers, and drawers with living spaces inside.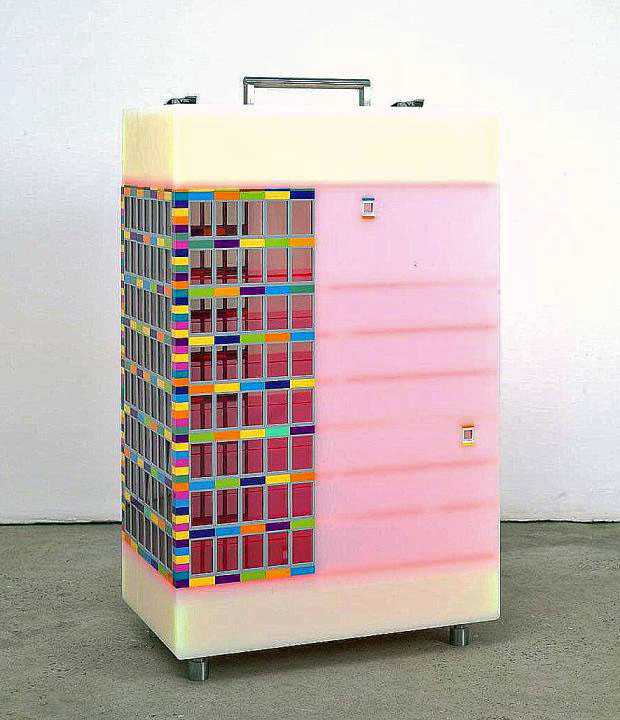 My theme is about portable and instant living in the contemporary world.  As an extension of my art project, I wanted to create urban landscapes that integrate actual architecture and nature with Lego bricks to share my ideas with the public.
Do they generally last? How do you feel when they don't? 
Sometime they last for a long time.   Actually it depends on where I install them.  If the locations are conventional, they are gone quickly.   However, I don't feel bad about that, because I want my work to function as mobile homes that can be taken away for their own purposes.  Even though I don't know how long they will last, I always make sure to leave enough spaces for trees to grow.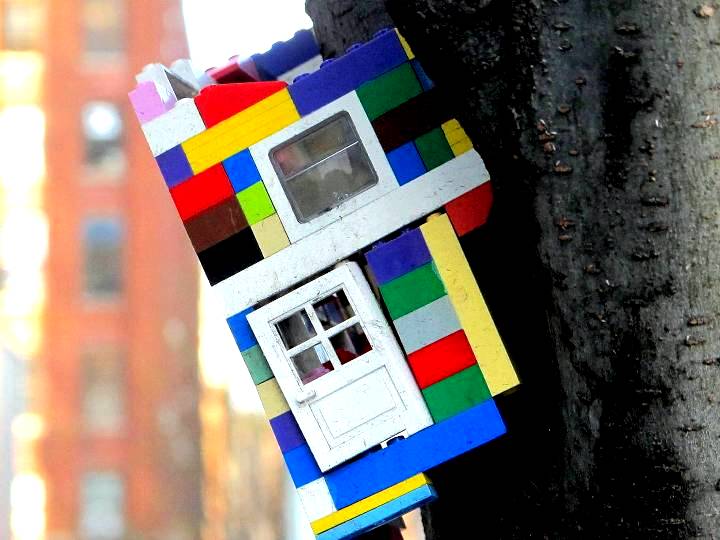 Why do you choose to work with Lego pieces?
Our lifestyles are portable and instant, and I am interested in creating modern architecture that reflects this. For me, Lego bricks are the perfect objects for they are associated with architectural forms, as they are ready-made — based on industrial and mechanical functions.  These days we are trying to create universal living conditions that fit in anywhere — for anybody. The concept of Lego blocks is fitting for our mass-produced consumer culture, which I believe will continue to be our cultural trend in the future.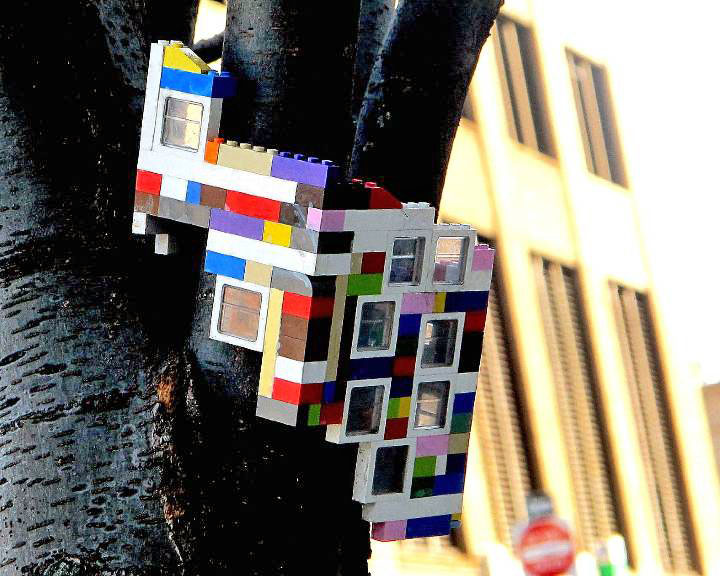 My tree houses also remind us of those homes that people sometimes wrap with cloth in the winter to protect them from cold weather, and viewers can also see the bricks' primary colors sticking out from the green leaves before noticing that they are just plastic blocks.
Have you noticed folks' reactions to your pieces as they pass them by? What kinds of responses have they elicited?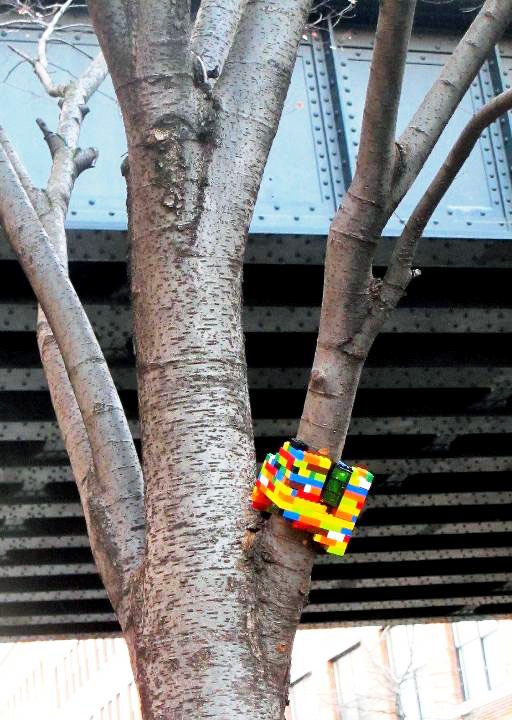 As soon as people pass by my work, they seem to feel connected with my projects, because they are made out of Legos.  Toys are universal and innocent and bring people nostalgia of childhood memories.  Someone said that he wants to climb up the tree house and fit inside. I see people with big smiles when they pass by my work, and that makes me happy.
What's interesting is that every time I revisit the sites, I discover that something has been changed.  Sometimes the doors are opened or closed. Sometimes bricks are missing; other times, people actually add their own bricks to the tree houses.  I learned that people's interactions recreate the shapes of the tree houses so they're no longer my projects alone.  This is what's great about public art.
Outdoor photos by Street Art, NYC and Lenny Collado; Highrise II. 2007, courtesy of Newman Popiashvili Gallery