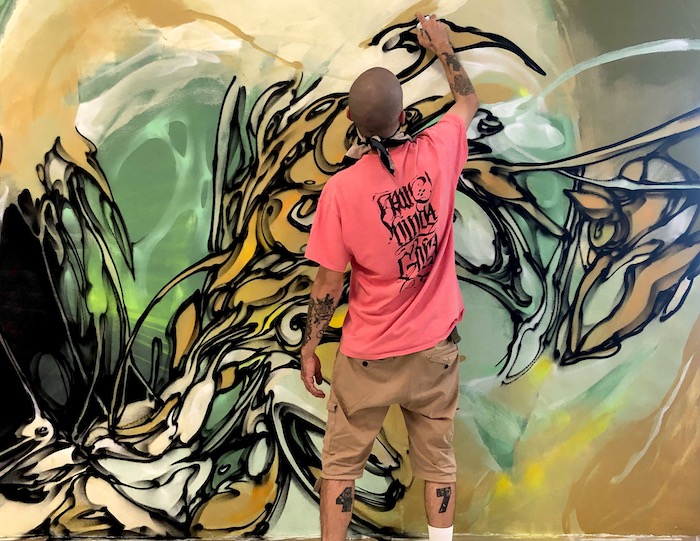 A huge fan of Mr. Mustart's mesmerizing aesthetic since I discovered it on the streets of Jersey City a decade ago, I was delighted to feature his talents in the Morris Museum's current group exhibition, On and Off the Streets: Urban Art New Jersey. What follows is an interview with the artist:
When and where did you first get up?
Back in Russia. I was about 11-12 when I first got up on a wall. I remember using a navy blue spray can from a local auto shop. At that time the paint only came in two colors.
Had you a preferred surface?  
No! Everything goes, and as long as there is room for creativity, it's all a blank canvas.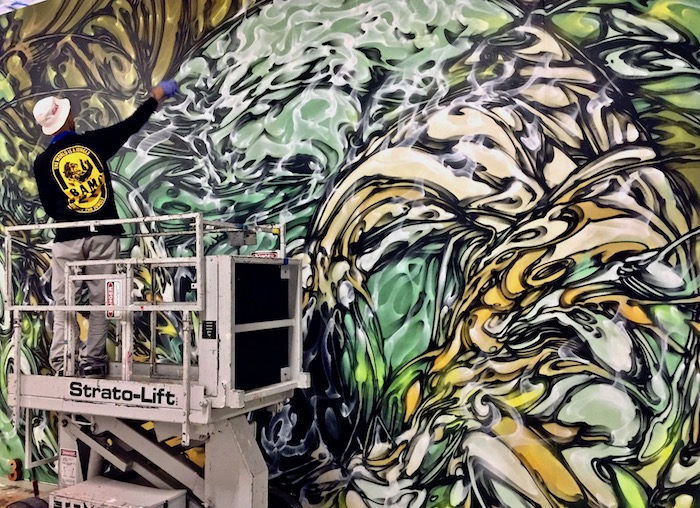 What inspired you to hit the streets? 
A desire to be heard and also seen now that I think about it. Also, I was inspired by the music that I listened to at the time. At first, it was punk rock and heavy metal. Then when I was about 13 or 14, back in 97-98, it was a wave of hip-hop and rap music – groups like Public Enemy, Naughty By Nature, Cypress Hill, Wu-Tang, Gangstarr, of course 2Pac and Notorious BIG, BIG Pun, Big-L, Jay-Z, Nas, Dr. Dre, Snoop, KRS One, MC Hammer, Kool G Rap, Coolio, … whosever bootleg tapes and VHS videos made it to my small town.
There was no internet at that time, mind you. I remember watching music videos with b-boys in them rocking on linoleum mats with graffiti pieces and characters in the background. I was already drawing, sculpting and making my own play-weapons like wood gun replicas, ninja darts, bows and arrows. and more. The music and the videos opened me up to an entire new world of self-expression.
Do you prefer working alone or collaborating with others? 
I like doing both. Some of my finest memories are from the times I painted with my friends. And sometimes it's more therapeutic for me to work alone. Depends on what it is that I'm doing.
Do you belong to any crews?
I'm an honorable member of BAMC, a huge and very talented international crew based out of California and the A-Team aka the AIDS Crew, a collective of some of the dopest local street and graffiti artists based out of Jersey.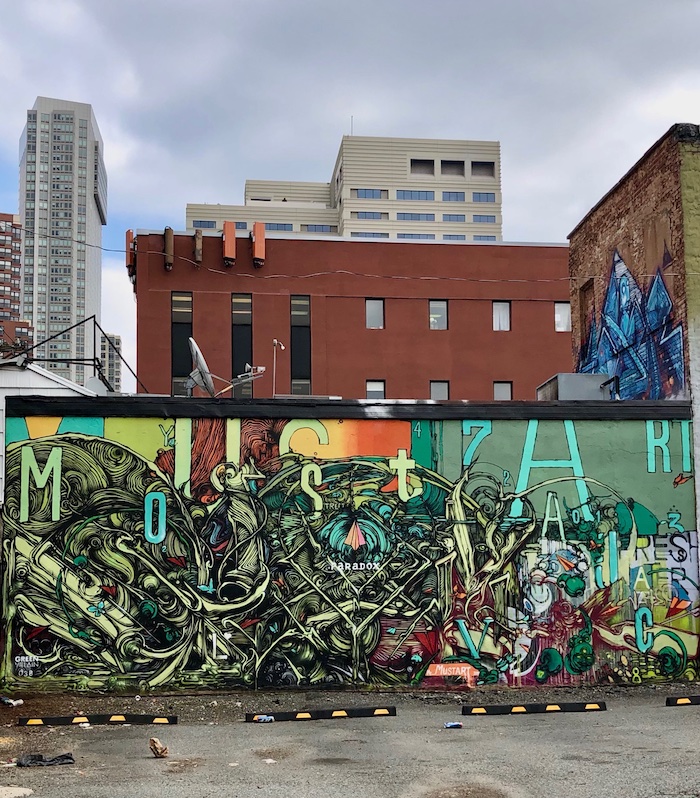 Have you any thoughts about the graffiti/street art divide?
Before we get into any type of logomachy about this hot topic, let's agree that there is no solid definition of either one. and the lines between have been crossed numerous times throughout its brief history and continue to till this day.  I don't think it's that much of a divide, rather a continuous interaction and coexistence/collision of ideas, concepts, social commentary, techniques and more. Don't believe the hype.
I think it's more of a territorial issue. Most graffiti writers have been doing their thing on the streets for years and even decades without serious recognition from the art world, mostly because  graffiti has been classified as a crime rather than an urban form of expression. It's the label "street art" that took graffiti places it has never been. So I think the divide is more personal and not as systematic as people like to think.
How do you feel about the movement of graffiti and street art into galleries and museums? 
I think it's great. It's Art and that's where the Art belongs. It's a window of opportunity for many talented artists and a positive outlet for those who come from harsh environments with many self-destructive vices.  It gives many people hope and a way to earn some sort of a living.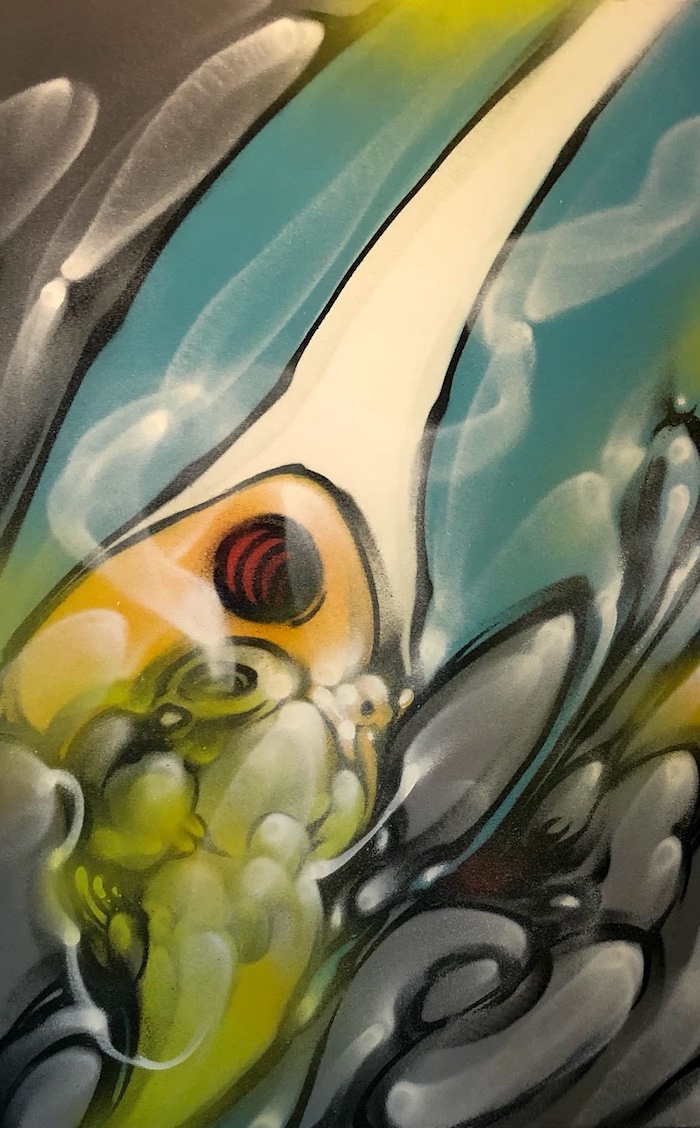 And what about the role of social media? How do you feel about that?
Its role is to connect people and that's what it does best. It's been great for me personally. It gives me a free platform with a global outreach. It's a way for me to expand my network and come across great opportunities.
Have you a formal art education?
I graduated from New Jersey City University in 2009 with a BFA Degree in Painting and Drawing, but even before and throughout middle and high school, I'd always attended some sort of art classes and artists' workshops.
How would you describe your ideal working environment?
Lots of daylight, a peaceful space without too many distractions – with some kind of instrumental music in the background and lots of blank canvases and paint. And hunger to search within.
What inspires you these days?
Good music, interactions with people. Everything really. Life.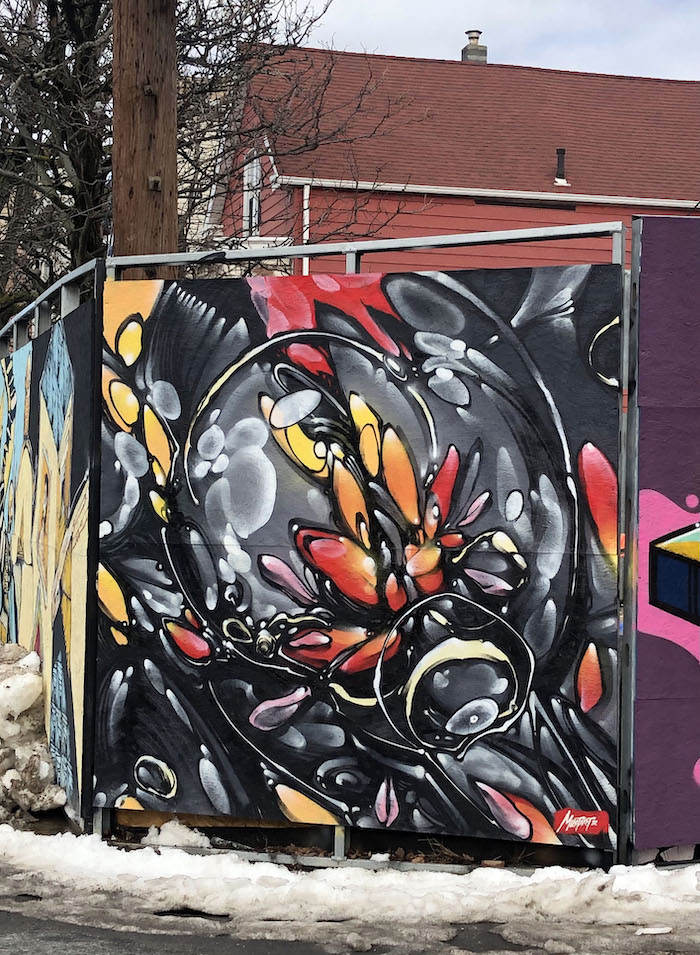 Are there any particular cultures that have influenced your aesthetic?
Growing up in Russia and moving to New Jersey at the age of 14 pretty much sum up my background of influences. The hip-hop culture and music from all parts of the world, especially the music from Russia, Poland, France, Brazil and of course USA.
Is there a central theme that ties your work together?
It's my organic and free-flowing style. I rarely work with a sketch in hand. My themes change as I do.
What about colors? Have you any favorite ones?
I especially like working with yellow. It's energetic and exciting, but colors are nothing in isolation. I love the nuance that exists among the colors rather than individual hues.
And media? Which do you prefer working with?
Spray paint is mostly my go-to, but I would draw with a stick on sand if I have to.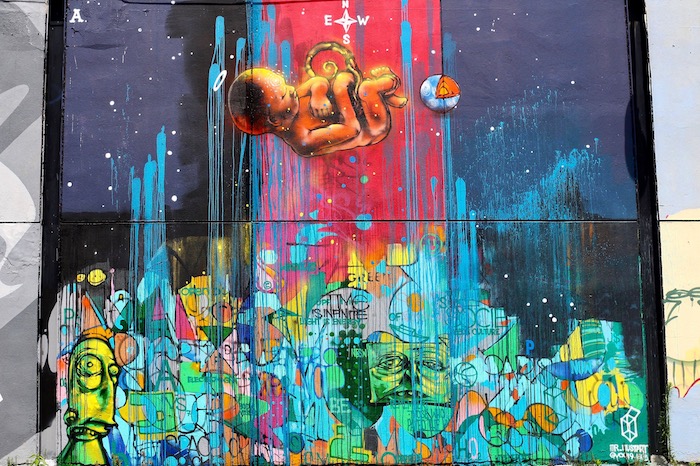 How important to you are others' responses to your work? Is it important that they like it?
When the reaction is positive, that's great! I feel like that's the greatest reward for any artist, whether you're a painter, a sculptor, a chef, or a dancer! If someone doesn't like something, that is fine too; it simply is not for them.
How has the work you've done on the streets impacted your studio work?
They impact each other. It's a back and forth thing.
Where would you rather be? On the streets or in a studio setting?
Probably on the streets. Just because I like being outdoors. But I see myself  spending quality time in a studio with some canvases. I'm exactly where I'm supposed to be.
How long do you generally spend on a studio piece?
All depends on its nature. Sometimes a few hours, and sometimes months. I also work on many pieces simultaneously.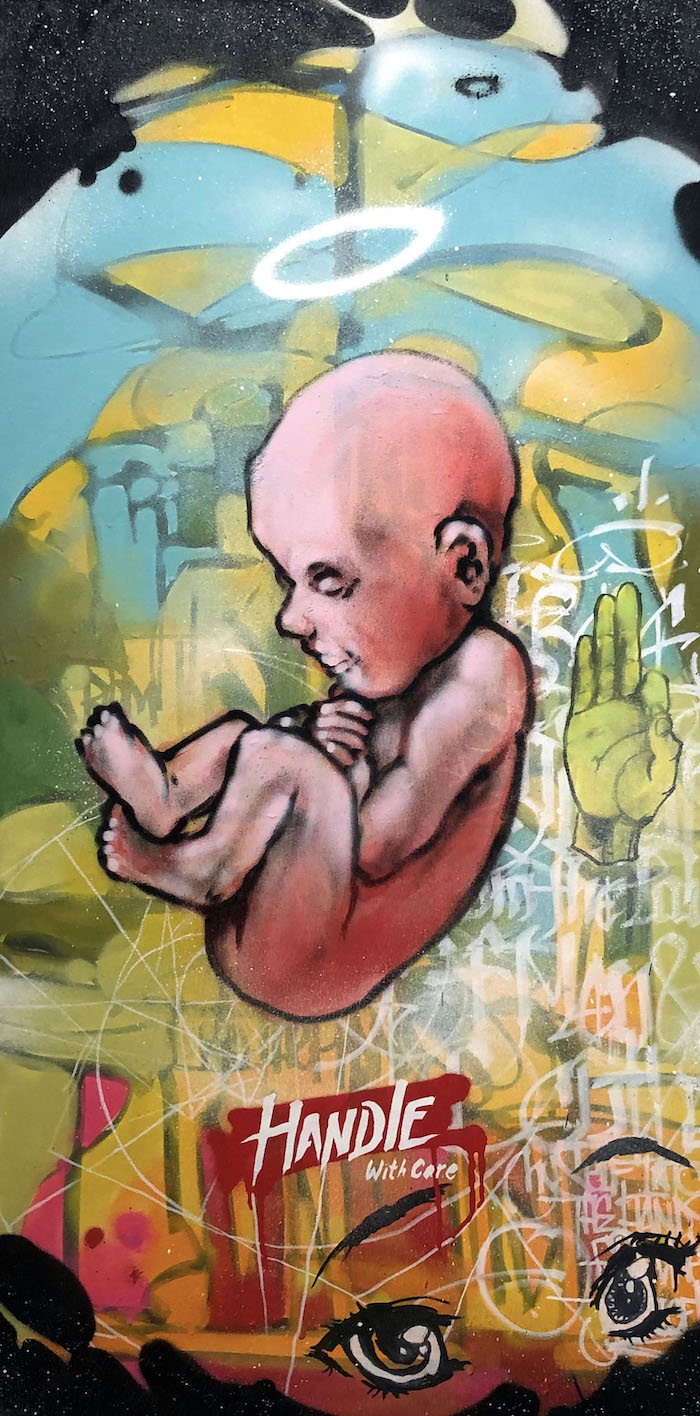 How has your work evolved through the years?
It's always evolving, and I'm always experimenting. It's a continuous journey with no end in sight.
How does your family feel about what you are doing?
My parents always encouraged me. They are both creative and always valued and supported my niche for creativity. They are thrilled that I can earn a living as an artist.
Have you any favorite artists?
I feel like art is about self-expression, so anyone who has been doing it and has done it well and with love is a favorite.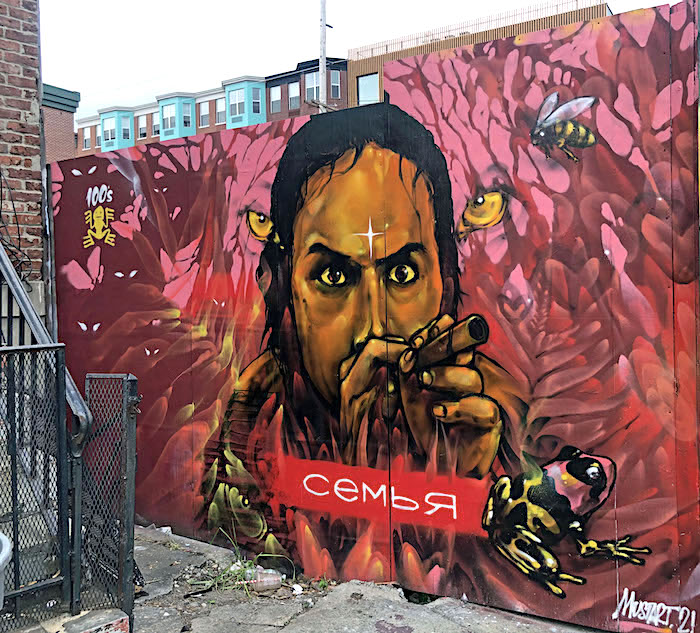 What are some of your other interests?
Eating healthy and traveling. Breathing.
What do you see as the role of the artist in society?
It's to find their inner light and to share it with others.
Note: You can view a sampling of Mr. Mustart's abundant talents in On and Off the Streets: Urban Art New Jersey through February 27 at the Morris Museum in Morristown, New Jersey
Photo credits: 1, 3, 4, 5, 7 & 8: Lois Stavsky; 2 Sara Ching Mozeson and 6 Rachel Alban