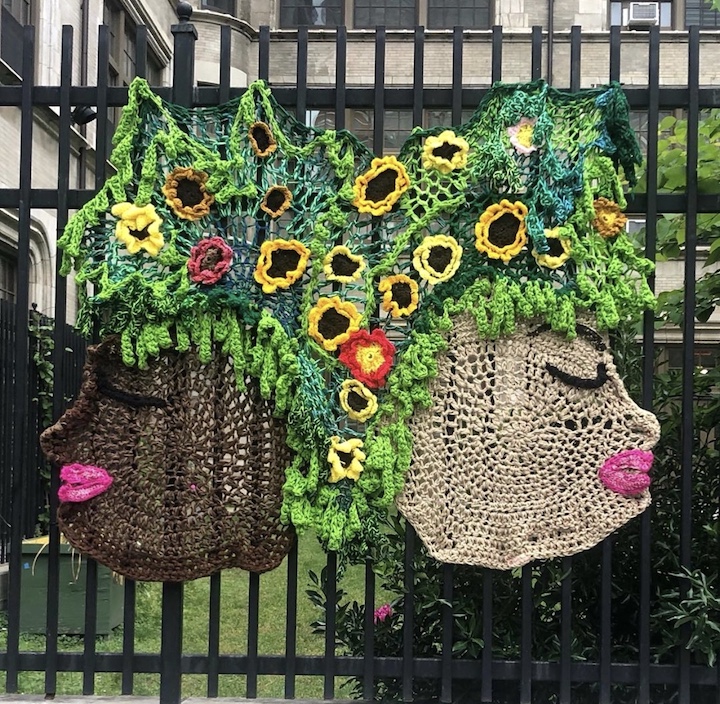 Working with yarn, Carmen Paulino aka Carmen Community Artist has been busily bringing intriguing images and timely messages to the streets of East Harlem and beyond. I was delighted to recently meet her and find out a bit about her:
When did you first share your artwork in a public space?
Back in 2015, I did live painting outdoors with members of my East Harlem community. And then in 2018, I began yarn-bombing. I'd been working with yarn for years, but only then did I get it out in public.
What inspired you to do so at the time?
I had participated in an exhibition of fiber art at El Barrio Art Space. And I was suddenly inspired to take my art outside. I saw it as a way to beautify my community. I love East Harlem, and I wanted to add color to my neighborhood.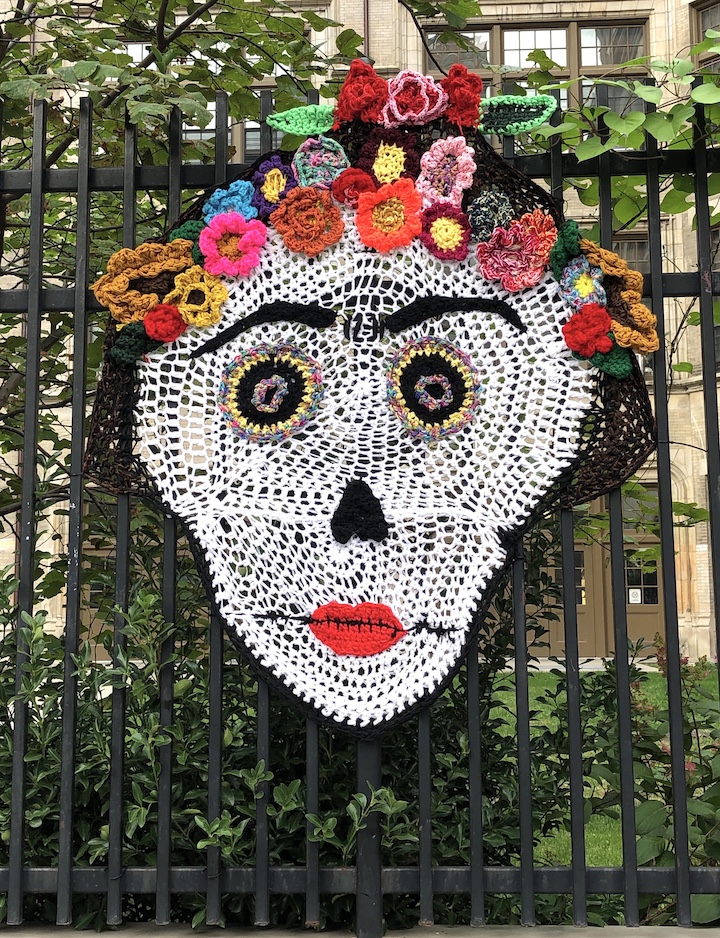 Were there any particular artists who inspired you to get your vision out on the streets?
Yes! Two particular artists who stand out are: Naomi Lawrence aka Naomi Rag – who's been active in East Harlem now for several years – and the Philadelphia-based yarn bomber Nicole Nikolich aka Lace in the Moon.
Do you generally have permission to install your artwork?
Yes! I always know someone who has some connection to the site.
What is the attitude of your friends and family to what you are doing?
They are all proud of me!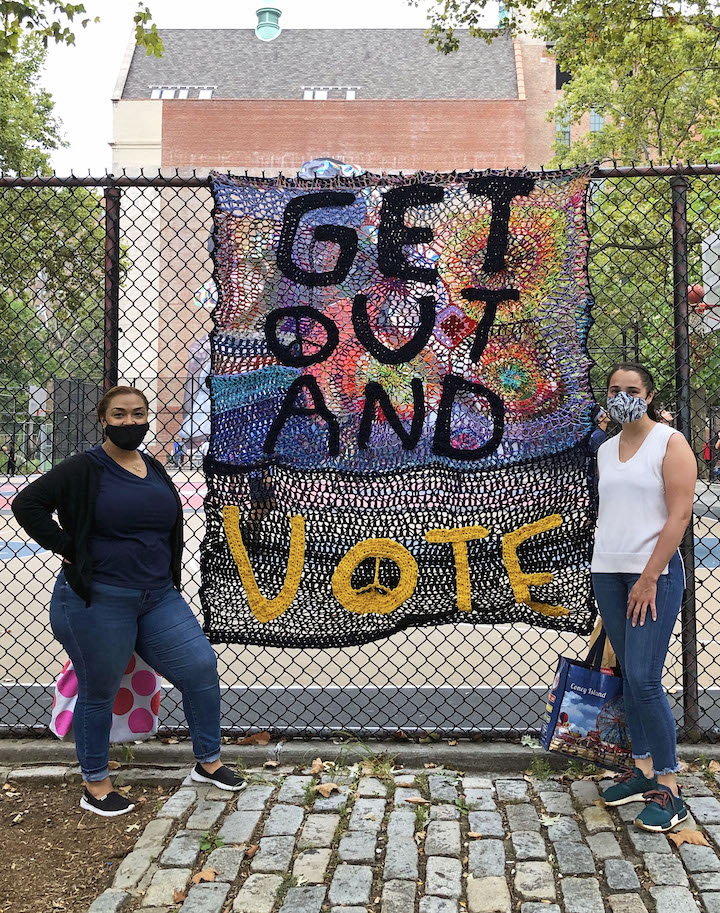 What is your main source of income?
In 2014, I began working as a teaching artist in community centers, hospitals and senior centers. But for the past three years, I've worked mostly with seniors – and I love it! They are a constant source of inspiration.
Besides crafting with yarn and teaching art, have you any other particular interests?
I love to paint. I had a phenomenal teacher — when I was a student at Richard Green High School — who encouraged me, and I've been painting ever since.
Do you prefer working alone or collaborating with others?
I enjoy doing both. I've recently collaborated with Alisha aka Little Nugget Workshop, Viviana Rambay and Glenys Rivas.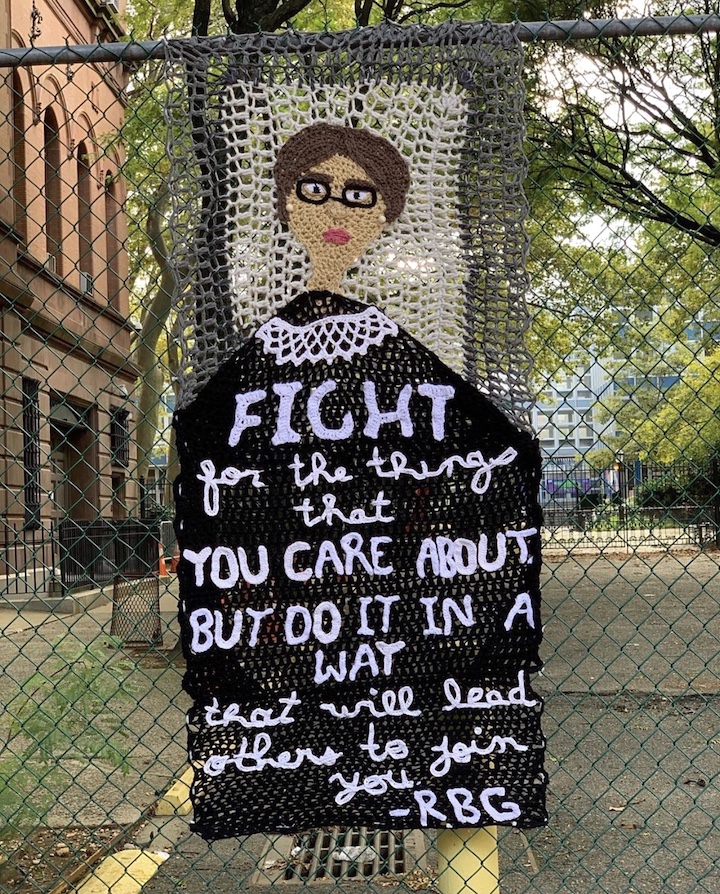 Have you a formal art education?
No. I'm essentially self-taught. I learned my craft from my grandmother and mother.
Are there any particular cultures that have influenced your aesthetic?
Spanish culture – Indigenous, Latin American, Colombian.
Have you exhibited your work in a gallery setting?
Yes. I'm actively involved with the El Barrio Art Space.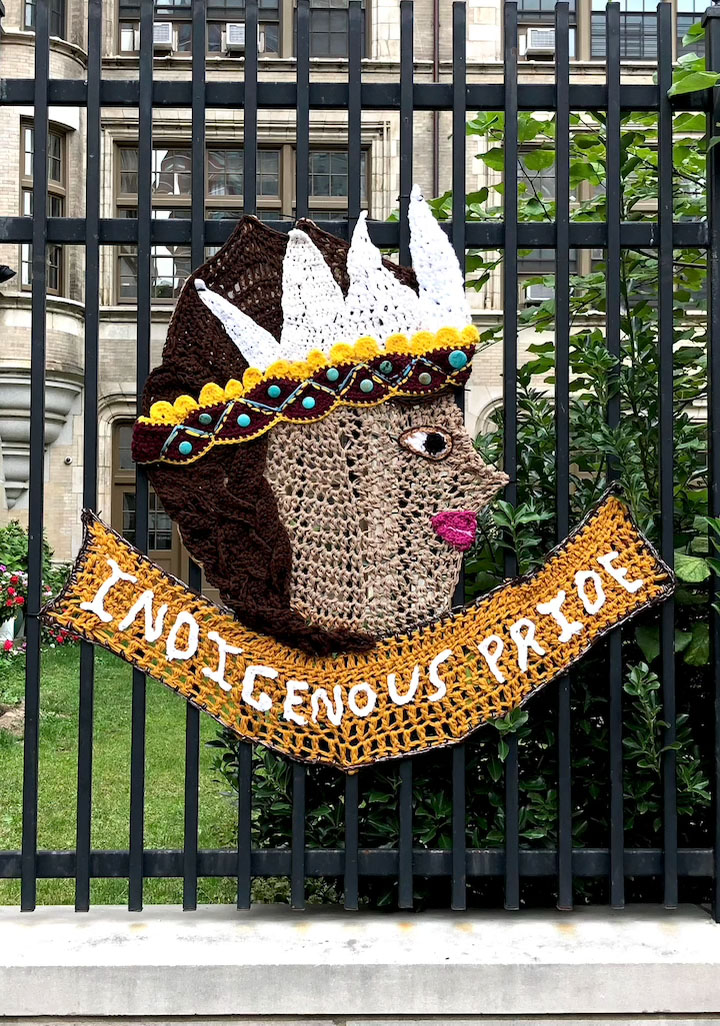 Early in the pandemic many of your pieces expressed gratitude to the essential workers and urged folks to stay home. More recently your artworks have been focusing on the importance of voting in the upcoming election. What inspires your pieces?
I'm inspired by the people I meet and what is happening around me. In early spring my pieces were largely inspired by my husband, FDNY EMS Paramedic Michael Paulino — who has been working in the front line — and by all of the essential workers out there who put so much at risk. Current affairs have triggered my newer works.
Do you work with a sketch-in-hand or just let it flow?
No. I don't work with a sketch. My work evolves as I create it.
Are you generally satisfied with your finished piece?
Always!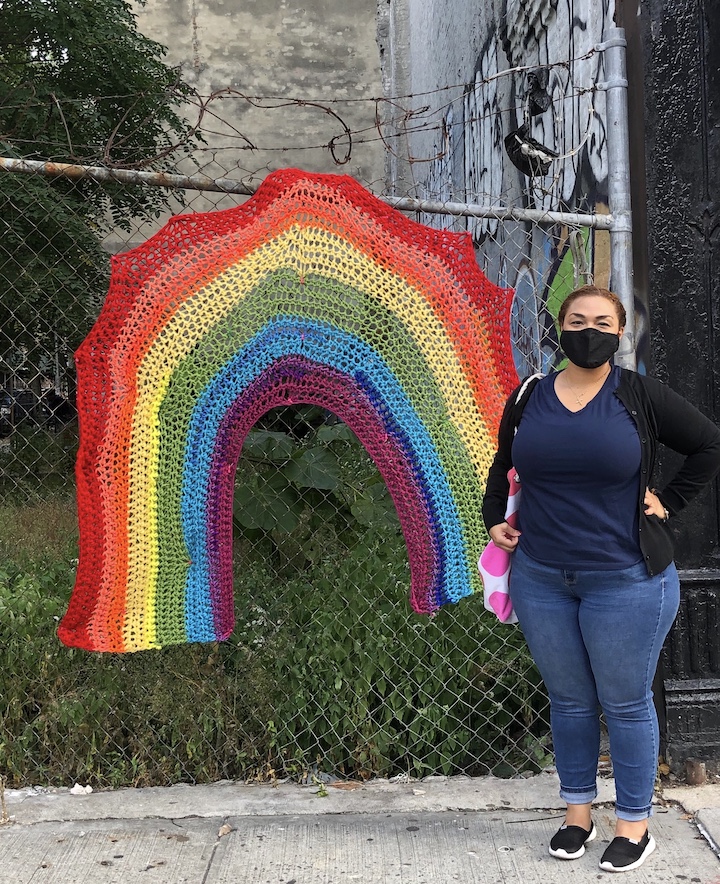 What do you see as the role of the artist in society? And your role – in particular?
I see the artist as an agent of change. And my role is to bring a sense of peace and safety to my community, while beautifying it.
What's ahead?
A collaborative memorial for East Harlem victims of Covid-19.
Thank you, Carmen, for all that you do!  I am looking forward to what's ahead.
Interview conducted and edited by Lois Stavsky
Photos: 1 & 4, courtesy of the artist; 2, 3, 5 & 6 Lois Stavsky
Note: Photo 3 features a collaboration with Alisha S aka Little Nugget Workshop, and the fourth photo features a collaboration with Alisha S aka Little Nugget Workshop, Viviana Rambay and Glenys Rivas.