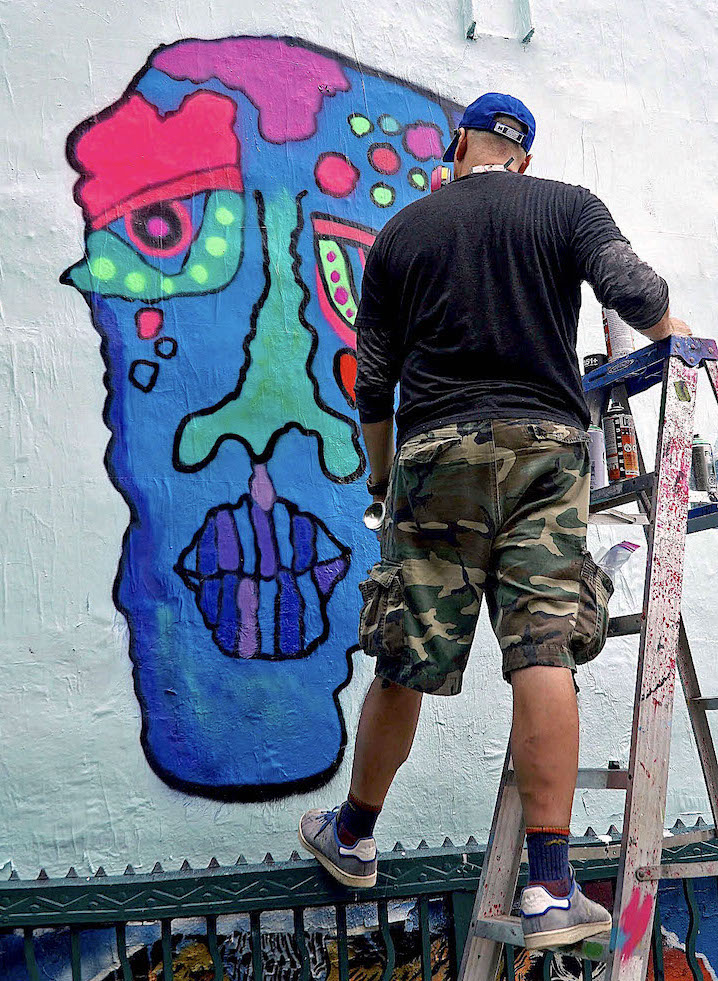 The following guest poet is by Lower East Side-based photographer Ana Candelaria
Born and raised in Brooklyn, Baston714 has been making his mark on our streets these past few years with his uniquely intriguing wheatpastes, paste-ups and stickers. By chance, I came upon him while he was painting a mural outside the Second Avenue subway station — one of our favorite street art spots. Soon afterwards, I had the opportunity to interview him:
When did you first discover your love for art?
Both my parents were artists and Pratt graduates. My father was a furniture designer and my mom a shoe designer. So art was always a part of my life. I was always creative and I was always drawing, but I majored in television broadcasting and worked largely in network news as an editor.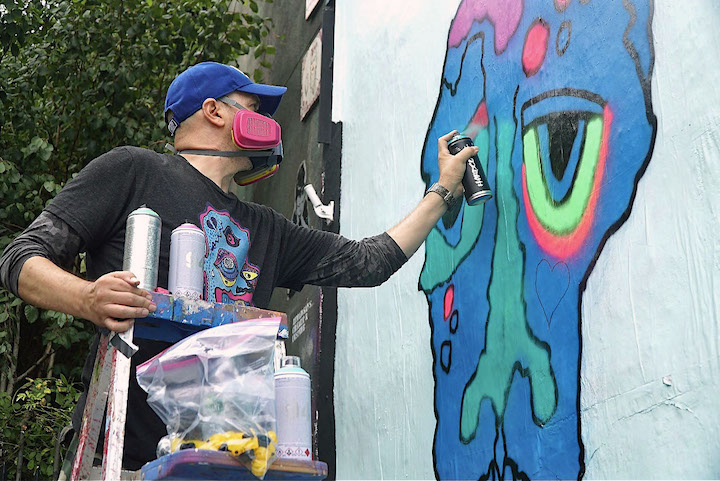 Do any early art-related memories stand out? Particularly those that may involve your parents?
One particular memory stands out. When I was five years old, after seeing the movie A Red Balloon, I started drawing red balloons all over my walls at home. My mother didn't appreciate my efforts and made me wash them all off.  I remember, also, my father drawing characters and having me identify them. I'd guess who each one was. My father might have been a fantastic fine artist, but because he had a family to take care of, he never pursued that venue.
What motivated you to hit the streets with your distinct vision?
I didn't expect to. I had no plans of being a street artist. But once I began to photograph street art, I was hooked. I started creating little drawings and sending them out to the street artists I'd met to get some feedback. The feedback was positive – and, like the street artists I'd befriended, I, too, wanted to share them in a public space. I started putting up stickers about three years ago.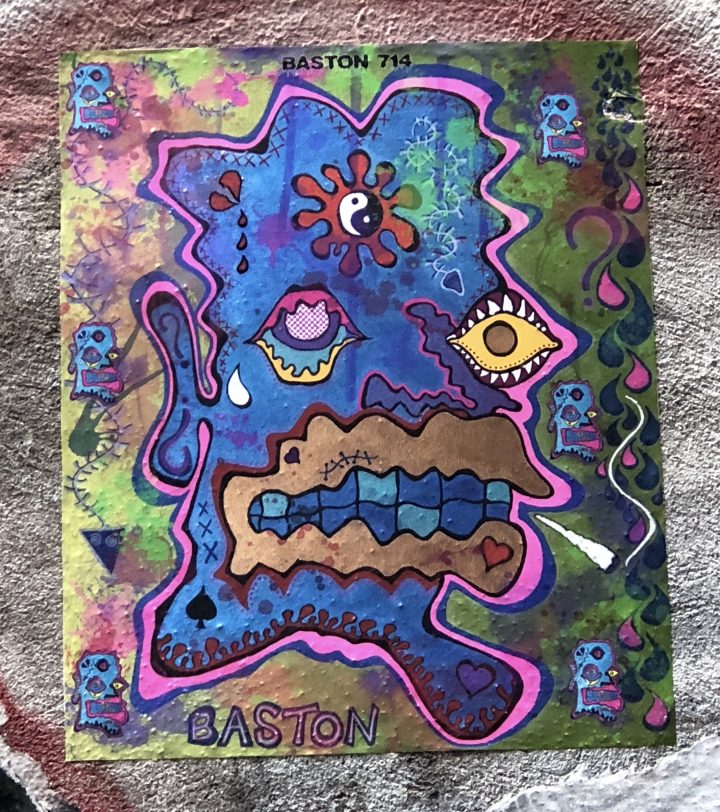 Are there any street artists out there who particularly inspired you when you began to get your work up in public spaces?
Among those who inspired me were: Who is Dirk?, Fumero, Denton Borrows, Phetus 88. and Jeff Henriquez.. I started shooting videos with Who is Dirk?, at night. I loved the idea of being in Chinatown at 3 AM in the morning!
What about your name? How did you come up with Baston714 ?
I lived in the jungle for over five years in Iquitos, Peru — one of the most isolated cities in the world.  One of the Shamans — healers — gave me the nickname Baston which means walking stick in Spanish. And I always liked the number combination 714!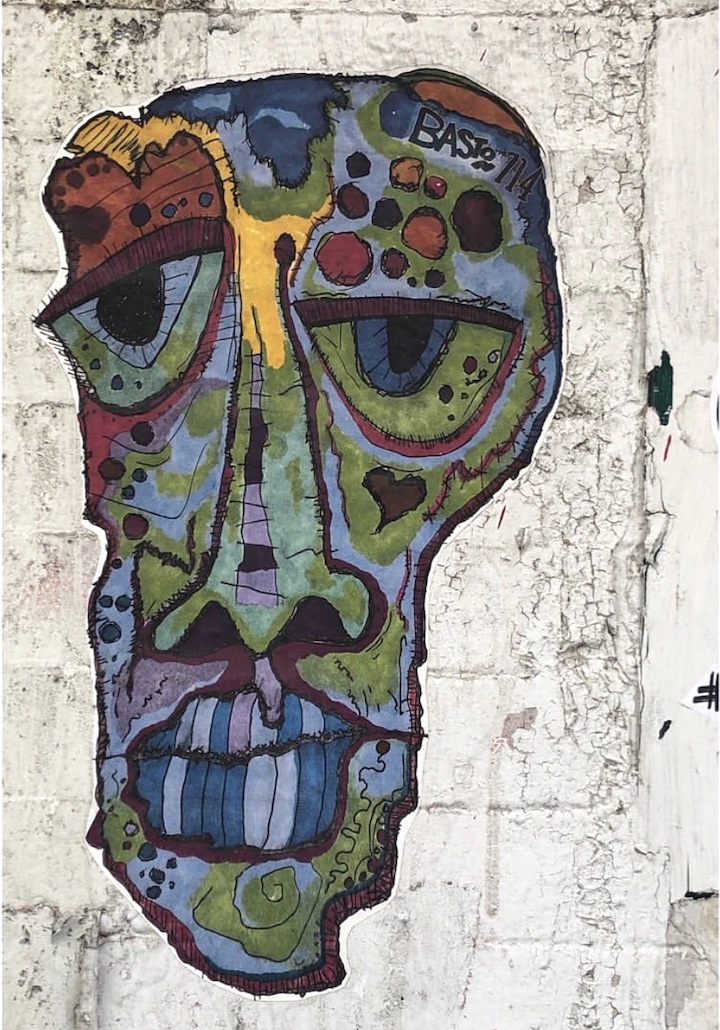 Can you tell us something about your now-iconic face?
The face was influenced by other artists and the experiences I had with Shamans while living in the jungle. Painting comes from a very personal space. I had an idea and started fooling around. I like my colors to pop.
Are you generally satisfied with your artwork?
I hate my work until I'm about midway through creating it. About 56% in, I say to myself, "There's something here." And then the work starts to talk to me, "Do this! Put something here." It comes to life.
I first met you while you were working on a wall on Houston Street and 2nd Avenue. Was this your first mural?
No, I've painted about five or six walls. Kon Air  gave me my first wall in Barcelona. It took me six hours to finish painting it. Fumero, gave me a wall at Art Basel 2018. Spray painting is extremely challenging. I like the challenge, and I would like to paint more walls.
Have you collaborated with any other artists?
Yes, I've collaborated with Zimad on stickers. I have also worked with Sinclair the Vandal, Who is Dirk? and Doodlehedz.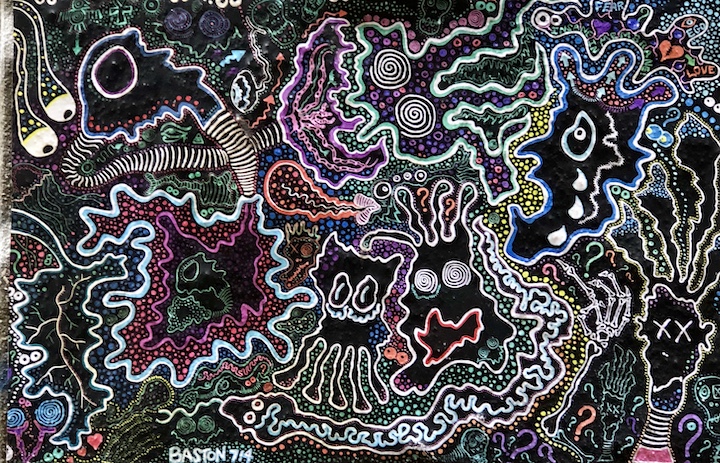 Are there any artists out there with whom you'd like to collaborate?
Among those I'd like to collaborate with are: Ratanic, Antennae and Fluidtoons.
Whats ahead?
More wheatpastes and I'd like to work on more walls.
Interview conducted by Ana Candelaria and edited for clarity and brevity by Ana and Lois.
Photo credits: 1, 2 & 5 Ana Candelaria; 3, 4 & 6 Lois Stavsky