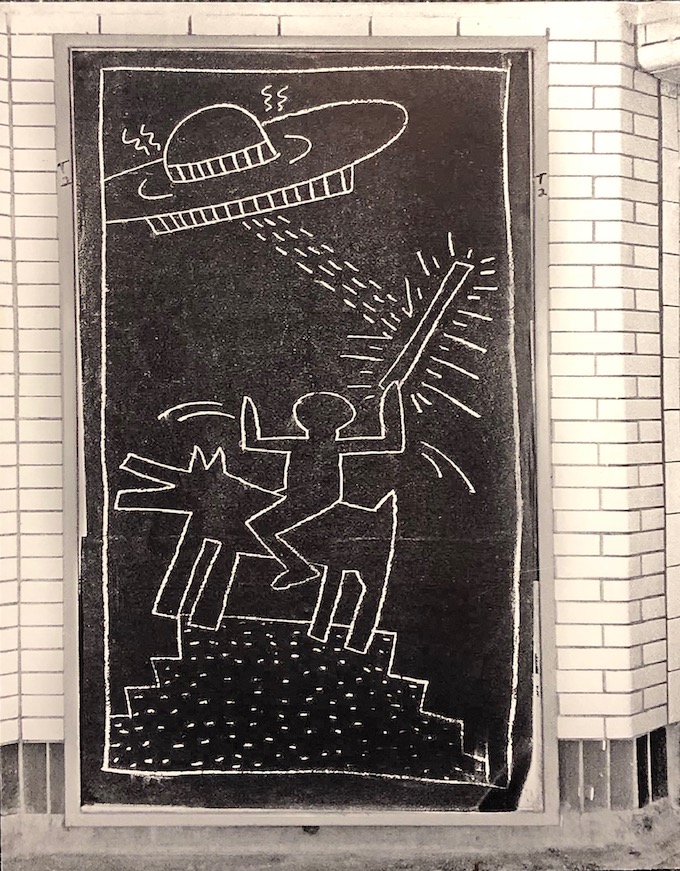 Late last year — when I was out of the country — the Painting Center presented Symbols, Totems and Ciphers. Curated by acclaimed artist Scot Borofsky, who had been active on the streets of the East Village back in the 80's, the exhibit featured works in a range of media by those artists who had pioneered the street art movement. As I had missed that historical exhibit, I was delighted to discover that a variation of it is now on view at the National Arts Club on Gramercy Park South. Featured above is one of the legendary Keith Haring's subway drawings, photographed by Fernando Natalici. It was Keith Haring, noted Borofsky, who brought "the idea of street-art into the consciousness of every New Yorker." What follows are several more images I captured while visiting Studio in the Street: Symbols – Totems – Ciphers at the National Arts Club.
The noted Italian multi-media artist Paolo Buggiani, Street Hanging Sculpture, Mixed media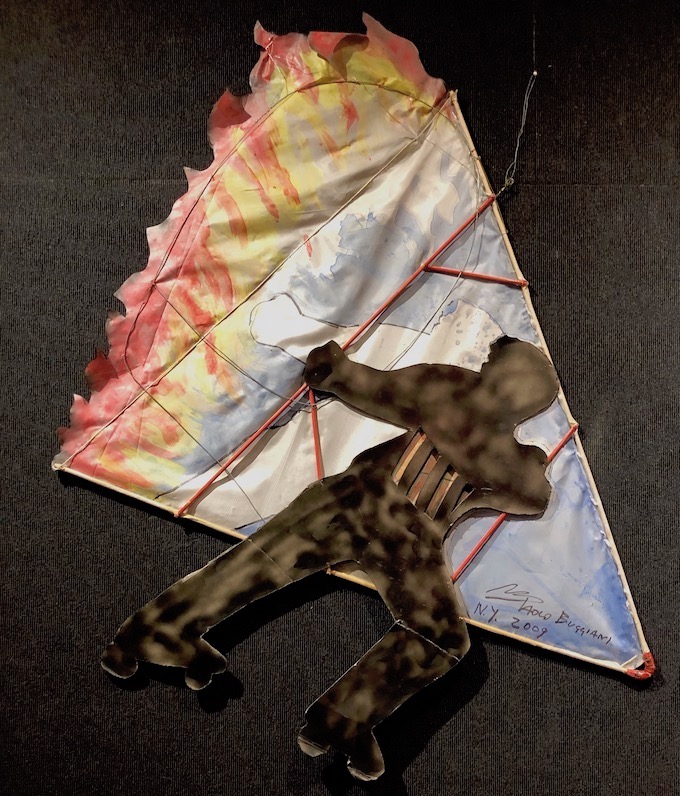 The late Chicano stencil artist Michael Roman — captured by  Scot Borofsky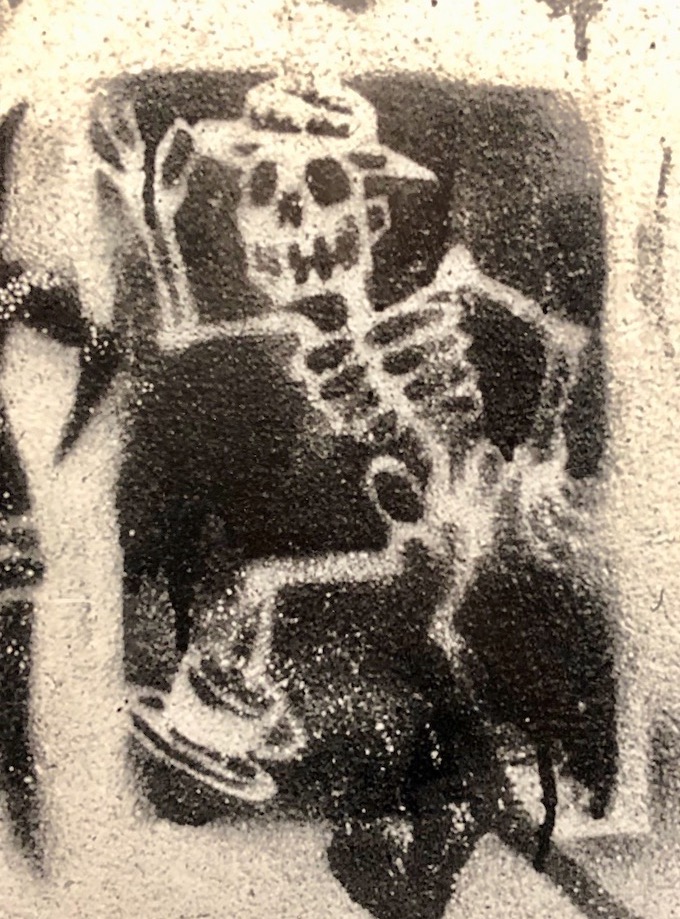 Multi-media artist and writer Bob Dombrowski, Thirteen, Silkscreen on paper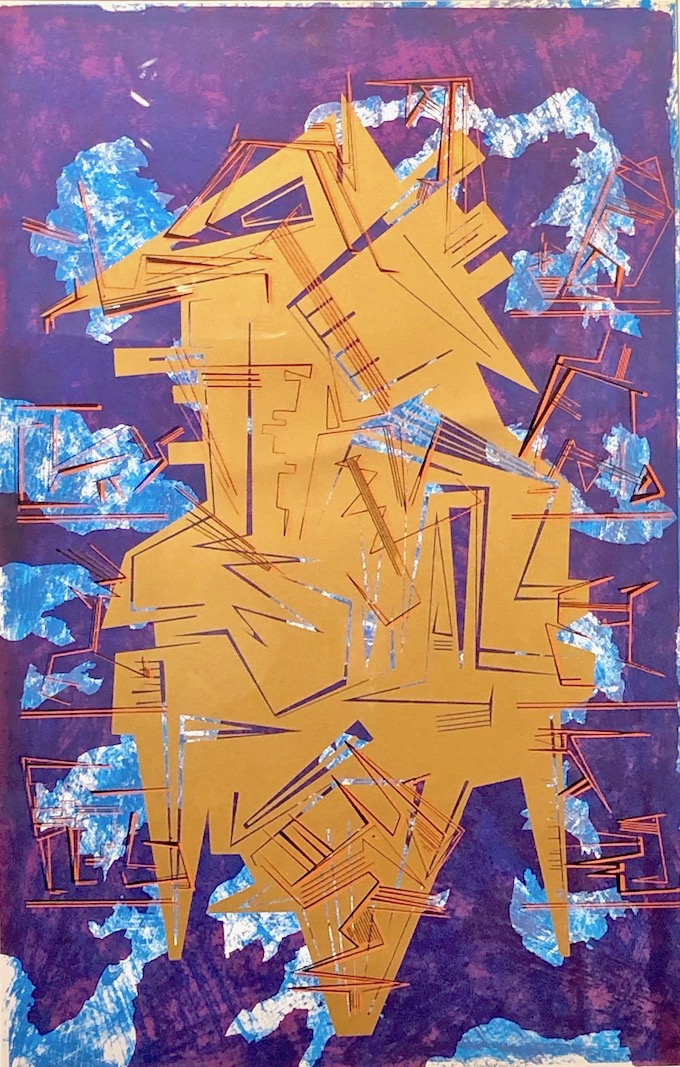 The prolific Florida-based artist R.V. (Robin Van Arsdol), RV's Images, Acrylic on canvas, 1985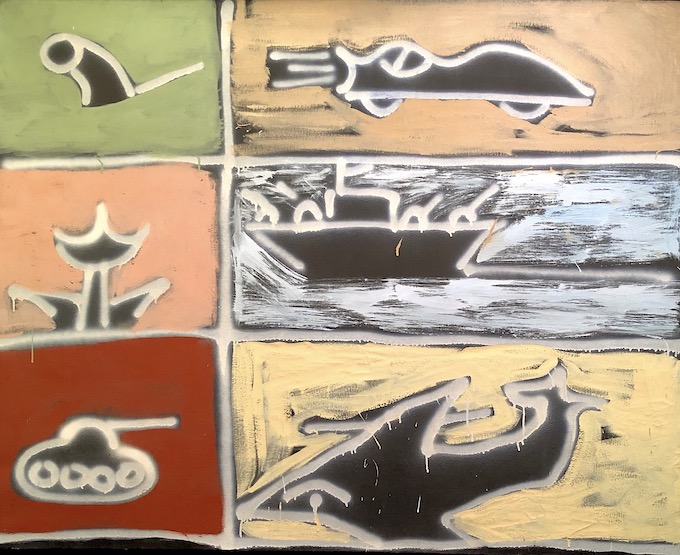 Artist and curator Scot Borofsky, whose site specific works on local ruins often referenced Pre-Columbian patterns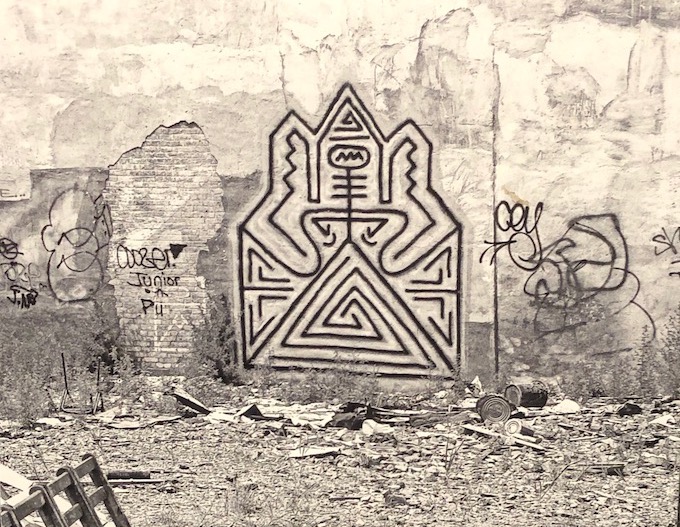 Other pioneering street artists featured in Studio in the Street: Symbols – Totems – Ciphers include: AVANT, Richard Hambleton, Ken Hiratsuka, SAMO and Kevin Wendall.  The exhibition continues at the National Arts Club, 15 Gramercy Park South, through June 14 and is open to the public Monday to Friday, 10am – 5pm. Admission is free.
Photos of artworks (and photos) by Lois Stavsky
Note: Hailed in a range of media from WideWalls to the Huffington Post to the New York Times, our Street Art NYC App is now available for Android devices here.