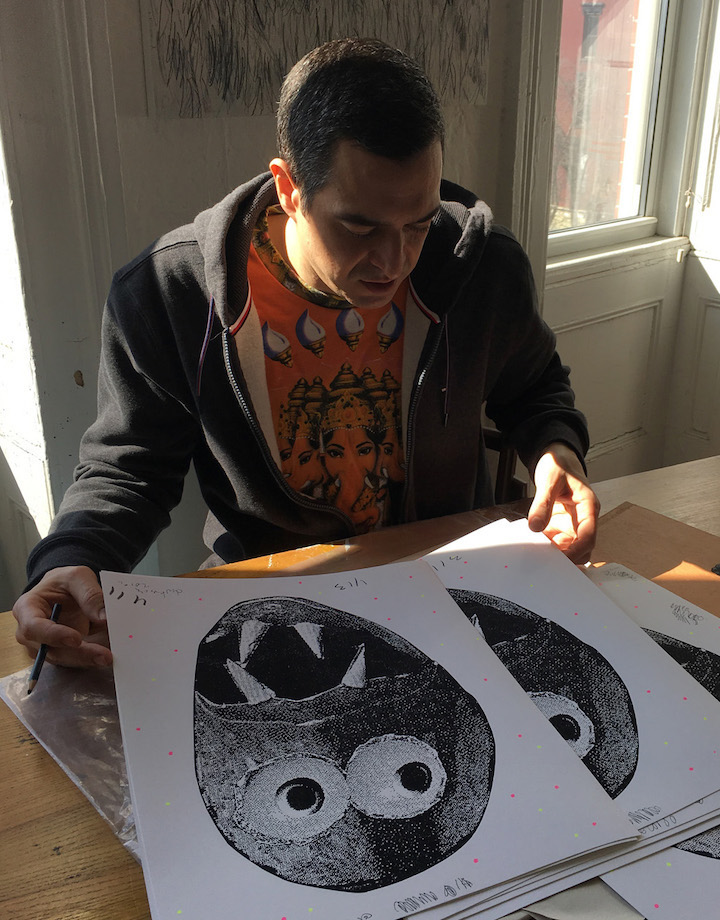 I recently had the opportunity to catch up with Jason Mamarella, as he readies for today's print release and his upcoming exhibition at the Living Gallery Outpost.
When I first started exploring NYC's streets in pursuit of street art —  well over a decade ago — I saw your now-iconic character, dint wooer krsna, everywhere! He was one of the most prolific images around town. He has since been featured in over two dozen books and has made his way onto a range of media including the opening scene of Exit Through the Gift Shop. You'd once told me that dint wooer krsna was conceived as your online identity at about the same time that MySpace was born.
Yes! It was online before it was on the streets. I did not want to reveal who I was. It was critical that my identity remain hidden at that time.  Someone had threatened to shoot me over a woman, and I had reason to believe he was quite serious.
What about the name krsna?  I've always wondered about it.
It's a reference to Hare Krishna. I used to hang out in Hare Krishna temples. The Hindu God Krishna was a vegetarian — as I am. He was a friend of the cow.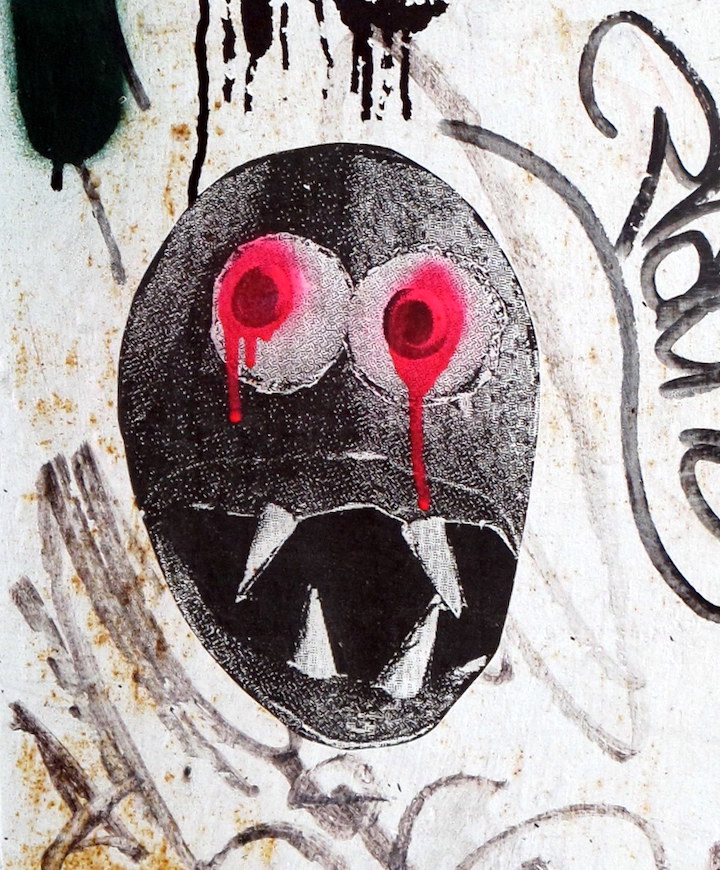 What motivated you to hit the streets with dint wooer krsna? 
I was newly divorced, and I needed to get out of the house. I'd been tagging for years — since I was a teen — but I wanted my character to stand out. krsna was my first wheatpaste.
Have you ever been arrested?
I've been arrested three times for vandalism. The first was in 1993 at an after-party at Ferry Point Park. Together with Aones WTO, Kech & James "V.E." Conte, R.I.P,  I was caught tagging the Bronx Whitestone Bridge. The penalty was  community service and five years ACD. Then in 2008, I was caught and identified online for getting stencils up in Hoboken. After nine summonses, a judge yelled at me for 20 minutes. Nothing more. But I had to pay $3,000 to have a lawyer stand next to me in court. And in 2010, an undercover grabbed me on 2nd Avenue in the East Village for two stickers I'd put up. The cop told me that I was responsible for bringing kids into this "degenerate lifestyle," and he called the Vandal Squad.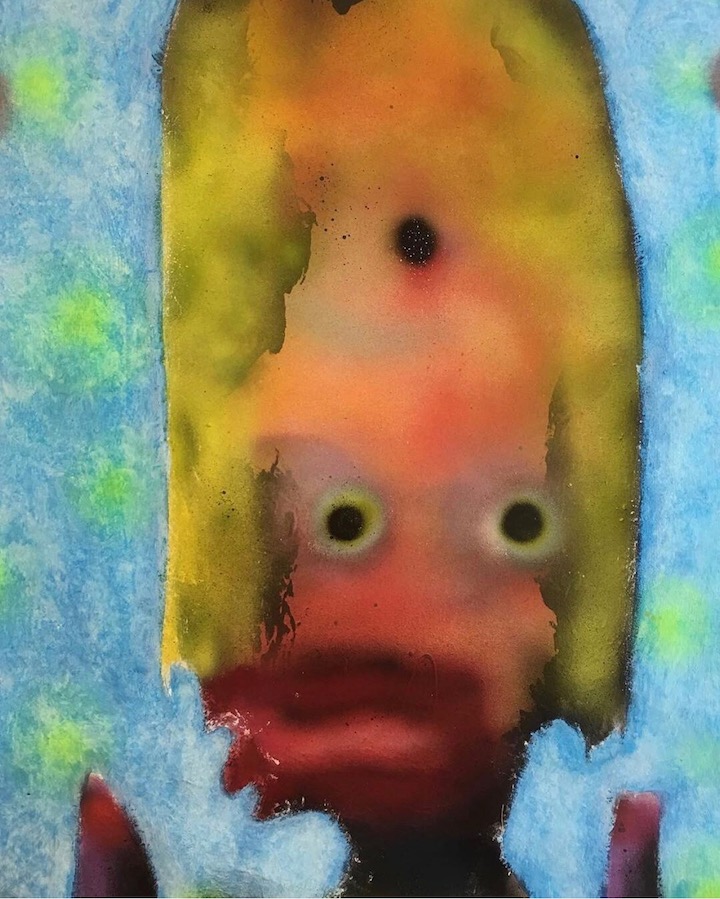 Had you any particular influences? 
James "V.E." Conte, R.I.P. He got up everywhere. He was obsessive compulsive. I modeled myself on him — trying to get up as much and as often as I possibly could.
For several years you were largely absent from the streets.
Yes, in 2013, I began focusing, almost exclusively, on my studio work.
So what brought you back?
I guess it was always in me. It was just dormant for awhile.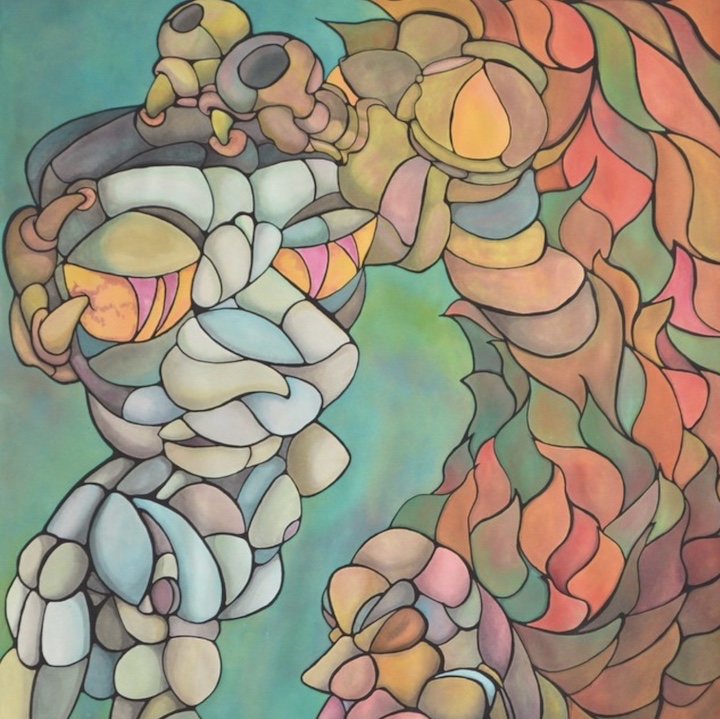 How has the street art scene changed since you first hit the streets with dint wooer krsna?
Just about everything after 2010 is irrelevant; it's all about legal permission spots. Much of it is devoid of any originality or intellectual merit.
What — do you suppose — is responsible for this change?
Projects like The Bowery Wall and the film Exit Through the Gift Shop have pushed street art so much into the mainstream that it has become trendy. People just want to hop onto the bandwagon.
Yes. It's certainly lost its subversive appeal to those of us who were initially drawn to that aspect of it. How has your art evolved over time?
I'm leaning more towards abstraction.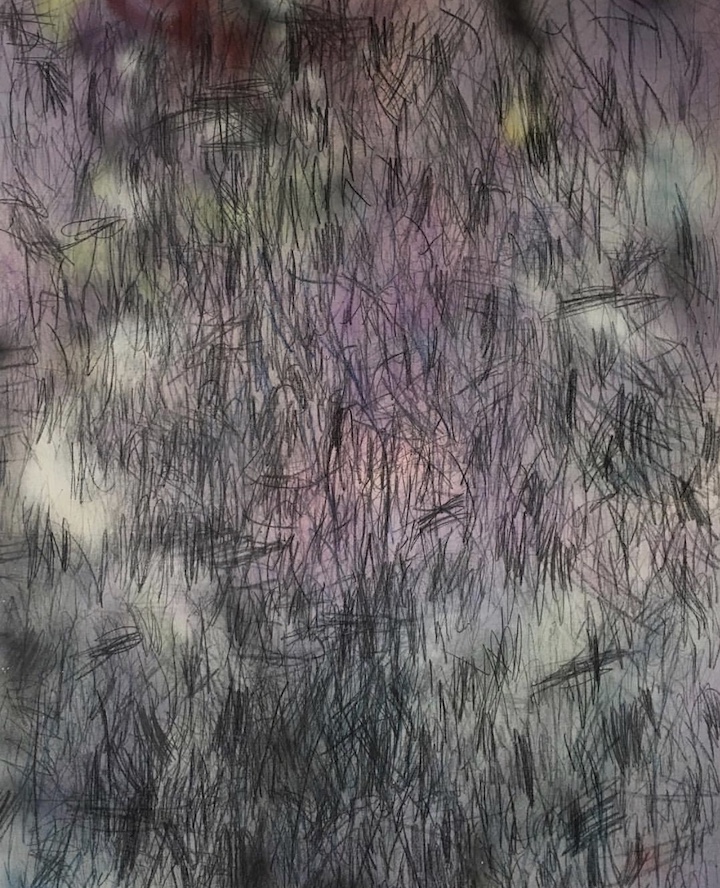 You have a new hand-embellished print, Jibb Wibbles, about to be released. I know that your first three prints sold out quickly. How can folks get hold of this new one?
It's available from House of Roulx at this link. All proceeds will go to benefit Little Wanderers, a non-profit that rescues needy cats.
And can you tell us something about your upcoming exhibit at the Living Gallery Outpost?
I will be showing my new paintings from noon to 9pm on the weekend of June 15th and 16th. They're dark.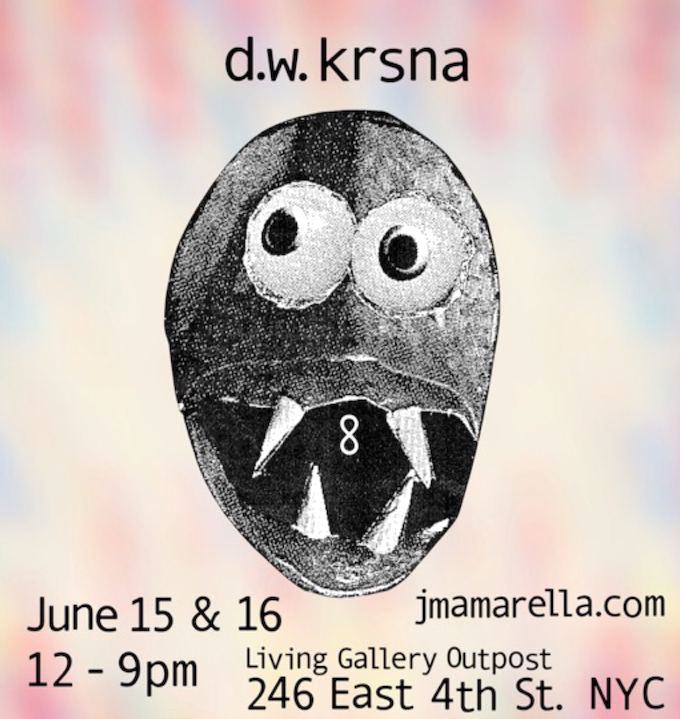 That should be interesting! I'm looking forward to seeing them all!
Interview conducted and edited by Lois Stavsky
Photo credits: 1 Katherine Zavartkay; 2 Lois Stavsky, 2011, East Village; 3-5 courtesy of the artist