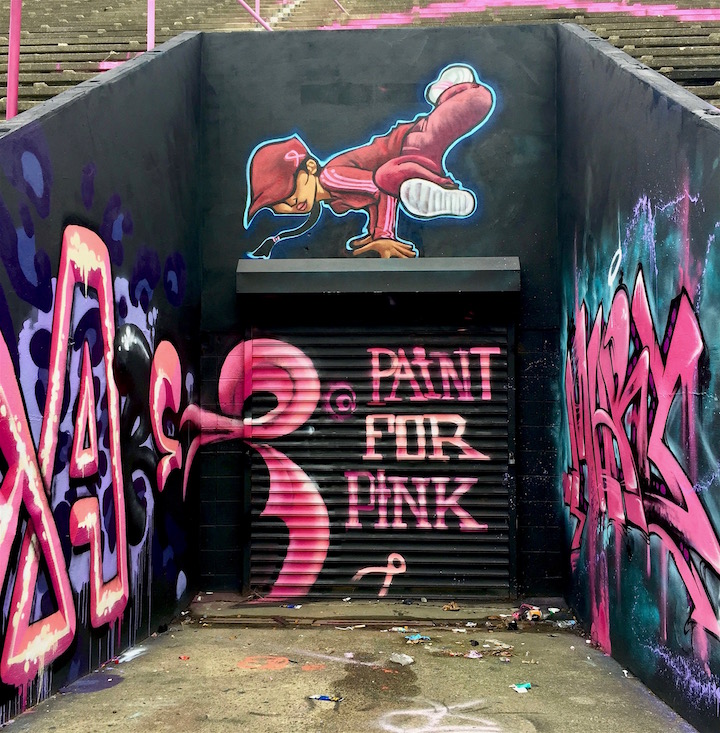 In 2015 Ironbound founder Gary Bloore started Paint for Pink when his partner, Lisa Byron, was battling breast cancer. After years of fighting the disease, Lisa passed on December 8th, 2016.  Gary Bloore has continued the tradition of Paint for Pink in Lisa's memory. I recently met up with Gary at Ironbound's new site, a huge — once abandoned stadium — at 226 Rome Street in Newark, NJ, the home of this year's Paint for Pink.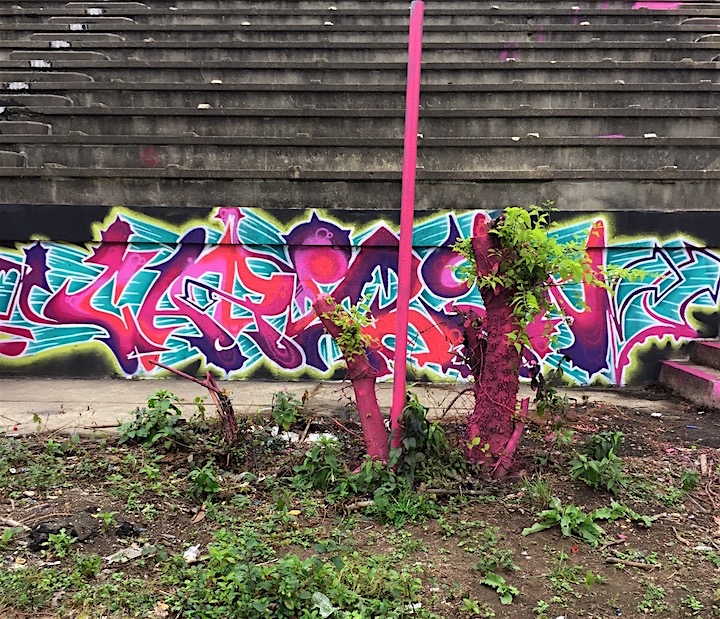 What an amazing site this is! Can you tell us a bit about it?
What was once a 4,500-seat concrete bleacher stadium was shut down and abandoned in 1987.  No one wanted to touch it. There was trash everywhere — broken bottles, litter, rubbish of every type. And then in May, we got permission to clean it up.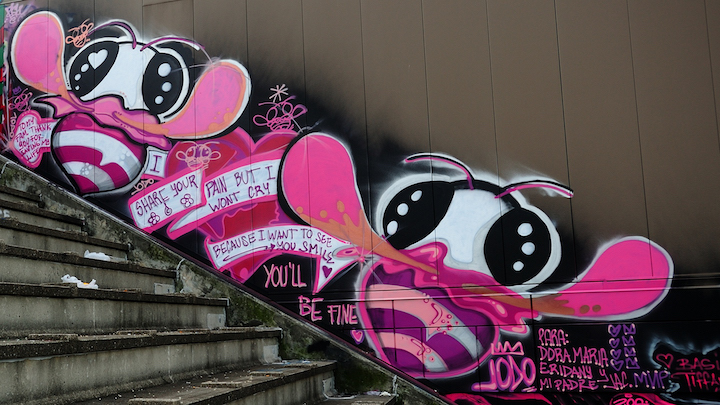 That's quite a feat! How did you manage to do that?
Lots of elbow grease and determination. And visions of events — such as this one — that could take place here. There were about 50 volunteers. It has been a year of expansion for us working in partnership with Ironbound president Mike Steadman, along with the City of Newark. It's a symbol of rebirth for us. Lisa died in December, and in these past few months we took a dead stadium and put life into it.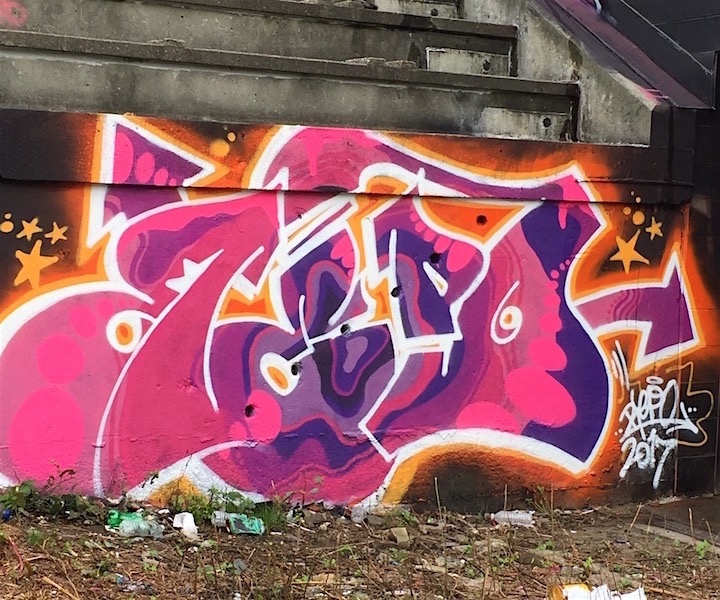 What is the particular mission of this event — Paint for Pink? 
Its mission is to create and spread awareness of breast cancer and other health-related issues. The Rutgers Community Health Center brought a mobile van and gave free exams. Since July, in fact, we have been working with the Rutgers School of Nursing and Newark Tech High School's Teal Center in establishing the LIT (Learning, Inspiring Teaching) Program with the mission of teaching Newark Tech High School kids how to teach other kids about health issues.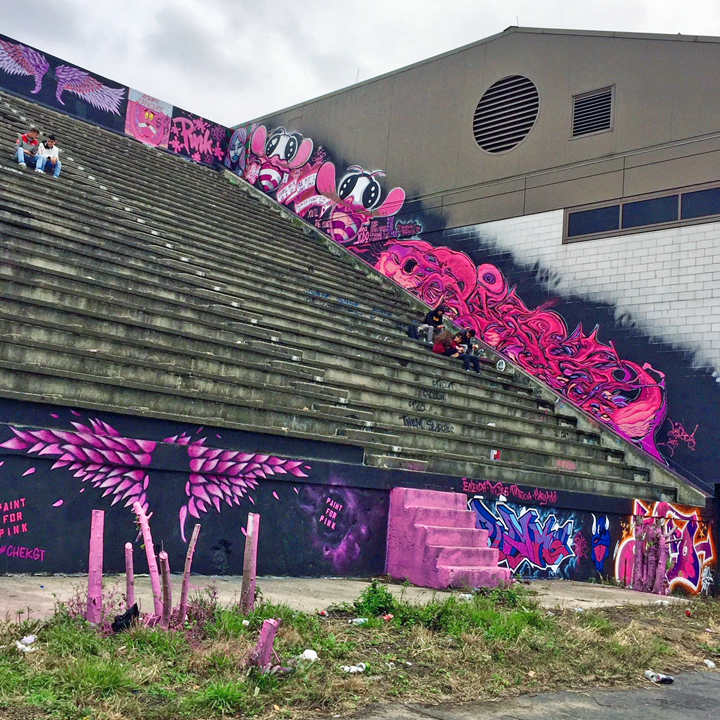 What a great concept! How many artists participated in this year's Paint for Pink event?
Twenty-eight artists contributed. In addition to the Newark-based artists The Artchitectz, others from out-of-town — such as Dojo and Repo — joined us.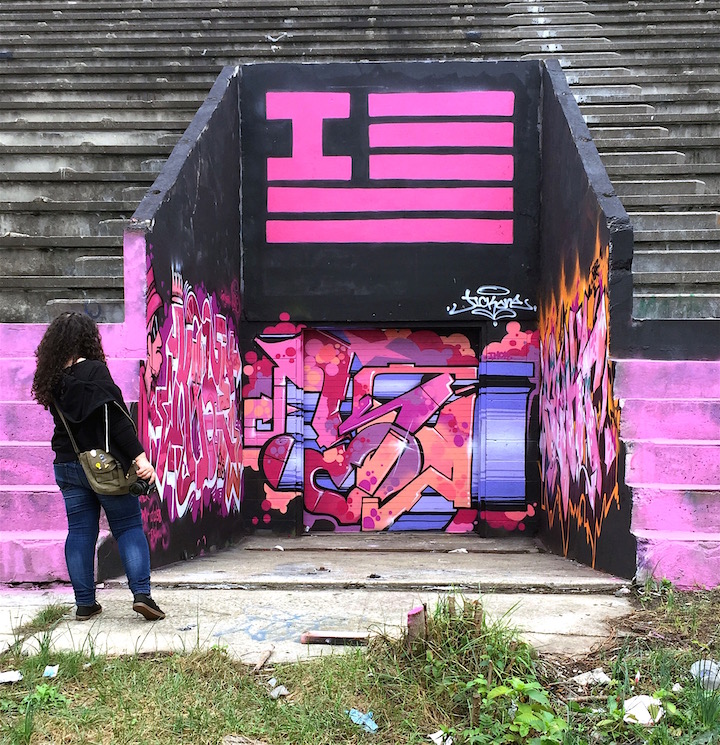 And how was the response?
It was tremendous!  There was tremendous community interest and involvement — and lots of entertainment and great food.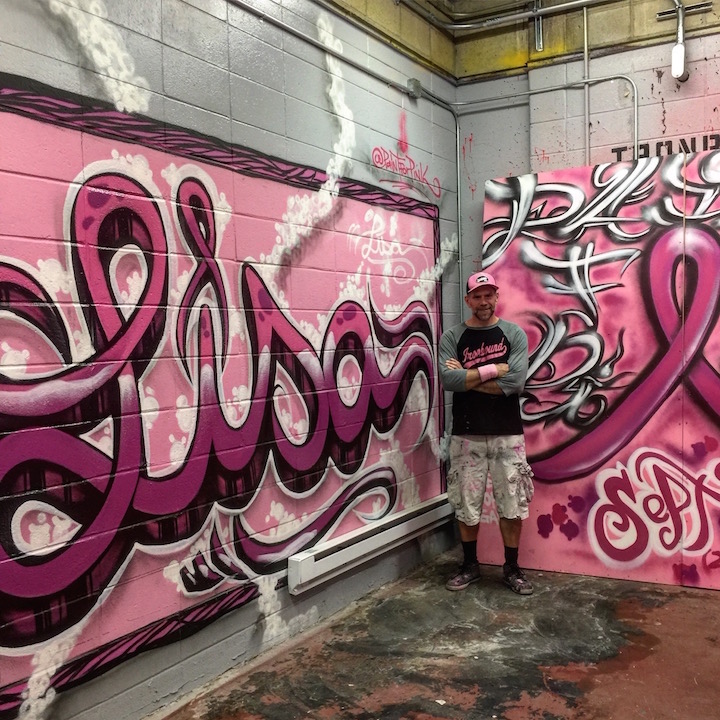 Congratulations! It is all so amazing! And the art is wonderful.
Images
2 Seoz
3 Jodo
4 Repo
5 Chek, Dojo, Lesk, Repo, Tameartz +
6 Mone & Jick +
7 Torch Fuego and Risky — indoors
Photo credit: 1, 2, 4-7 Lois Stavsky; 3 courtesy Gary Bloore; interview conducted and edited by Lois Stavsky
Note: Hailed in a range of media from WideWalls to the Huffington Post to the New York Times, our Street Art NYC App is now available for Android devices here.