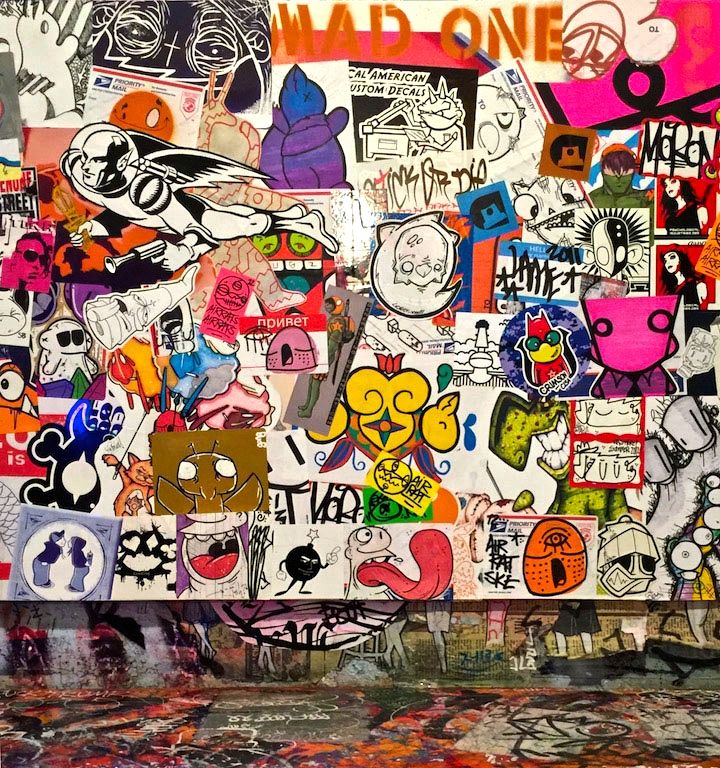 One of the highlights of my recent trip to Philly was my visit to the legendary TATTOOED MOM on South Street. Not only is it a first-rate restaurant and bar, but it is also an extraordinary oasis of creativity and street art. On this past trip, I discovered its overwhelmingly impressive second level.  An ever-evolving site that hosts a range of events, it was home — this time — to Characters Welcome 6, its sixth annual international sticker art exhibit. While there, I had the opportunity to speak to its visionary owner and director, Robert Perry.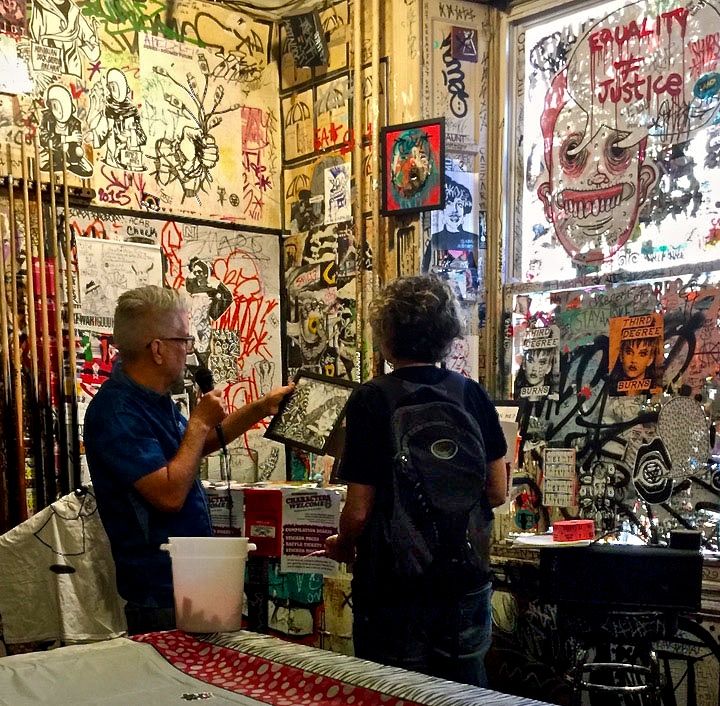 What an amazing space this is! I was familiar with the downstairs. But this upstairs level is phenomenal! It is the perfect antidote to the — almost aseptic — direction so much of street art is taking. I'm so happy to have discovered it!
Yes! I tend to think of it as a hidden gem!
How long has TATTOOED MOM been around?
It was founded in 1997. This year it is celebrating its 20th anniversary.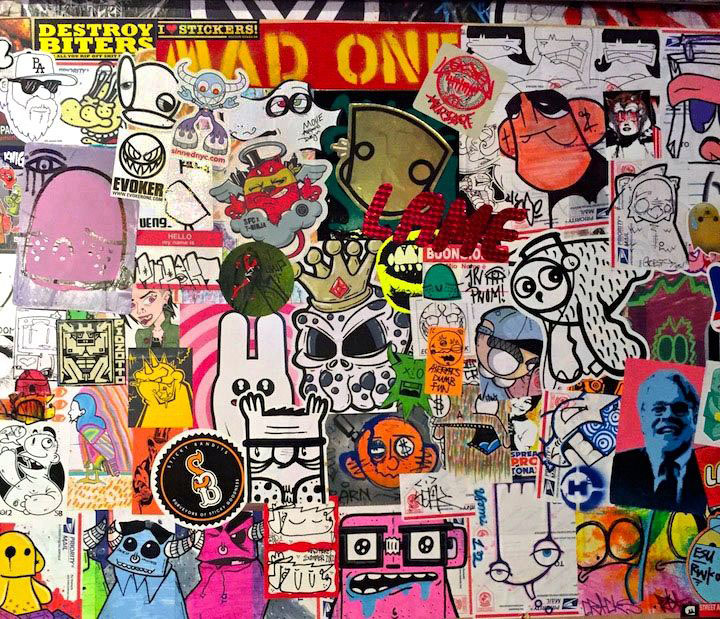 And what about its name — TATTOOED MOM? What is its origin? Is it a reference to how welcoming it is to folks of all ages? 
It's actually a reference to a specific person, Kathy "Mom" Hughes, who was a mother to so many — including band members who traveled through Philly.
I noticed downstairs works by Shepard Fairey, Wordsmith and other key street artists. And this upstairs has evolved into an authentic street art museum. 
Yes! I see it as an unofficial street art museum — anarchistic and ephemeral in its nature.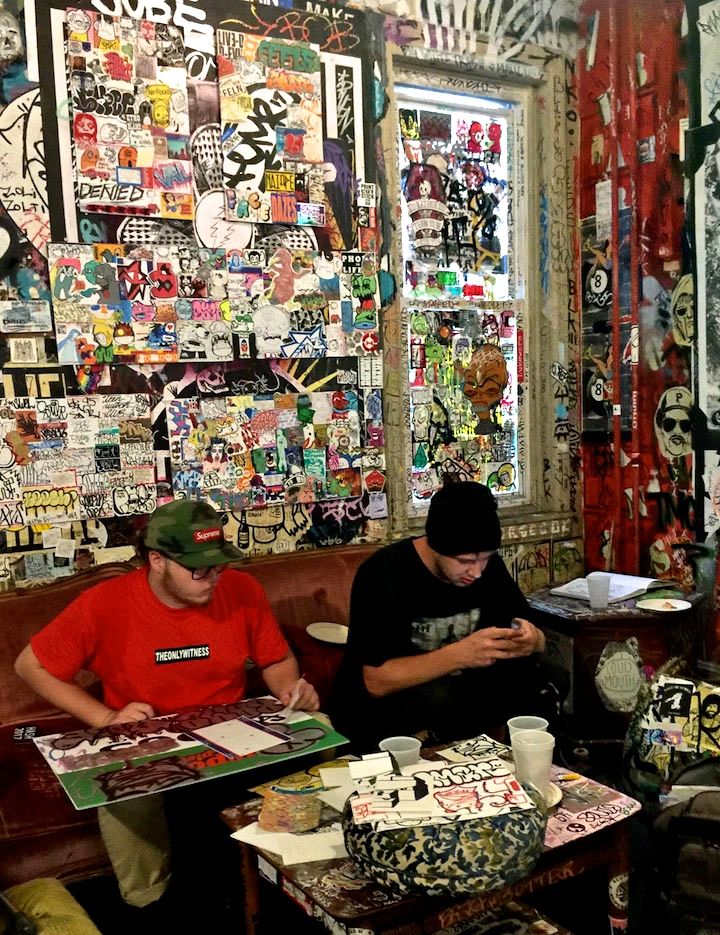 I assume, then, there are no official curators.
Yes, it's all freestyle…uncurated. Everything that happens here is organic.
And I've noticed folks of all ages here today, including children.
Yes, children are invited to participate in several of our community-oriented activities. But in the evenings, this space is only open to adults.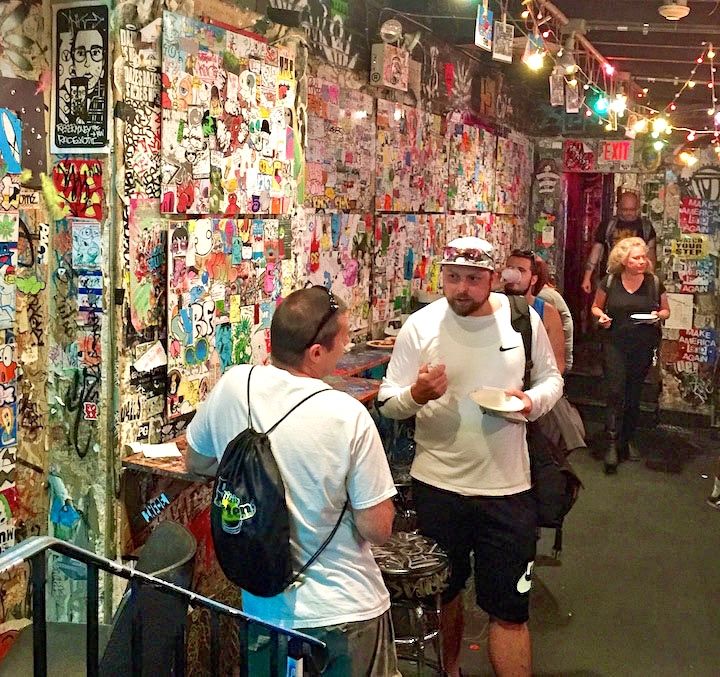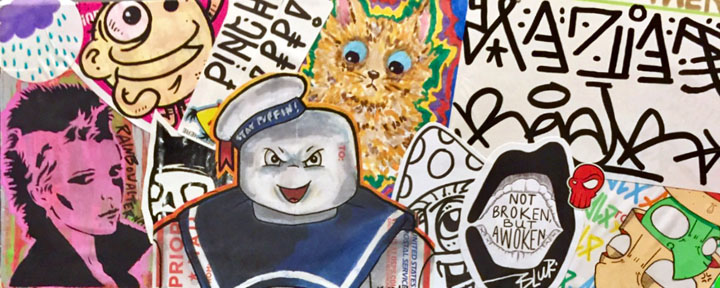 I'm loving this sticker show. Philly has always been home to an amazing array of sticker artists.
Yes! It's our sixth annual one — with contributions from many artists who aren't local. And dozens of stickers from previous years' shows remain on the walls.
What's ahead?
We are constantly changing and evolving. We are always growing and expanding our activities and programs as we make new friends.
It sounds ideal! You've created quite a Utopia here!
Special thanks to Alberto of JMZ Walls for introducing me to Robert.
Photos by Lois Stavsky; interview conducted and edited by Lois Stavsky