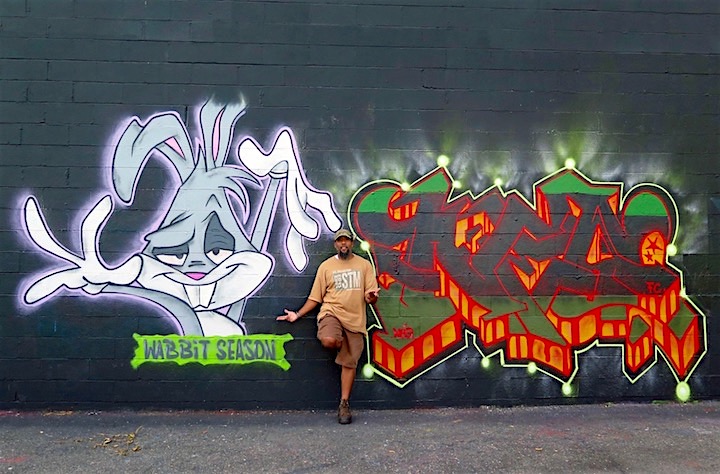 Home to a rotating range of vibrant murals by first-rate, often classic, graffiti writers, Hackensack's Union Street Park is a treasure. While visiting on Wednesday, I had the opportunity to pose a few questions to its founder and curator, Darrius-Jabbar Sollas also known as Nasty Neo.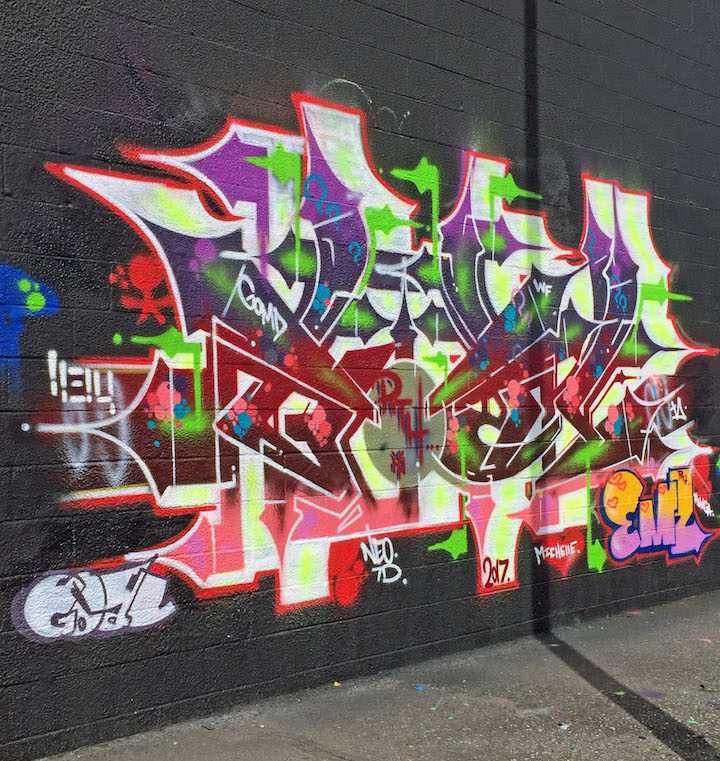 When did you first begin curating this spot?  It's a graffiti-lover's paradise. We've been returning regularly to check it out since we first discovered it — by chance — several years ago.
It's ten years now. I began curating it in 2007. We are celebrating its 10th anniversary this year.
Congratulations! How did you discover such an ideal spot?  And how did you come to manage its walls?
I used to pass it every day as I took my kid to school.  And it looked like the perfect spot to showcase graffiti. As I went about locating the owners of the adjacent building to secure permission to use the walls, I discovered that a friend of mine was one of the building's owners. I was given one huge wall.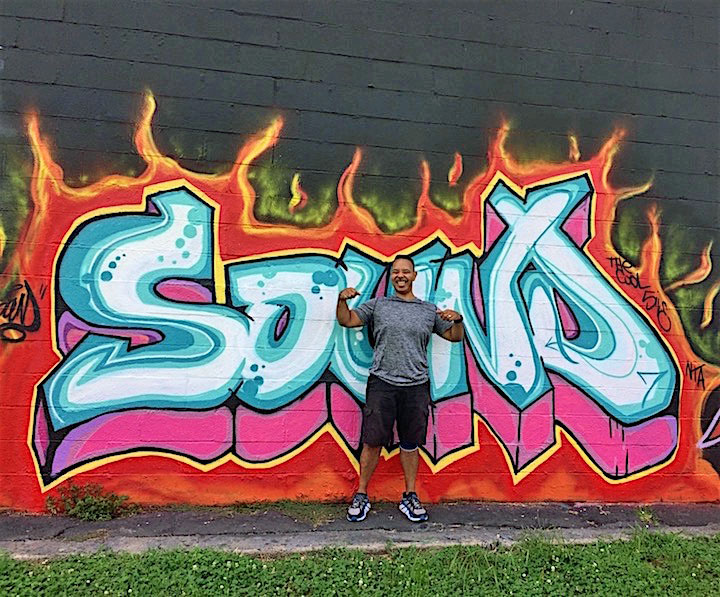 What was the initial response to your transformation of this space? How did the community react?
The response was wonderfully enthusiastic. The town's officials couldn't have been more positive. And soon I was invited to curate the entire space, not just one wall.
Among the many artists who've painted here, do any in particular stand out?
Among them: Serve, Bates, Hef, Med, Tats Cru, Poem, Sade, T-Kid, Wane…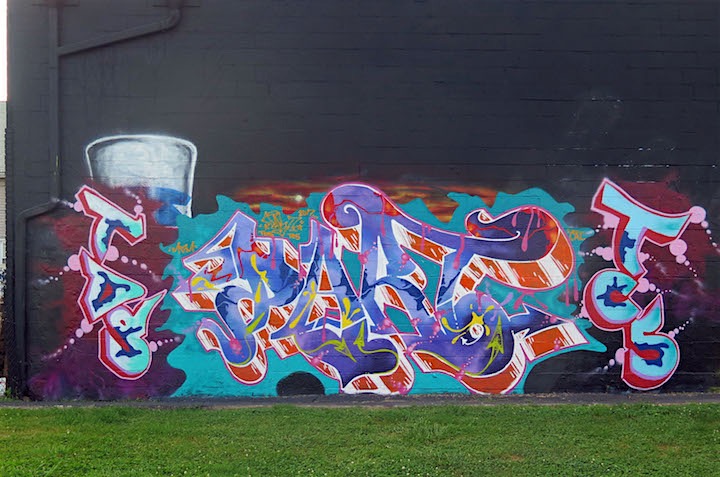 What have been some of your challenges in managing this space?
The artists themselves! They can be pompous and arrogant. All of the walls are buffed for them, and too many still need to be catered to.
I notice that you guys are buffing the walls now. What's ahead? Are you getting ready for anything special?
Yes! We have a birthday barbecue coming up Saturday for Roz…our fifth annual one.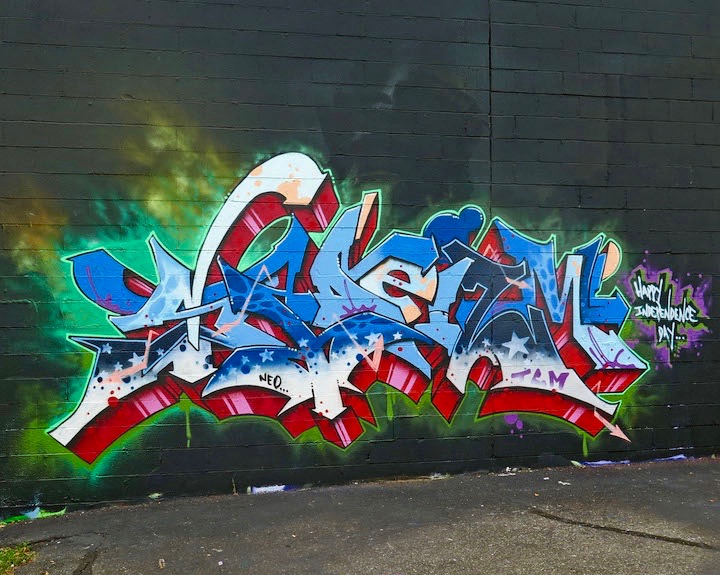 Who are some of the artists who will be painting at the birthday barbecue?
Flite, Serve, Wore, Jew, Pase, Python, Rocky 184, Gem 13…
It sounds great! Have fun! And thanks for bringing so much vibrancy to Bergen County!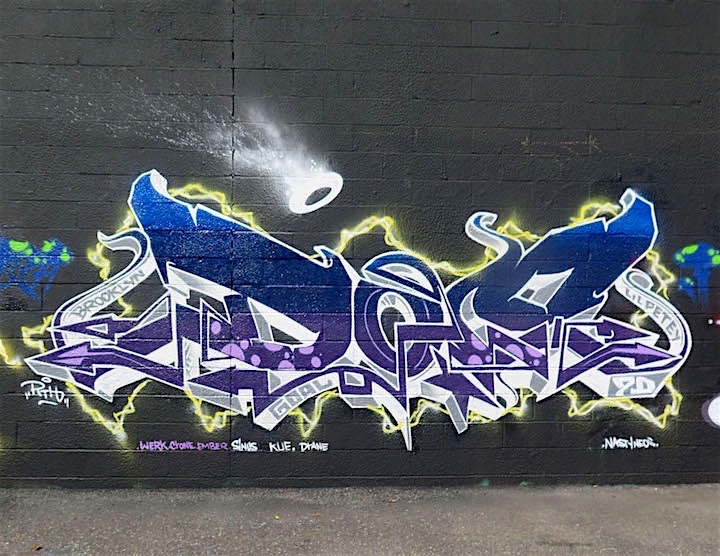 Images
1  Union Street Park curator and artist Darrius-Jabbar Sollas aka Nasty Neo
2  Staten Island-based Goal
3  Classic writer Sound7TC5
4  Graffiti legend Part One
5  The masterful Sade TCM
6  Doe of the RTH crew
Photo credits: 1, 4-6 Dani Reyes Mozeson; 2-3 Lois Stavsky; interview conducted by Lois Stavsky