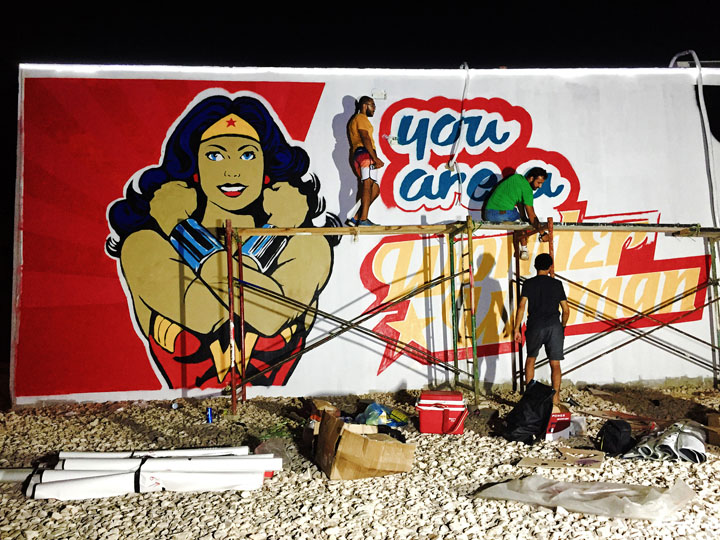 Cairo-based artist Mohamed Radwan aka Sober recently completed a mural dedicated to female empowerment at Sahel's Sea Hub compound on Egypt's north coast. A brief interview with the artist follows:
When did you first paint in the public sphere? And what motivated you to do so?
During the Egyptian revolution and particularly starting 2012, I was motivated by opposition to the political status quo.  I started painting on the streets as a form of political expression of this opposition and solidarity with certain revolutionary figures and ideals.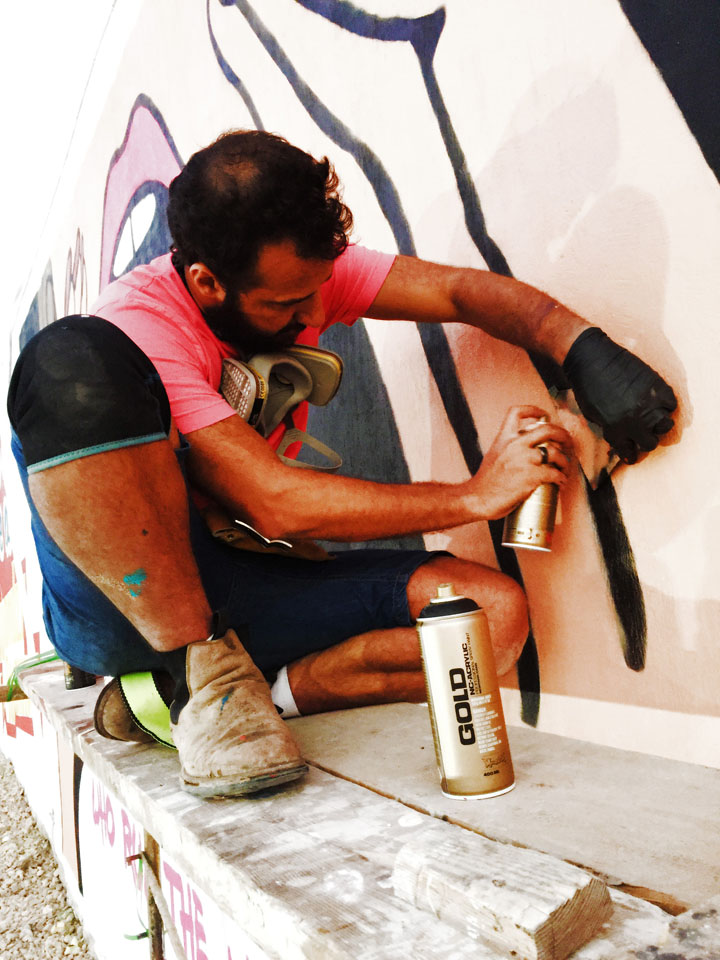 Why did you choose to create a mural on the theme of "Women Empowerment?"
I believe that graffiti must serve a social purpose or advance a cause. For this particular mural — because of its location and high visibility — I felt that it was important to choose a topic that wouldn't be divisive and would, also, get the huge exposure it deserves. In my mind, there was no topic more in need of  attention in the Egyptian community, in particular –and globally, as well — as women's rights and  empowerment.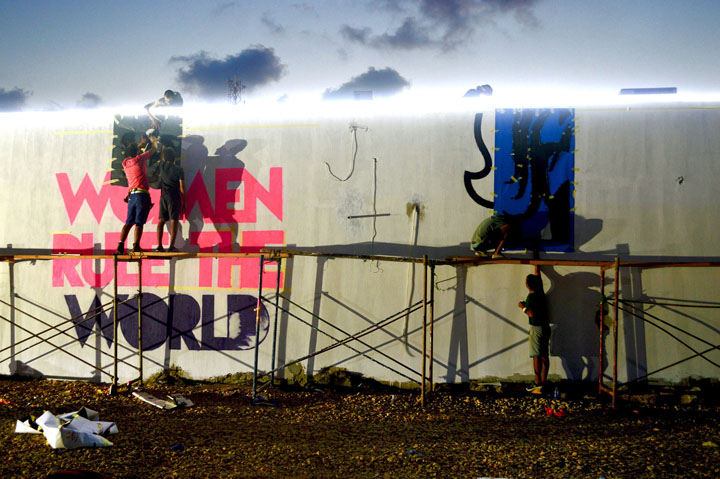 And why did you decide to feature Wonder Woman so prominently in your mural?
Because Wonder Woman has evolved into a symbol of women empowerment globally. She even had a brief run as a United Nations honorary ambassador. And with the release of the Wonder Woman movie this summer, she has achieved iconic status.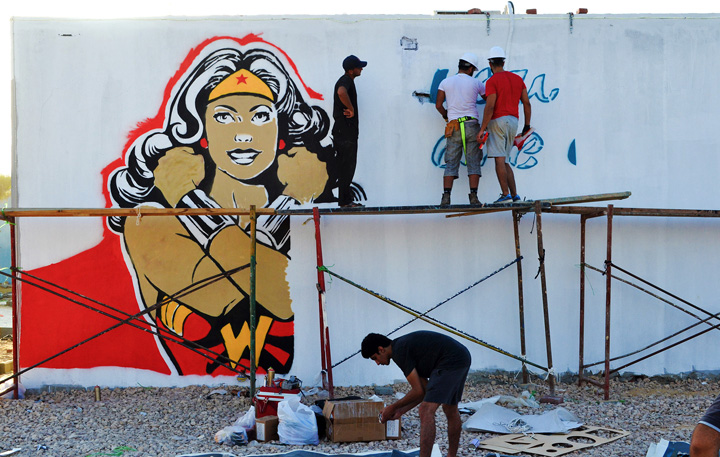 What were some of the challenges faced in creating this particular mural?
The first challenge was the size of it. The wall is 70m long and 5m high. I had never worked on such a large scale before. And that was a huge challenge to me. The second challenge was the very limited time for implementation. We had seven days to complete the mural — which meant spraying 10 meters a day. This, coupled with the hardships of the coastal weather in Egypt — which is extremely hot in the morning and very windy and humid at night — made it very hard for us artists to work continuously for seven days. And not only that, but the humidity and wind were also affecting the stencils on site. Thankfully, I was blessed with a crew of highly professional and highly committed artists and volunteers, who were intent on making this happen.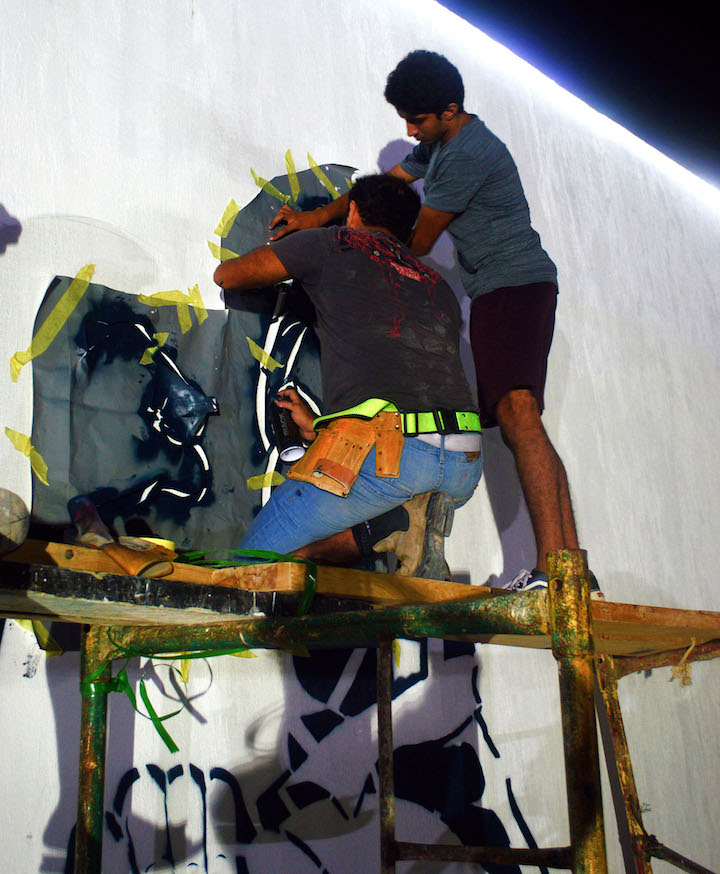 Have any objections arisen among the religiously and politically conservative elements in Egypt to your subject matter or portrayal of women in an outdoor setting?
Not at all. Women are commonly portrayed in public settings in Egypt — in commercials, billboards and such. It's nudity that normally causes objections, and I don't have that in this mural.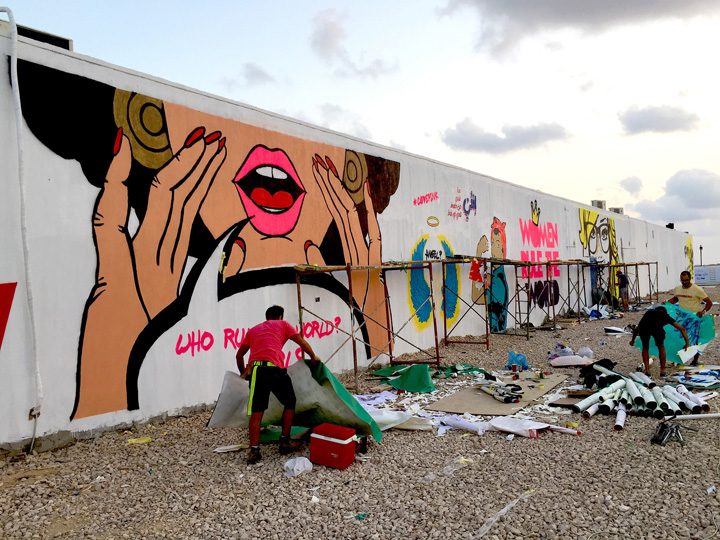 How has the local media responded to your mural?
So far the mural was well-received by both formal and social media. But we are seeking more exposure for the mural and contacting numerous media outlets.
All photos courtesy the artist; interview by Lois Stavsky