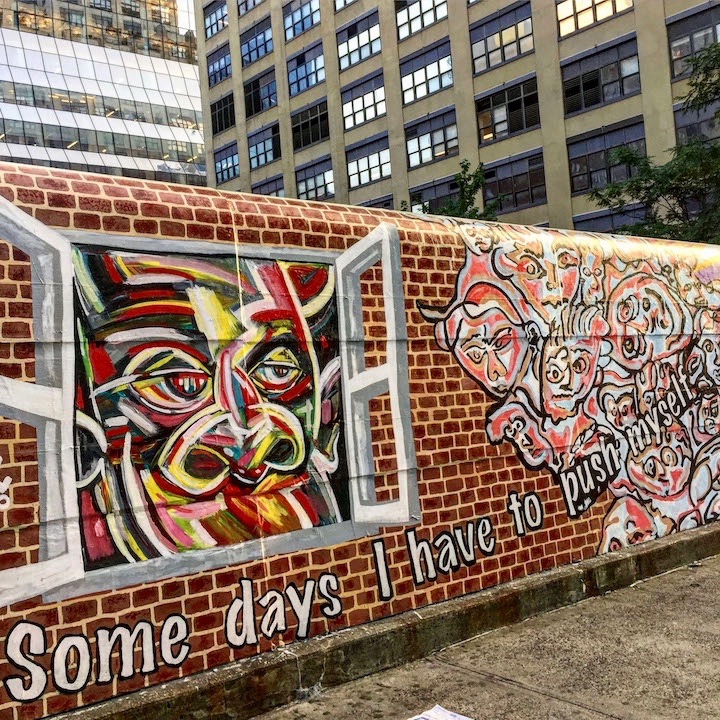 Run by the NYC Department of Health & Mental Hygiene, the New York City Mural Arts Project has brought two murals to the Bronx and one to Manhattan this past year.
"Art has the ability to profoundly change the way we think, feel, and even spark meaningful conversation to begin to break down the strongholds of isolation and stigma," said First Lady Charlene McCray."The Mural Arts Project is an important investment…in improving our city's mental health infrastructure."
Earlier this year, lead artist Andrew Frank Baer began collaborating with Fountain House Gallery and members of the Hell's Kitchen community in designing and painting a huge two-segment mural. Many of the Mural Arts Project's participants struggle with mental illness and/or substance abuse problems.The impressive artwork they created has since found a home on West 34th Street between 9th and 10th Avenues. After visiting the site, I spoke to Andrew Frank Baer.
I love the the collaborative nature of this project.  How would you describe the principal mission of the New York City Mural Arts Project?
Its principal aim is to integrate people with mental health issues into the community and to destigmatize mental illness.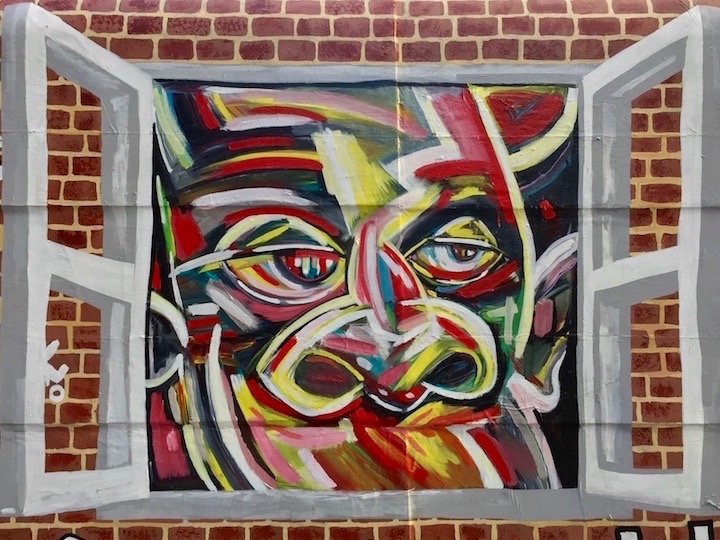 Could you tell us something about the process? Its beginnings?
Yes! The Fountain House Gallery hosted workshops where its members actively designed and sketched the artworks. And as the local community is involved in all stages of the process, there is constant interaction among us all.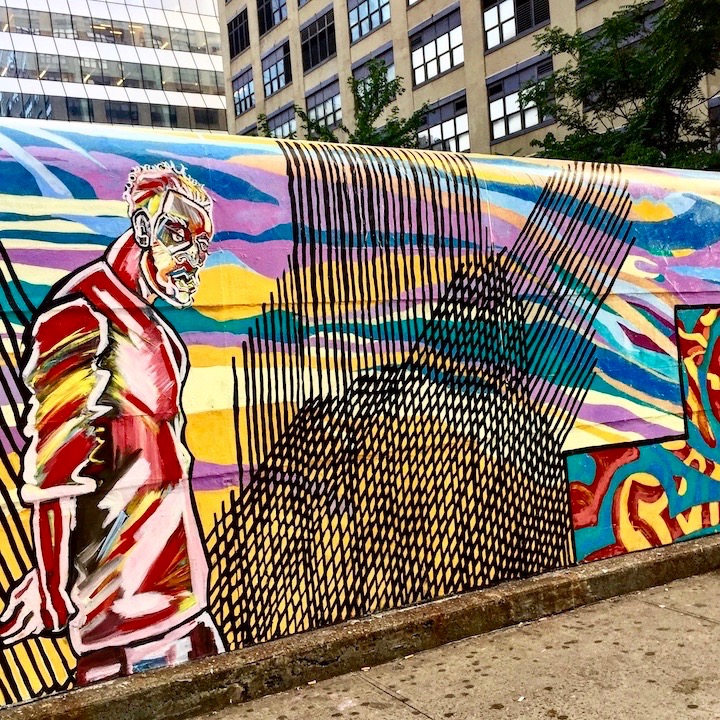 What is it about the project that engages you?
I've worked with similar mural-making projects for a few years now. I love drawing, and I love listening. And I especially love working with others and serving people with mental health issues.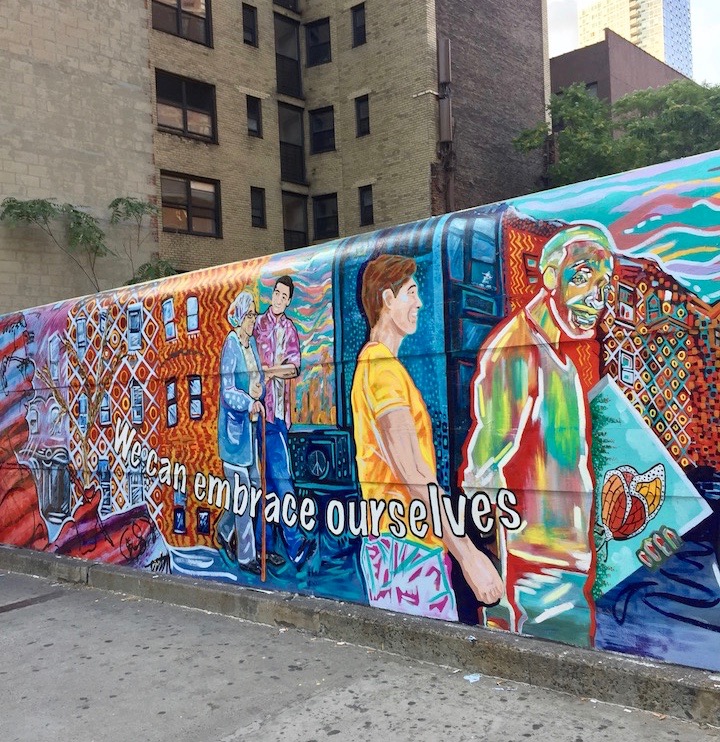 What were some of the challenges that this project has faced?
Deciding on a design that would work — one that people would respond to. And, then, getting to know everyone on a sincere level.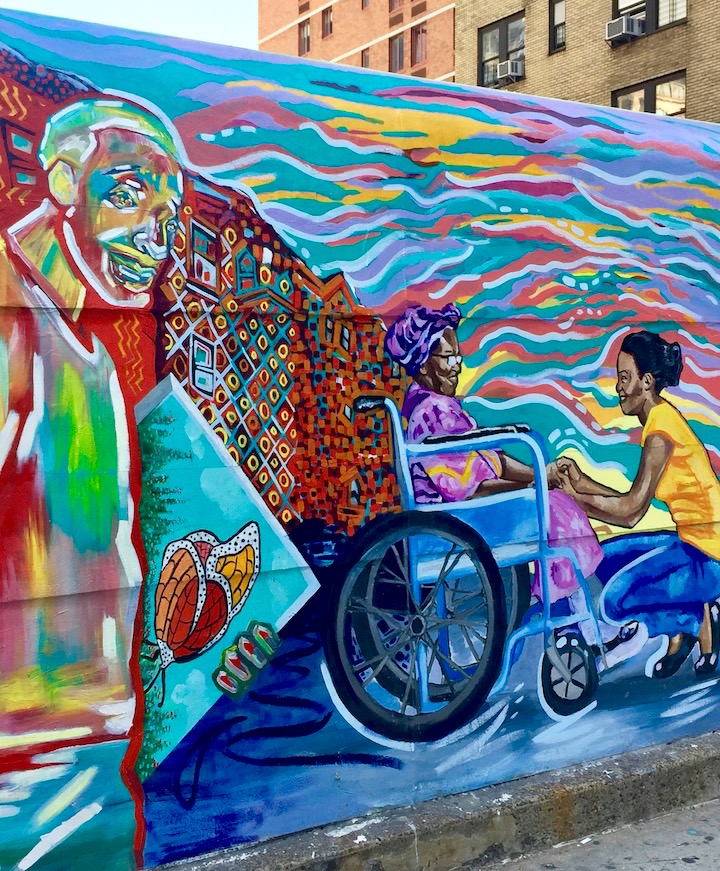 The site of the two mural segments is ideal. The two wide, highly visible spaces couldn't be more perfect! And I think we can all relate to its message: Some days I have to push myself to go outside and walk to the park. Say hello! We can embrace ourselves and open doors together. How has the community responded to it all? 
The response has been overwhelmingly positive. We even had construction workers enthusiastically coming up to us while we were working on site!
Congratulations! I'm looking forward to future collaborations!
Photos by Lois Stavsky; interview conducted and edited by Lois Stavsky
Note: Hailed in a range of media from WideWalls to the Huffington Post to the New York Times, our Street Art NYC App is now available for Android devices here.