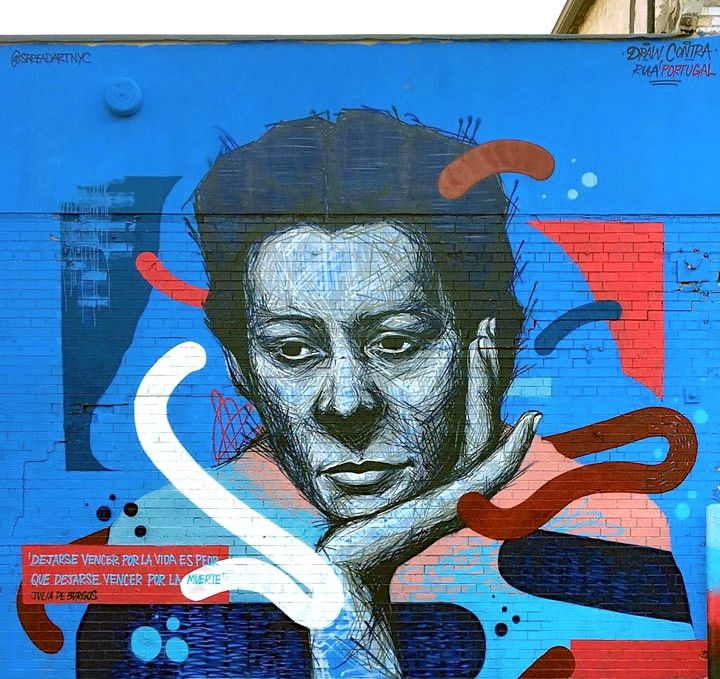 The gifted Portuguese artist Frederico Draw, along with his talented Colectivo RUA partner Contra, visited NYC last month. With the support of Spread Art NYC, they graced Bushwick's Troutman and Knickerbocker with an elegant mural dedicated the late Puerto Rican poet and activist Julia de Burgos. While the artists were in town, I had the opportunity to speak to them. A brief interview with Porto-based Frederico Draw follows:
When and where did you first get up?
I started tagging with my friends back home in the town of Freamunde in 2001.
What inspired you at the time?
The New York City hip-hop culture that I followed was my main inspiration back then.
Do any early graffiti-related memories stand out?
I was about 12 or 13 on a trip to the beach in Algarve with my family when I saw massive amounts of graffiti for the first time. I was astounded.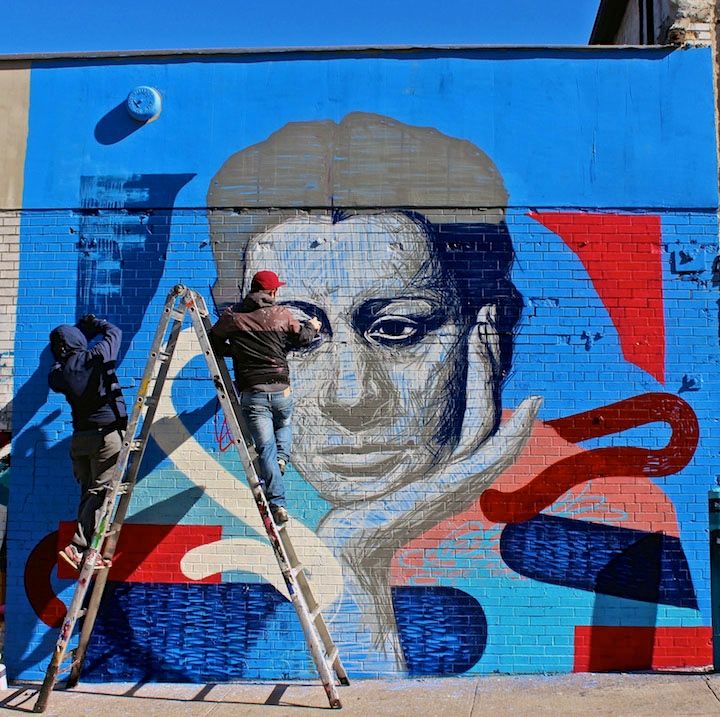 How did your family feel about your engagement with the graffiti culture?
They were very supportive. They taught me to do it responsibly. There are many artists – painters and architects — in my family.
Have you any thoughts about the graffiti/street art divide?
I don't feel it much.  There isn't much of a divide in Porto. Most street artists do graffiti and respect it.
Do you have a formal art education?
I earned a Masters in architecture in Porto, but I never studied fine arts.  I had expected to be an architect; but when I started painting on the streets, my entire lifestyle changed.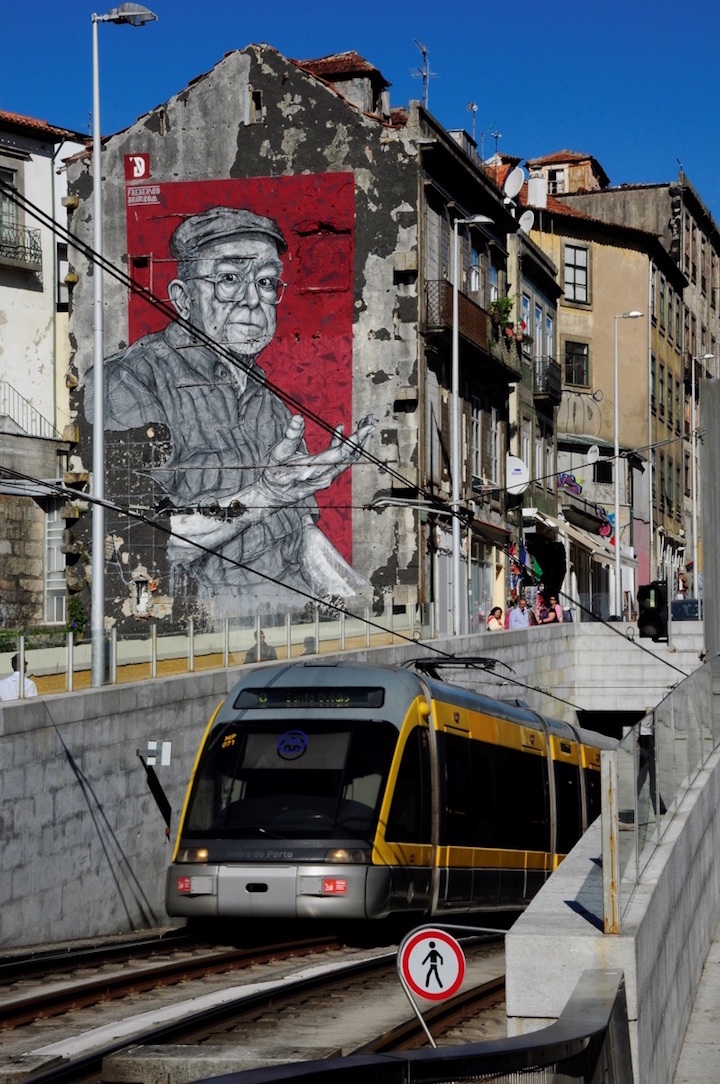 What percentage of your time is devoted to art?
All of it!
How do you feel about the engagement of the corporate world with graffiti writers and street artists?
It helps us artists live. But we need to work together; the relationship must be consensual, not exploitative.
Have you shown your work in galleries?  
Yes! I've exhibited in Portugal — principally in Porto — and I've had two exhibits in Italy.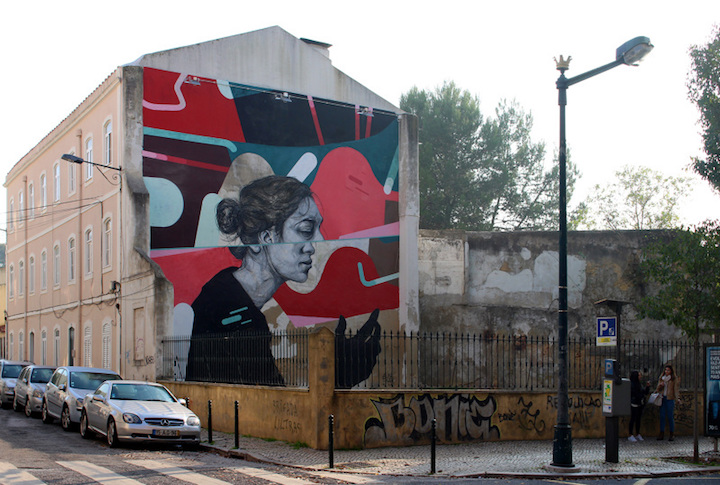 And what about festivals? Have you participated in any street art festivals?
I've participated in street art festivals in Portugal, Italy and Spain.
Here in NYC you are collaborating with Contra. Do you prefer working alone or collaborating with others?
I love both.  When working with others, I can exchange ideas.
Is there any particular street artist out there – with whom you'd like to collaborate?
I'd like to collaborate with Retna.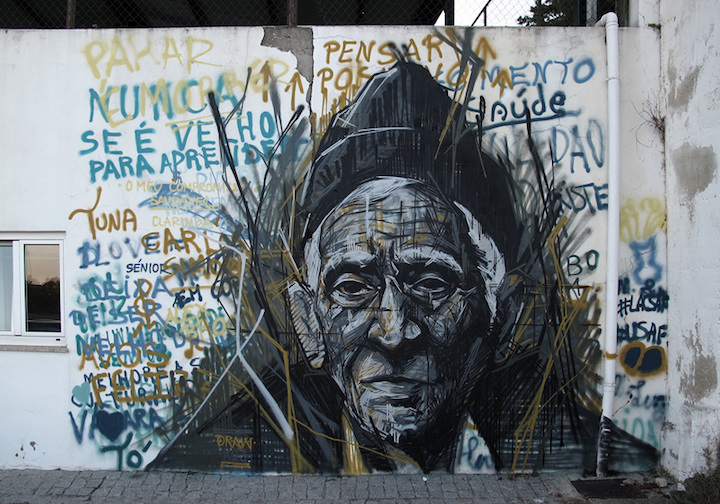 What about crews? Do you paint with any crews?
I'm a member of Colectivo RUA. We are a group of artists based in Porto.
Do you work with a sketch in hand or do you let it flow?
I often work with a sketch.
Are you generally satisfied with your finished work?
I usually am.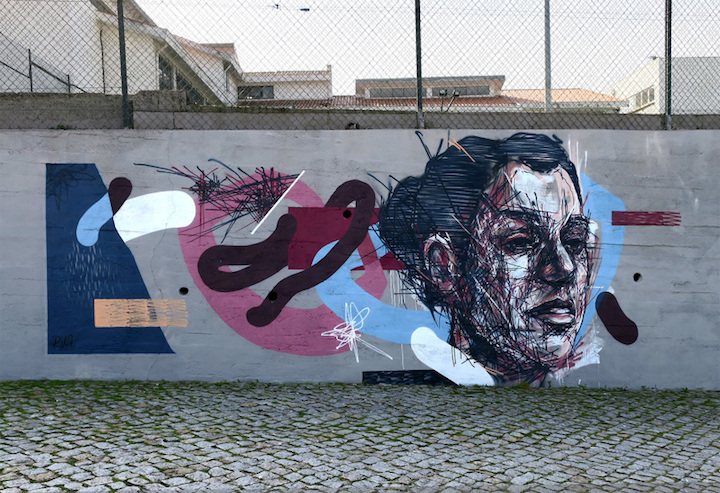 How do you feel about the role of the Internet in all of this?
It helps me get my work out. But I see it as my responsibility to get my artwork onto social media.
What inspires you these days?
Life…the environment…classical art…street art. I'm a huge fan of Borando.
What do you see as the role of the artist in society?
To raise awareness. It is the role of the artist to direct others to think about issues that matter.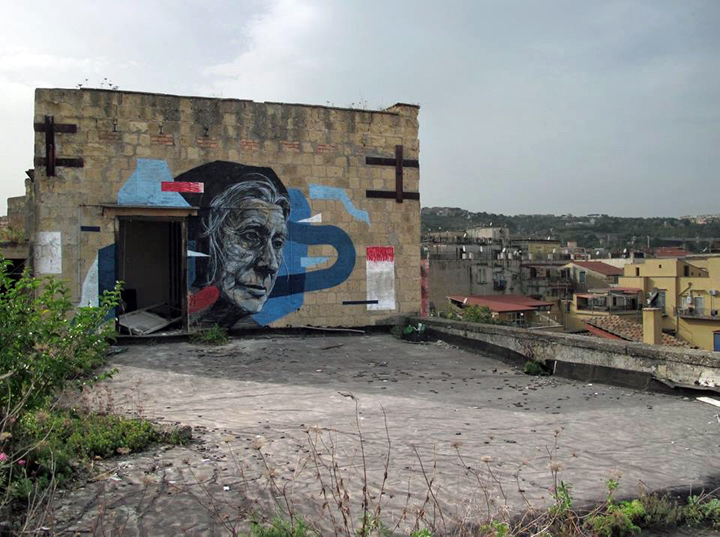 And why have you chosen the streets as your principal canvas?
Because the streets allow me to reach and engage many more people than I would otherwise.
Images
1 Julia de Burgos, Bushwick, 2017
2 Frederico Draw & Contra at work in Bushwick, 2017
3 An.fi.tri.ão, Porto, 2015
4 APAV with Contra, Lisbon, 2015
5 VELHOS SÃO OS TRAPOS with Senior University for VOLTAGEM and Fundação EDP, Alfândega da Fé, 2016
6 EQUILÍBRIO with Contra, São Mamede, 2017
7  SOUR VIRGIN with Contra, Naples, 2016
Photo credits: 1 Karin du Maire 2 Tara Murray 3-7 courtesy of the artist; interview conducted and edited by Lois Stavsky
Note: Hailed in a range of media from Wide Walls to the Huffington Post to the New York Times, our Street Art NYC App is now available for Android devices here.