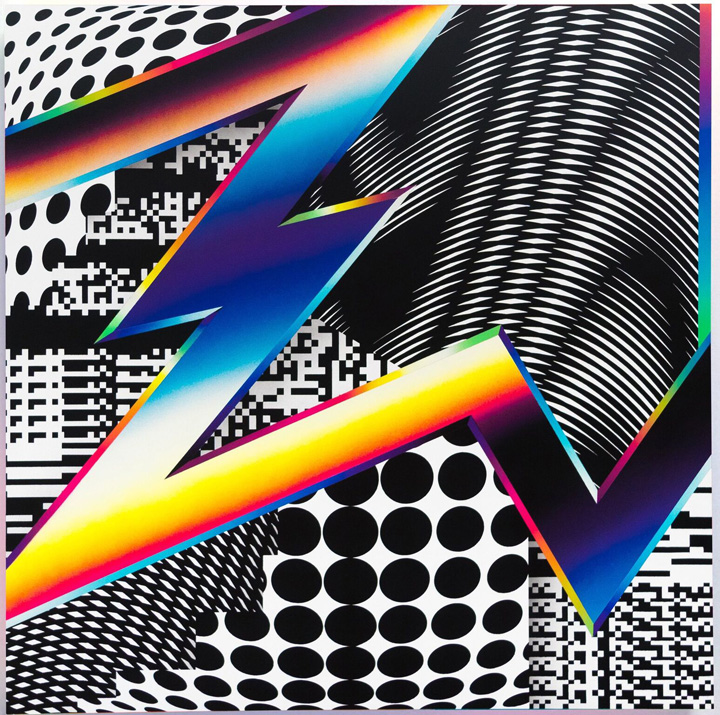 Within the past year, we came upon Felipe Pantone's mesmerizing vision on the streets of Miami, Montreal, Atlanta, NYC and Valencia, Spain. And recently we viewed his distinctly bold, infectious aesthetic in a gallery setting here in NYC. Until Sunday, April 16 several of the artist's studio works remain on view in the brilliantly alluring group exhibit, Interferences: Contemporary Op and Kinetic Art, at GR Gallery, 255 Bowery. Pictured above is OPTICHROMIE 85, enamel on wood panel. What follows are two more of Felipe Pantone's works on exhibit at GR Gallery.
CHROMADYNAMICA 16, Enamel on wood panel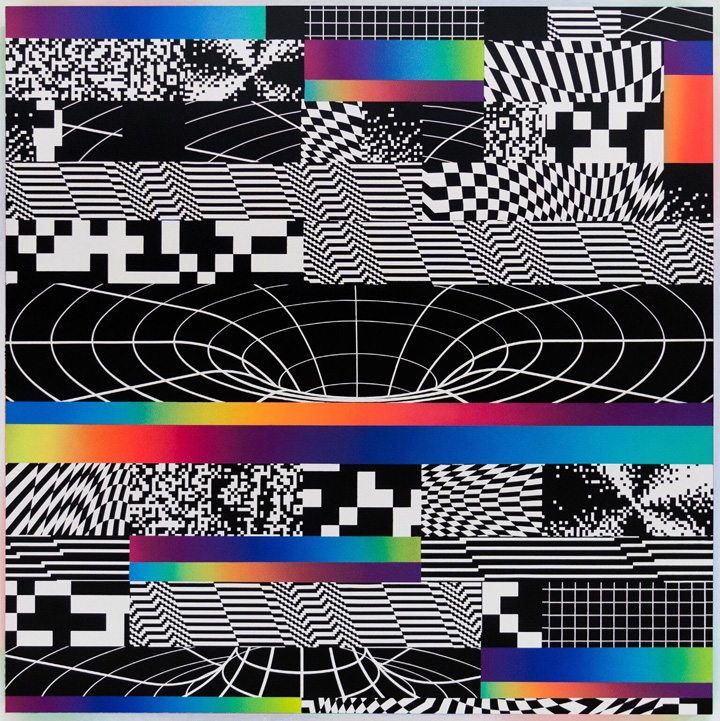 SCROLL PANORAMA 11, Enamel spray paint on aluminum and acrylic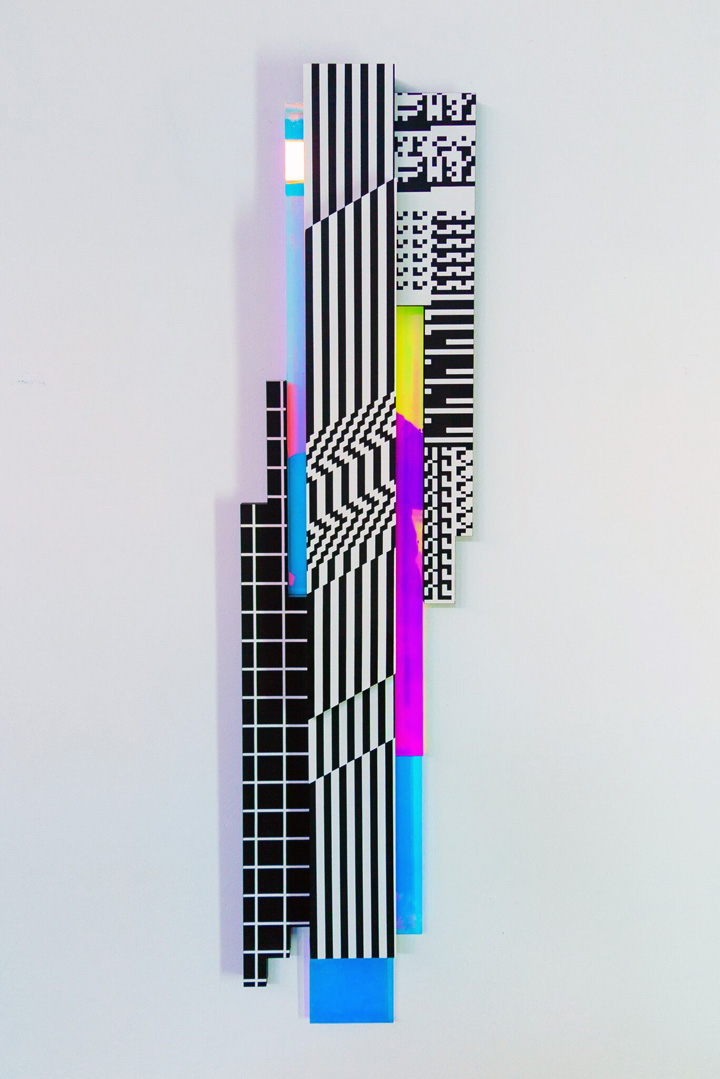 And while here for the opening of Interferences: Contemporary Op and Kinetic Art, Felipe Pantone shared his talents with us on the streets of Greenpoint, Brooklyn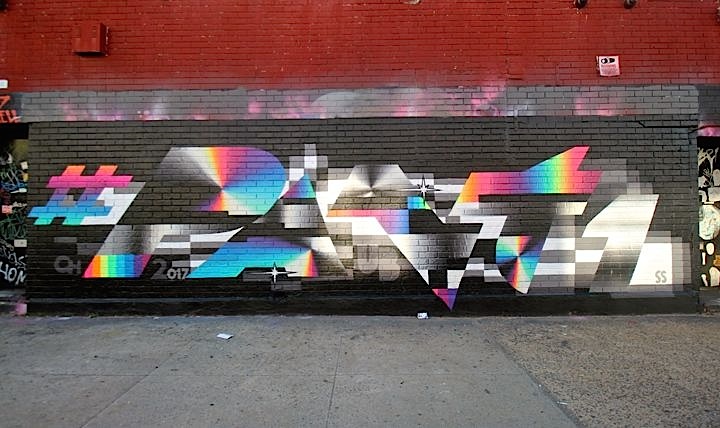 Several other of his works we sighted outdoors these past few months include:
In Atlanta, Georgia  for the Outer Space Project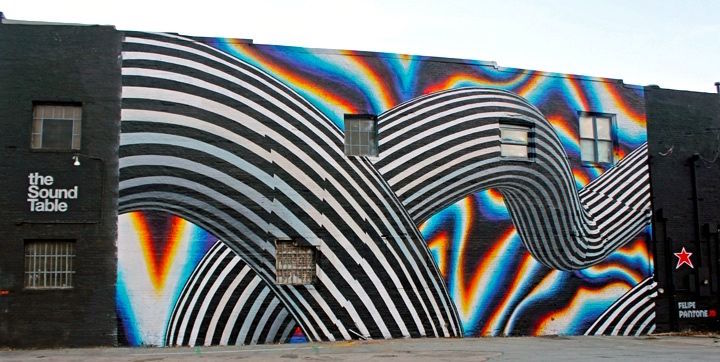 In Montreal, Canada for the Mural Festival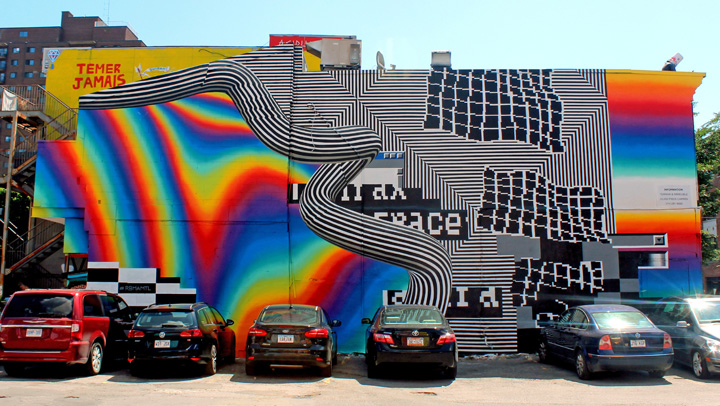 And spotted this past weekend in Valencia, Spain, where the Argentine artist is based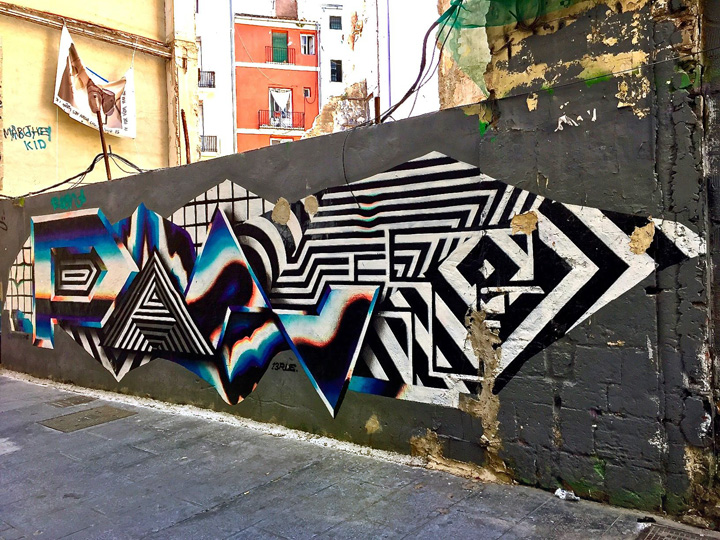 Featured along with Felipe Pantone at GR Gallery are Gilbert Hsiao, Nadia Costantini, and Sandi Renko, whose innovative works "investigate and advance the discourse around pattern, optical and perceptual abstract painting." Located at 255 Bowery — between Houston & Stanton —  GR Gallery is open Tue- Sat 12:00pm – 7:00pm.
Photo credits: 1 – 3 Courtesy GR Gallery; 4-6 Tara Murray & 7 Lois Stavsky
Note: Hailed in a range of media from Wide Walls to the Huffington Post to the New York Times, our Street Art NYC App is now available for Android devices here.