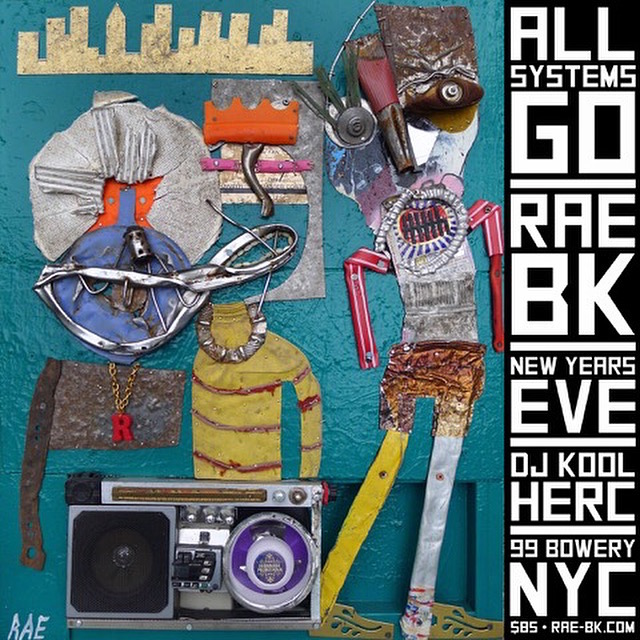 NYC's prolific RAE BK will join forces with the legendary DJ Kool Herc at 99 Bowery on New Year's Eve for an unprecented event. A brief interview with RAE BK about his new exhibit  and its New Years Eve launch follows:
This sure seems like a fun way to spend New Years Eve! What spurred you to do this? 
After everything that has gone on with this Presidential Election in the US, I decided the best way to bring in a 2017 is with a bang.  I hope it's a way to at least turn the page for an evening for those who attend. The name of the exhibition is All Systems Go and it centers around the comparison of discarded objects and human beings.
What kinds of works can we expect to see? On the streets we've spotted everything from your stickers to your huge installations?
There will be about 40 pieces ranging from 'found object' sculptures to large scale canvases to paintings on paper.  These are works I have made over the course of eight months.  And what better way to say goodbye to 2016 than to have a living legend, the Father of Hip-Hop, DJ Kool Herc, to bring some bass and get people moving later on?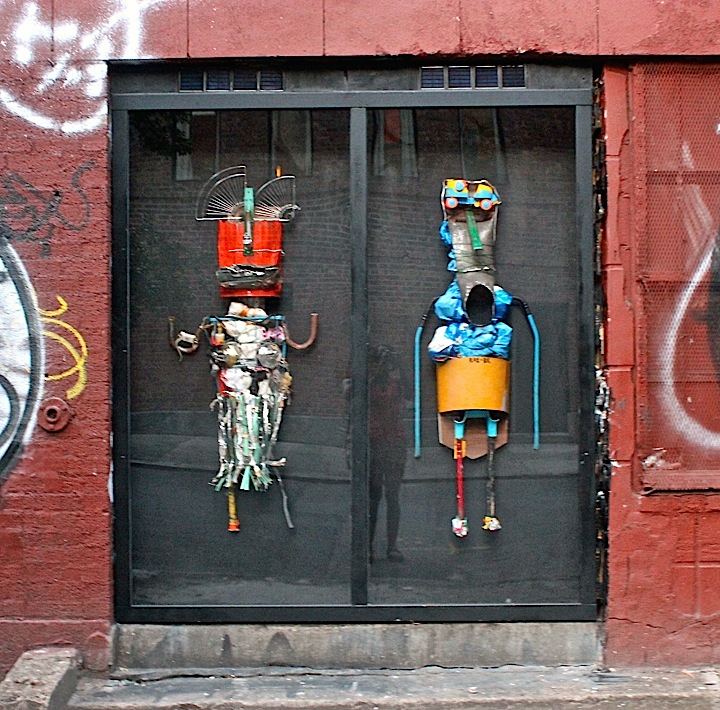 Can you tell us something about the found objects that you have been working with? Where did you find them?
A lot of the parts I have collected and used to make the work have come from an area in Willets Point. Queens, NYC.   It's about a 10- block section full of "chop shops," huge pot holes and some really weathered people. The feeling is third-world for sure. For someone looking at it from the outside — like me — it's like the land of the forgotten.  Mechanics look like they've put in a week's straight worth of doing car repairs. Others are selling drugs and looking to turn tricks. The work I have created is as much a reflection of the materials as it is of the environment.  A lot of rusted metals, worn fabrics and scraps of plastics… Think "pop-artifacts."
What was it like to work with these objects?
While working in my studio, I kept seeing the worn and weary faces of the people I encountered in the weathered parts. I adopted the philosphy of making the best of the materials you are given.  And these materials came from the people of Willets Point. People there do what they have to do to make a living. Whatever it takes. The interesting thing is that for all the rusted, decayed, crushed pieces I found, I also found stuff that had a nice gold or silver shine or burst of color that created a cool high-end, low-end quality to the finished pieces.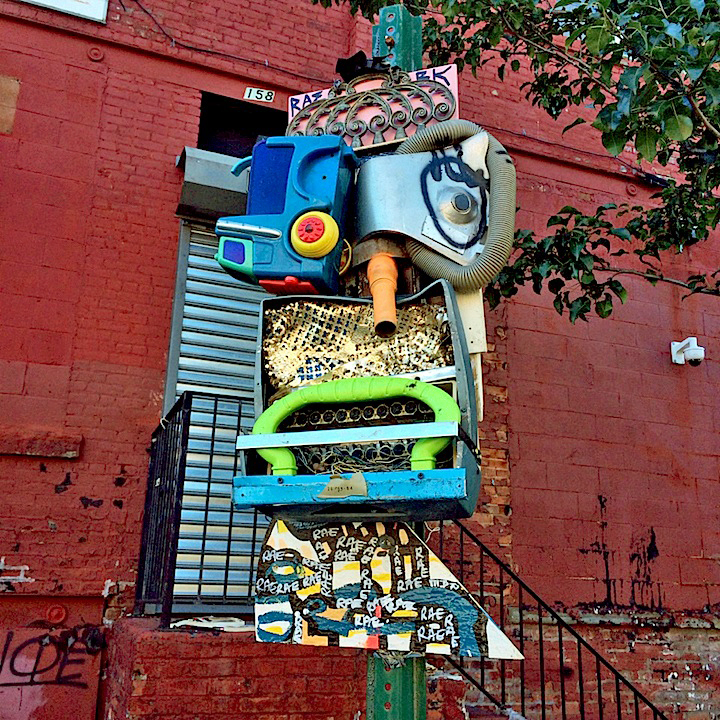 How can one attend All Systems Go on New Years Eve?
Opening night will be a ticketed event with open bar and music spun on vinyl by DJ Kool Herc.  I will be giving away a small original piece of work just before midnight too. You can get tickets here.
And if we can't make it to the New Years Eve opening, will we still be able to see your show?
Yes! The show will run for at least another week after that. Check my Instagram for updates.
Interview by Lois Stavsky; photos 2 & 4 from NYC streets, Tara Murray
Note: Hailed in a range of media from the Huffington Post to the New York Times, our Street Art NYC App is now available for Android devices here.