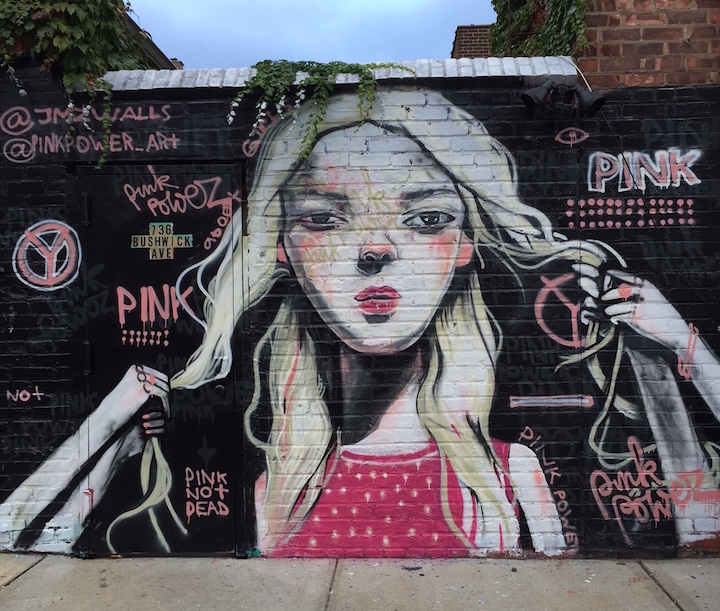 Moscow-based artist Yulia Vanifatieva aka Hula recently made her way to NYC and left her mark in Bushwick, Brooklyn. After she'd finished painting several outdoor murals in collaboration with JMZ Walls, I had the opportunity to meet up with her and find about a bit about the young Russian artist and her Pink Power art project.
When did you first get up in a public space?
A lot of my childhood friends were painting on the streets, and it was something that I had always wanted to do.  But I didn't attempt to until four years ago when I was already a university graduate.
And what was it about street art that appealed to you?  That made you want to try it?
I liked the idea of expressing my individuality in a public space.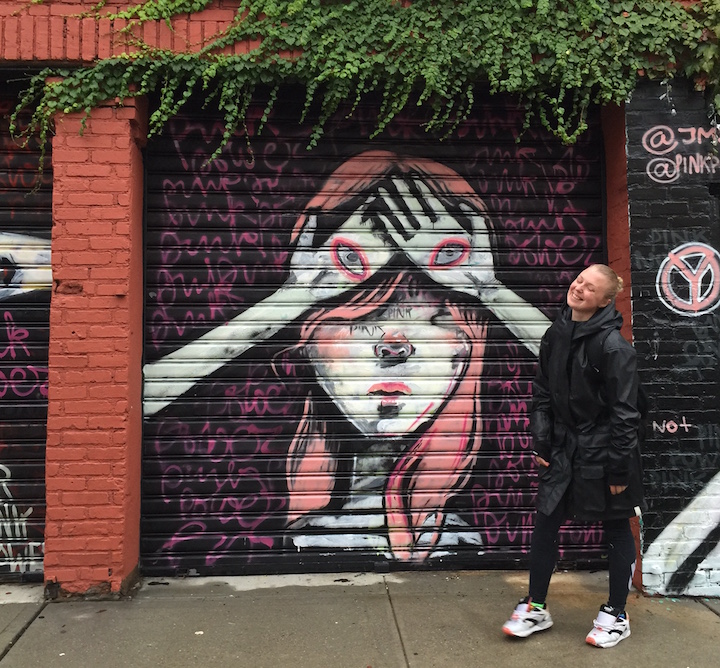 How did the other street artists respond to you — as a woman in the scene?
At first no one took me seriously. But that has been changing.
Have you collaborated with other street artists?
I've never deliberately collaborated, but it's happened accidentally — when friends start painting on a wall after they've seen me begin. Then it — unintentionally — evolves into a team effort!
Do you work from a sketch when you paint?
I have a basic sketch, but I don't really refer much to it or think about the process. I just do it!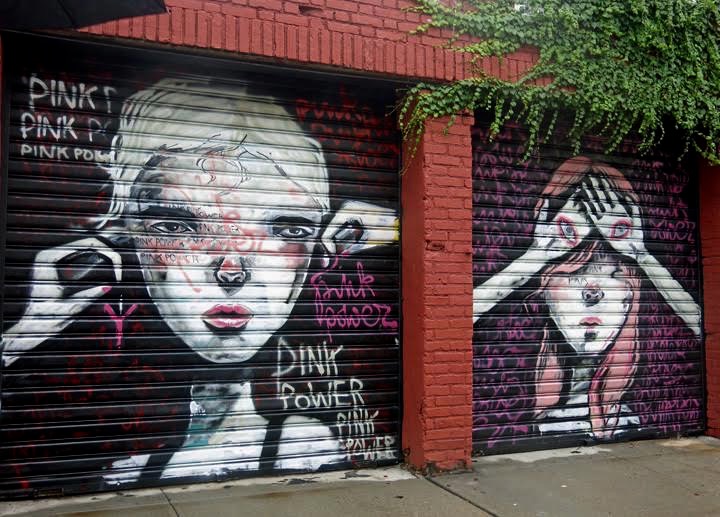 Do you have a formal art education?
Yes. I graduated from the Ivanova State Textile Academy in 2008 with a degree in Fashion Design. And then between 2010 and 2012, I studied Visual Communications at the British Higher School of Art and Design. But I'd been drawing all my life, and I always knew I wanted to be an artist!
What has been your main source of income — as an artist?
Designing window displays for high-end department stores.
Can you tell us something about your particular aesthetic? How has it developed?
I am interested in experimenting with different surfaces, styles and materials. While studying Fashion Design, I began to use magazines as my canvas. I created fashion illustration sketches with cosmetics instead of with paint and with money instead of with paper. I am increasingly interested in concepts.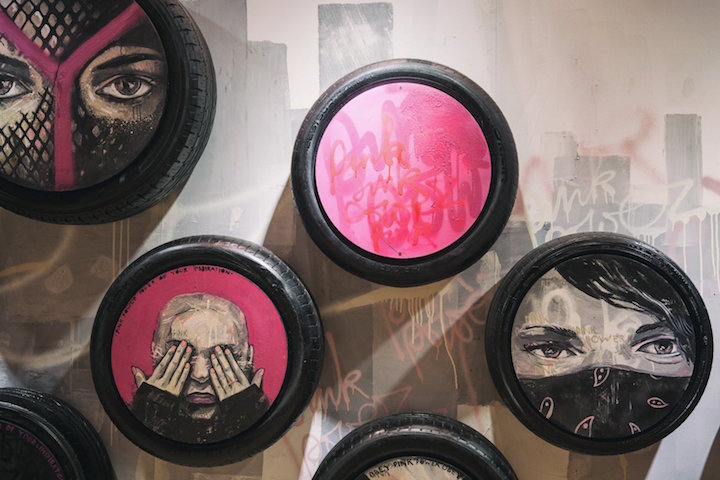 Are you generally satisfied with your finished piece?
At first, I'm not! It takes me awhile to like it.
How has your work or process evolved within this past few years?
Initially, it was difficult for me to execute what I had envisioned. But that has gotten much easier.
Have you any favorite street artists? Artists who have inspired you? 
Among my favorites are Anthony Lister and Herakut.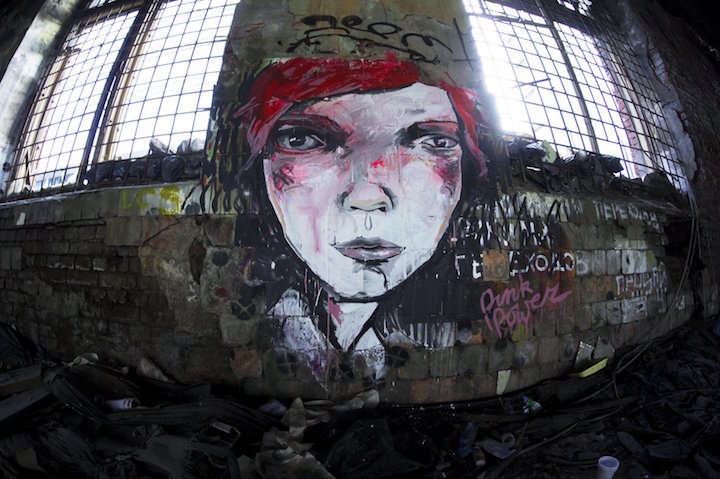 Yes! I  can see their influence. They are among my favorite ones, as well! Has your family been supportive of your career choice?
Always! My parents have always encouraged me to follow my passions. They understand how challenging and exciting an artist's life is.
We street art aficionados have come to identify you with your Pink Power project.  Just what is the concept behind it?
It is a celebration of female power. The concept behind it is that a woman can be strong, clever and beautiful. A woman's seemingly delicate veneer should not be confused with or mistaken for weakness.
You recently participated in Moscow's Artmossphere Street Art Biennale. Can you tell us something about that?
Moscow's Artmossphere Street Art Biennale is a huge showcase of international street art. This year's marks its second anniversary. I was among 42 international artists — including Miss Van, Li-Hill, M-City and the London Police — and 26 Russian artists whose work was presented.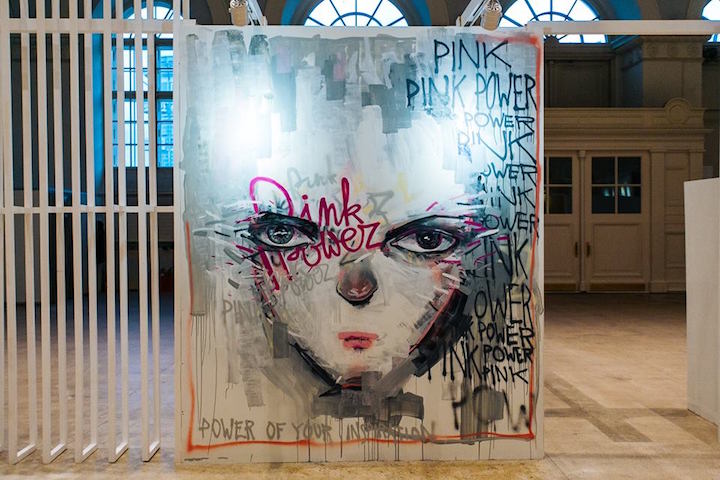 That's quite impressive! You've painted several walls here in NYC — most recently in collaboration with JMZ Walls. What is your impression of our city?
I love it here. I love this city's energy and its free atmosphere. NYC is such an open-minded place.
What's ahead?
I'd like to do less commercial work so that I can focus further on developing and refining my own aesthetic and artistic vision.
That sounds great! Good luck with it all!
Photo credits: 1-3 Lois Stavsky; 4-6 courtesy of the artist; interview conducted and edited by Lois Stavsky with assistance from Anastasia Foresman whose translation skills came to the rescue!
Note: Hailed in a range of media from the Huffington Post to the New York Times, our Street Art NYC App is now available for Android devices here.