For the past several years NYC-based artist and photographer Appleton has been taking his message of diabetic awareness to our streets. While visiting his hugely impressive solo exhibit, Out of the Cold, I had the opportunity to find out a bit about him and his mission: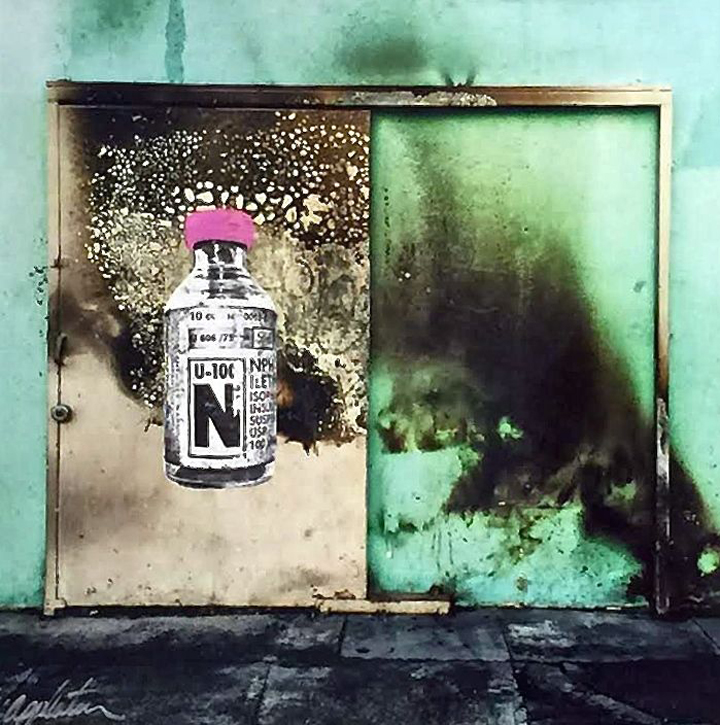 The artworks on exhibit here are so impressive.  They are beautifully executed, as well as emotionally and intellectually engaging. How long have you been working on this body of work?
Many of the works displayed here have been created this past year. But this exhibit is, actually, a culmination of my artworks of the last few years.
Can you tell us something about your process, your particular aesthetic? It is certainly distinct.
I have been collecting insulin bottles for the past 35 years. I began shortly after surviving a diabetic coma at age six. The bottle has since  become my iconic image and has clearly informed my aesthetic. I work with a range of media — photography, paint, hand-cut images and sculpture — that almost always feature the insulin bottle.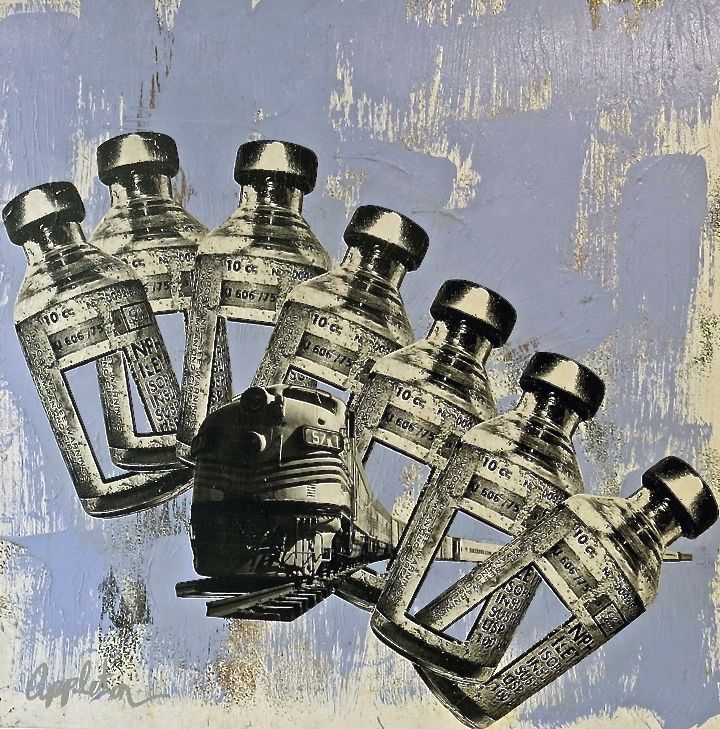 You are clearly a man with a mission! 
Yes. I want to raise and spread awareness of diabetes, a devastating disease that impacts over 30 million Americans. Too many people do not understand the challenges that diabetics face daily — the physical and psychological damage the disease can cause. It can be a living nightmare.
And have you a message to diabetics, as well?
Yes! I want them to feel less lonely and alone in the daily battle they face. There are millions of us carrying on. We never — even for a moment — can stop thinking about our disease.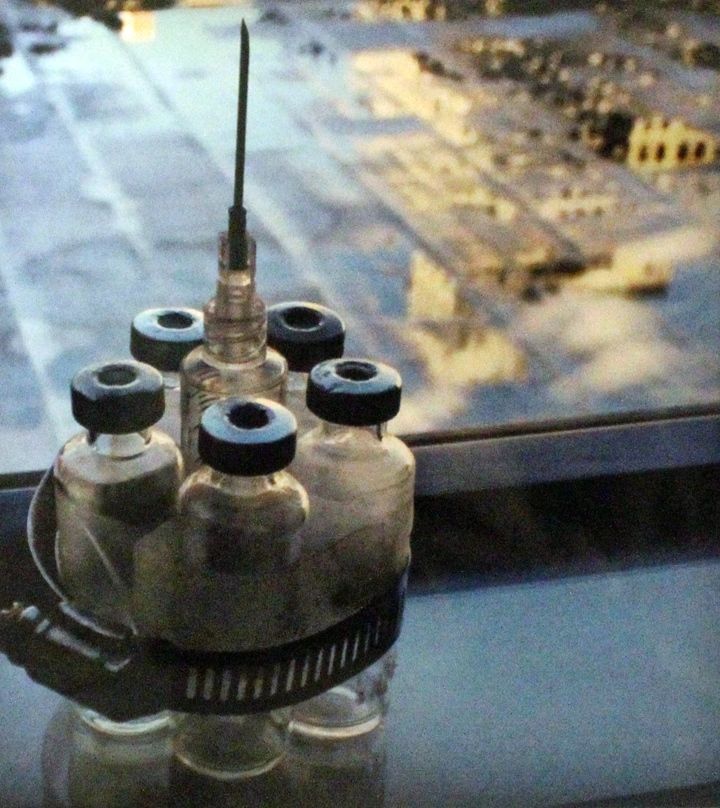 Your wheatpastes featuring bottles of insulin have become part of our visual landscape here in NYC. What other cities have you hit?
Among the cities I've pasted up in are: LA, Miami, Chicago, Boston and St. Louis.
How have folks responded to your work — both on the streets and in gallery settings?
The response has been consistently positive. Many folks who have the disease have thanked me for spreading awareness of it.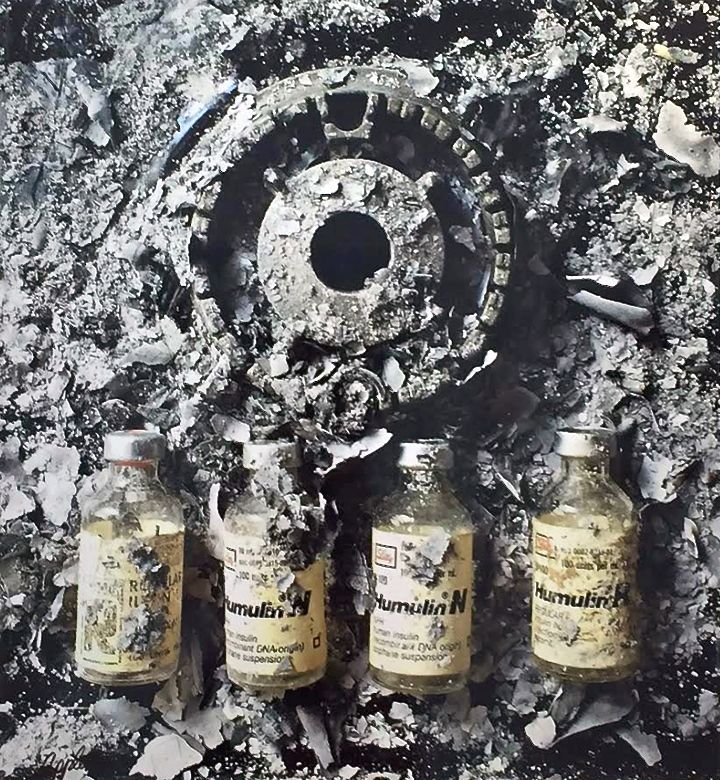 Occasionally, I hear that we are close to a cure. 
I wish that were true.  I don't expect a cure in my lifetime.  If there were one, there would be a global economic breakdown. A cure should have and could have happened by now.
What's ahead for you?
I plan to take my message abroad this year. Among the cities I will visit are: Paris, Barcelona and London.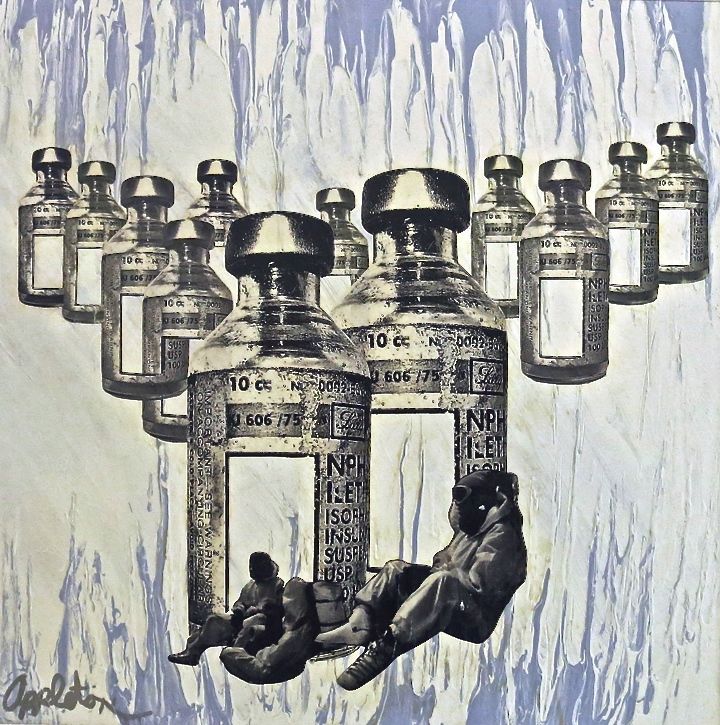 That sounds wonderful and thank you for what you are doing!
Note: Although the exhibit remains open through Sunday, a closing reception takes place tonight, Thursday, from 5-9pm at 51 Orchard Street on Manhattan's Lower East Side. There will be limited edition signed artist prints for sale.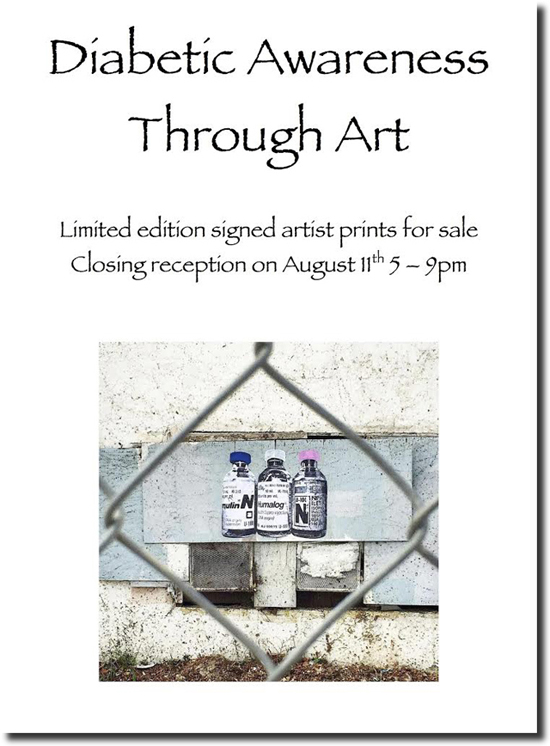 Images
1. Skid Row, Metallic paper, Museum glass, Archival elements
2. Out of the Mine, Mixed media: Paint, Paper, Acrylic
3. Empire State Building, Photograph on metallic paper, Museum glass, Archival elements
4. Insulin to Ashes, Metallic paper, Museum glass, Archival elements
5. Top of the World, Mixed media: Paint, Paper, Acrylic
Interview by Lois Stavsky; photos of artworks: 1, 2 & 5 Lois Stavsky; 3 & 4 Tara Murray