Last month, West Coast-based Kai Aspire was avidly gracing NYC streets with his earnest artworks. I had the opportunity to meet up with him then and pose a few questions: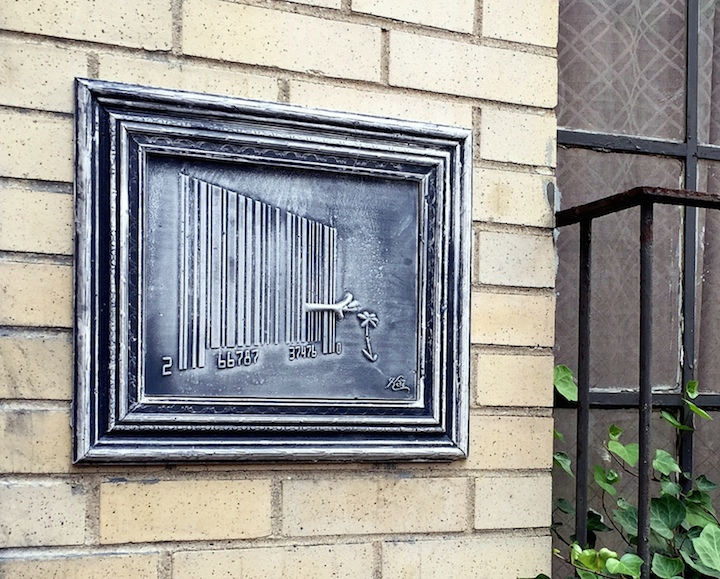 When and where did you first get up on a public surface?
I was 15 years old, and it was in LA.
What inspired you at the time?
My dad was a heavy smoker, and I was concerned about his health. The first work of art I created was to get his attention, and it did!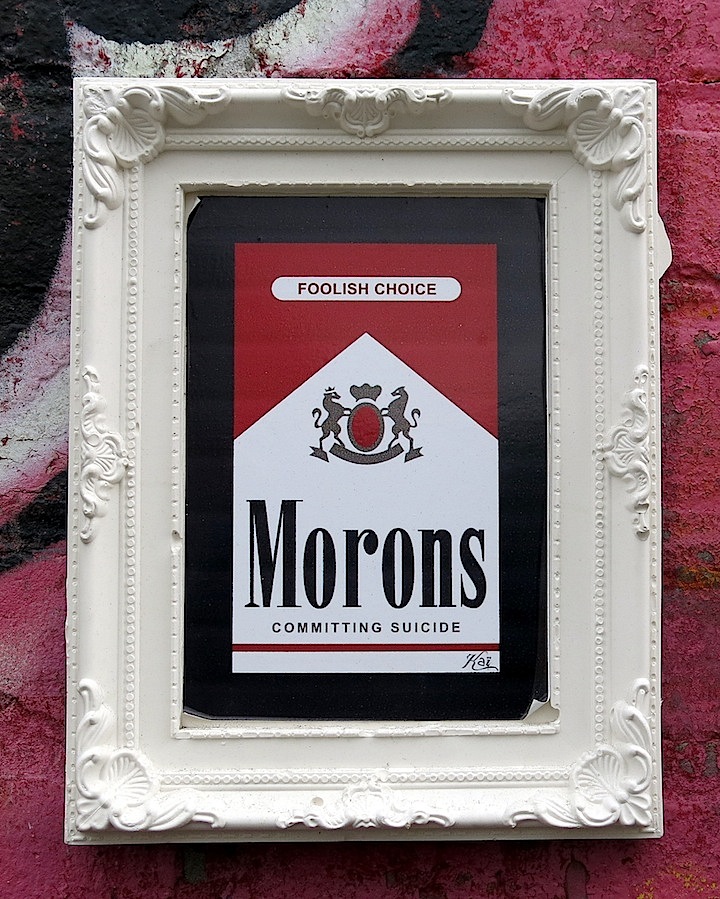 Did you have any preferred surfaces back then?
The electrical boxes in LA were ideal!
Were you ever arrested?
Just as I was leaving a spot in Beverly Hills, a cop pulled a gun on me. He then handcuffed me and lay me on the floor. Six back-up cops came and made me remove everything that I put up. But they didn't arrest me. They told me – somewhat apologetically — that they liked what I was doing!
How does your family feel about what you are doing?
They love it!  My mom gets a little scared sometimes. But she wants me to be happy, and she knows that what I am doing makes me happy.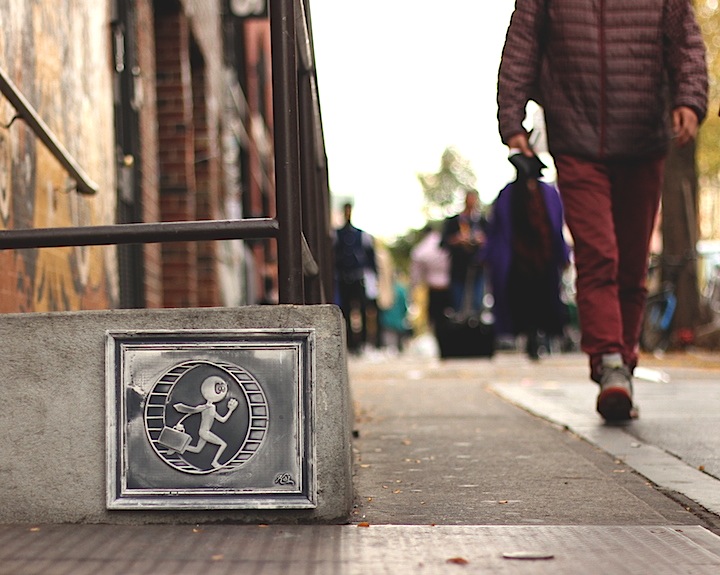 What percentage of your time is devoted to your art these days?
Just about all of it!
 Any other passions?
Surfing and soccer.
How do you feel about the movement of graffiti and street art into galleries?
It's fine, so long as we don't lose our touch with the streets. But my focus is on bringing the beauty of galleries onto the streets. That is why I pay so much attention to how my works are framed.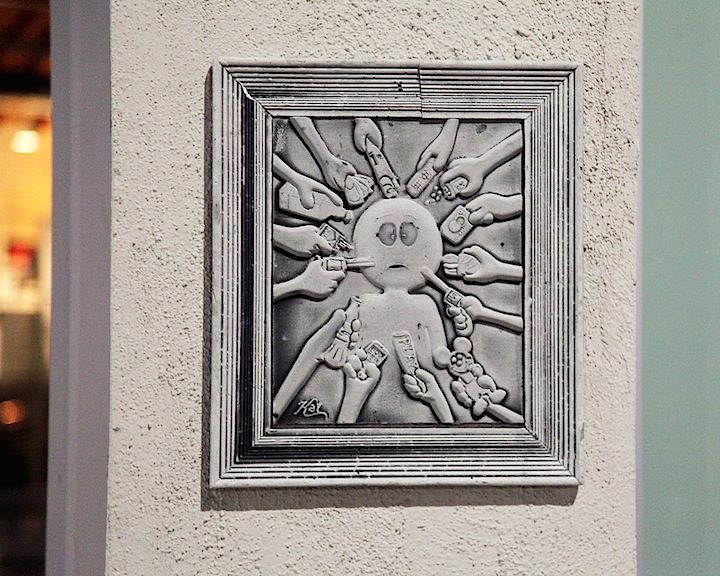 What about the corporate world? Any feelings about working with it?
I try to avoid it.
Do you prefer working alone or collaborating with others?
It's easier for me to work by myself, as I have a distinct vision as to how I want to present my artwork.
Have any particular cultures influenced your aesthetic?
My father's French and growing up, I read French comics. And my mother's Mexican heritage has most likely influenced the relief-work that I do. I love working with my hands.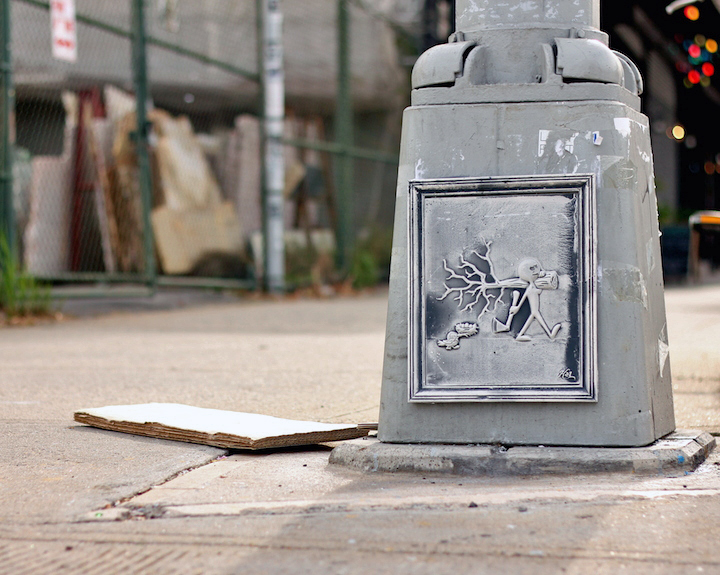 What is the riskiest thing you ever did?
Trying to get my message of reconciliation – love instead of hate — out in Hebron amidst gunshots, while hiding from the police. I was lucky to get out alive.
Yes! Hebron is definitely one of the world's most conflict-ridden places. You've recently begun a world tour. Where else are you headed?
In addition to Hebron, I've been to Paris and Tel Aviv. Other stops include: West Palm Beach, Miami, LA, San Francisco, Bogota, New Zealand, Australia, Mexico and Brazil.
That's quite ambitious! How do you feel about the role of the Internet in this scene?
It's certainly interesting. It seems to blur the line between marketing and art, as it can give an artist a lot of exposure.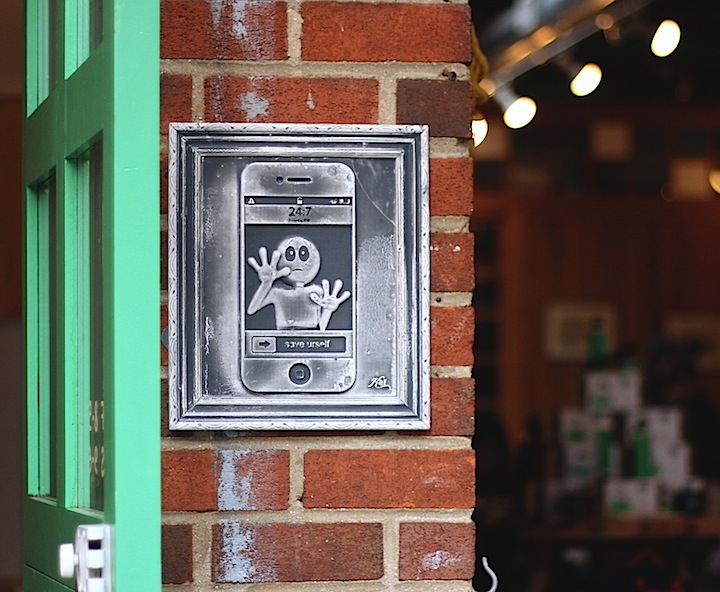 Have you a formal art education?
I studied for one year at CalArts, the California Institute of the Arts, and then I learned the more practical aspects of art at ENSBA, Ecole Nationale Superieure des Beaux-Arts in Paris.
What inspires you these days?
Everyday life.
You obviously have a message you are interested in transmitting. 
Yes. Much of my work is a comment on our misplaced values.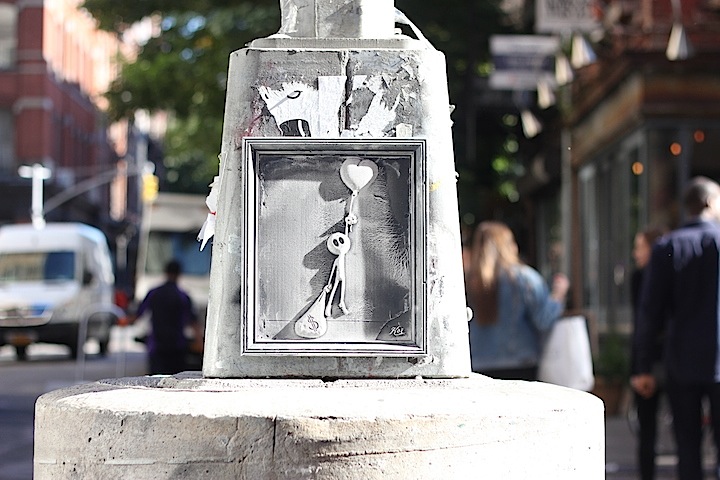 How has your work evolved in the past few years?
The process is more complex, and I use less sarcasm in getting my message across.
What do you see as the role of the artist in society?
To bring beauty to the world as he or she critiques it in a loving way.
That sounds good! Best of luck with your travels!
Interview conducted and edited by Lois Stavsky; Photo 2 by Lois Stavsky; all others courtesy of the artist.