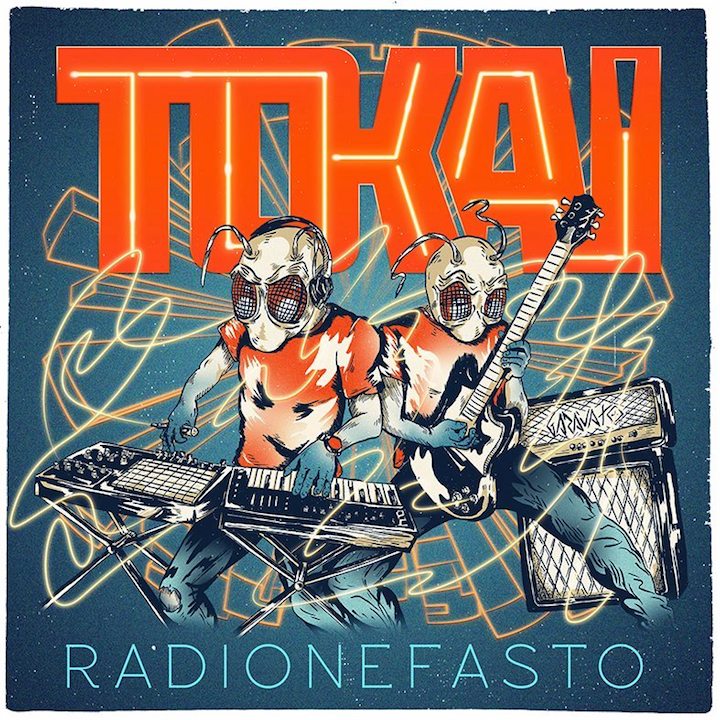 With a B.A. degree in Industrial Design, Colombian native Garavato has designed and developed dozens of projects in a range of media. During the past three years, he has also shared his talents on public spaces. I recently had the opportunity to meet up with him when he was in NYC where he painted at Grove Alley in Downtown Brooklyn and at EBC High School.
When did you first hit a public surface? And where?
Three years go in Argentina.
What inspired you to do so?
I had always worked on paper, on canvas and on indoor walls.  But I wanted to try to get a huge stencil up in a public space. And when I had the opportunity to do so legally in Buenos Aires, I did.  And I've been doing it since.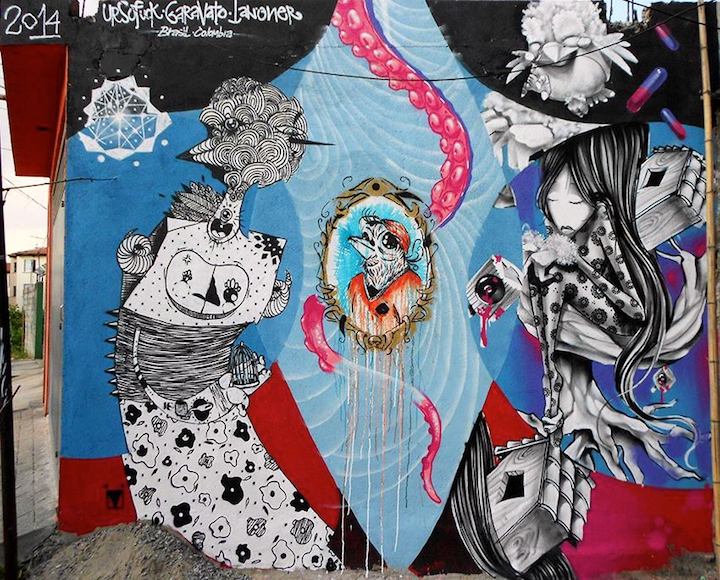 Do you tend to restrict yourself to legal surfaces?
I usually ask for permission when I'm a guest in another city, but in Bogota, where I'm now based, it's okay for me to get up just about anywhere.
In what other cities have you painted?
I've painted in Sao Paulo, Rio de Janeiro. Berlin, Napoli and now in NYC.
How does your family feel about what you are doing outdoors?
At first, my father was concerned. But now he is very supportive.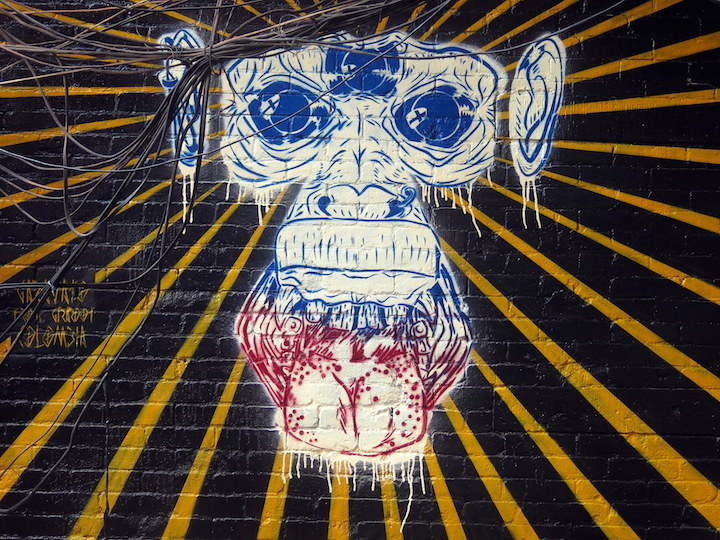 What percentage of your day is devoted to your art?
All of it. 24/7. It is the sole source of my income, as I work as a designer and illustrator.
Do you have a formal arts education?
I studied Industrial Design for five years. So my background isn't in fine arts or illustration. But I've always been drawing, and my mom is a painter.
What about galleries? Have you shown your work in galleries?
Yes, I've exhibited in Argentina, Chile, Italy and in major cities in Colombia.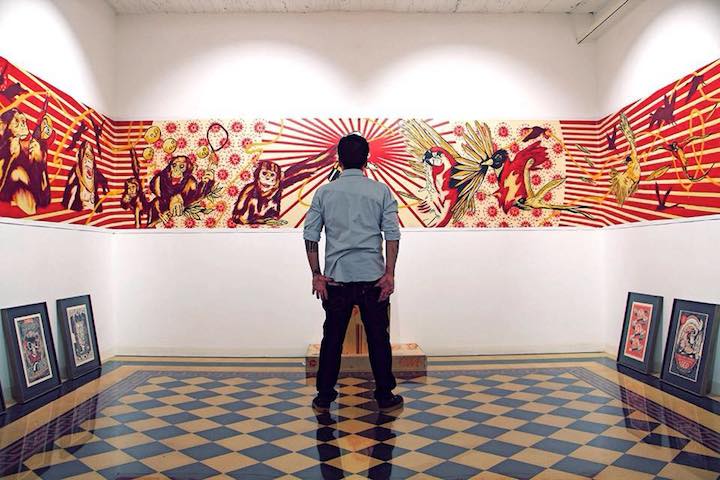 Do you prefer working alone or collaborating with others?
I like working by myself, but I also like learning from others. And that happens best when I collaborate with other artists.
How has your work evolved in the past few years?
I've begun to paint on a much larger scale and — inspired by the works of Emory Douglas, Shepard Fairey and Toxicomano — I am using fewer colors.
What inspires you these days?
So much! Music, birds — the freedom they represent – skulls, animals and the notion of evolution.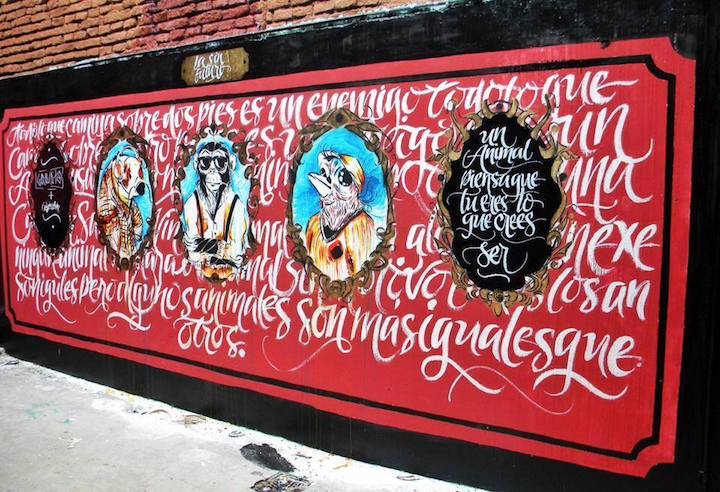 Have any particular cultures influenced your aesthetic?
I'd say the punk culture, the street art movement and the DIY (Do It Yourself) movement.
What do you see as the role of the artist in society?
The artist gives a gift to the people, stirs conversation and raises consciousness.
How you feel about the role of the Internet in this scene?
It's amazing! It give us artists the opportunity to connect with so many people. And I love that feeling.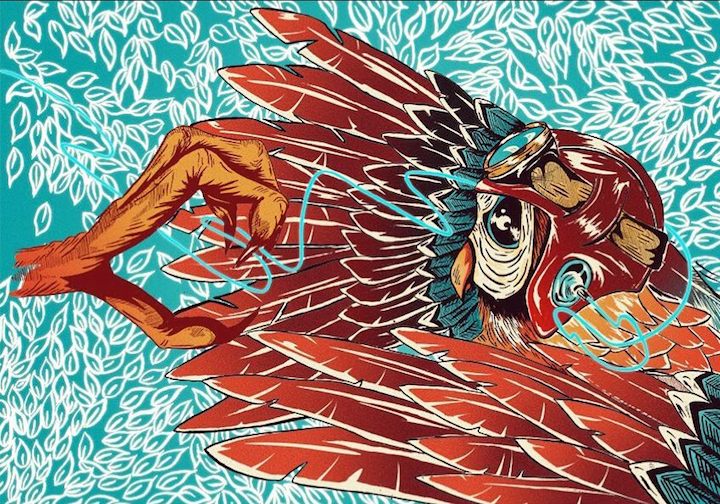 And what about you? What's ahead?
I'd like to focus on stencils, further develop my own brand and travel more.
Sounds good! Good luck!
Interview by Lois Stavsky; all photos courtesy of the artist, except for photo 3 by Lois Stavsky