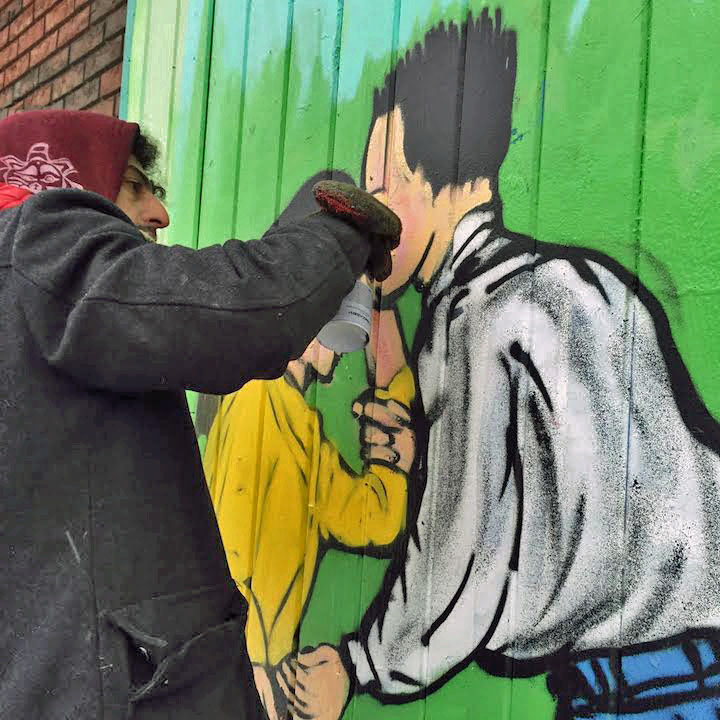 I caught up with Bogota native Lorenzo Masnah — aka AEON and Third World Pirate — last week in his Bushwick studio as he was readying to head to Chicago's Galerie F to join Stinkfish, Zas and Buytronick in preparation for APC's first exhibit in the U.S.
You are leaving in a few hours for Chicago. What's happening there?
I will be working with Stinkfish, Zas and Buytronick to produce a series of collaborative works. Each of us has a distinct graphic language and they all will come together on an array of surfaces – from found objects to huge outdoor murals — for this exhibit at Galerie F.  Drawings, paintings, zines, shirts and all kinds of APC paraphernalia will be on sale at the gallery. The exhibit opens to the public on Friday, January 30.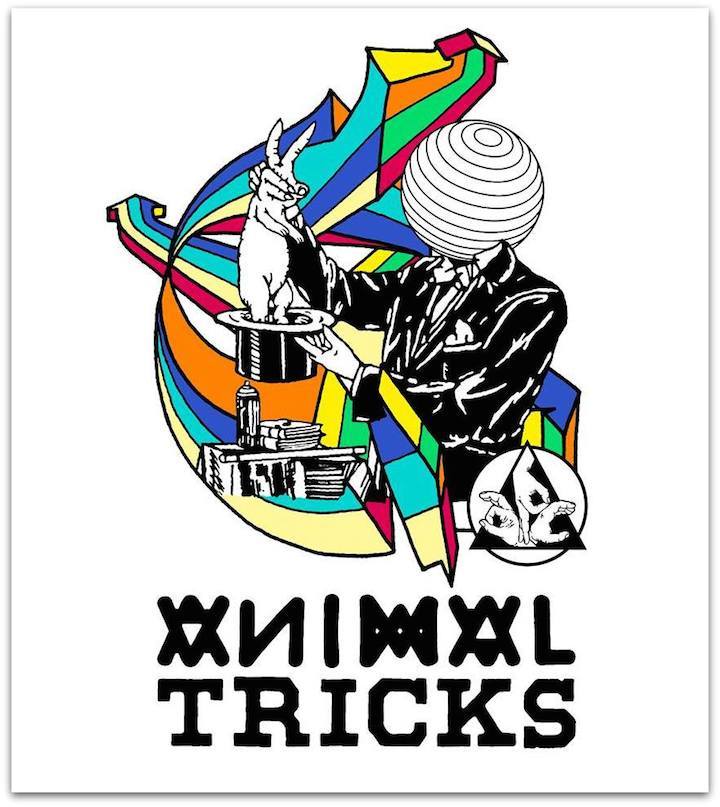 Can you tell us something about APC? What does it mean? When did you guys all meet?
The crew originated almost ten years ago back in Bogota with a few artists who participated together in festivals.  These days we have over 50 members representing APC throughout the entire world. The acronym has many different meanings. Its principal one is Animal Power Cult, as animals play an essential role in our individual and common aesthetic.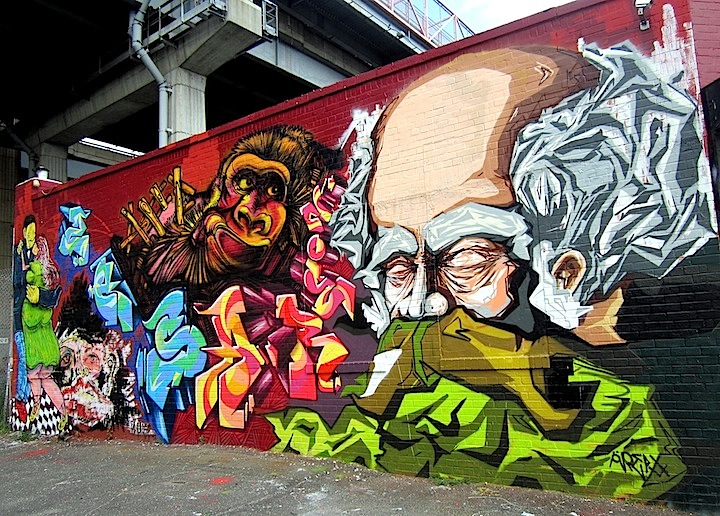 What about you? You seem to have three distinct identities. I primarily associate you with Third World Pirate as I remember watching you paint your iconic pirate almost ten years ago in Bogota. But there everyone seems to refer to you as AEON. And, here in NYC, I've come to think of you as Lorenzo Masnah.
I've been obsessed with pirates and drawing them in endless variations since I was a child growing up in Bogota. That explains Third World Pirate!  He is the one character who always travels with me. AEON is my acronym for Al Estilo Orto Nombre (Another Name for Style) – as I began getting up back in 2002 in Bogota with distinct one-line drawings. And I adopted the name Lorenzo Masnah when I had my solo show at Fuse Gallery in 2013.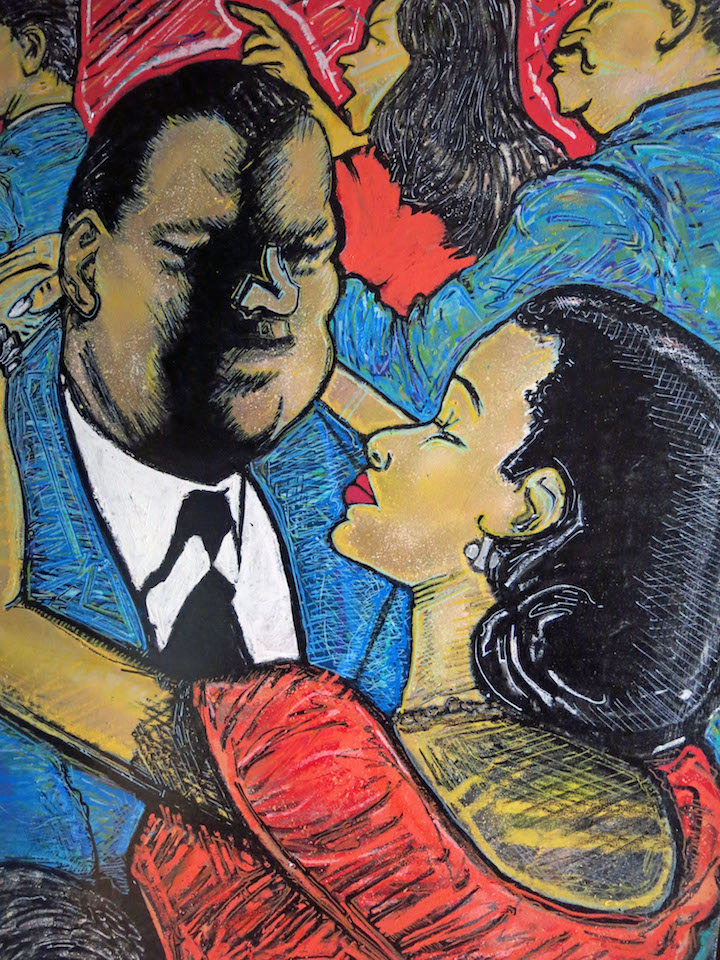 Among the highlights of your solo show at Fuse Gallery were your refashioned images of beautiful Mexican women. That is another theme that resurfaces in your work. Can you tell us something about that? You seem to be quite obsessed with Mexican ladies!
Yes, for years I've been collecting Mexican erotic magazines dated from the early 1950s. This past year, in fact, while visiting Mexico, I discovered in a used book store in Puebla a huge stack of 45 records with covers fashioned from these vintage magazine pictures. I bought them all! And I am now working with them, recreating them with images that transcend that specific era.
Why do you suppose these images so engage you?
I love their pure innocence, their nostalgic beauty! And they represent so much of what we are missing in our era of Internet dating, where romance has lost its essence.  And I've also always loved working with recycled materials. It is my way of preserving the past, as I create a visual encyclopedia of aesthetics and issues that speak to me – and, hopefully, to others.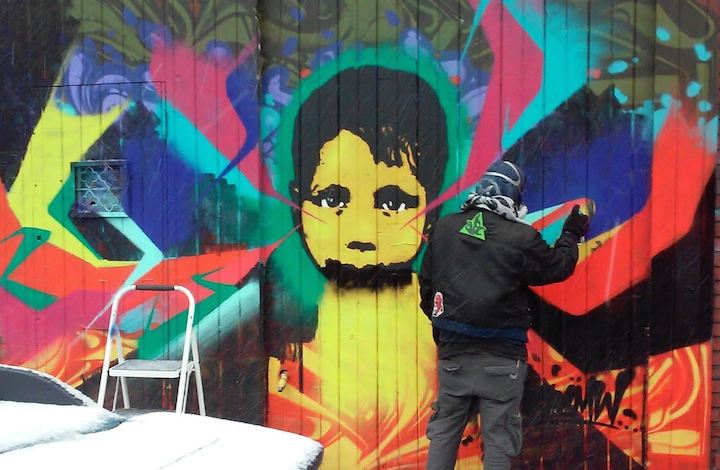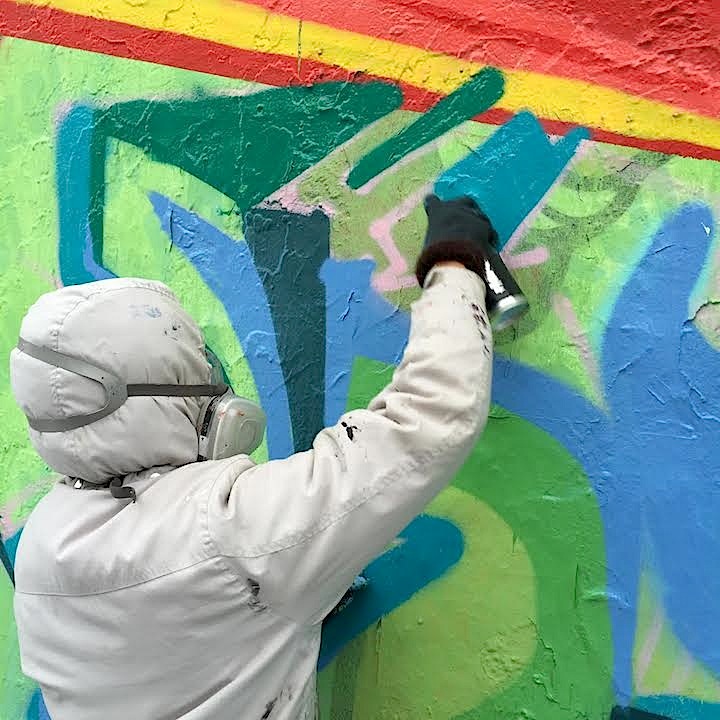 What's ahead?
After Chicago, we plan to travel out West and then return to NYC for APC's first East Coast exhibit.
It all sounds great! We look forward to seeing you guys in NYC.
Note: Animal Tricks opens this Friday, January 30, at 6 pm at Galerie F. Located at 2381 N Milwaukee Ave  in Chicago IL. The gallery is open Tuesday through Sunday, 11 AM to 6 PM.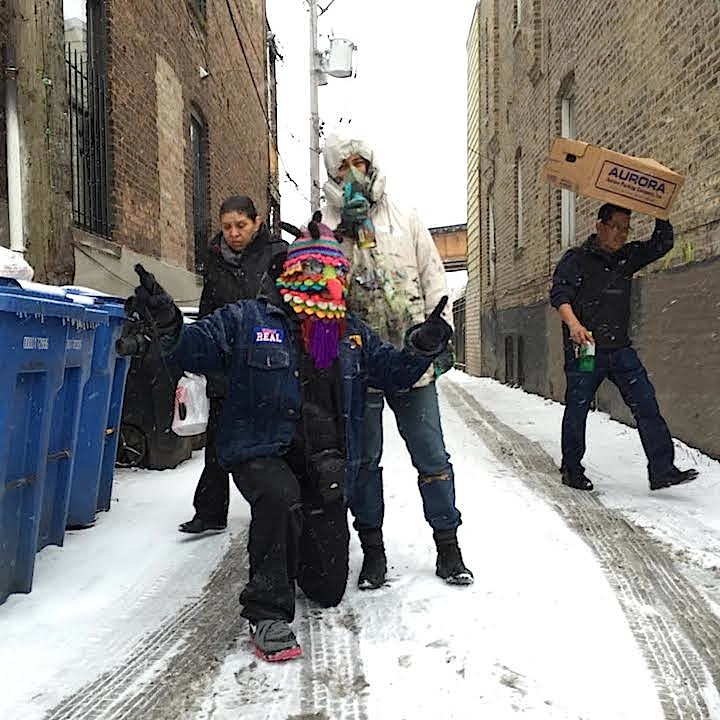 Interview by Lois Stavsky. Photos: 1. AEON paints in Chicago, courtesy Galerie F; 2. flyer for exhibit, collaborative by featured APC artists; 3. APC in NYC with AEON, Zas, Rimx  and Arepa photographed by Tara Murray; 4. AEON on canvas photographed by Lois Stavsky; 5 – 7.  APC in Chicago courtesy Galerie F.