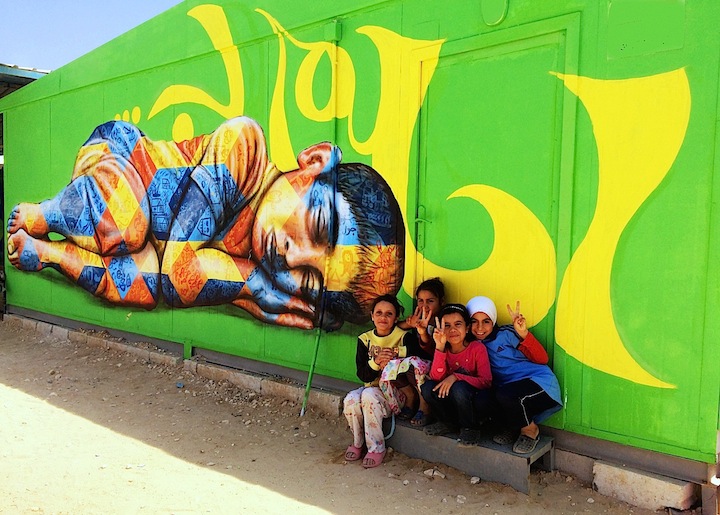 We first met Joel Bergner aka Joel Artista two years ago when he was painting in Bushwick. We fell in love at once with his intensely vibrant images, reflecting a distinct global aesthetic. Since then, Joel — who refers to himself as a "nomadic artist, educator and advocate for social change" — has led community projects across the globe, including in the Za'atari Syrian refugee camp in Jordan. We recently had the chance to speak to him about his experience there.
Since we last saw you in NYC, you've worked with youth throughout the globe, including in a Syrian refugee camp in Jordan. What took you to this particular setting?
I like to work where I can do the most good.  I'm interested in using public art projects to engage young people in marginalized communities in exploring issues that are important to their lives — and in sharing their messages and visions with others. I had partnered with the organizations aptART and ACTED. And when a program funded by UNICEF offered me the opportunity to work with youngsters in the Za'atari refugee camp, I took it.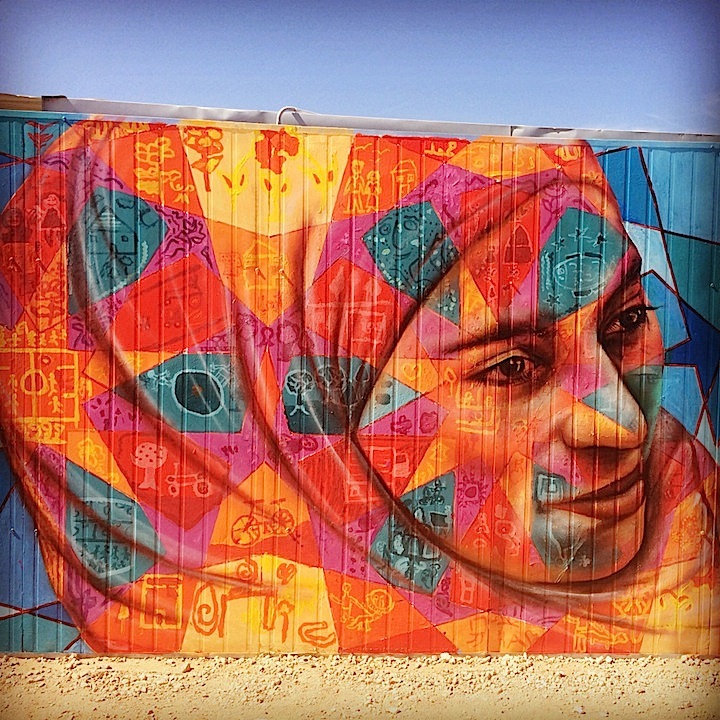 Can you tell us something about the circumstances of the folks in this refugee camp?
The 100,000 Syrians in Za'atari were among the millions escaping the government forces of Assad's regime. When they fled their homes in Syria, they left everything behind. When they arrived in Jordan, the Jordanian government allowed them to take refuge. But it also put many in sprawling camps in remote, harsh deserts where their lives have been on hold ever since. While they are legally prohibited from working or doing business, the informal market is booming. It's inspiring to witness just how resilient the people are.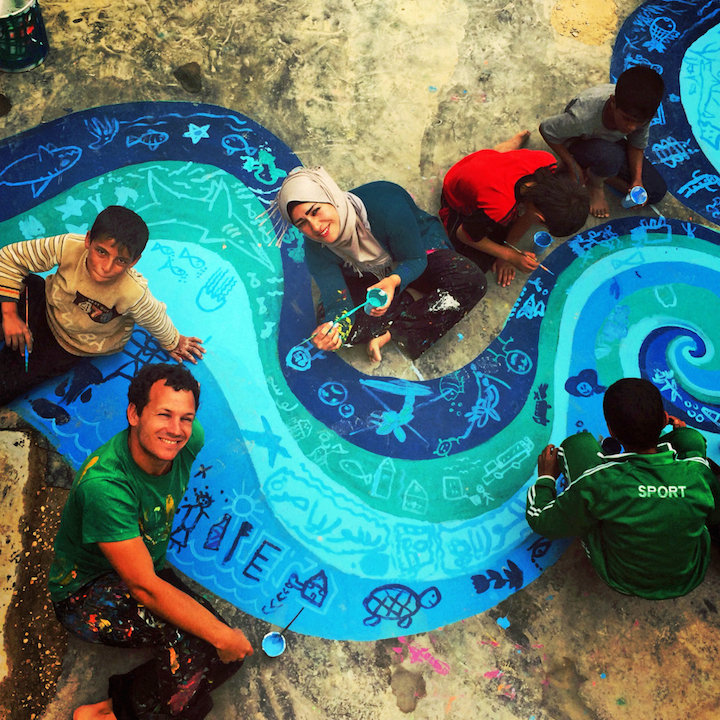 What is daily life like inside the camp? 
It is a tense atmosphere. Many of the folks have been traumatized — both emotionally and physically. Almost all have witnessed or experienced violence and the death of loved ones. One 11-year-old boy, for example, rolled back his long sleeve to show us his severely disfigured arm. He told us that government agents had electrocuted him because his father had been a soldier who had switched allegiances to the Free Syrian Army. In Za'atari, people are kept separate from Jordanian society. People are frustrated due to restrictions on their water, food and movement, and there are protests and violent incidents fairly often.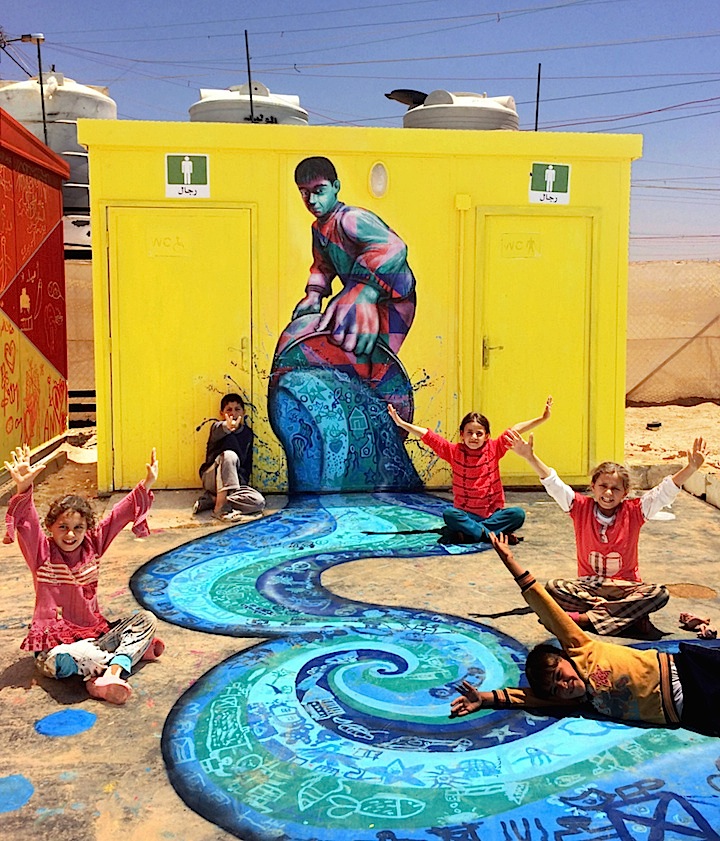 How did the youngsters respond to your workshops?
The kids loved it.  They loved mixing colors, learning artistic techniques, painting and simply creating. They painted public murals, their wheelbarrows and they made kites. They also learned about hygiene, water conservation, and conflict resolution, which are important issues in the camp. My co-workers were Syrian refugee educators and artists who led the workshops with me. The goals of this project are: to give voice to refugee children through the arts; to connect them to positive role models, and to engage them in educational and creative activities so that they can play a role in rebuilding their communities. The art features positive messages and uplifting imagery intended to liven up their environment. Also, the project provides opportunities to local artists and educators, as some of them have been hired for similar projects after this one ended.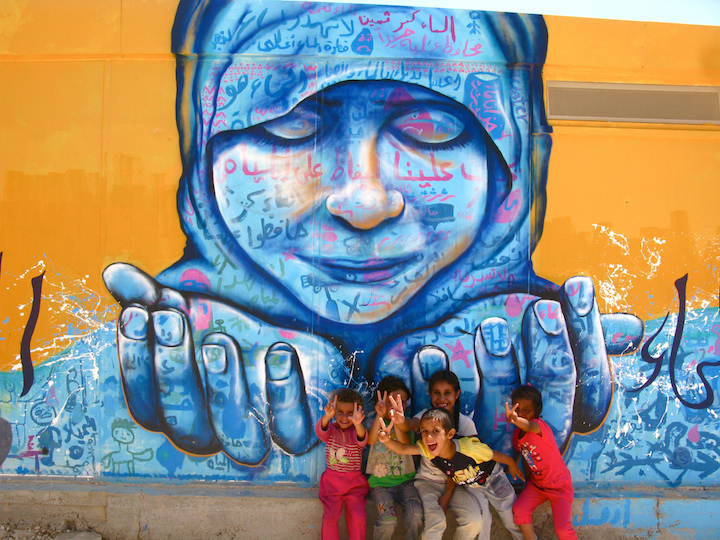 What — would you say — was the greatest challenge facing you?
Maintaining order. The kids, most of whom went to school in Syria, now roam the refugee camp with few rules or structured activities. They are very rough and frequently get into fights.  Yet, at the same time, they are also really sweet and friendly. So while working with them is challenging, it is also very enjoyable!
What were some of the highlights of your residency in Za'atari?
There were many. Among them: forming relationships with the Syrian refugee adult workers; getting to know the kids; learning basic Arabic and bringing color to a place so desperately in need of it.
Interview by Lois Stavsky with Dani Reyes Mozeson
All photos courtesy of Joel.