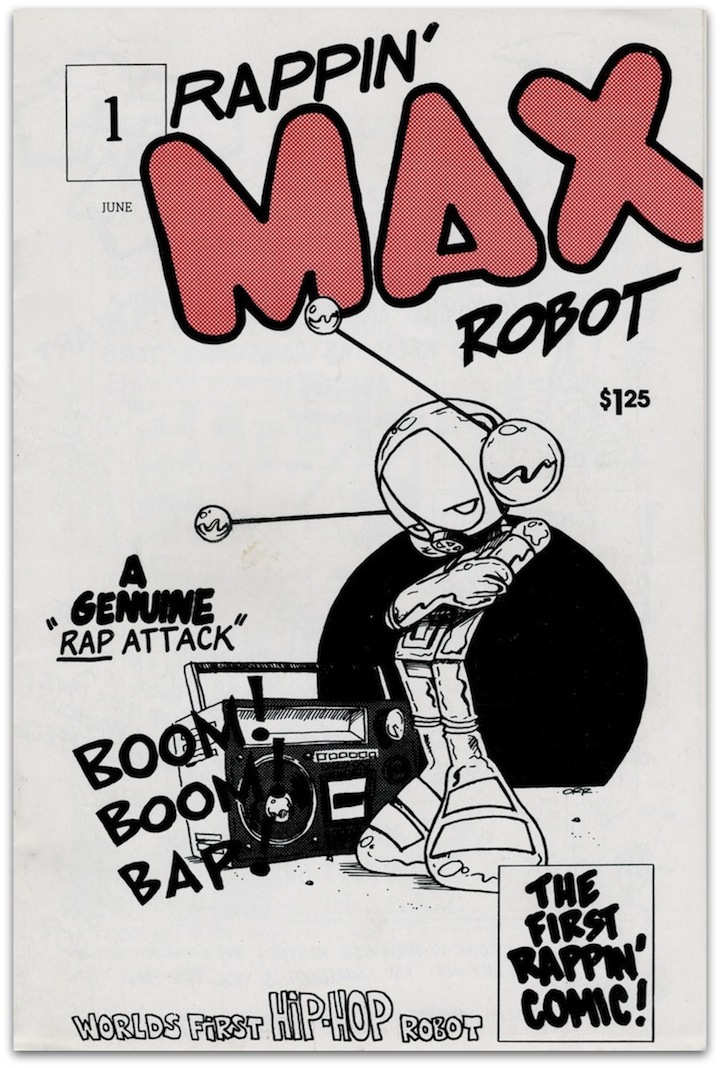 Legendary for his collaborative artwork with Keith Haring on the NYC subways, Bronx-based artist and designer Eric Orr also produced the first-ever hip-hop comic book.  I recently had the opportunity to find out more about this multi-faceted artist who will be participating tomorrow – Friday – evening at the New York Comic Con panel discussion Hip-Hop and Comics: Cultures Combining, presented by Depth of Field.
You were one of the first graff artists to develop a distinct icon. Your "robot head" has since appeared on a wide range of surfaces – from T-shirts to record labels to international fine art exhibits. It has even made its way into Sotheby's and Christie's auction houses and catalogues. Can you tell us something about it?
It was inspired by the space age and the robotics era. I grew up in the age of Star Wars, Space Odyssey and the Robot Dance. And as tagging on walls and traditional graff didn't do that much for me, my robot actually made it to the streets of the South Bronx where I grew up.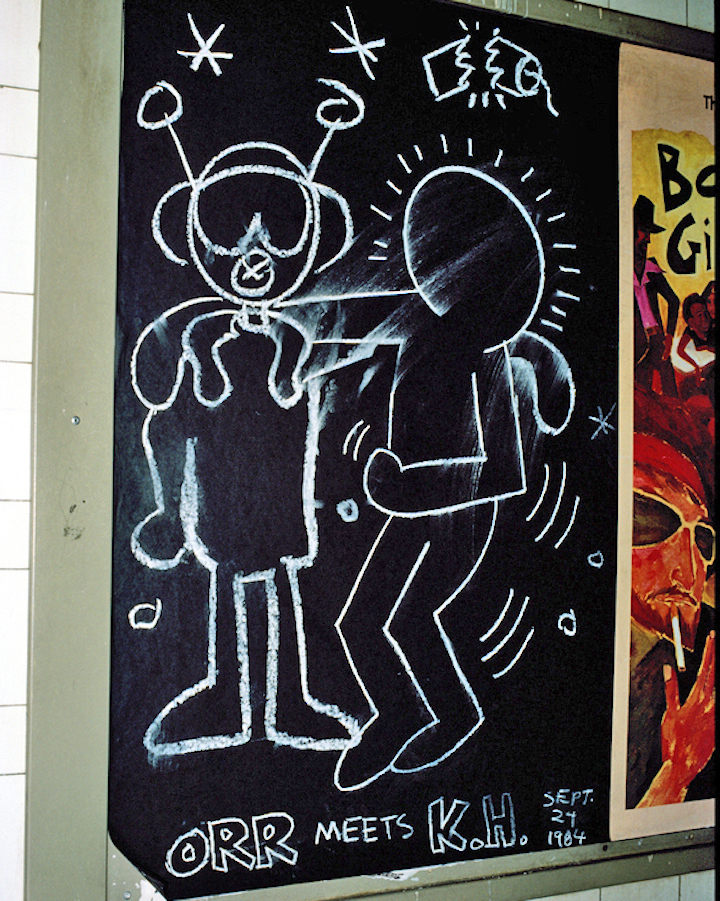 You may well be best-known for your collabs with Keith Haring that surfaced on the 6 Pelham Bay and the 4 and 5 NYC subways lines 30 years ago. You are, in fact, the only artist who ever collaborated with Keith in the subway system. How did you two first meet up?
Keith, it seems, had been eyeing my work for a while.  But we actually met, by chance, one day at a Swatch watch completion. I was wearing my hand-painted robot head shirt when Keith Haring approached me and invited me to collaborate with him on a series of artworks on the black panel spaces of the NYC subway system.
And these became a legendary part of NYC's subway history! You also played a huge role in the hip-hop scene back in the day, producing work for Afrika Bambaataa and such hip-hop artists as Jazzy Jay, along with the brand logo for the Strong City Record label.  Can you tell us something about that? What exactly was the relationship between graffiti and hip-hop?  And was there one?
Yes! The same energy from the streets of the South Bronx that created the graffiti there in the late 70's created hip-hop. Writers would go straight from getting up in the streets to hanging out at park jams and clubs. And it was largely the graffiti artists who designed the flyers for the hip-hop events.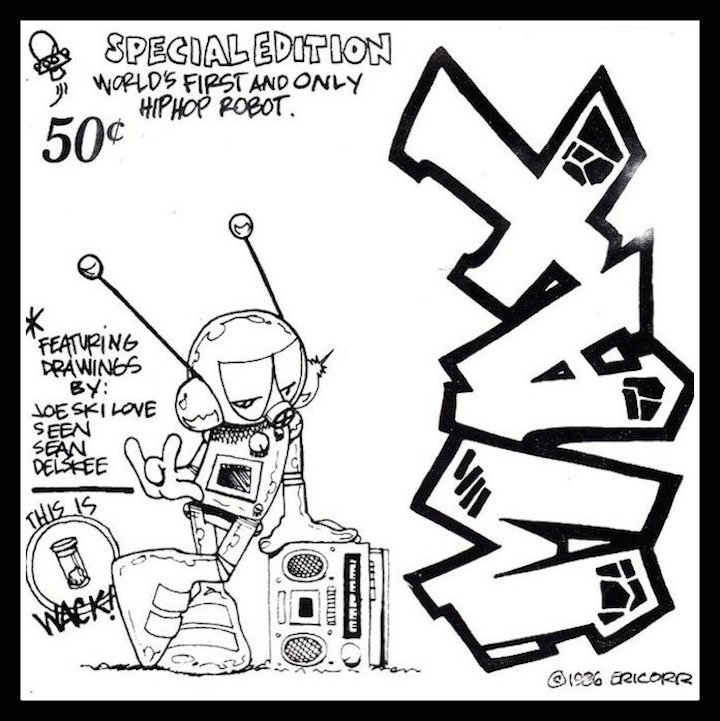 What about the relationship between hip-hop and comics? You produced the first-ever hip-hop comic and will be speaking about the two cultures at the  tomorrow – Friday.
From the beginning graffiti artists, MC's and break-dancers adapted elements from the comic book culture. Just about everything — from our names to our fantastical identities to the flyers we designed — had comic elements in it. But only someone from the inside could have produced an authentic hip-hop comic.  My original "Maxwell Robot" strip ran in Rap Masters magazine.
Do you have a formal art education?
I studied art at the School of Visual Arts and the Art Students League.
Was it worthwhile?
Yes, it inspired me to take my work to a commercial level.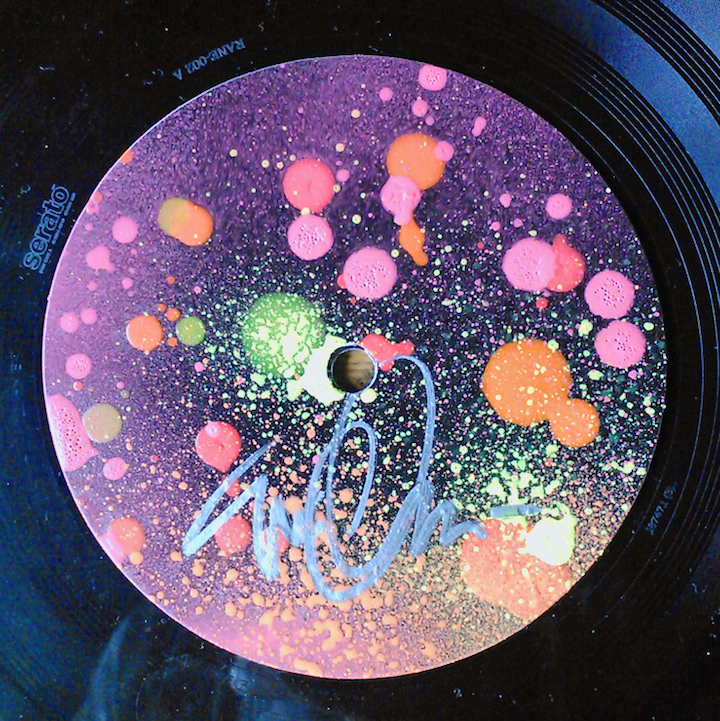 How do you feel about the interplay between graffiti/street art and the commercial world?
I have mixed feelings. It's great for me and others to get paid to do the things we love. But it's also easy for artists to be exploited — if their art is used to market a product and they are not getting paid for their artwork or sharing in the company's profits.
You've done workshops with kids in New Zealand – to which you originally traveled to create a design for Serato — and recently here up in the Bronx. Can you tell us something about that?
Having grown up in the South Bronx, I understand just how important it is for kids to have positive experiences that nurture their creativity in productive ways. My most recent venture was with Sienide, working with youth to design a mural on 172nd Street and Southern Boulevard for the Children's Aid Society's.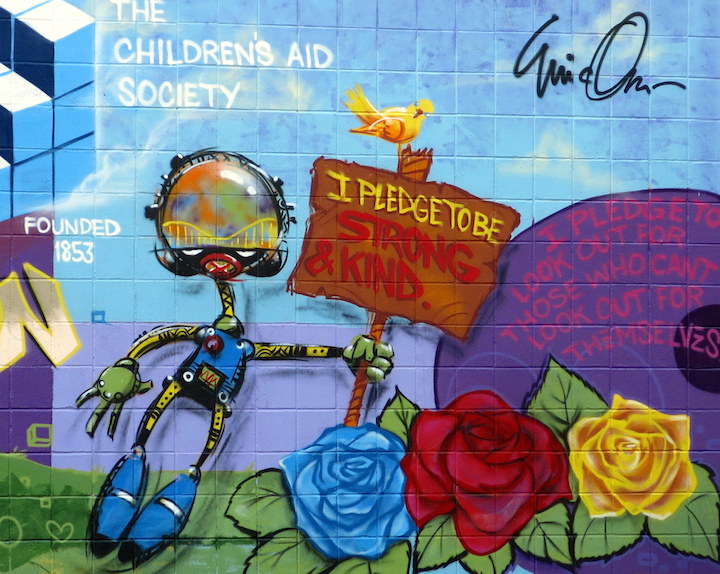 What's ahead?
Cornell University recently approached me about purchasing the original source material for Rappin' Max Robot for its hip-hop collection of rare books and manuscripts. I am currently working on an a piece for an upcoming train show at Grand Central, scheduled to open on November 22. And tomorrow evening, I will be participating in the New York Comic Con panel discussion Hip-Hop and Comics: Cultures Combining.
Congratulations! It all sounds great! 
Interview conducted and edited by Lois Stavsky; all images courtesy of Eric Orr; final photo by Lois Stavsky