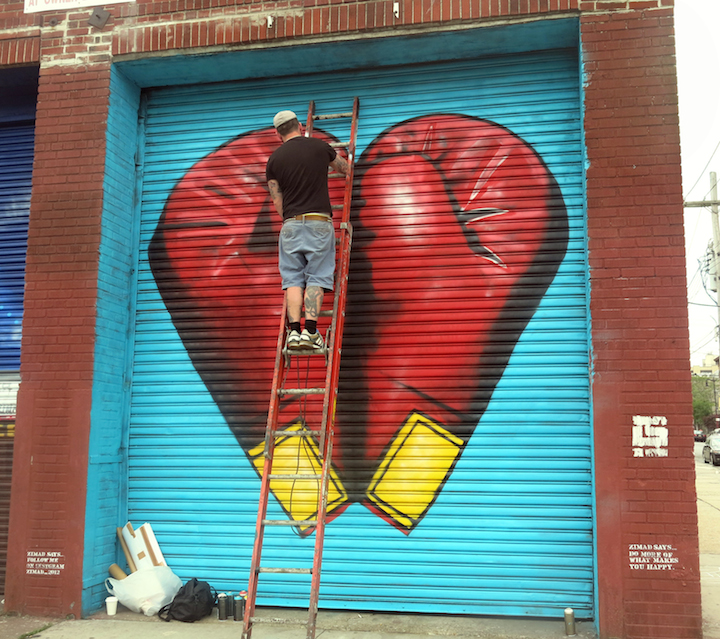 Based in Dublin, Ireland, Solus returned earlier this month to the the Bushwick Collective to participate in its annual block party and to share his aesthetic vision with us.  We also had the opportunity to find out a bit about him:
When and where did you first get up?
About seven years ago I started doing illegal stencils around Dublin.
What inspired you at the time?
I was working at a job that I hated. I thought that's what everyone does! But I knew that I needed to make a change in my life. I was on a very self-destructive path. And so I started creating stencil art and never stopped. Street art saved my life!
Were you influenced or inspired by any particular artists?
Maser was, probably, my biggest inspiration, along with Will St Leger. They were very prolific around Dublin at the time.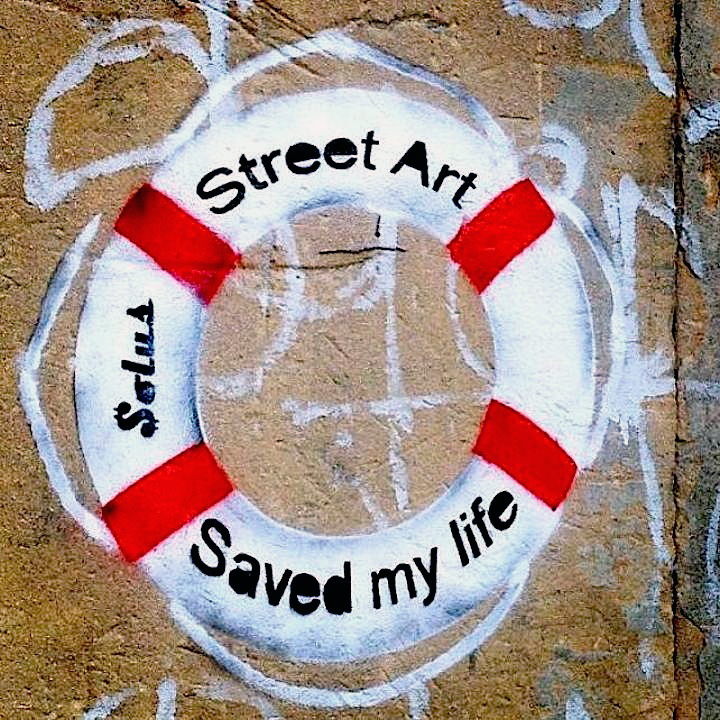 Have you any preferred surfaces or spots?
Obviously flat surfaces are better in high-traffic spots.
How do you feel about the graffiti/street art divide?
I don't think about it. It's not relevant. I just do what I love.  But I've always been a huge fan of the TDA Klann, Ireland's premier graffiti crew.
Your work has been exhibited in galleries world-wide and your new solo show is about to open in Montreal. Any thoughts about the movement of street art into galleries?
I think it is a good thing that it is being recognized as art and that people want to purchase it. I generally feel a little out of place at gallery shows because most of the time my clothes are covered in paint. I prefer being at the studio or tackling a wall.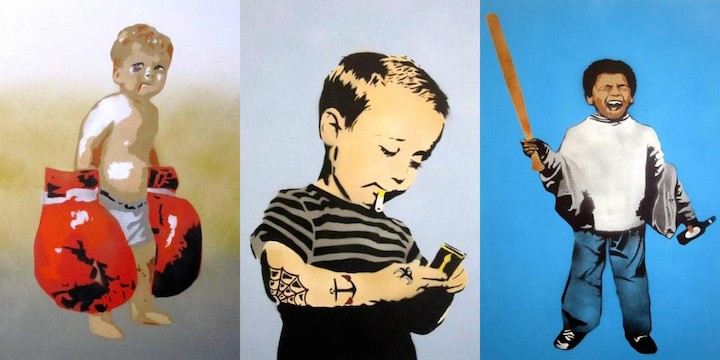 Have you any other source of income these days?
I earn money from prints, canvases and commissions. I put all the money I make back into my artwork.
How do you feel about the increasing linkage between the street art world and the corporate world?
Only time will tell. It has become so mainstream that it may become oversaturated.
Why do you suppose graffiti is held in higher esteem in Europe than it is here in the States?
Probably because here in the U.S., it is associated with vandalism.
What inspires you these days?
The concept of a boy in a man's world, punching above his weight and being victorious against all odds.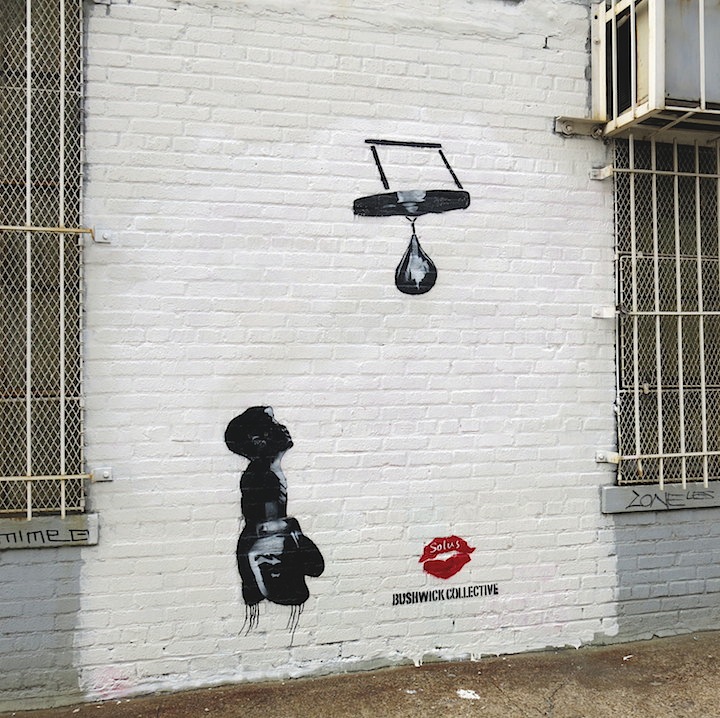 Are there any particular cultures that have influenced your aesthetics?
After visiting Korea, I did a series of works influenced by what I'd seen and experienced there.
Do you work with a sketch in hand or do you just let it flow?
I work with a sketch or a photo.
Are you generally satisfied with your work?
Increasingly so. But when I look back at what I did even one year ago, I feel I could have done better.
What percentage of your time is devoted to art?
100% of my time; it's a 24/7 gig!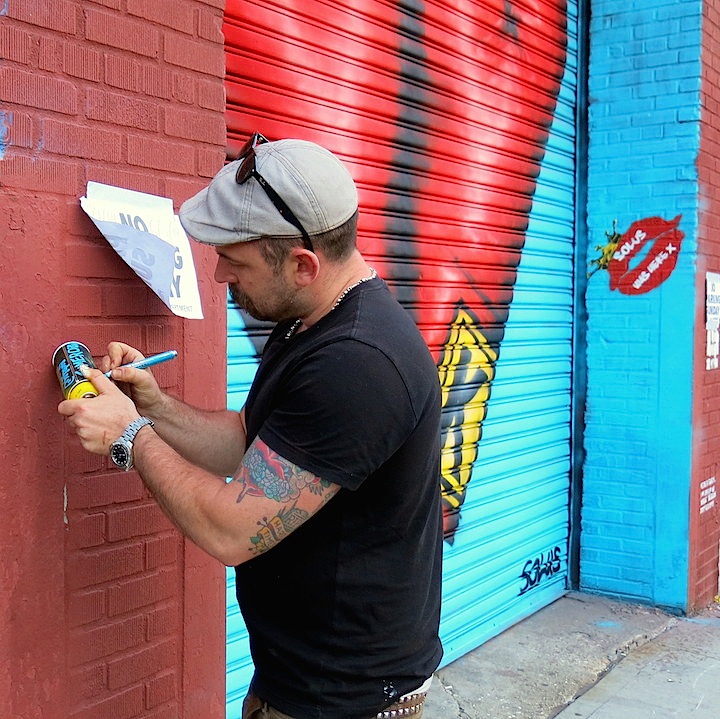 Any other interests?
Traveling. I'd love to paint everywhere!
Have you any favorite cities?
New York. There's something in the air here. And it's very competitive. I'd love to live here!
What do you see as the role of the artist in society?
It's the most important role one can have! Art makes people feel good, and it makes people think!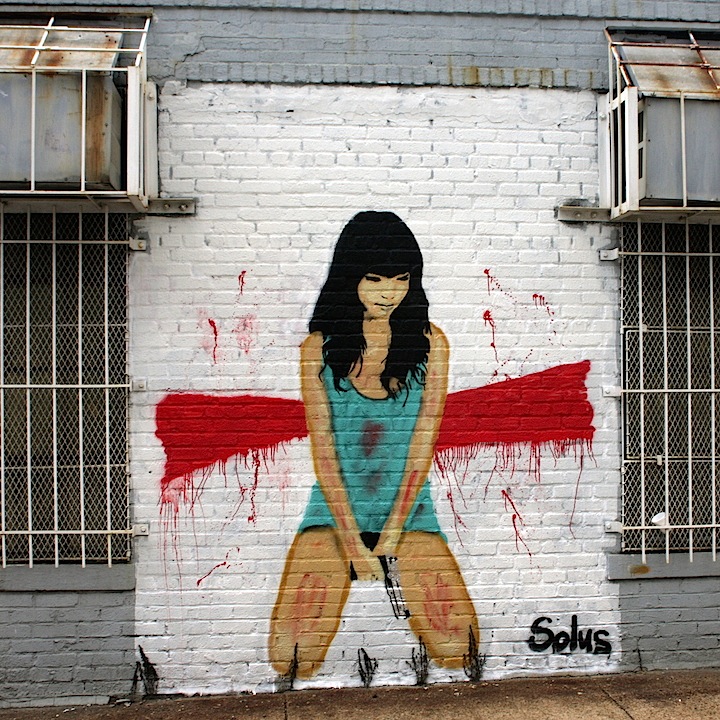 Note: Solus's solo exhibit UNDERDOG opens this Thursday, June 19, at the Clark Street Mercantile in Montreal, Canada.
Photo credits: 1, 4 & 6. Lois Stavsky; 2 & 3. Courtesy of the artist; 5. Dani Reyes Mozeson