The following guest post is by Yoav Litvin, a writer, photographer and author of the recently released Outdoor Gallery – New York City book on contemporary NYC graffiti/street art.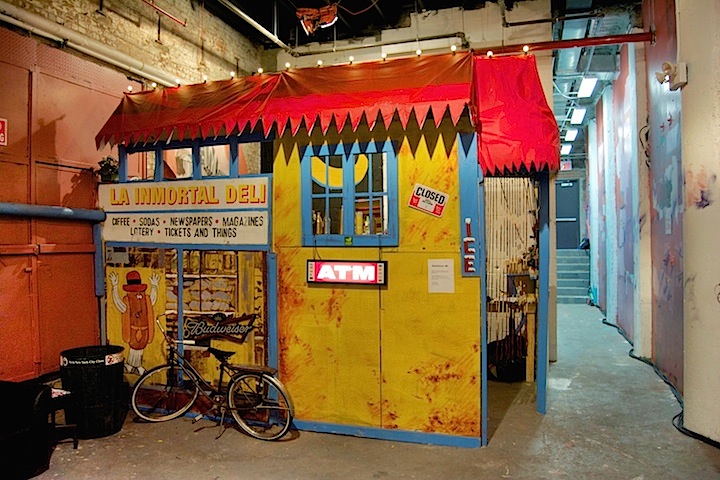 Ñewmerica is a collective of artists, which includes LNY, Icy and Sot, Mata Ruda, NDA and Sonni. Each well-known to street art enthusiasts in New York City and worldwide, they joined forces in "The Birth of a Nation," currently on display at Exit Room in Bushwick. After a fantastic opening chocked full of performances, raffles and other fun surprises, I returned to Exit Room to re-examine the art.  The first piece one encounters is an installation piece constructed by the group —  "La Inmortal Deli," a bodega stocked with hand-embellished bottles and cigarette boxes. Outside the bodega are pieces by each of the artists in the main hall of Exit Room.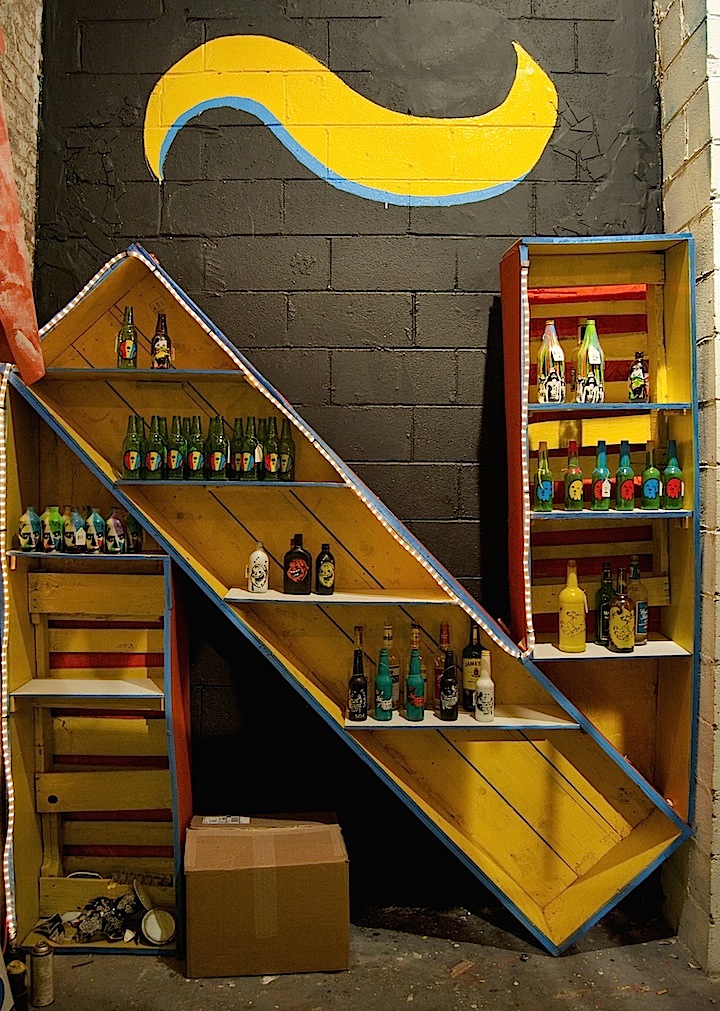 It is very refreshing, Ñewmerica, to see a group of talented artists — each in their own right — form a collective. What are you trying to achieve with Ñewmerica?
Ñewmerica is a friendship and a platform for independence. When artists start out, they are free to create a body of work as they see fit, but then as the gallery system takes over, the work gets dissected and profiled to fit curatorial restraints or group show themes that tell their own stories. This can take away from an artist's ability to present and represent his or her work. Ñewmerica is a collective push to take that complete artistic expression back by making the work we want to see exactly the way we want to see it. Ñewmerica is freedom.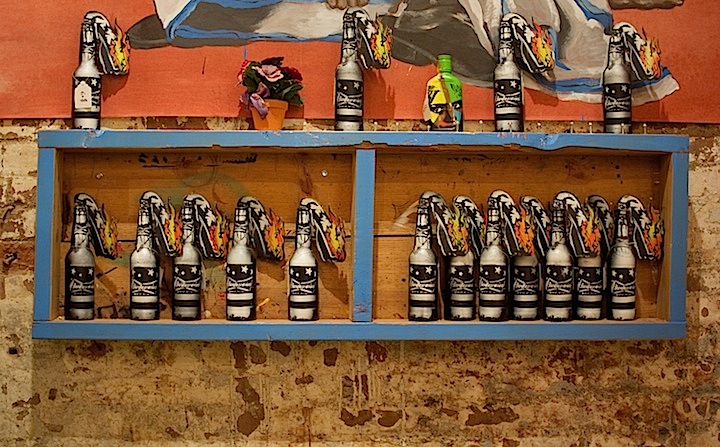 Is there a collective experience for foreign artists trying to make it in NYC? Can you tell us something about the name, Ñewmerica?
None of us are native to NYC – our shared playground. NYC is the perfect stage for anybody to talk about anything resembling national identity, immigrant identity, or issues of gentrification and generational perspectives. Our individual work speaks about these issues already, and it gets amplified when we work together. At the same time this is just our reality. Even if we don't make identity an issue we see it coming up in every day life. Analyzing identity is a way of discussing the reality of New York.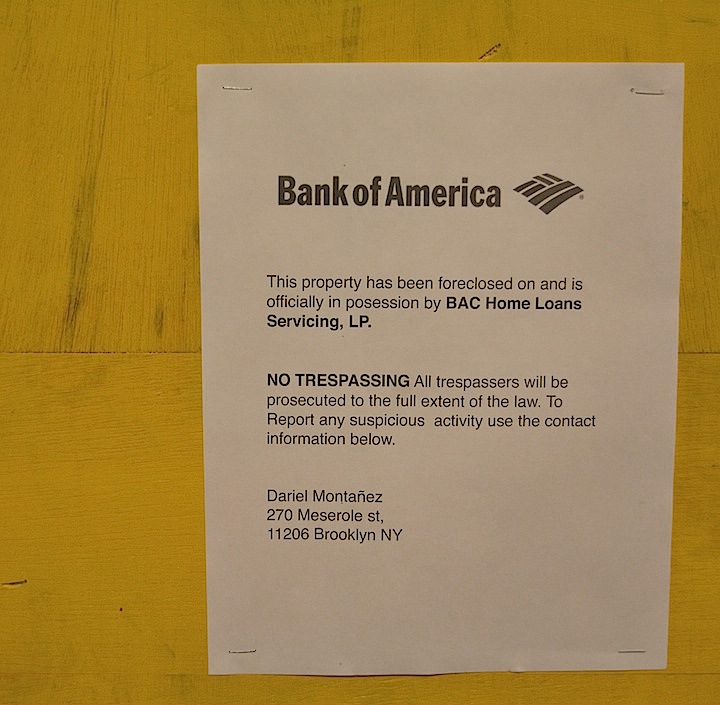 What's wrong with America and what are you trying to change?
We are not necessarily trying to change anything, but just better ourselves through collaboration, sharing, and friendship. That's the only way we can create a better commons and consequently better communities, neighborhoods, cities and nations. Know thyself before you wreck thyself and thy town.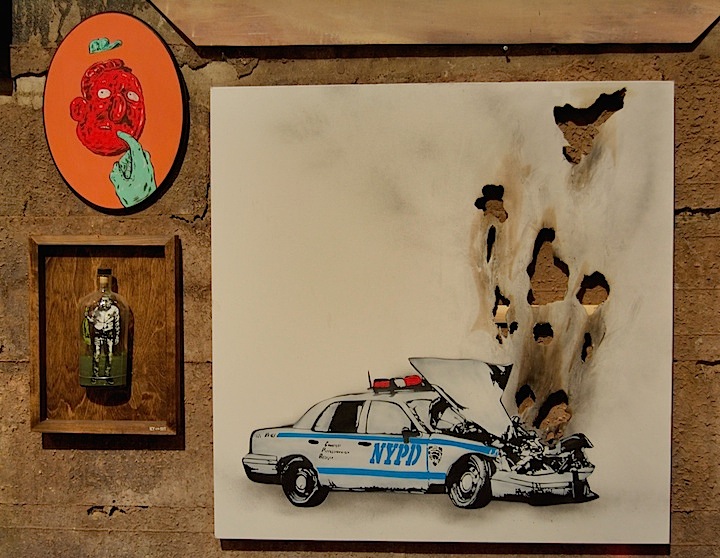 The bodega – why did you choose a bodega as the collaborative point for the collective, and not some other nexus? Why did you choose to make art on alcohol bottles and cigarettes boxes?
The bodega is a contested battleground. Much like the subway, it unifies a city because all social strata melt into it. Commerce and necessity make the bodega a contemporary secular place of worship where we all get our alcohol, coffee, cigarettes and purchase dreams on lottery tickets. It is this quintessential NYC icon — that has played an important role forming our culture — that is slowly getting lost. The bodega icon has been the focus of a lot of scrutiny, a specific example for this is the Street Market installation by Barry McGee, Todd James and Stephen Powers at Deitch Projects back in 2000 — something we all looked at and talked about at the beginning of this production and in a way are paraphrasing as part of this longer dialogue in time.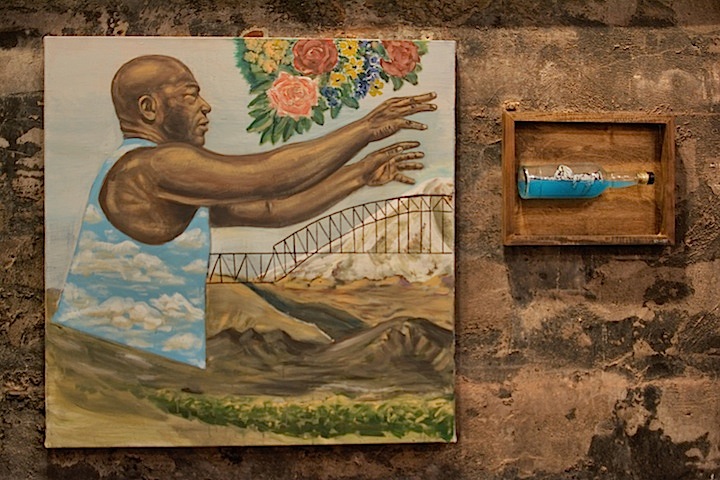 Is there significance to the name, "La Inmortal Deli?"
"La Inmortal Deli" is our nod to this history and our wish for this type of questioning to continue while simultaneously dealing with contemporary issues. Contrary to its name, "La Inmortal Deli" has an expiration date; it has been foreclosed and will soon be replaced by a Bank of America. So where will our culture go? What will replace the bodega in this new city we are building? What can we do about it?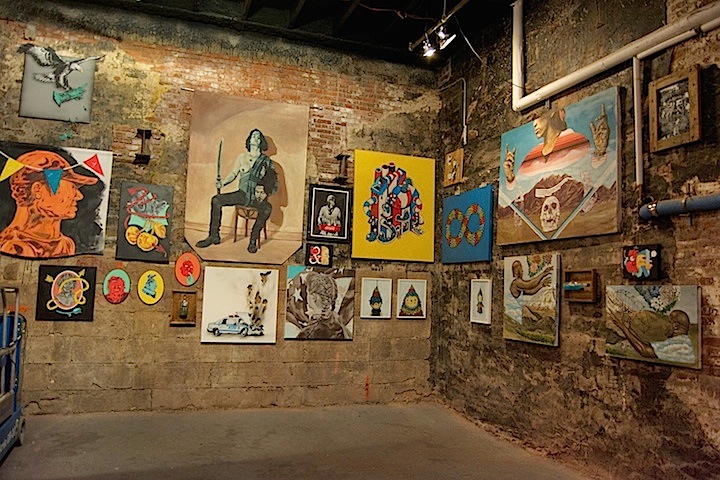 Please tell us some of Ñewmerica's plans for the future.
Ñewmerica has lots of fun and secret events planned for the future months – check back with us to find out @nwmrca and on our Facebook page.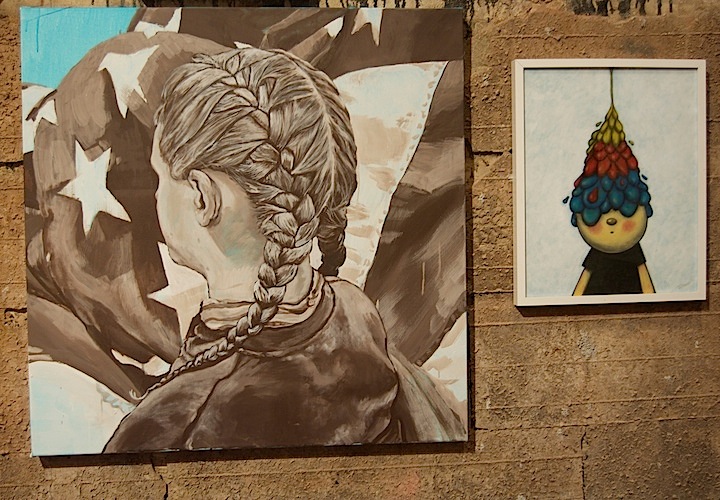 ____________________________________
 "The Ñewmerican Dream is our biggest success to date," commented Exit Room founder Dariel MTZ and co-founder Daniela Croci aka Zoe. "This group of artists represents the perfect balance between a grittier street art style and fine art, highlighting diversity in style, ethnic influences and a critical, yet progressive, new vision for American society."
"The Birth of a Nation" continues through April 19 at 270 Meserole Street.  Gallery hours are Wednesday – Sunday: 5 – 8pm
All photos by Yoav Litvin; photos 1-4. Bodega installation; 5. NDA and Icy & Sot; 6. Mata Ruda and Icy & Sot; 7. Ñewmerica — all members, and 8. LNY and Sonni