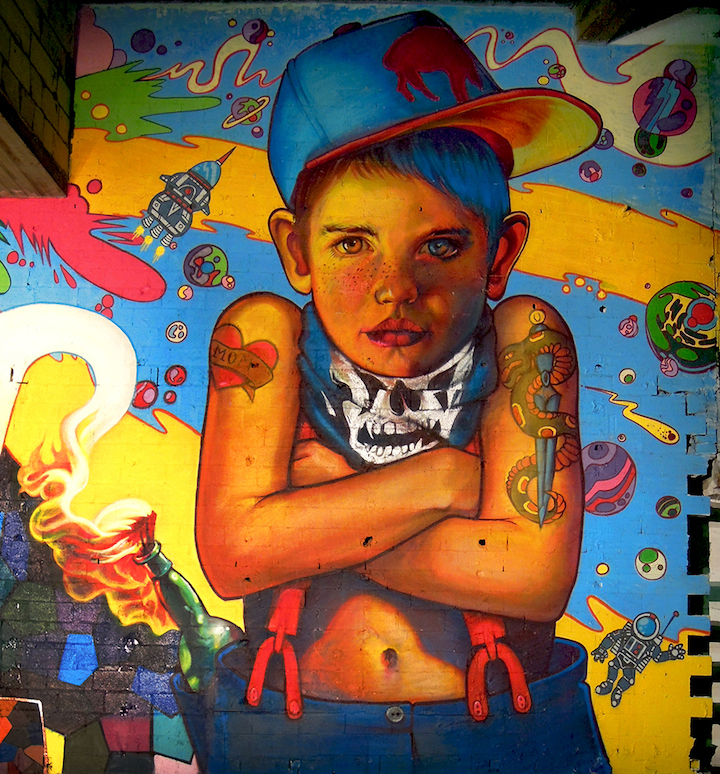 We discovered the wonderfully talented Natalia Rak a number of months back at NYC Art Battles at 5 Bryant Park, where she was painting alongside Chor Boogie, Max Bode and Don Rimx. We instantly fell in love with her vibrant, realistic aesthetic.
When and where did you first get up in a public space?
The first time was four years ago in the small city of Turek, Poland. I only had a few cans of paint, and the walls were small. Some artists start with letters, and some begin with characters. I started with female faces. I just painted one-sided faces. I struggled with the lines!
What inspired you to start painting on walls?
My boyfriend, Bezt, inspired me. I was watching him while he was working with his Etam group in an abandoned place, and he persuaded me to try. It was a frustrating lesson in humility!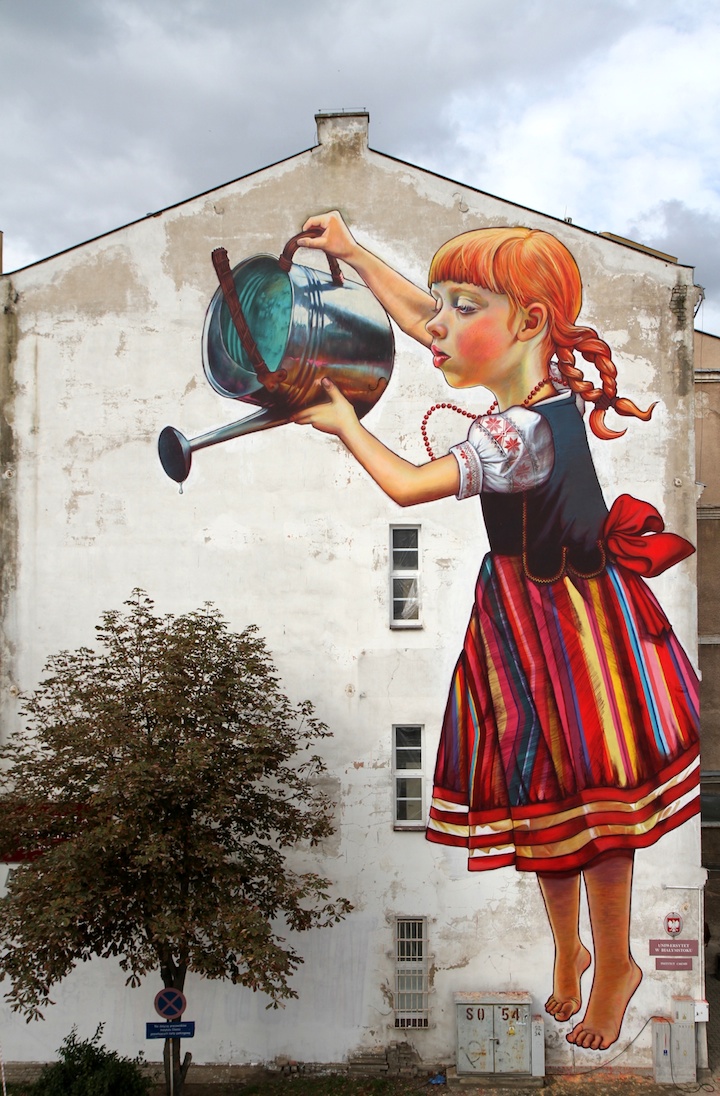 How does your family feel about what you are doing?
My parents do worry when I paint way up high, but they are supportive. They display all my canvases on their walls, even when they don't understand them. They are proud of my successes, but they are also concerned about my living "the life of an artist." Their image of the artist is of this struggling person who spends all his money on art supplies, and then when he's not painting, drinks or uses drugs. And they have a point! There is little money for art in Poland.
Have you any thoughts about the street art / graffiti divide?
Coming from a small town in Poland, I didn't grow up with graffiti. And I didn't think much of it. But now that I'm painting on walls, I've come to appreciate it. It's quite different, though, from street art.  Street artists get invited to paint legal murals, while graffiti artists generally work independently. And with graffiti, quantity is as important – if not more so – than quality. Street art is more acceptable.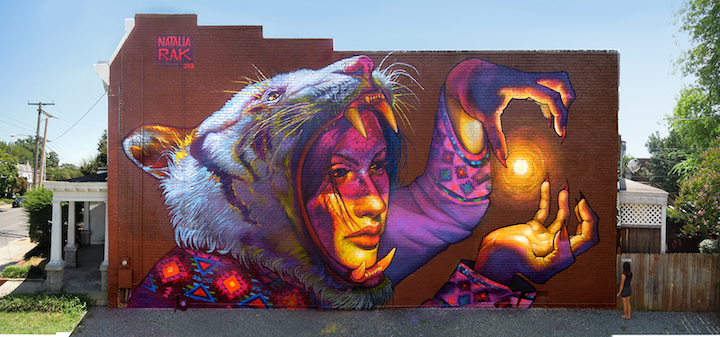 How do you feel about the movement of graffiti and street art into galleries?
It's great. Street art is on the streets, of course, but the artists can also bring their styles and energy to canvases and other media to make their artwork available to people who would love to own it. Galleries are also a way for artists to gain recognition. In Poland there's hardly any art market. It's difficult to sell anything here. I've had more success selling art outside of my country.
Do you prefer working alone or with others?
I prefer working alone with music. Painting collaboratively seems difficult to me, but I want to have that experience.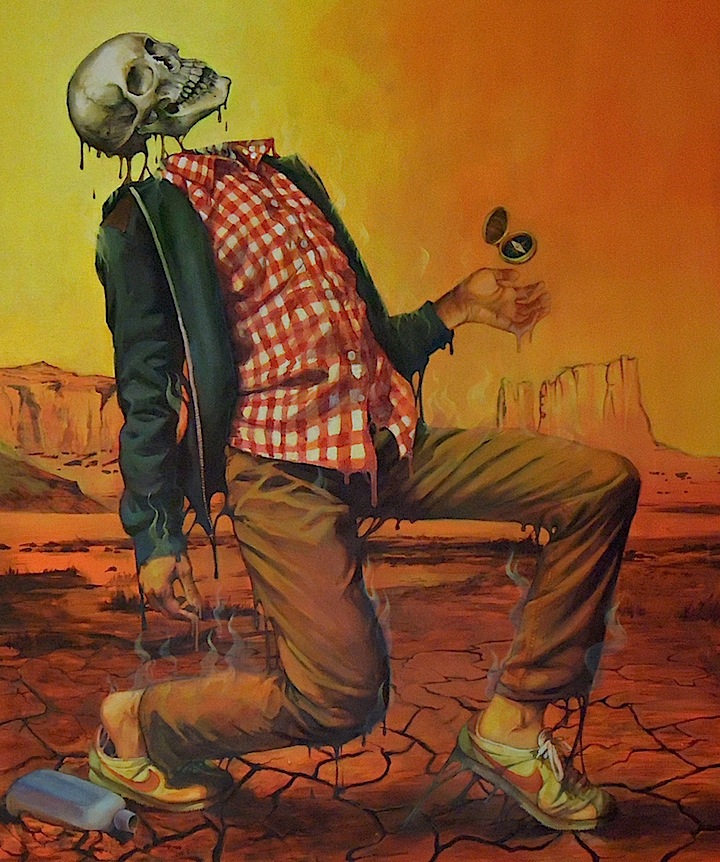 How do you feel about the role of the Internet in all of this?
The Internet invites me to see other cultures. I particularly like Asian cultures. I also enjoy seeing the impact my art has on others – people I don't even know. I recently saw a photo of a man in Mexico with one of my images tattooed onto his arm. That made me feel so good! Fans push me to create. It's good to hear opinions about my art too. I have, or try to have, conversations with other artists online.
Are there any particular cultures that influence your aesthetics?
Not a culture but period of art. When I paint, I think of the Secesja, or the Secession period, in Barcelona. The buildings look like plants or nature. When I first started studying the history of art, I was inspired by Jacek Malczewski. Later when I became familiar with Fauvism, I became interested in the combination of colors. Recently, I've become interested in Norman Rockwell's paintings, the way he showed emotion in different situational scenes.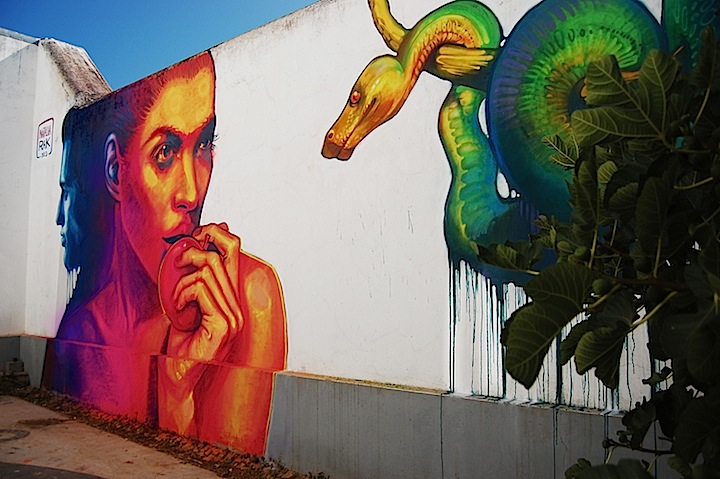 Do you have a formal arts education?
Yes, I have a degree in Fine Arts from the University of Lodz. I also studied illustration, comic art, package design and silk screening.
Have you any other any other passions or interests?
Playing computer games. I like playing Battlefield 3. I plan to get Battlefield 4 and League of Legends. My black guitar is still waiting for me in my room. I also like cooking in my free time for friends and trying new dishes.
Do you work with a sketch in your hand?
I work with photos using Photoshop. I enjoy realistic works. I have many ideas in my head. And computers make it easier for me to change colors and composition. Normally, I don't have a sketch.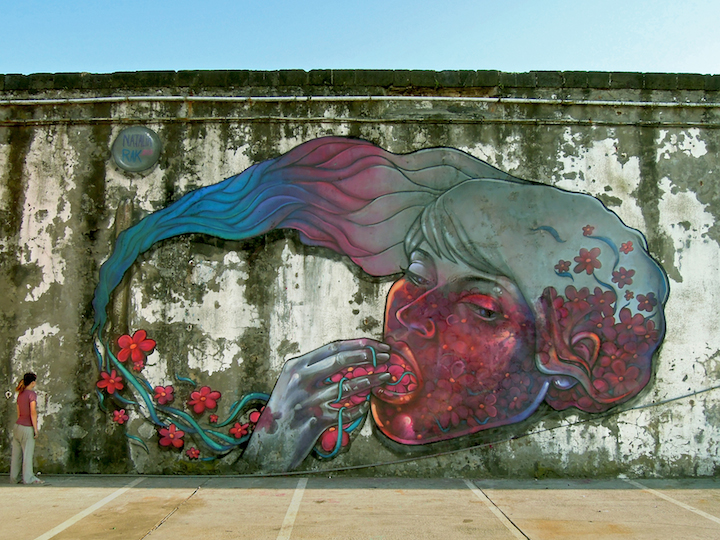 Are you generally satisfied with your work?
Hard to say.  When I look at a finished piece, I often find some detail that — I feel — can be changed. But I might be out of energy or already thinking about my next wall. And I always think about how I can do better! I can say, though, that I'm more satisfied now than I was a few years ago. I can see my progress.
How do you feel about the role of the photographer in all this?
I really like it when a photographer focuses on the work. I don't like having my face shown in photographs. And I think it's great that the images are out there and that so many young people are getting into this modern art movement.
What's ahead?
I've been very busy these past few months working on my first solo exhibit, Through the Looking Glass. I'm excited and nervous at the same time. It opens Friday, April 11, at Pretty Portal in Dusseldorf, Germany. I finished six new canvases and I've prepared three prints. I hope everyone can find something that they like. I am also planning to paint three walls in the months ahead – but we shall see!

Good luck! It sounds great and we hope you make it back to New York City soon.
Interview conducted by Lenny Collado and edited by Lois Stavsky; all images courtesy of the artist.