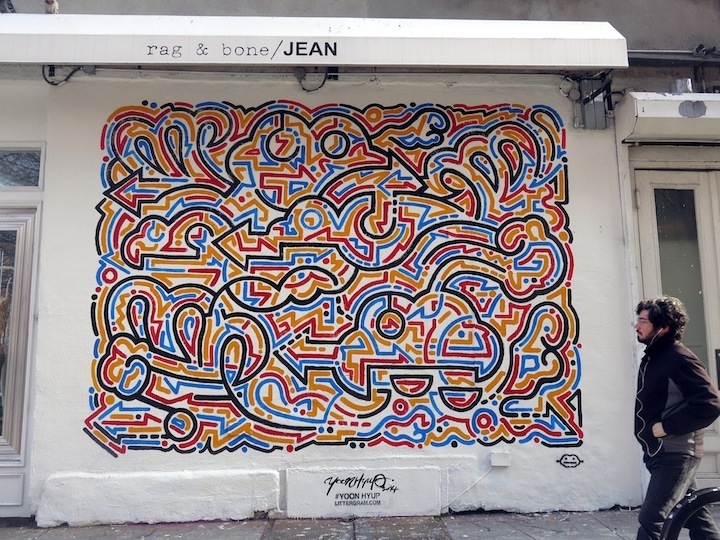 With influences ranging from traditional Korean art to the skateboard culture he embraced at an early age, Yoon Hyup has developed a distinct aesthetic that has recently made its way into downtown Manhattan. We came upon him at work earlier this month outside rag & bone on Elizabeth Street off Houston, where he was painting a mural on a particularly frigid day! I recently had the opportunity to speak to him.
You've painted on a range of surfaces and in a variety of places. You've exhibited your work in galleries, and you continue to paint on the streets. What initially drew you to the streets? When did it all begin?
I began skateboarding when I was nine years old. That was my introduction to the culture. And then in the mid 90's, I discovered hip-hop and graffiti magazines at a nearby US Army base.
What was the graffiti/street art culture in Korea like at the time?
It was quite unsophisticated. The spray cans were very basic, and there were few colors available.  Canvases consisted of tunnels or alleys that the writers claimed as their spots.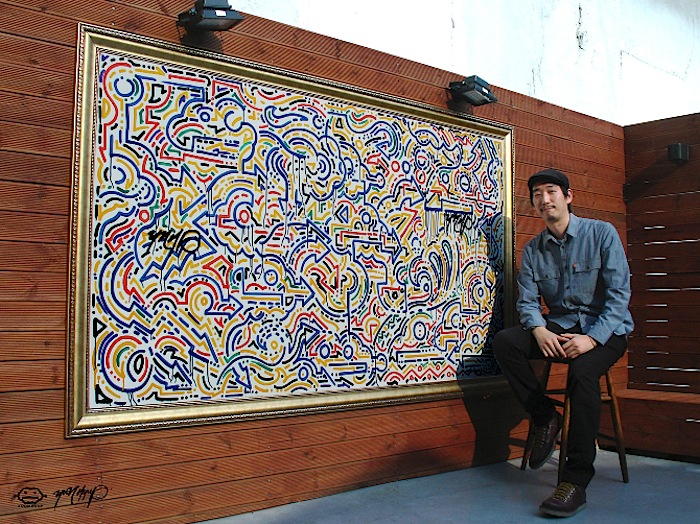 What inspired you to share your talents on the streets?
I was inspired by photos I saw of the artworks that Basquiat and Futura and other artists at the Fun Gallery had painted on the streets of downtown Manhattan back in the day. And then while attending the Art Institute in my late teens, I learned everything — from where to buy spray paint to how to master particular techniques — from 'Bluce 666'.
You went on to study Graphic Design at Hanseo University. Did your formal art education help you develop as an artist?
When I was a sophomore, I decided to take a break from the university and check out the "real world." During that time, I did a lot of exhibitions, and I began collaborations with businesses like Nike and MTV. There was so much I had to figure out on my own and solve myself. I would say that a formal education helps, but experience in the "real world" is crucial to an artist's success.
Tell us a bit about your recent mural outside rag & bone in Nolita. How did that happen? It is one of our favorite spots in town! And your mural looks splendid here!
I had submitted my portfolio to rag & bone, and soon afterwards, I was invited to paint. I think I was lucky to be selected.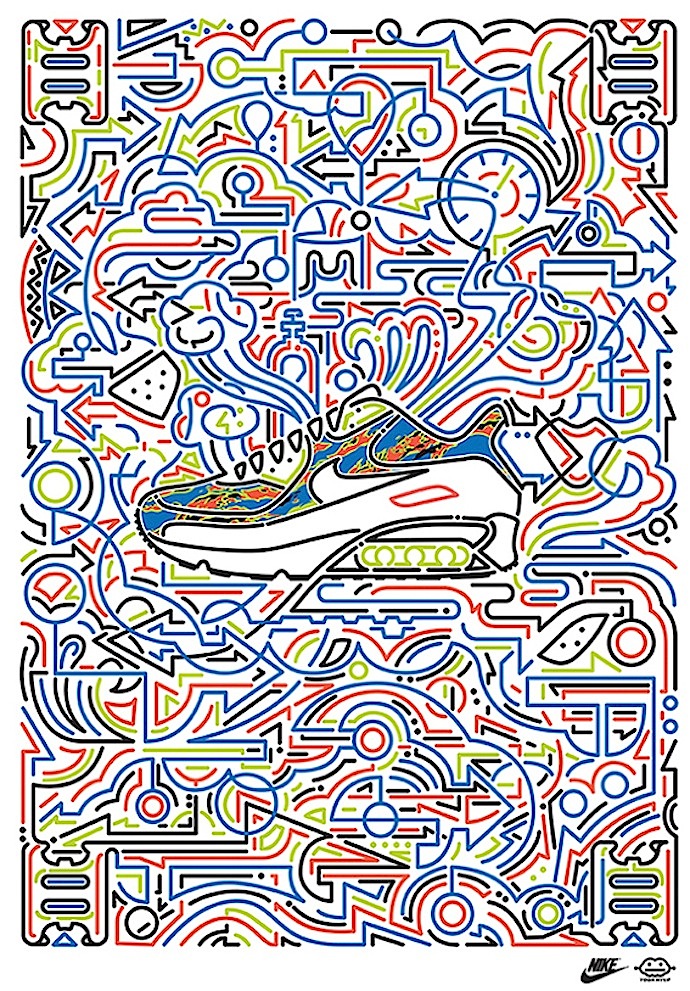 Your style is quite distinct. Could you tell us something about it?
Many traditional Korean forms, such as vine clouds and wind clouds, surface in my paintings. I often paint with the five colors associated with my native country – red, blue, yellow, black and white. It is my homage to my heritage. It is how I honor my roots.
You've shown your work in gallery settings, as well as in public spaces. How do you feel about the movement of street art into galleries?
It's fine so long as the artists continue to create artwork on public spaces.
And what about the corporate world? You've collaborated with such corporations as Nike and Tommy Hilfiger. How do you feel about that?
I don't have a problem with it, so long as I can be true to my own vision.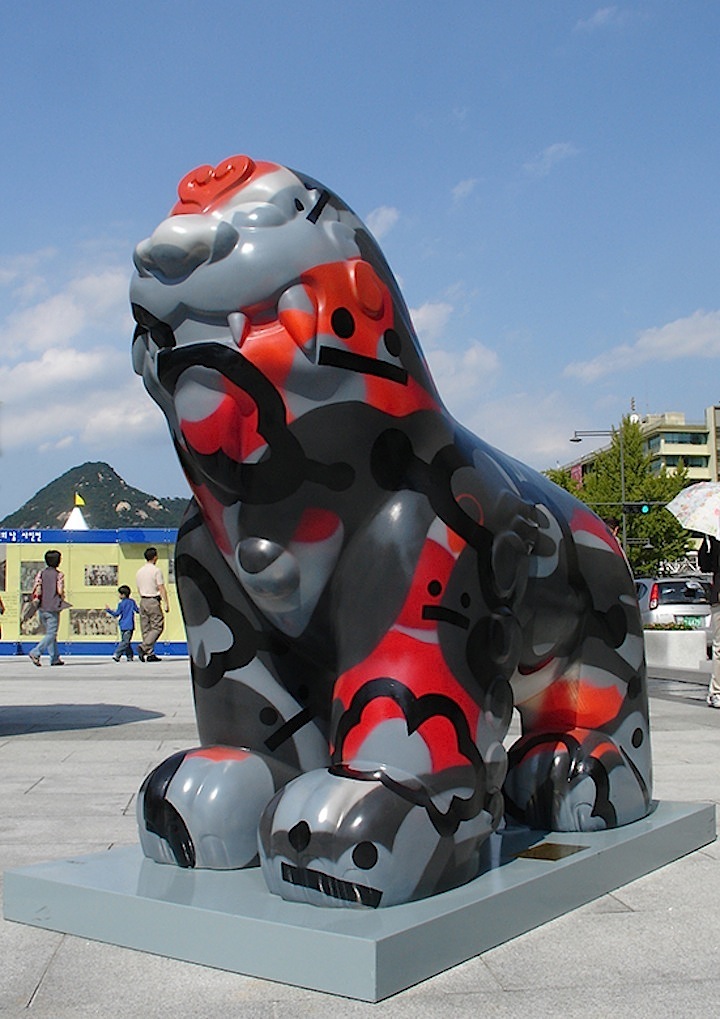 Is there anyone – in particular – with whom you would like to collaborate?
I would have loved to paint with Kandinsky. I'm particularly fond of him.
I can see that!  Your work is a bit of a fusion between street art and fine art.  How has your art evolved in the past few years?
I feel that I paint more naturally.  My style is becoming looser and freer. My cloud forms have become more abstract.
Do you work with a sketch-in-hand? Or do you just let it flow?
I work with a general layout. But my handstyle flows freely.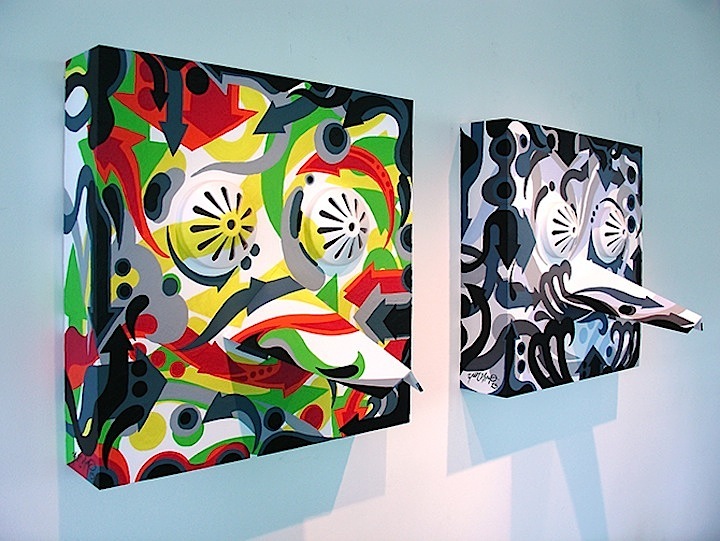 Are you generally satisfied with your finished pieces?
Not really! I'm always challenging myself.
Have you any other passions or interests?
I love skateboarding. I've been doing it since I was nine.  And I love music. My mother, who was president of a music institute, has taught me to appreciate all kinds of music. Both skateboarding and music, along with art, are essential in my life.
What's ahead?
I've been developing a new body of work and will soon be collaborating with a talented Korean toy maker.
Interview conducted and edited by Lois Stavsky; first photo by Lois Stavsky; all others courtesy of the artist. 1. new mural outside rag & bone; 2. Unlimited Path, Krink on wood, 2013; 3. Nike Air Max 90 Premium Tape – Multi Color Camo, 2013; 4. For "Haechi Parade, spray paint on sculpture, 2009; 5. Rhythm and Flow (Primary's Masks), Acrylic, ABS Resin, 2013