A masterful muralist and inspiring thinker, Argentinian artist Nicolás Romero aka Ever has graced countless cities throughout the globe with his wondrous vision. Earlier this summer, he stopped off in NYC, where he painted on a rooftop in Williamsburg, Brooklyn. That's where I caught up with him.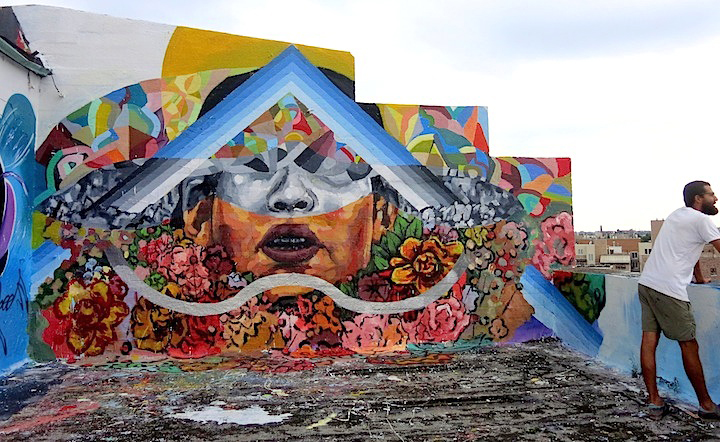 When did you first start getting up?
I was 16 and into hip-hop. The first time I got up was with two friends in our school's bathroom. We thought we were so cool. Then whenever I took my dog for a walk, I did throw-ups around my neighborhood.
So your neighborhood was your main canvas back then?
Mostly for bombing, but it made me nervous.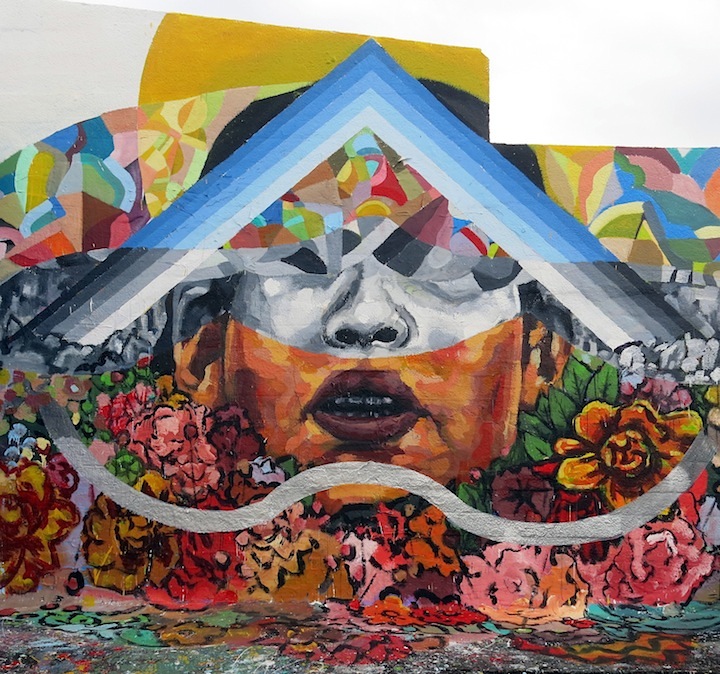 When did you become serious about it?
When I met Jaz and other members of DSR. They were professionals. They took street art and public art seriously. I started to share a studio with Jaz and began to think of myself as an artist. In 2003, I started making portraits.
How did your parents feel about what you were doing?
My parents encouraged me. When I was seven, they introduced me to Van Gogh and Goya. I became obsessed with Van Gogh because he cut off his ear. I had a problem with my ear, so I identified with him. When I was thirteen, I began taking art classes outside of school.
Did you continue to study art formally?
I studied architecture at the university for a few months, but it wasn't for me.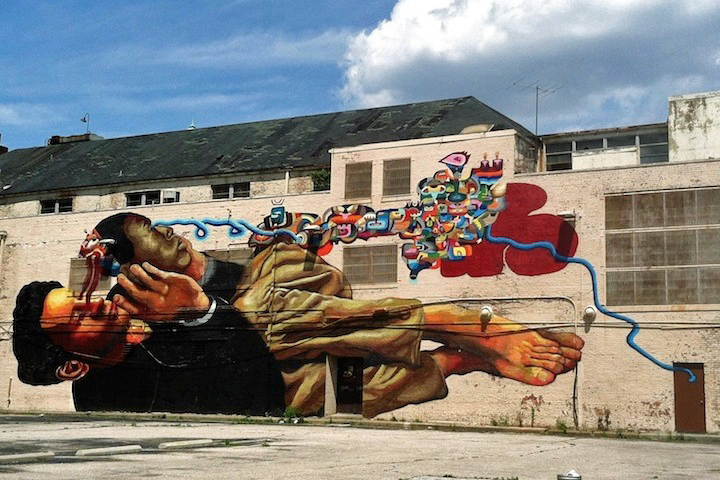 Who are your inspirations? Any particularly artists?
I have many. I'm inspired by Mexican muralists — the way their art reflects the people and their social consciousness. I'm also inspired by such artists as Van Gogh, Lucian Freud and Francis Bacon.
What is your main source of income these days?
Half my income is from commissions and the other half is from sales.
How do you feel about the movement of street art and graffiti into galleries?
It's okay. I'd rather sell my work in galleries than do commission pieces for corporations.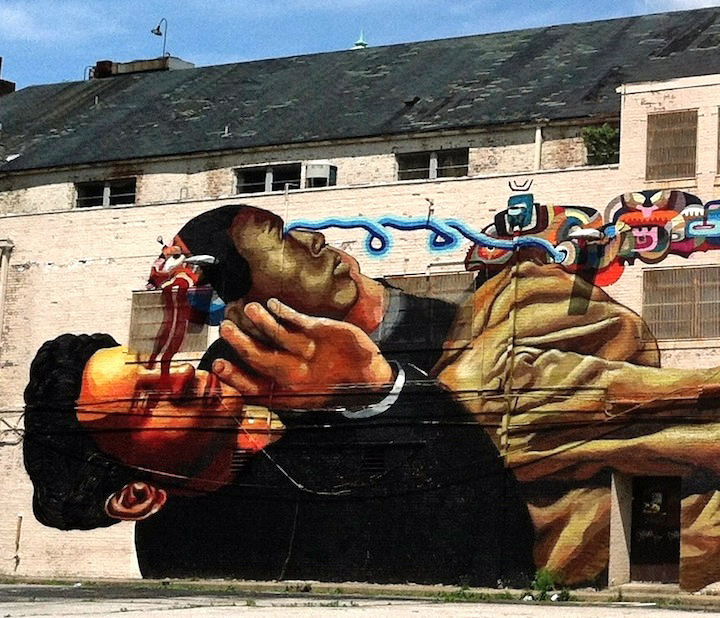 Have you had any negative experiences while getting up on the streets?
The mural that I did in Lima, Peru was censured. I was accused of glorifying Communism. The image on the mural was changed, and it is no longer mine.
You've painted in so many cities. Have you a favorite one?
Paris. There is an openness there.
Any thoughts about the graffiti/street art divide?
I don't see it.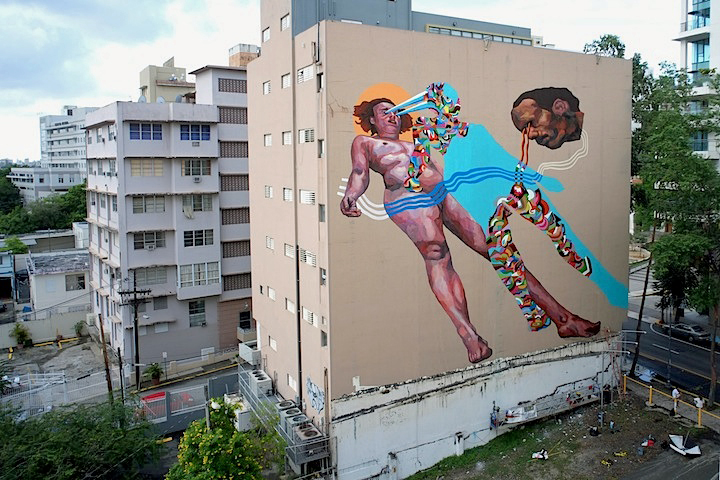 How has your art evolved since you began painting murals?
I've become more abstract and I've begun to think of the body as "just a dress to use on Earth."  My portraits no longer have eyes.  And I've begun to use religious symbols obsessively in my work, even though I don't believe in a traditional God. My work has also become more socially conscious.
What inspired that?
Before 2009, I was apolitical. But in 2009, I lived in Paris, and I began to think of art as the means to inspire societal change. The revolution must start here — on the walls.
Interview by Lois Stavsky. Photos of Brooklyn rooftop and Baltimore mural by Lois Stavsky. Final image of wall in Santurce, Puerto Rico — which I caught only at the beginning — courtesy of the artist.