The corner of Myrtle Avenue and Spencer Street in Brooklyn's historic Bedford-Stuyvesant neighborhood is now home to two huge distinct murals. The works of Brooklyn-resident Joshua Gabriel, they exude a soulfully mystical aura. We spoke yesterday to the artist about these distinct works.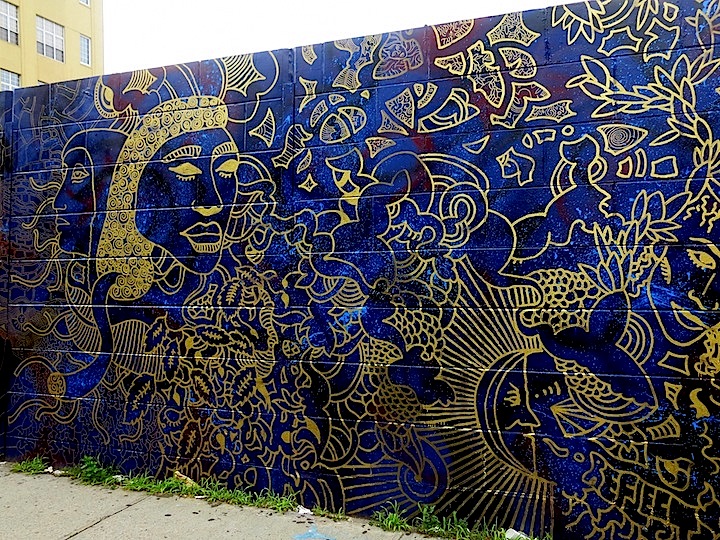 We've been captivated by these walls since you began fashioning them awhile back. How did they happen — at such a well-traveled intersection?
The owners of International Stone Collections, a custom stone artisan shop at 703 Myrtle Avenue, had placed an ad on Craigslist seeking an artist to create a "textural mural."  I wasn't exactly sure what a textural mural was, but I brought it my portfolio, and I was hired.
Wow! Had you worked on the streets before?
I had gotten some stickers and posters up — mainly promoting my music events — but, no, I never painted a public mural before.
What was the experience like?
At first, I was somewhat self-conscious. I had some anxiety about working in public. The entire process is definitely more challenging than working in a private space.  But then I came to love it. I loved the engagement of the passersby.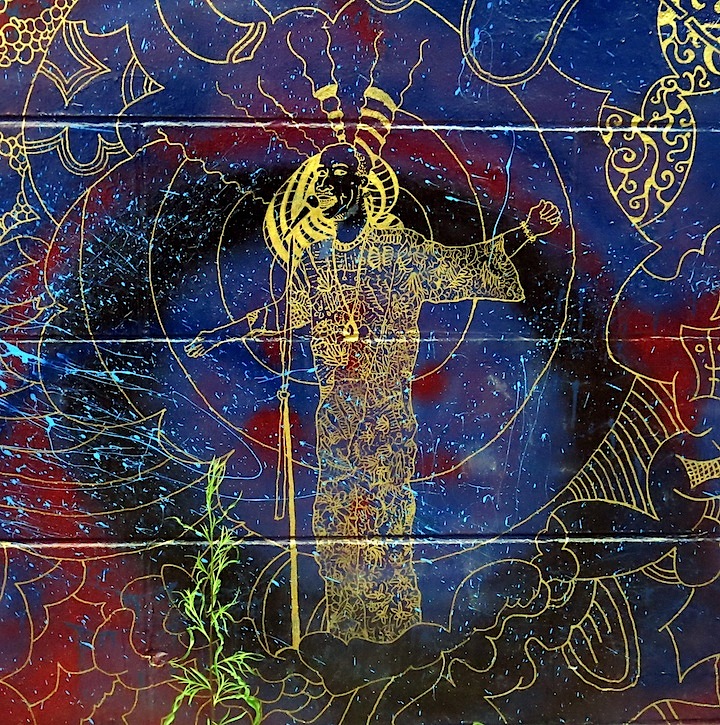 What was that like?
In the past year, since I began these murals, hundreds of folks have stopped to talk to me. The Hasidim — whose presence seems to be increasing in the neighborhood — ask questions like, "Are you allowed to do this?"… "Do you make a living from this?" The local teens love it and ask me to do their tattoo for them. Artists speak to me about the process. And long-time local residents keep thanking me! Everyone has been respectful.
What's going on here?
The murals weave together patterns and images from nature — such as the ripples in water, the textures of leaves, the shapes of clouds with figurative elements, including a giant lion's head, a sea of eyes, and a pair of ancient Egyptian heads. It's my subconscious at work!
Have you a particular message or theme that you wish to convey?
The corner of Myrtle Avenue and Spencer Street is the intersection connecting three diverse communities. Pratt art students, born and bred Bed-Stuy residents and members of Williamsburg's Hasidic populace all meet here. The theme of my work is that all of us — despite our differences  — are interconnected.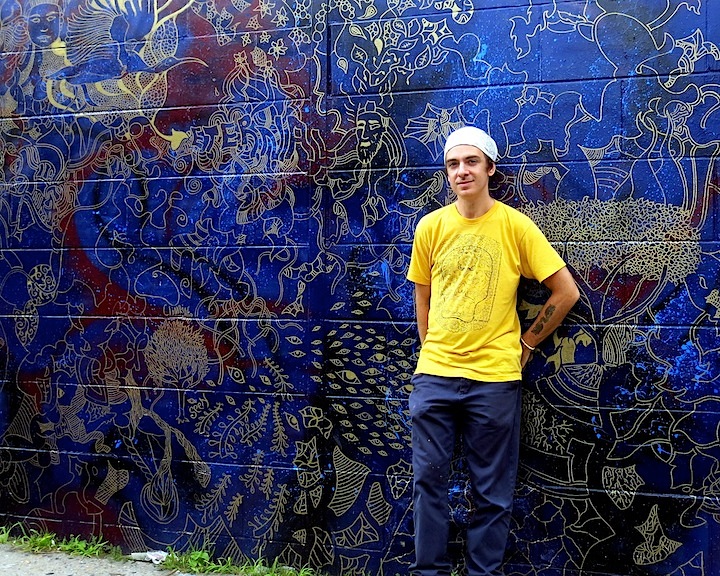 There's quite a bit of mixed-media here. What materials did you use?
I used exterior paint, spray paint and over 100 metallic paint markers.
There are lots of shades of blues and metallics here. Can you tell us something about your choice of colors?
The wall had originally been painted dark blue, and I liked the way it looked. I decided to repaint in a similar color, and I chose to work with metallics because I love the way they pop out.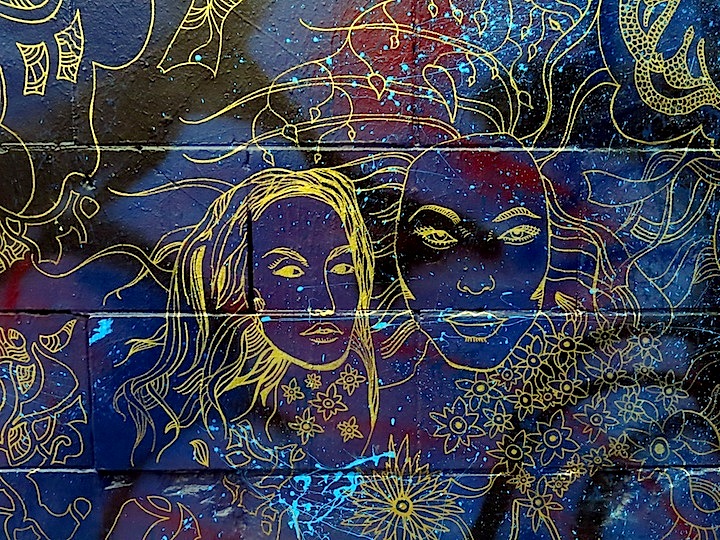 Did you work with a sketch-in-hand?
I don't work with sketches, but I do use photo references. And I always have notes with me. The actual process, though, is spontaneous.
Have you any influences? Or artists who particularly inspired you?
Alex Gray is a definite inspiration. Others include Keith Haring and my mother, Rochelle Marcus Dinken.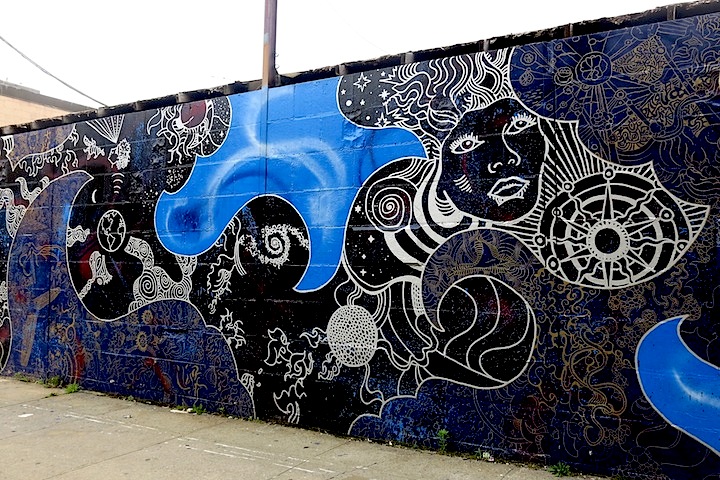 Are you satisfied with the results of these murals — your first public artworks?
Yes. I'm quite critical of my works, but the reaction has been so positive. And they do look cool!
You can view the murals and meet Joshua Gabriel at a reception to be held this Thursday, June 27, 5-8pm at 703 Myrtle Avenue.
Photos by Lois Stavsky