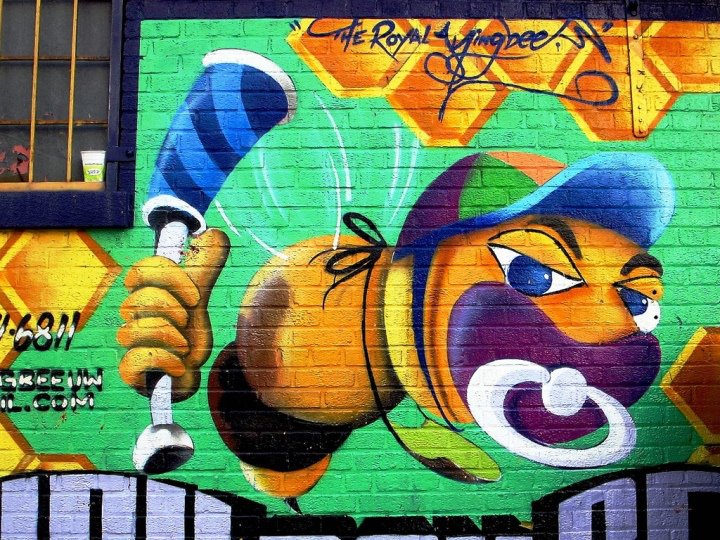 Born in Harlem and raised in the Bronx, the Royal Kingbee UW is best known for his stylishly striking bee that shapes the urban landscape of the Bronx and beyond.  Commissioned by a range of businesses from Rite Aid to Bacardi, Kingbee continues to dazzle us with his talents on an array of surfaces both on and off the streets. 
When did it all begin? When did you first discover your artistic talents?
When I was in the third grade, I began drawing cars, clouds, trees – the usual things kids draw.  And I started winning art contests for my skills. I haven't stopped drawing since!
When did you start getting up? When did you first hit public surfaces?
I started getting up some time in the late-80's back in my high school days. I went to school with Sak from MBT crew and Stin1.
What inspired you at the time?
What I saw on the trains and what writers like Kyle 156, JonOne, Koze and Poke were doing at the time really inspired me.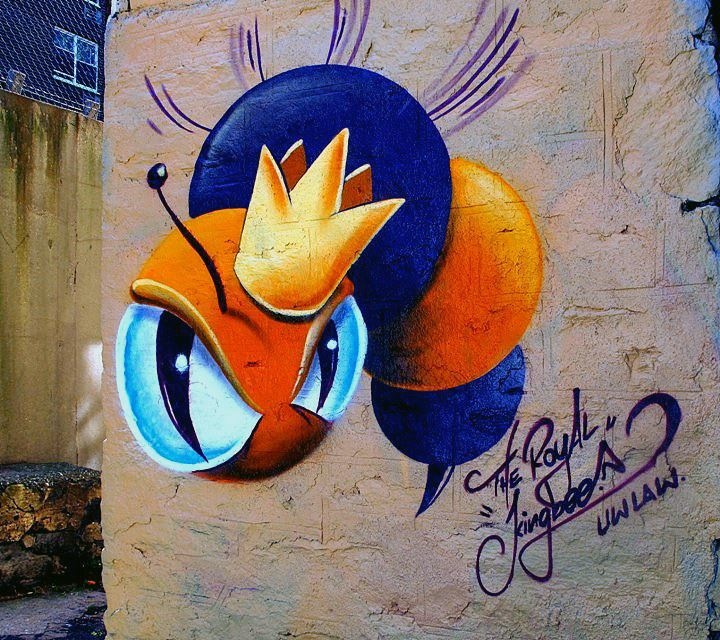 What is your first graffiti memory?
The first time I went bombing I was all dressed up! My parents were very strict, and I was expected to present myself at all times in – what they considered – a respectable way. And so the first time I hit the streets, I went straight from a party and was wearing a suit.  We looked awesome!
What is the riskiest thing you ever did?
Painting along the tunnels with the Amtrak trains whizzing by.  It was a risk we chose to take at the time.
Why?
We did it for the fame, but also for the adrenaline rush. I miss those adrenaline-induced days!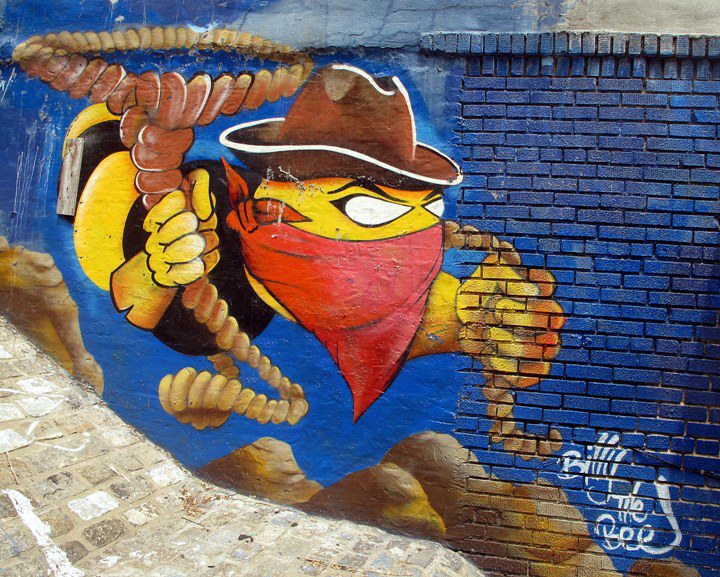 Have you ever been arrested?
I've never been caught. We always did our homework.
With whom have you collaborated?
Back in the 90's, I ran with my crew: VASE One, Nev, Bomb5, Cine, Lady-Di, Jew, Kerz and Pose2.  I've since collaborated with a range of artists from Shiro — from Japan — to the 4Burners.  This past year VASE and I painted down in Baton Rouge, Louisiana.  I'm looking forward to traveling and exposing my art more in 2013.
What about festivals? Have you participated in any?
I've painted in Meeting of Styles and at the Hall of Fame.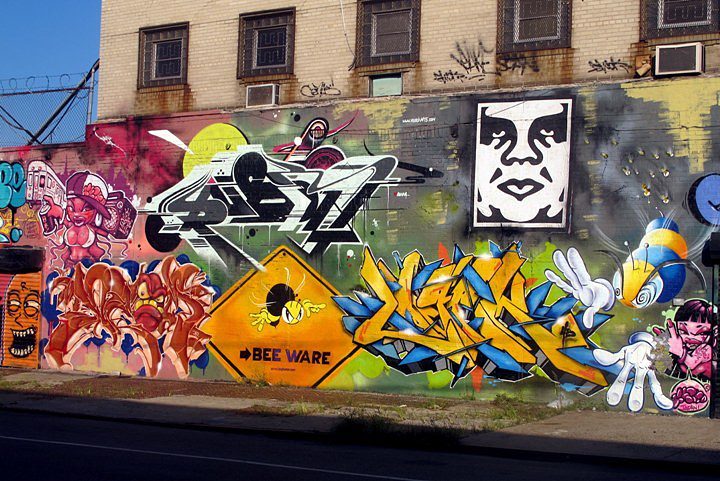 Is there anyone – in particular – with whom you would like to collaborate?
I'd love to paint with Daim – a master of 3-D graffiti — and a number of other European artists who are taking it to the next level.
How do you feel about the current graff scene in New York City?
Graffiti hasn't evolved enough in New York City. Too many writers keep on doing the same thing over and over. They need to get out of their comfort zone and push the boundaries.
Your bee can be seen about everywhere up here in the Bronx.  Tell us about the birth of the bee.
I was working as an artist on a range of commissions – mostly signs – and I wanted a logo that would be easily recognizable.  And so the BEE was born in 1989.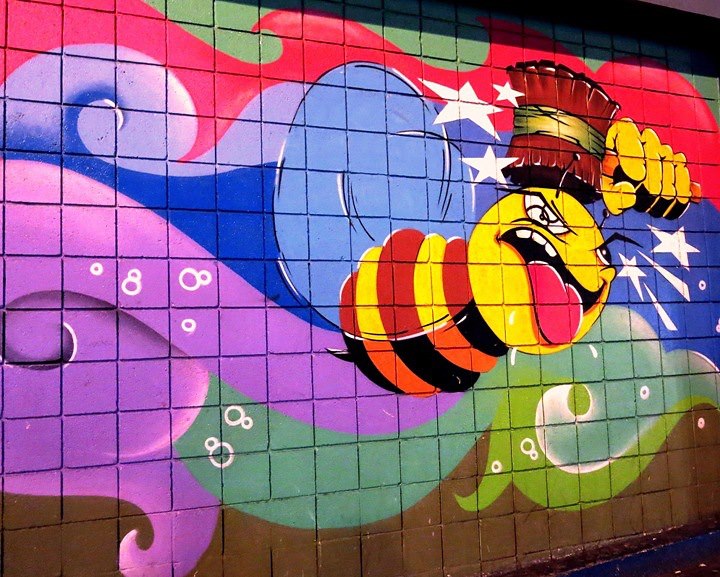 We met you at Gallery 69 down in Tribeca where you were exhibiting your artwork. How do you feel about the movement of graffiti into galleries?
It's cool. I've participated in a few shows and look forward to exhibiting my artwork in more galleries in 2013.
Any favorite artists?
Basquiat and Salvador Dali come to mind.
Do you have a formal arts education?
Yes. I studied commercial art in New York City Tech College.
Was it worthwhile?
Definitely. It helped me establish a career as a commercial artist.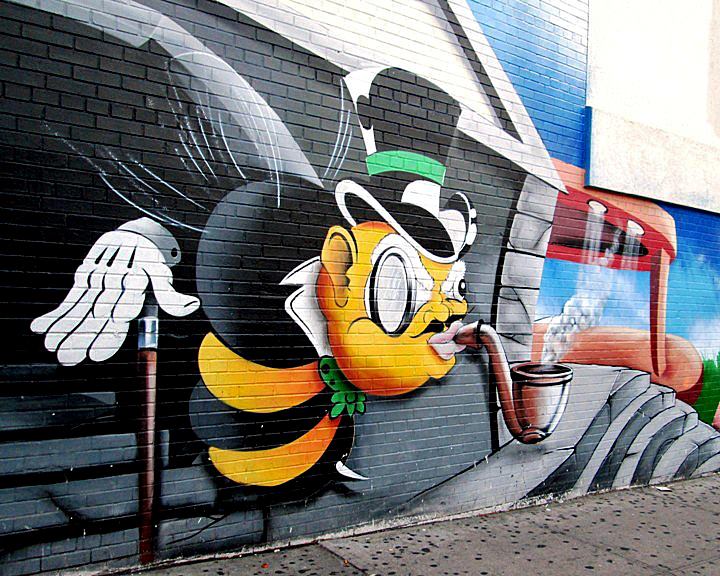 What are some of your other interests? 
I love music. I'm a big fan of Pink Floyd, Guns-n-Roses and Depeche Mode.
What's ahead?
More canvases. More traveling. It would be fun, too, to do art workshops with kids, who – whenever they see me paint – ask me to teach them how to draw a bee! And I'm working on developing a toy line.
Good luck! It all sounds great!
Photos by Lenny Collado, Tara Murray and Lois Stavsky