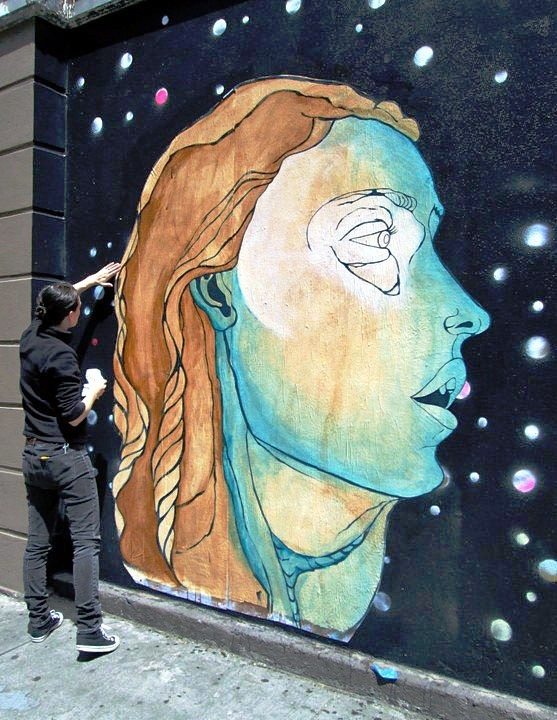 Cake's poignantly elegant women have been part of New York City's visual landscape for the past five years. Earlier this month, three large ones surfaced on East Third Street off the Bowery. Soon after, we posed the following questions to Cake:
Your women have been captivating us for years. They are at once beguiling and perturbing. Are they women you know? Tell us something about them.
These women are all women I know and care about.   They are: my mother, my sister, my niece, my Grandma Olga, my friend, Emily, and girlfriends of friends. And a lot of the time, some of the women end up having a part of me in them, which can't be helped, as they all – somehow – feel autobiographical.  I rarely paint men, but when I do, it's usually my brother, Jeffrey.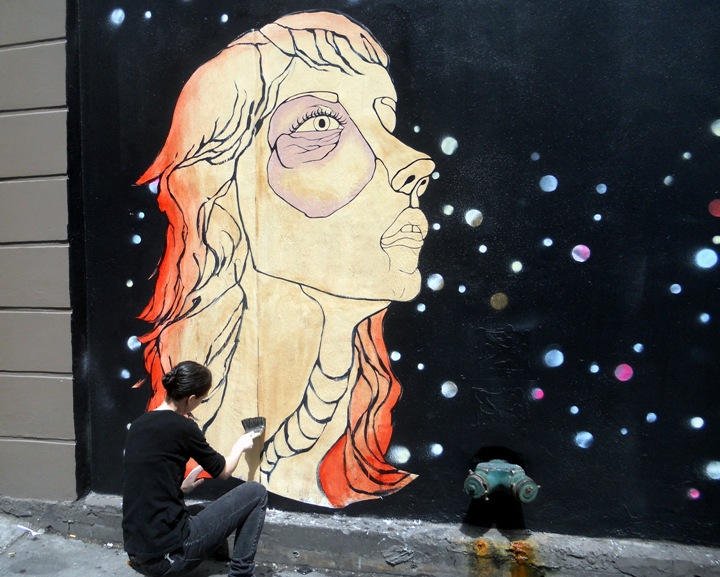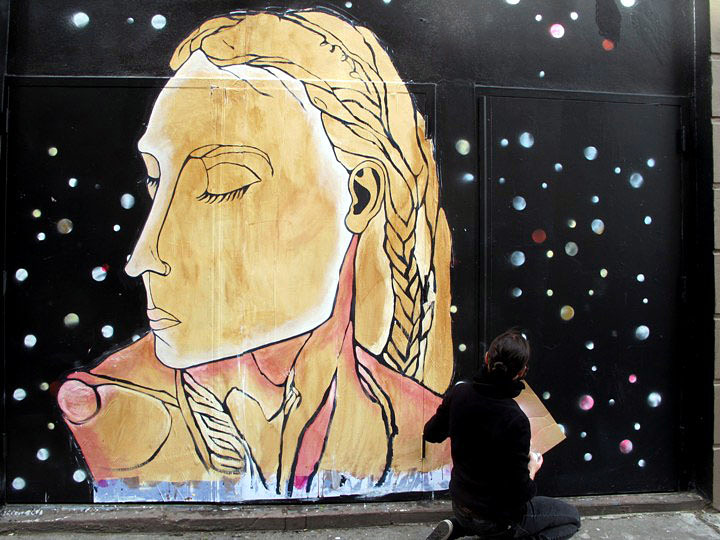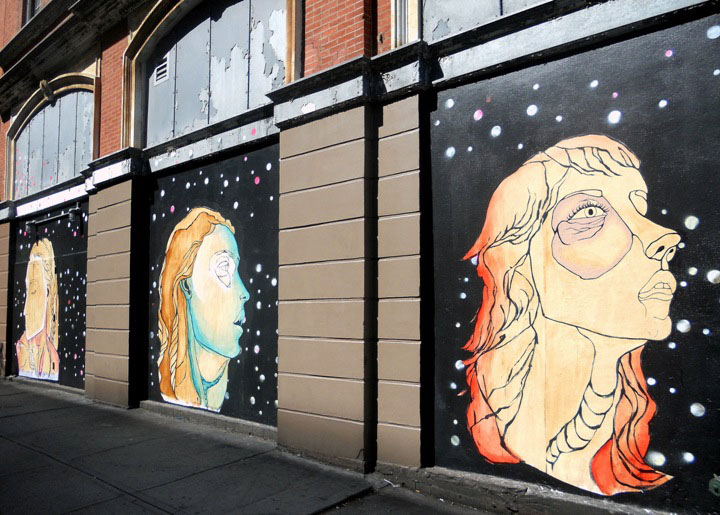 At what point did you choose to use the streets as a canvas? And why did you decide to do so?
Right when I was finished with grad school, I joined in on the street stuff.  It was pretty immediate and was just what I needed at that time.  It was a place where I felt at home, and it was fun and natural. I haven't wanted to leave since.
Are you trying to convey any kind of message to passersby who stop and look at your work?
I'm not sure I can control any messages that people receive from the work. But I can tell you that my main concern is actually making the drawing or painting – if that makes any sense.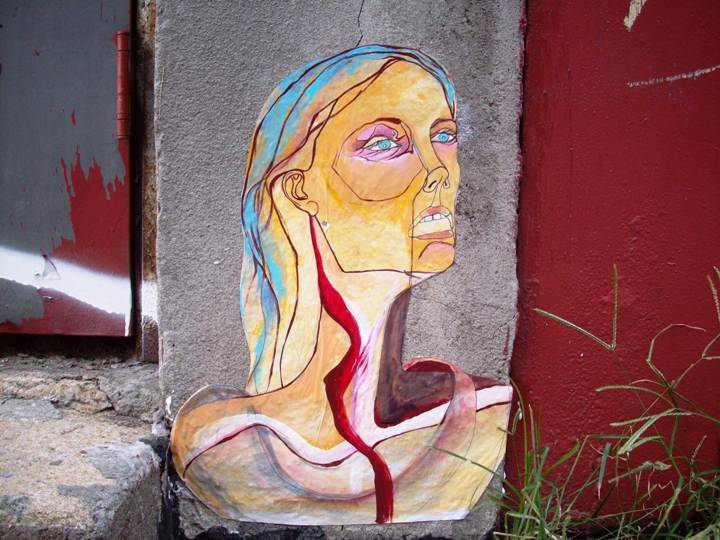 It certainly does.  What about your content? What does it mean to you?
Content-wise I'm most obsessed by that loss of connection from the core of life that we humans experience all the time.  I think it happens mostly as a defense mechanism to divert oneself from intense emotional pain and suffering.  I am constantly striving to capture that in a portrait.  I think it's why some of the people in my paintings seem haunted or cut off sometimes.  I certainly feel haunted at times.  I think most of us do in some way.
Your artwork certainly does convey those feelings of loss. And though some of us feel it more than others, it certainly is a universal feeling. Tell us something about your formal art education. How significant a role does your formal art education play in the work you are creating these days?
It wasn't until I got to Pratt that I began functioning as an artist.  I had always made paintings, but I never had the confidence to identify myself as a painter.  I did so badly in high school that my guidance counselor and teachers didn't even suggest applying to an art school because they didn't believe I could get in.  And they were right.  I did one semester in a liberal arts college in New Haven, flunked out, came home and worked as a secretary for a year before I finally got into Pratt after a few tries.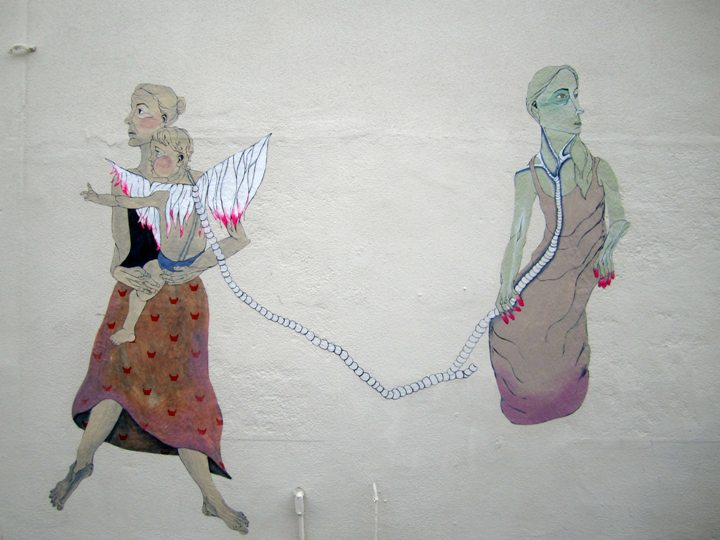 What was being in a formal art setting like?
When I got there, I became incredibly prolific and disturbingly self-destructive.  But I was highly functional and received excellent grades.  I learned how to draw the human figure there, and it took me four years to get it to a place where I could begin to use anatomy effectively to describe human experience.  And now, 12 years later, when I think of all the people and artists I love and cherish most in my life today, they all have a Pratt connection.
Have you any favorite artists whose work can be seen on the streets?
JR is an immediate favorite, ESPO always, and Herakut, although Herakut can rarely be seen in New York.  I'm wanting to meet them one day.  I love seeing new work from Veng, ND'A, Gaia, OverUnder, Leon Reid,  LNY,  NohJ,  Clown Soldier, Gilf!, Elle… There are some really awesome and talented people out there right now, and what's even better is that there are more women on the scene lately – which will hopefully beget more.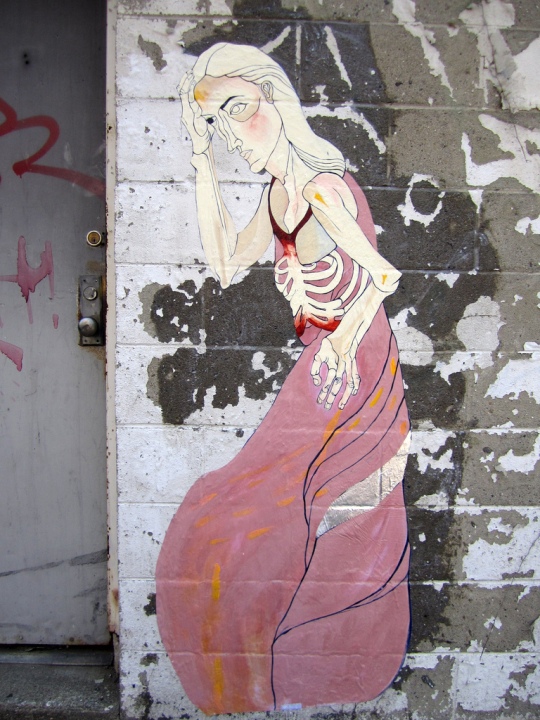 Have you collaborated with any other street artists?
I've collaborated with Veng and Chris from RWK, The Dude Company, Royce Bannon, and the Berlin-based duo Various and Gould.  I'm hoping to do some more collabs this summer.
Your work was recently featured in Mighty Tanaka. What was that experience like?
To me, Mighty Tanaka is all about the positivity that Alex embodies.  Every time I see him, he is happy, excited about art and ready for a hug.  Working with Alex and Caleb was something I had wanted to do, and I was really excited when they came calling for the March show.  I had their total support and encouragement all the way.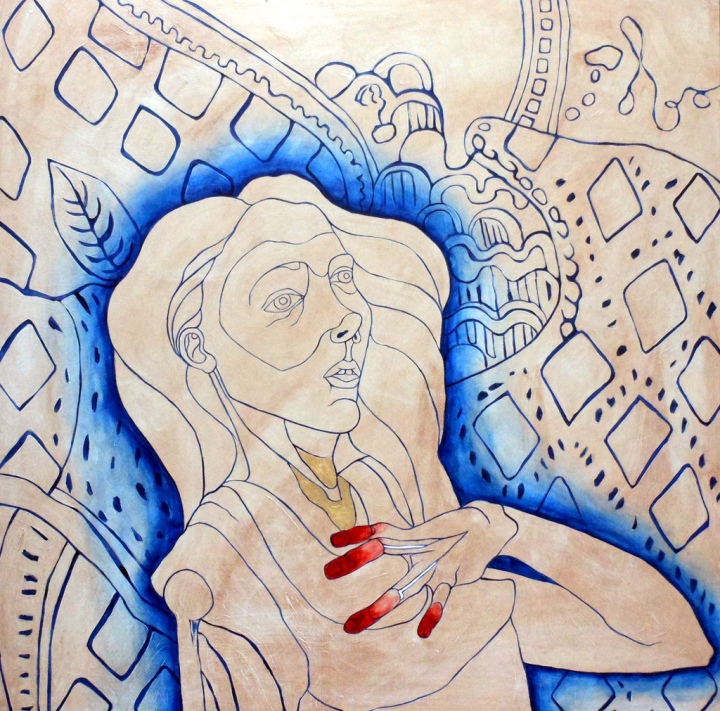 It's wonderful when galleries are run by folks – like Alex – who are so supportive of the artists and the street art scene. Any thoughts about the role of the Internet in all this?
Yeah – the Internet is EVERYTHING.  You know how I first met people in this scene and how people started seeing my work?  It was on Flickr.  Everyone I currently know in this scene I first became connected with through Flickr.  Anytime new work went up on the streets, the first place you could see it was on that site.   I think these days Facebook may have taken away some steam from the site, but it can't take away from Flickr's crucial role in street art and graffiti in the 2000's.
What's ahead?
This year has been a bit up in the air and unpredictable.  There's not much going on and then BAM! I'm doing a huge mural off the Bowery with Keith [Keith Schweitzer who works with MaNY and its East Village partner,FabNYC].  Now it's still again.  Hopefully another BAM! is around the corner.  Until then, when it's quiet like this, I simply sneak off into my studio and quietly make more paintings.
Photos of East Village installation by Lenny Collado and Tara Murray; all other photos courtesy of Cake.