Brooklyn-based artist See One has been busy gracing a huge wall outside the Running Rebel Studios at 6 Charles Place in Bushwick with his distinct aesthetic.  Earlier this week, we caught up with him in his studio and had the opportunity to ask him a few questions.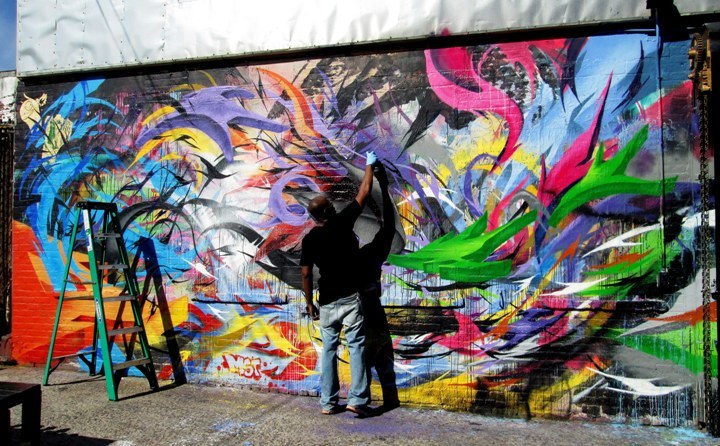 When did you first start getting up in public spaces?
I was 17 living in Florida. We moved from Queens when I was 10, but graffiti had already had its impact on me. It had slowly worked its way into my blood.
What motivated you to hit the walls?
I started drawing when I was two years old. All the walls and floors of our home bore the markings of my oil-based crayons. As I grew older, I focused on black books, but wanted to go bigger and bigger and reach more people. Hitting huge walls was a natural progression.
What was your style like at the time?
When I first started getting up, my letters were good but I was really into characters. I've always loved cartoons.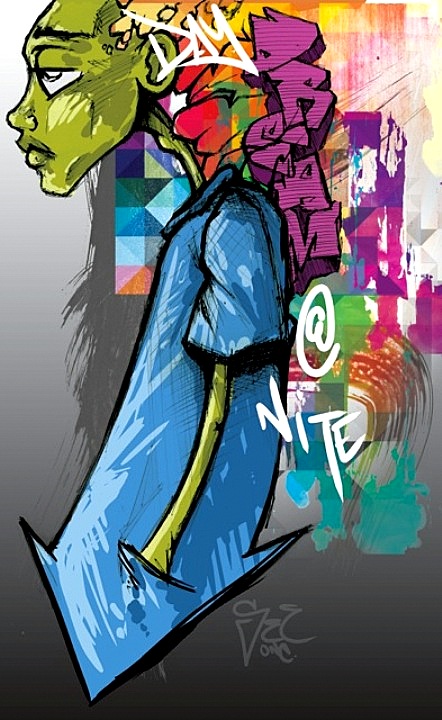 How has your style evolved?
I wanted my art to stand out.  I have an overactive imagination. I've always drawn characters but needed a secondary distinct style.  I call the style "Shards" because it reminds me of broken shards of glass. This evolved into a style of abstract graffiti, my current focus.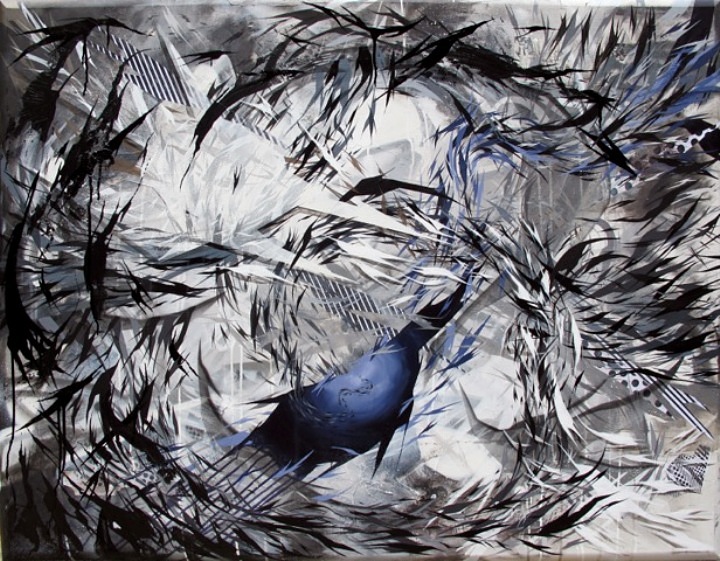 How did you get your name?
My first tag was Focus, because I always needed glasses to focus.  But I didn't quite like the ring to it.  So I took my birth date, 10/19, and in Roman numerals, the first three numbers are written CI. This became See One.
Have you had any formal art education?
No. I was never really good at school. I am self-taught.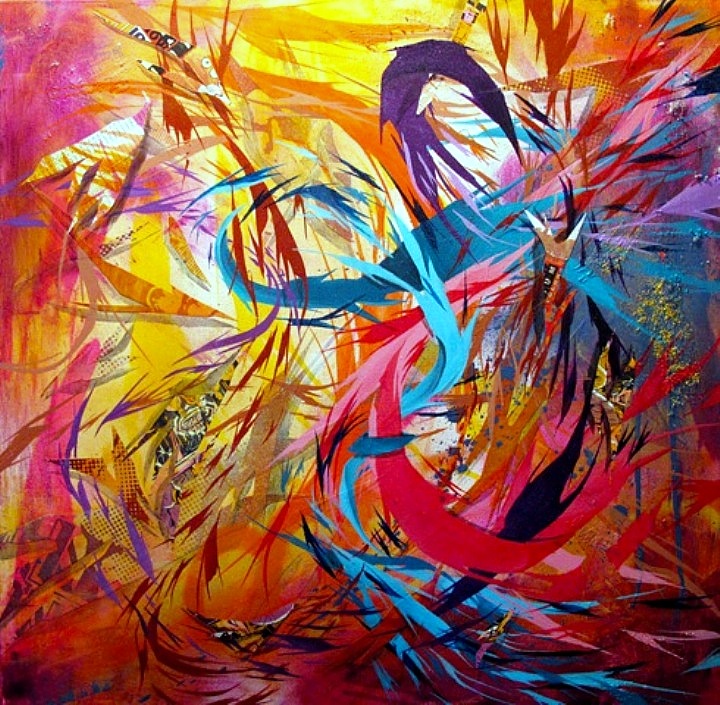 Who or what have been your main influences?
My main influences have always been comic books, character design, and early graffiti. Japanese animation has also had a strong impact on my aesthetic. And, of course, comic books like X-Men, Teenage Mutant Ninja Turtles and Bone were among my first inspirations.
Any favorite artists?
Many, many. Among the comic artists: Joe Mad, J. Scott Campbell and Jeff Smith. In graff: Seen, FX Crew, Futura, Cost and Revs. Among street artists, my favorites include: Space Invader, D'Face and London Police. I also love Tomokazu Matsuyama and Takashi Murakami.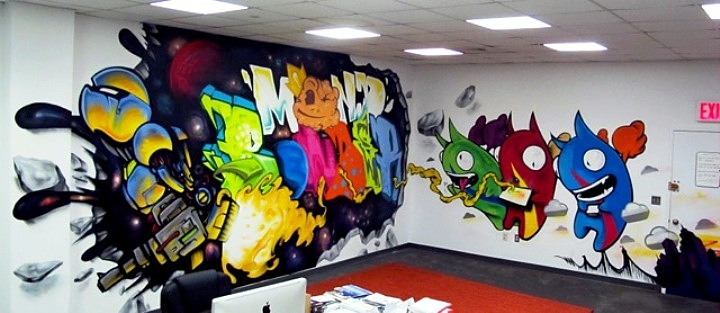 Any artists you've recently checked out?
I'm looking forward to seeing Doze Green's work at the Jonathan LeVine Gallery and I'm also into Remi Rough and anything by Jose Parla.
What about galleries? We've seen your work at Mighty Tanaka and at Dorian Grey. How do you feel about the gallery scene?
I used to hate it because it seems to be all about who you know.  I'm getting used to it, but I wish it were easier to get my work into galleries. It's difficult to get a response from most galleries.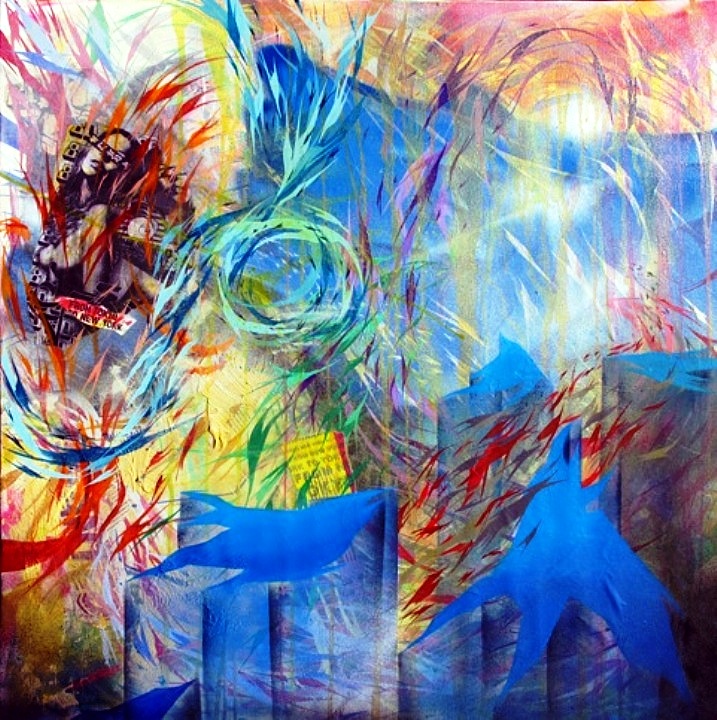 You seem to fuse both graffiti and street art elements into your pieces. Have you any thoughts about the graffiti/street art divide?
I think of Street Art as Graffiti's little brother. A first-rate graffiti writer has to have the ability to improvise skillfully on a variety of surfaces while enduring the risks of getting up.  Most street artists do their work in a studio setting and face far fewer risks in pasting their work up or stenciling it onto surfaces. Like most little brothers, Street Art is resented by his big brother, Graffiti, and his big brother's friends.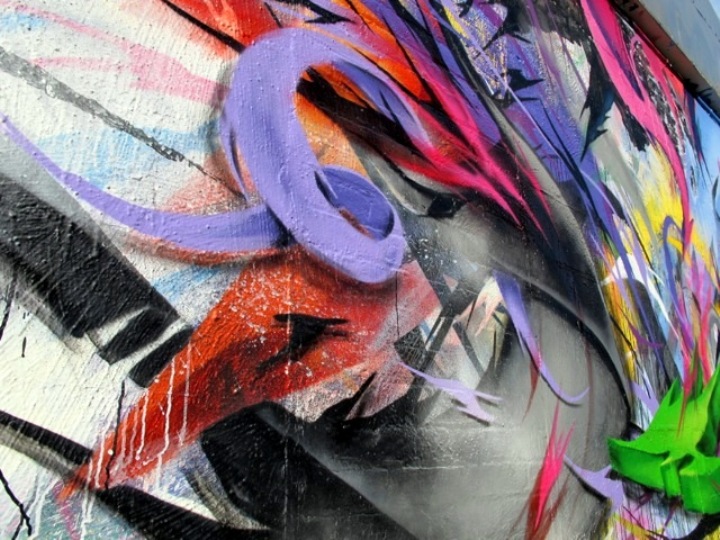 Interesting! 'will have to think about that! Have you ever been arrested?
No. I'm semi-careful. I'll usually find a lookout when I can.
Have you collaborated with any artists?
My most recent collaboration was with 2Esae and Ski of URNewYork.
How do you see yourself in the future?
My goal is to grow and attain recognition as an artist, so that I can have the means to further develop my vision and reach a larger audience with my work.
Images courtesy of the artist and Lenny Collado