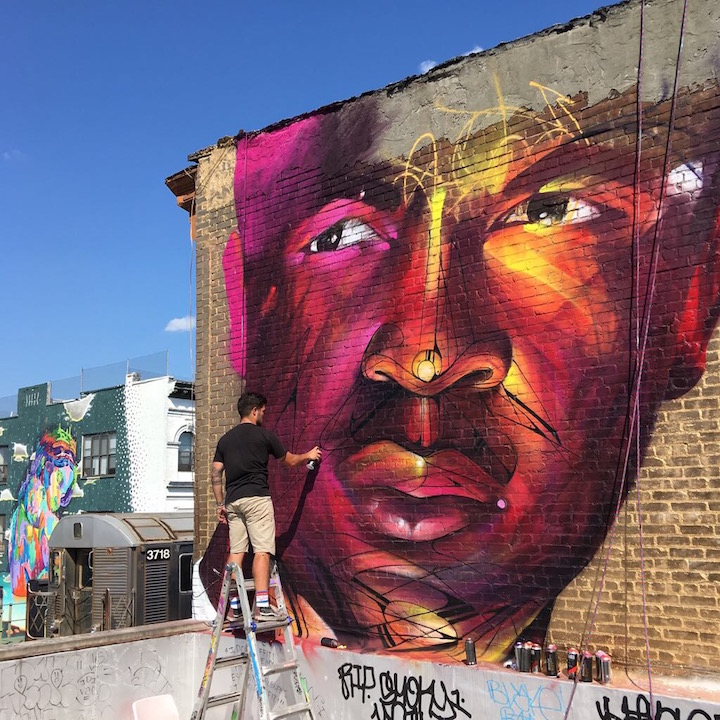 Paris-based artist Alexandre Monteiro aka Hopare visited NYC last month for the first New York edition of the Urban Art Fair. In addition to painting live at Spring Studios in Tribeca, he shared his expressive, stylish aesthetic with us New Yorkers at JMZ Walls in Bushwick, Brooklyn. And while he was here, street art and travel photographer Karin du Maire had the opportunity to capture him at work and speak to him:
When did you first start painting on the streets? And what got you into graffiti and street art?
I started about 15 years ago. I was 12 years old, and I got into it through skateboarding. I liked to go skateboarding in warehouses in my neighborhood, and one day, I met some graffiti artists there. I tried doing graffiti, and I've been painting ever since.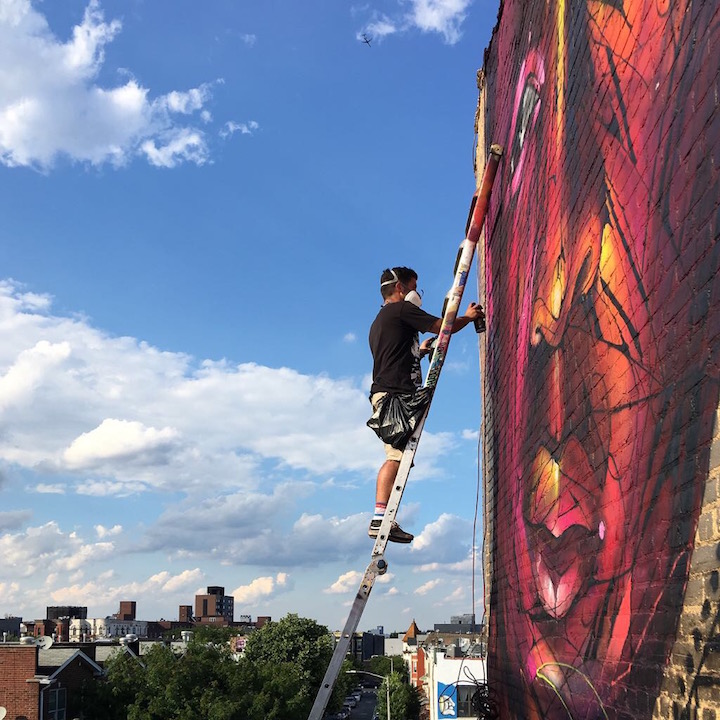 Can you tell us something about your style? How did you develop it? What inspired it?
In the beginning, I did mainly letters. My work back then was based on letters – with a fill, a sketch and an outline. When I first began doing portraits, I wanted to keep the authenticity of lettering. So first I did a sketch, then a fill of colors and then an outline with black lines. I was also very inspired by Portuguese graphics of traditional insignias. I added them around most of my portraits.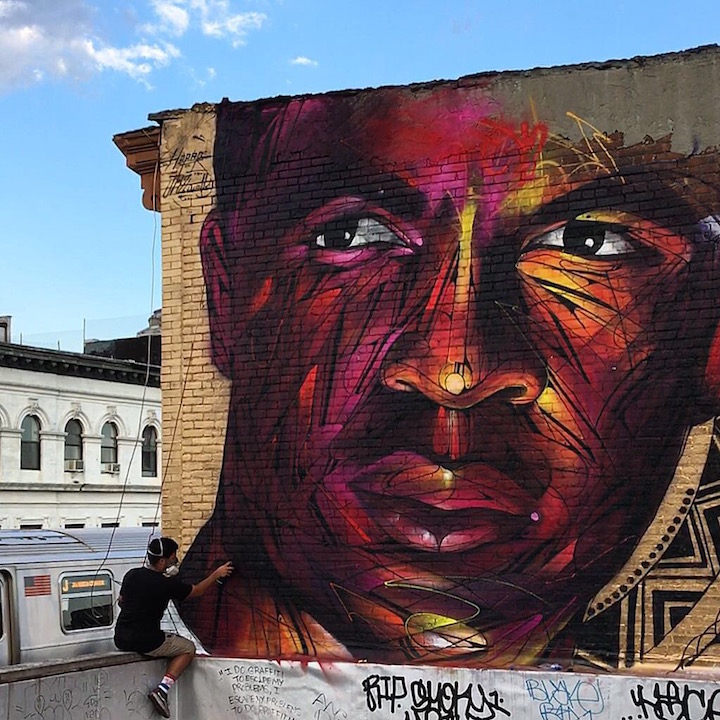 What about the background pattern that you use in all of your murals? Where does that come from?
It is my parents' insignia from their church in Portugal. I paint it either on my portraits or in the background. It is a tribute to my parents wherever I travel. In fact, I have it also as a tattoo on my arm.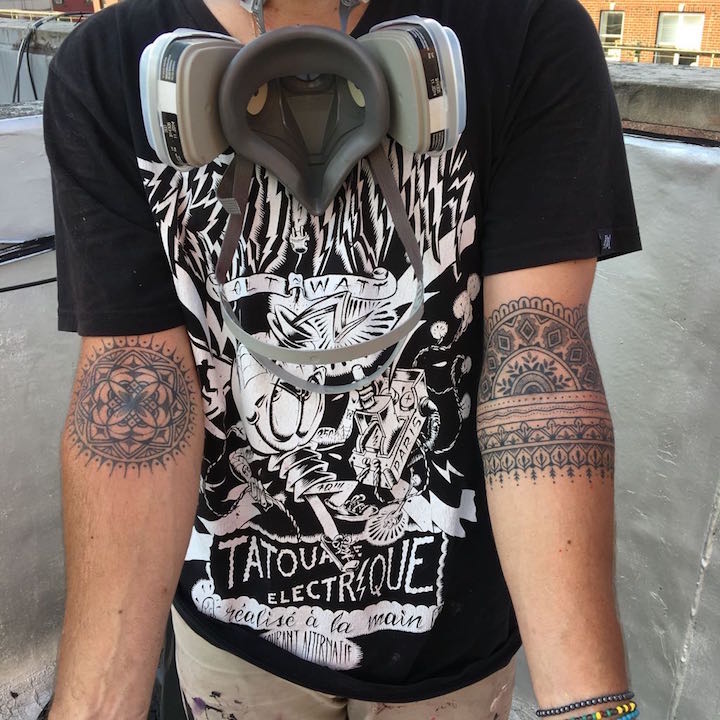 What do you think of the graffiti and street art here in NYC?
This is my second time in NYC.  I identify this city with graffiti. I always wanted to paint graffiti here, because NYC is the basis for European graffiti. I dreamt of painting at 5Pointz, but I can't — as it doesn't exist any more.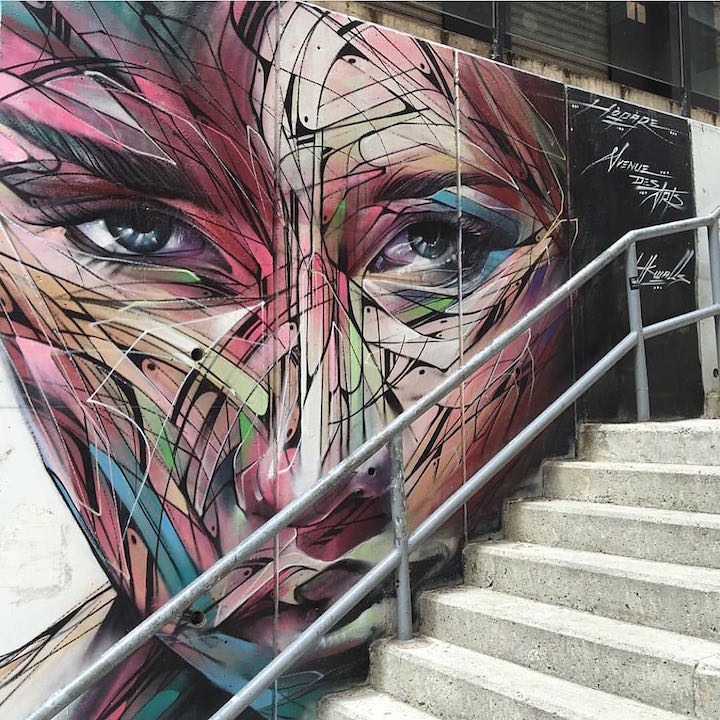 What's ahead? Have you any travel plans?
I just want to continue painting, continue traveling. Paint to be able to travel and then travel to paint. If painting allows me to travel, then I am living my dream. I have some projects lined up in Asia, but I don't know yet where I am going after that. I will go wherever my painting takes me.
Photos and interview by Karin du Maire; photos 1-4 in NYC; photo 5 in Hong Kong, 2015. 
Note: Hailed in a range of media from WideWalls to the Huffington Post to the New York Times, our Street Art NYC App is now available for Android devices here.

{ 0 comments }